New York Sports Betting – Bet On Sports Legally In NY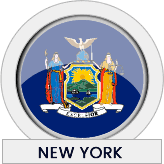 The Empire State has plenty for residents to enjoy, including New York City, the Statue of Liberty, Broadway and an assortment of sports teams from several major professional leagues. Gambling is becoming an increasingly popular facet of New York culture. Daily Fantasy Sports is legal in the state and sports betting in-person is legal.
New York is one of the many states with legal sports betting in-person with state-wide online betting pending in the legislature, however, licensed offshore online sportsbooks are available to NY residents and visitors.
Licensed offshore gambling provides an alternative legal option for online sports betting and is available to NY residents. This page was created specifically for NY residents and has information related to sports betting legislation, licensed offshore gambling, and which teams in the state are worth betting on.
Is Sports Gambling Legal in New York?
Federal Laws In Play
Yes. According to American gambling laws the Professional and Amateur Sports Protection Act, or PASPA, state-regulated sports betting was prohibited until 2018 when the act was overturned by the Supreme Court. While New York permitted in-person betting at upstate casinos, the state is pending a bill to legalize online betting statewide. The Federal Wire Act strictly prohibits US-based gambling businesses from sending gaming information and wagers across state lines.
State Laws That Affect Sports Betting In NY
DFS has been legal in the state since 2016. As it is not officially considered to be sports betting, DFS is exempt from the Federal Wire Act. The two largest DFS providers, FanDuel and DraftKings, face an ongoing battle in terms of legalization, one that started in New York.
However, there is now a DFS market regulated by the New York State Gaming Commission that provides NY residents with some form of sports gambling. In regards to actual sports betting, the state has only achieved in-person wagering at limited venues upstate but nothing statewide in terms of legalization. However, it is expected this will change in 2019-2020 the latest.
Sportsbooks That Are Legally Licensed To Accept New York Residents

New Yorkers still have a way of legally participating in sports betting through licensed offshore sportsbooks. Our team of industry professionals has compiled unbiased reviews and a list of offshore gambling sites that provide sportsbooks. These sites have all been verified to have the necessary legal licensing and regulation to operate, strong security profiles, Vegas-style betting lines, and wagering types, features like live and mobile betting and added incentives that keep you coming back for more.

Sports Betting in New York City, NY
New York City has several major professional sports teams. In some cases, there are even multiple teams in the same league, creating a fierce rivalry amongst local fans. Such competitiveness breeds a strong sports betting market. Whether you support the Knicks, Nets, Yankees, Mets, Rangers, Islanders, New York City FC or the Red Bulls, one thing is clear—you have options.
There have been many sports icons based in NYC, including Derek Jeter, Alex Rodriguez, Carmelo Anthony, Patrick Ewing and more. Click the link to be taken to our page dedicated to sports betting in NYC.
Sports Betting in Buffalo, NY
Buffalo is home to the Bills and the Sabres. While the city may be freezing for a large portion of the year, fans' passion for their hometown teams heats things up. Buffalo residents can bet on their local favorites through legal offshore gambling sites that have various betting lines and wagering types.
You can find more information on our page all about sports betting in Buffalo.
CCNY Point Shaving Scandal
Sports betting has long been considered a controversial industry. New York was involved in one of the biggest sports scandals to date during 1950-1951 in what is known as the CCNY Point Shaving Scandal. This scandal centered on seven schools (four of which in the greater NY area) and the NCAA and NIT Tournament.
The whole ordeal involved 33 players and even had ties to the mob. The scandal came to light when Junius Kellogg, a center out of Manhattan College, was offered a bribe to shave points during a matchup against DePaul. Kellogg denied the request and instead relayed the situation to his coach.
Kellogg began cooperating with the NY District Attorney and wore a wire that contributed to the arrest of seven individuals, including three players from CCNY that were in the team that won both the NCAA and NIT Tournaments in 1951.
The case uncovered that a total of 32 players from seven different universities had accepted bribes between 1947 and 1950, fixing 86 games. As a result of the scandal, many schools had to suspend their basketball activity for a time and others relegated themselves to lesser divisions. CCNY went from a Division I school to a Division III program.
The players involved were banned from playing ever again.
There hasn't been a case like this since, establishing a sense of credibility amongst the major professional sports leagues. League commissioners have stated how they don't believe legalizing sports betting will harm the game, only enhance it.
DFS v. Traditional Sports Betting
The DFS market is a relatively new one that has been met with much controversy. DFS isn't allowed in every state and the main reason for that is that is considered by some to be illegal gambling. The biggest distinction in gambling is between games of skill versus games of chance.
Games of skill are mainly considered legal because there has to be some background of skill or knowledge required. Those in favor of DFS argue that it is a game of skill because you aren't betting on a standard team, but rather a team made up of players from different leagues. This 'recruitment' requires inside knowledge of players, teams, and strategy.
DFS operates like a real money gambling form of fantasy leagues. Fantasy sports is huge, with millions of users utilizing free play formats provided by the respective leagues, ESPN, Yahoo and more. DFS providers like DraftKings and FanDuel allow you to put money down on your team week-to-week.
Now, traditional sports betting is also argued to be a game of skill by some and a game of chance by others. You don't assemble a team of hand-picked players through traditional sportsbooks but rather bet on established teams to win or lose. There are a variety of wagering types available through sportsbooks including point spread bets, parlays, prop bets, future bets and more.
DFS is the sort of new-kid-on-the-block and is popular amongst users, but some state governments aren't sure on how they feel about it. Traditional US-based sports betting is prohibited in 46 states, but residents can bet legally with licensed offshore sportsbooks. A key difference between the two markets is DFS (where legal) is state-regulated whereas offshore sportsbooks are regulated by their presiding governments.
Also, betting lines and wagering types are different between the two groups, with traditional sportsbooks having way more options and DFS operating in a fantasy sports format.
NYC Legal Resources: