New York Sports Betting – How To Bet On Sports Legally In NY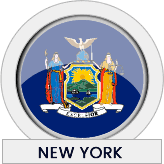 Online Sports Betting Available In NY Via Offshore Sportsbooks
Domestic Sports Betting In New York Available At In-Person Venues
Legislative Movement Toward Mobile Sports Betting: Yes
The Empire State offers residents and state visitors a variety of gambling offers including Daily Fantasy Sports and sports betting in-person at four upstate commercial casinos and half a dozen or so tribal venues. Some could say New York has joined other US states with legal sports betting but domestic sports gambling options in NY are not state-wide nor are there mobile betting options available.
However, there is word within New York's legislature that the Empire State is still considering a state-wide domestic and mobile sports betting bill that is currently active within the legislature. If passed, New York could provide expanded sports betting offers along with allowing wagers on sports through offshore online sportsbooks.
Is Sports Gambling Legal in New York?
Yes, the state of New York has legalized domestic sports gambling. While New York permitted in-person betting at upstate casinos, the state is considering a bill (S17) to legalize mobile sports betting statewide. Such a bill would permit online and mobile sports wagering.
In addition, no American gambling laws prevent US players from accessing and using offshore sportsbooks. This means New Yorkers are free to bet online and on mobile using legal international online sportsbooks.
New York Sports Betting Laws
New York has permitted sports wagering in upstate casinos through a referendum which gained majority support from voters. The state has refined details regarding this law, and nearly a dozen eligible venues now have sportsbooks up and running.
New York Sports Betting Bills
New York State lawmakers have already made strides for land-based domestic sports betting, but the next hurdle seems to be authorizing domestic online sportsbooks with. The most recent NY sports betting legislation, bill number A03826/S01183 advocated for the implementation of online/mobile sportsbooks in NY but were left in committee. This means New Yorkers aren't likely to see any more progress on this measure until the 2022 session.
Retail sports wagering is currently limited to a handful of casinos upstate, which leaves New Yorkers with limited domestic options for betting. While offshore online sportsbooks are great and safe alternatives, state leaders are looking to redirect that money towards their state's economy.
To stay informed on the latest sports betting legislative updates, be sure to visit our gambling bill tracking page.
Best Super Bowl 56 Betting Sites In New York
Our team of industry professionals has compiled unbiased reviews and a list of offshore gambling sites that provide sportsbooks. These sites have all been verified to have strong security profiles, Vegas-style betting lines, and wagering types, features like live and mobile betting, and added incentives that keep you coming back for more.
Sportsbooks In New York
New York casinos located in the upper part of the state are permitted to offer sports wagering opportunities for residents and visitors to enjoy. Below we have listed the top three casinos with sports gambling capabilities available for New Yorkers to bet through.
Resorts World Catskills
Rivers Casino and Resort
Tioga Downs
NY Sports Betting Details
Below are details regarding New York's current sports betting environment. If the state were to pass expanded sports gambling laws the following information will be updated to reflect those changes in legislation and policy.
Legal Sports Betting: Yes, In-state; Offshore
Launch Date: Summer 2019
New York Minimum Sports Betting Age: 21 years old
Land-Based Sportsbooks: Upstate Casinos (Commercial + Tribal)
Online Sportsbook: Only Offshore Allowed
Mobile Betting App: Only Offshore Allowed
In-Play/Live Betting: Only Offshore Allowed
State Sportsbook Revenue: $8,509,955
Eligible Operators: 4 commercial casinos, 5+ tribal casinos
Commission: New York State Gaming Commission
Licensing Fee: TBA
Tax Rate: 10%
Tax-Funded: TBD
How To Bet on Super Bowl 56 In New York
21 and over gamblers can access legal sportsbooks in New York through online, mobile, and in-person venues, but they cannot match the incredible Super Bowl betting experienced offered by the sites featured in the table above.
Not only do they extend membership to 18+, but they feature Super Bowl prop bets that greatly outnumber what any local NY book can deliver. Become a member and bet on the Super Bowl in NY with a top-rated NFL sportsbook site.
What You Can Bet On In New York:
In-state: All bet types on out of state professional and college sports are allowed
Offshore: All betting lines, odds, and props for all games, teams, and players across all college and professional sports
What You Can't Bet On In New York: 
In-state: No bets are allowed on college teams from the state of New York or NCAA events occurring within NY
Offshore: No restrictions
Where Can I Bet On Sports In New York?
New York upstate casinos are currently the only option for NY sportsbooks. Several bills have been introduced to expand betting outside of upstate casinos and to include mobile options. At this time, offshore sportsbooks are the only option for offering mobile sports wagering across the Big Apple.
Biggest Sports Betting Cities In New York
New York City
New York City has several major professional sports teams. In some cases, there are even multiple teams in the same league, creating a fierce rivalry amongst local fans. Such competitiveness breeds a strong sports betting market. Whether you support the Knicks, Nets, Yankees, Mets, Rangers, Islanders, New York City FC or the Red Bulls, one thing is clear—you have options.
There have been many sports icons based in NYC, including Derek Jeter, Alex Rodriguez, Carmelo Anthony, Patrick Ewing and more. Click the link to be taken to our page dedicated to sports betting in NYC.
Buffalo
Buffalo is home to the Bills and the Sabres. While the city may be freezing for a large portion of the year, fans' passion for their hometown teams heats things up. Buffalo residents can bet on their local favorites through legal offshore gambling sites that have various betting lines and wagering types.
You can find more information on our page all about sports betting in Buffalo.
---
Frequently Asked Questions About New York Sports Betting
Will I Get Arrested for Betting on Sports in New York?
If players wager on sports at unlicensed and unauthorized venues based within New York they could potentially be charged with illegal gambling. however, if players use upstate NY casinos which are licensed to offer sports wagering services or offshore sportsbooks then they are not in violation of any state law.
Are Mobile Sports Betting Apps Legal in New York?
There are no mobile or online sports betting services authorized to operate in the state. Offshore sportsbooks currently provide NY players with mobile sports wagering capabilities.
What Teams Can I Bet on in New York?
According to current New York sports gambling laws, gambling on in-state college teams is prohibited. Offshore sportsbooks do not place restrictions on the teams NY players can bet on.
Are There Any Local Sportsbooks in New York?
Yes, upstate casinos in New York which have received their sports wagering licenses from the state gaming commission may offer domestic betting services to residents and state visitors.
What is the Legal Minimum Sports Betting Age in New York?
The minimum sports betting age in New York is currently 21. This is because sports wagering is restricted to upstate casinos which typically set their minimum gambling age to 21. If the state were to pass and enact a sports gambling bill the age to gamble on sports may vary based on venue or the state may adopt a state-wide minimum sports gambling age. Offshore sportsbooks accept NY players as young as 18.
Who Regulates Sports Betting in New York?
Sports gambling in New York is regulated by the New York State Gaming Commission. This Commission is permitted to license and regulate all domestic sports wagering activities.
---
New York Legislative Resources
New Yorkers interested in expressing their support or concerns for sports gambling may freely contact their local politicians to discuss the issue. Below are legislative resources which can be used to find exact bills, contact information, and more.
New York Gambling Resources
New Yorkers who suspect they may be developing signs of problem gambling are recommended to seek the services and resources provided for by the New York Council on Problem Gambling.