Legal Betting On NASCAR Sims And eSports
NASCAR Sims And eSports Betting Lines Are Active Now
#1 NASCAR Software For eSports & Sims
Game Is Not Released Every Year
Electronically reproduced athletic competitions are making a place alongside real sporting contests at legal sports betting sites, and naturally, NASCAR is emerging as a premium wagering option. Unlike other sports, legal betting on NASCAR: Ignition has additional varieties of play, and gamblers need to be informed prior to placing a wager.
Our comprehensive guide to NASCAR sims gambling will answer all your questions and will also lead prospective gamblers to the best sports betting pit stops on the web. Don't stall out trying to figure out the NASCAR eSports odds – Instead, read on so you can stab it and steer toward the best betting lines and mobile options available for online racing sim betting.
Is It Legal To Bet On NASCAR: Ignition?
Yes, betting on NASCAR games is legal, and some varieties are even available to bet on at select domestic sportsbooks. However, most US-based books don't offer NASCAR sims betting, so American bettors would do best to wager on all NASCAR game categories at offshore betting sites. Real money betting with these reputable operators does not violate any US gambling laws.
This is because federal and state laws don't address wagering with offshore sportsbooks. The state of WA has tried to close the loophole by outlawing all online gambling, but betting sites accept members from there, and no arrests for online gambling have ever been made. Still, you should follow all local laws and drive on only at your own risk.
Best Betting Sites With NASCAR Sims
How To Bet On NASCAR: Ignition
The world of simulated sports betting can be confusing to those first encountering it, and NASCAR sims are no exception, offering an additional category to consider when compared to most markets. Below, we break down each type of legal betting offered for NASCAR and how they differ from each other.
Simulated NASCAR races feature CPU controlled stock cars and completely omits any human involvement in the proceedings. These automated races can feature variables such as weather conditions, the number of laps, and other numerous rules, all of which will be declared in the betting lines for every online race.
Odds are based the attributes of the in-game NASCAR drivers and stock cars, which reflect historical data. This allows gamblers that are familiar with the sport to quickly adapt to legal NASCAR sim betting. As with any sports betting (real or simulation), research is your friend.
The main difference between NASCAR simulations and NASCAR eSports is that human gamers are in charge of the latter, eliminating the presence of CPU control. Professional gamers can participate in-person or online, with full eSports races shown via live feeds accessible at your favorite legal betting site or through an online video hosting platform like Twitch.
eSports betting odds are based on a combination of the skillset of the gamers as well as the attributes associated with the in-game stock cars. As with sims, eSports contests can include many variables, including inclement weather, custom lap counts, and more.
eNASCAR
eNASCAR contests are exactly the same thing as NASCAR eSports. The reason an additional category was created is because, in the case of eNASCAR, the gamers are real-life NASCAR drivers controlling their virtual counterparts. How great is that?
These contests were invented during the COVID-19 pandemic and were actually broadcast on national television to pacify eager NASCAR fans. These eNASCAR games inspired the creation of legal betting odds, and those lines are offered at select domestic sportsbooks and at the best online betting sites operating offshore.
NASCAR: Ignition Odds
The betting odds placed upon NASCAR games are identical to the lines seen when legally wagering on NASCAR. The most common betting line we've seen includes all drivers in a list, with odds placed next to each name, indicating their chances of winning the race.
Since there are so many options to choose from on such a wager, all drivers usually feature odds that are in the positive, providing a nice payout for correctly selecting the winner.
Other betting lines we've seen include head-to-head matchups, which pits two drivers against each other and offers odds on which one will finish in the higher position at the conclusion of the race. Driver groupings are another popular betting line, creating a mini race-within-a-race among a handful of drivers.
Which States Allow Legal Betting on NASCAR Sims?

Bettors that are interested in wagering on NASCAR: Ignition and its related categories can safely do so at any of our recommended offshore betting sites in all but Washington. Some states allow for domestic NASCAR eSports betting, and they include the following. However, you may not find eSports odds on all of these states' betting boards or sports betting apps:
States Where Betting on NASCAR eSports and Sims Locally is Illegal
The only state that has passed a law banning eSports betting is Indiana, so gamblers should either use an offshore betting site or visit another state where such wagering does not violate any regulations. Remember, IN residents are free to sign up at any offshore sportsbook, and doing so is perfectly legal.
NASCAR: Ignition Betting Apps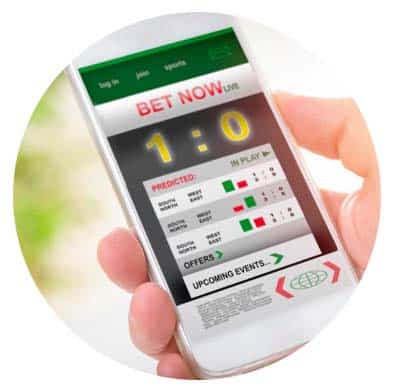 The legal sportsbooks we recommend in this guide offer mobile play on current smartphones and tablets, which include iPads, iPhones, and Android devices. No visit to the Google Play or App Store is required. Any up-to-date mobile browser such as Firefox, Opera, Chrome, or Safari can access these premium NASCAR sim betting sites from anywhere you have an Internet connection.
Each site's mobile portal utilizes gaming technology that conforms to all mobile screen sizes and offers the full spectrum of NASCAR eSports betting options, in many cases also displaying the races themselves right in the palm of your hand.
Live Betting On NASCAR Sims And eSports
Once a NASCAR: Ignition race starts, the wagering doesn't have to stop. Live betting offers updated odds throughout the contests that can be wagered on until the checkered flag is waved. There is no limit to the betting odds that can be offered during the race.
Common lines we've seen are updated winners as well as various prop bets that include head-to-head competitions between select racers or groups of racers with odds placed on who will finish first among them. You can even bet on props involving wrecks, cautions, specific finishing orders, and more. Each book will have different NASCAR: Ignition odds, so you'll want to shop lines before you head for the finish line.
NASCAR: Ignition Betting FAQs