2022-23 NHL Playoff Picture Odds
NHL Playoff Picture Odds For June 13, 2023
NHL Playoff Picture Odds For May 29, 2023
NHL Playoff Picture Odds For May 22, 2023
NHL Playoff Picture Odds For May 15, 2023
NHL Playoff Picture Odds For May 8, 2023
Preseason NHL Playoff Picture Odds For 2022-23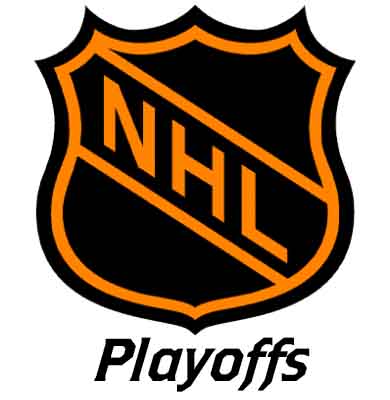 When comparing the above two brackets, the inconsistency between them can illuminate the implication of the NHL Playoff odds and reveal the difficulty level of each team's path to the Stanley Cup Finals.
Sure, Stanley Cup futures do a decent job of predicting the eventual champion, but what it doesn't provide is a clear image of what the NHL betting lines are suggesting regarding the trail each team will need to blaze to achieve championship glory.
When provided this NHL Playoff picture, bettors can make a more informed wager on the eventual Stanley Cup winner as well as which NHL team will advance in each round of the postseason.
Best Stanley Cup Playoffs Betting Sites
🏒 Odds Provided By Bovada
NHL Stanley Cup Finals Game 4 - 06/22
Point Spread: Colorado Avalanche -1.5, Tampa Bay Lightning +1.5
Moneyline: Colorado Avalanche -110, Tampa Bay Lightning -110
Total: 6.0 
NHL Stanley Cup Finals Game 4 Playoffs Series Prices - 06/22
Moneyline: Colorado Avalanche -270, Tampa Bay Lightning +220
2023 NHL Stanley Cup Playoffs Format
8 teams from each Conference qualify for the NHL Playoffs
The top 3 finishers In each division earn a playoff spot
The next best 2 teams in each Conference, regardless of Division, earn the final two wild card playoff spots
Each round of the NHL Playoffs is a best-of-seven series where the first team to capture four victories will advance
The higher seed gets the home ice advantage and will host four out of the seven total series games
Series are played in a format of home, home, away, away, home, away, home.
Regular season performance is key in setting the Stanley Cup odds, and should be researched heavily prior to betting on the NHL Playoffs.
2022-2023 NHL Division Alignment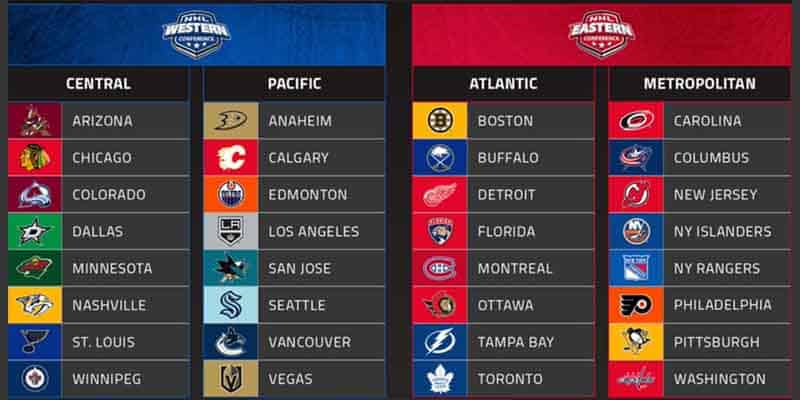 How Is The NHL Playoff Picture Created?
The above NHL Playoff bracket odds are created using a combination of NHL futures odds, game lines, conference championship predictions, and perhaps most importantly, Division betting lines.
In individual game lines, the NHL team that has the point-spread advantage is awarded the victory. That victory is then applied to the current standings and then combined with all varieties of NHL Playoff futures to populate the bracket and predict the trajectory of each team.
Why Are The NHL Playoff Bracket Odds Important?
When studying the list of teams that could potentially qualify for the Stanley Cup Playoffs at premium legal online sportsbooks, they will be listed in order of how likely they are to win the title. Futures betting lines do not provide much insight into how the championship team will arrive at that conclusion, and what caliber of teams they'll face along the way.
For instance, achieving a particular seed in the NHL Playoff bracket plays into the likelihood of success, but if they are in line to play a lower seed in the second round that has given them difficulty during their regular-season matchups, that information will play heavily into to whether or not you decide to lay any action on that team's championship futures.
Playoff Odds vs. Current NHL Standings
The bracket on the top right of this page indicates where each NHL Playoff team will be seeded if the season ended on the day the results were calculated. This bracket merely represents current reality and in no way factors in future opponents.
That's why the playoff picture odds come in so handy. They actually take into account the future opponents for each team and also apply different types of NHL betting odds to make a more accurate prediction, and more importantly, assist bettors an accurate wager at legal online sportsbooks.
NHL Teams That Have Clinched A Playoff Berth
Boston Bruins
Carolina Hurricanes
New Jersey Devils
New York Rangers
Toronto Maple Leafs
Tampa Bay Lightning
Vegas Golden Knights
Los Angeles Kings
Edmonton Oilers
Seattle Kraken
Minnesota Wild
NHL Teams That Have Been Eliminated From The Playoffs
Columbus Blue Jackets
Arizona Coyotes
Chicago Blackhawks
Anaheim Ducks
San Jose Sharks
NHL Playoff Bracket Odds: Prior Seasons
Changes To The 2021 NHL Stanley Cup Playoffs Format
During the 2020-21 NHL Season, the Stanley Cup Playoffs were forced to change their format due to COVID-19 travel restrictions across the US-Canada border. Below is a description of that format:
Each round of the NHL Playoffs will continue to be a best-of-seven series where the first team to capture four victories will advance.
What is different in 2021 is that the NHL's traditional 6 Division format has been narrowed down to 4 Divisions in order to keep travel to a minimum during the COVID-19 pandemic, especially over the Canadian-US border.
The 16-team postseason tournament will feature four brackets, one for each NHL division. The top four teams in each Division will qualify for the playoffs and face off against each other for a shot to reach the semifinal round. The seeding for each Divisional bracket will be #1 vs. #4, and #2 vs. #3.
Once each Division bracket has been decided, the NHL Playoffs will be reseeded with the higher seeds being awarded home-ice. Once the semifinals are re-seeded, it will also be matchups of #1 vs. #4, and #2 vs. #3.