2023 Preakness Stakes Betting Guide
Bet On The 147th Preakness Stakes Right Now!
2023 Preakness Odds Favor Epicenter 1/1
Rich Strike, Kentucky Derby Winner, Not Racing In Preakness
The Preakness Stakes is the second leg of the American Triple Crown of Thoroughbred Racing, and it follows the Kentucky Derby in both popular excitement and betting volume. While no race is more prestigious than the Derby, the Preakness – held at Pimlico Race Course in Baltimore, Maryland – comes very close. The 2022 Preakness Stakes is scheduled for Saturday, May 21, exactly two weeks after the Derby.
For horses and bettors, "The Run for the Black-Eyed Susans" has given many an unlucky Triple Crown hopeful a black eye, but it's also the race that determines whether or not there can be a potential Triple Crown winner to begin with. Thus, the intrigue for the race – and for legal Preakness Stakes betting – is always off the charts.
If you already bet the ponies, you'll be interested to know that you can legally and safely wager on Preakness horses at online racebooks that operate outside of US jurisdiction. These sites let you lock in house-banked Preakness odds instead of going with the US model of pari-mutuel horse betting, which means better payouts for you. So if you want the best horse betting odds, you need the best legal horse betting sites!
Best Preakness Stakes Betting Sites
Is Preakness Stakes Betting Legal?
Yes! In over 40 US states, bettors can wager at domestic interstate racebooks legally. However, this leaves a fifth of the country out to pasture when it comes to legal online horse betting, which is less than ideal, especially on a race as popular and important as the Preakness Stakes.
Fortunately, horseplayers from every state in the USA can use a legitimate international betting site that offers Preakness Stakes odds. These sites are safe to use, and there are no US federal gambling laws that prevent citizens and residents from placing real money horse bets online. The primary law governing US horse racing betting is the Interstate Horse Racing Act of 1978 (IHRA), and it does not exclude offshore racebooks in any way.
Note: WA has laws barring all online gambling, including horse racing betting. However, since these laws are unenforced, you can bet on the Preakness online at the above sites, though we recommend following all local laws and saddling up only at your own risk.
2022 Preakness Stakes Odds
There are currently no odds for the 2022 Preakness Stakes posted online (or anywhere else), as the race is several weeks out. Once the Kentucky Derby is concluded on May 1, you will start to see Preakness odds in the "Horse Racing Futures" sections of your favorite online racebooks.
The Preakness Stakes has a traditional limit of 14 horses, but it sometimes fields a smaller number of ponies than that. This can be due to late scratches, disqualifications, and withdrawals as the date of the race nears.
Once the current Preakness betting odds are posted, we will update this section with the most current betting lines at all the top-rated legal online racebooks.
2022 Preakness Stakes Field
The field for the 2022 Preakness Stakes has been set and betting odds and futures are on the board taking action at our top online sportsbooks.
The maximum Preakness field is 14 total horses, but that doesn't necessarily mean that the race will feature 14 entrants come the day of the meet. That is the case for the 2022 Preakness as 9 thoroughbreds will be lining up for the starting gun on May 21.
Epicenter is a 1/1 favorite to win the 2022 Preakness Stakes, but he was also favored to win the Kentucky Derby and that didn't happen.
Simplification 6/1
Creative Minister 10/1
Fenwick 50/1
Secret Oath 4/1
Early Voting 3/1
Happy Jack 30/1
Armagnac 12/1
Epicenter 1/1
Skippylongstocking 20/1
There are several ways to legally bet on the Preakness Stakes horse race. If you live in a state with horse racing tracks, you can usually use their simulcast options to wager on the race. This is legal in most states thanks to the IHRA, but not all states have opted in.
In the majority of states, you can also wager at off-track betting outlets (OTBs) or online with a domestic operator.
However, as stated, some 20% of Americans can only legally bet on the Preakness – and other horse races from the US and around the world – at international racebooks operating online and outside of the reach of US laws.
Because this latter option is available to everyone – and because you usually get better odds that are locked in when you place your wagers – we recommend them over all domestic betting venues short of watching the Preakness and wagering on it live at the Pimlico Race Course itself.
International Online Racebooks
International online racebooks – which are technically international OTBs – are the best option for Preakness Stakes betting. In fact, they're the best option for all horse racing betting, as the best online racebooks feature daily races from hundreds of US tracks and other major tracks from all across the world.
If you're a true fan of the ponies, watch the Triple Crown series like it's the Super Bowl, and subscribe to BloodHorse magazine, you should probably be wagering at an overseas betting site. You'll get races 24/7/365 from all around the world, with Thoroughbred, Standardbred, and harness horse races to choose from.
If you want to bet on sports in Canada, the US, Mexico, Great Britain, Ireland, the Middle East, Australia, Japan, and more, sign up at an offshore horse betting site today. With the 2022 Preakness Stakes just about to burst out of the gate, now is the perfect time to become a member.
Official Racetracks
Betting at official horse racing tracks is a fun way to wager on the Preakness, but it's not the most convenient way. Even if your state has horse tracks, chances are you'll have make tracks in a big way to get there to wager.
To bet at official racetracks, you place your wagers with a ticket window attendant, and then when all the betting is in, the track takes its cut before divvying up the remaining pot per the submitted tickets.
This is why bettors making pari-mutuel (i.e. pool-style) wagers won't know the exact odds or payouts for their wagers until all betting is closed and the race is about to begin. If you have a track located conveniently nearby, it's a fun experience, but if you'd have to hoof it long distance, we recommend OTBs and online international books.
Off-Track Betting Venues (OTBs)
OTBs are retail terminals, kiosks, or storefronts that are related to local racetracks and allow bettors to place wagers – and often view simulcast races – on television monitors. The Preakness Stakes is naturally one of the biggest movers and shakers for domestic US OTBs.
Effectively, off-track betting sites expand the scope and reach of tracks so more horseplayers can wager on the Preakness Stakes and other races. The disadvantages of OTBs are that they too remain few and far between for most bettors, and unlike betting at a track, you can't handicap the horses for yourself.
The domestic online racebooks that take customers from 40+ US states are considered to be Internet-based OTBs, and some services even have downloadable iPhone horse betting apps and Android horse betting apps for the Preakness Stakes et al.
Mobile Preakness Stakes Betting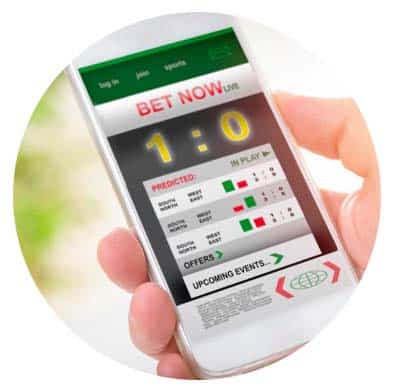 You can participate in Preakness betting via mobile devices at overseas betting sites, but you won't find horse betting apps in the App Store or on Google Play. Instead, the best Internet horse betting outlets all use web apps – That is, you can bet on the Preakness and other races via your mobile browser.
These mobile portals are accessible via any device, whether you have the smallest iPhone or the biggest iPad or Android. Even better, their dynamic, responsive designs mean you get a custom racebook presentation no matter what.
There are no downloads or updates to worry about, and you can place bets from anywhere in the USA since there are no geo-fencing restrictions. This means that the Preakness Stakes is truly a national phenomenon not just for fans of the Sport of Kings but for casual and serious horse bettors everywhere.
All you need to wager on the Preakness race – or any other horse meet – is a modern smartphone or tablet, an Internet connection, and a membership at one of the top horse betting sites listed here.
What Is The Preakness Stakes?
The Preakness Stakes is the second leg of the US Triple Crown of Thoroughbred Racing, and after Kentucky Derby betting, it turns the biggest handle of any horse race in the country. Usually, the Derby winner will be the favorite to win the Preakness, with both fans and bettors high on the hog – or high on their high horses! – because of the always-exciting potential for a new Triple Crown champion.
If the winner of the Kentucky Derby is considered a very strong horse, he or she will usually be favored by a wide margin to win the Preakness. And if he actually pulls off the win, Belmont Stakes betting takes everything to a whole new level, as the Belmont is the last leg of the Triple Crown series.
The Preakness is the youngest of the Triple Crown races, with its inaugural run at Baltimore's Pimlico Race Course held in the Spring of 1893.
The Preakness racetrack is 9.5 furlongs in length (1 3/16 miles, dirt), making it the shortest of the three Triple Crown races. Thus, it favors sprinters over marathoners. And while the purse for the Preakness is currently $1 million to 1.5 million, that's nothing compared to the gambling action that horse bettors lay down each year online.
How To Watch The 2022 Preakness Stakes
If you want to watch the 2022 Preakness Stakes, you definitely can! The race is scheduled to be held on Saturday, May 21, 2022. (If the date is changed, we will update this page accordingly with the new Preakness Stakes time.) 
Whether or not you're going to bet on the 147th Preakness Stakes, there's always strong excitement and TV ratings for the event, because it's definitely a must-watch event.
Date: Saturday, May 21, 2022
Time: ~6:45 PM EST
Place: Baltimore, Maryland
Venue: Pimlico Race Course
Attendance: 100K+
Broadcast: NBC
Streaming: NBCSports, NBC Sports App
Saturday, May 21, 2022
The 2022 Preakness Stakes will be held on Saturday, May 21, 2022.
Pimlico Race Course (Baltimore, MD)
If you're wondering where the Preakness is held, it's being contested, like always, at the Pimlico Race Course in Baltimore, MD. The Preakness has been run at this track since its inception in 1873.
9.5 furlongs (1 3/16 miles)
In terms of track length, the Preakness Stakes is contested over 9.5 furlongs (1 3/16 miles), making it the shortest of the Triple Crown races.
About 2 minutes
The Preakness Stakes, as the shortest race in the famed American Triple Crown of Thoroughbred Racing series, is usually over in about two minutes.
Typically, the winning Preakness horse will have a time of around 1:56 to 1:58.
The 2022 Preakness Stakes horses will be:
Simplification 
Creative Minister 
Fenwick 
Secret Oath 
Early Voting 
Happy Jack 
Armagnac 
Epicenter 
Skippylongstocking 
Epicenter is favored to win the 2022 Preakness Stakes with a -105 odds. He was also favored to win the 2022 Kentucky Derby but ended up finishing second.
NBC
The Preakness Stakes will be aired on NBC, and you will also be able to watch it on NBCSports.com and via the NBC Sports App for iPhone, Android, Apple TV, YouTube TV, and other platforms.
Approx. 6:45 PM EST
The 2022 Preakness Stakes is scheduled to be run at approximately 6:45 PM EST on Saturday, May 21, 2022. 
1:53.00
Secretariat, the greatest racehorse of all time and the 1973 Triple Crown winner, owns the current track record at the Preakness and, in fact, at all three Triple Crown races.
Secretriat's Preakness time of 1:53.00 is still the time to beat, though a few world-class horses have approached that time over the years since (i.e. Curlin in 2007 and Louis Quatorze in 1996, both posting times of 1:53.40).
While Secretariat's record may fall one day, no horse racing purist hopes it ever will.
2 1/2 lengths
Secretariat won the Preakness by 2 1/2 lengths, beating out Sham, another hall of fame racehorse, in the process.
Sham's track time of 1:53.60 is tied for the fifth fastest in history, and it was second only to Secretariat's record at the time of the 1973 Preakness Stakes.
Approx. $1 million
The 2022 Preakness Stakes purse is estimated to be roughly $1 million to $1.5 million. The winning horse earns about 90 percent of the prize money.
The jockey that wins the Preakness Stakes will typically earn around 10% of the winning horse's prize money.
If the winning horse earns $900,000, for example, the jockey would take home $90,000, paying roughly 30% of that to his or her club and valets.
The 2021 Preakness Stakes was won by Rombauer, who had morning line odds of 12-1 (+1200).