Ohio Sports Betting – Bet on Sports Legally in OH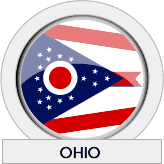 Online Sports Betting Available In Ohio Via Offshore Sportsbooks
No Domestic Sports Betting In Ohio Available At This Time
Legislative Movement Toward Sports Betting: Yes
The Buckeye State is home to several major professional franchises and one of the best college programs in the country. Ohio has been trying for several years to get on board with other states that have authorized sports betting but have not yet made it to the finish line.
Until lawmakers are able to clear their legislative hurdles, Ohio sports fans can continue legally betting on sports at the trusted international sportsbooks that have been accepting their wagers for years.  Below you'll find information on these reputable online sports betting sites that legally accept OH residents.
Is Sports Betting Legal In Ohio?
Domestic sports betting is currently being considered for the Buckeye State but has not yet been approved by state lawmakers.  The good news is that at this time there are no Ohio state gambling laws that prohibit residents from placing sports bets at international online sportsbooks operating legally outside of the United States, such as the ones listed on this page.
In addition, there are no federal laws that prohibit the use of overseas sportsbooks by OH players. Bettors in Ohio can use these sports betting sites to place bets without worrying about violating any US gambling laws.
Ohio Sports Betting Bills
Ohio lawmakers are actively in session and working to pass major sports betting legislation. SB176 is a bill dedicated to the authorization and legalization of domestic sports betting in the state. This would legalize state-based event wagering for both retail and online platforms. The bill has crossed over and is waiting on passage.
The state's legislative session extends through December 31, which means that this OH sports betting bill could pass or fail at any moment this year.
Even so, things are looking bright for Ohio sports bettors.
To keep up with the action on SB176, you can use our US bill tracking tool.
Best Legal Online Sportsbooks For Ohio Residents
These brands are highly regarded by bettors and industry insiders alike and have been in the business for years. They each feature betting lines on your favorite local teams and more. For our readers looking for more information check out our reviews page for a more detailed analysis of the brands listed below.
OH Sports Betting Details
Below is a breakdown of Ohio's legal domestic sports gambling market. As you can see, the state's betting market is mostly comprised of offshore sportsbooks since the state has yet to authorize domestic sports gambling operations. Nonetheless, if Ohio were to legalize sports betting we would update the following information accordingly.
Legal Sports Betting: Offshore Only
Ohio Minimum Sports Betting Age: 18 years old (via Offshore)
Land-Based Sportsbooks: TBD
Online Sportsbook: Offshore Only
Mobile Betting App: Offshore Only
In-Play/Live Betting: Offshore Only
Estimated Revenue: TBD
Eligible Operators: TBD
Licensing Fee: TBD
Tax Rate: TBD
Tax-Funded: TBD
What You Can Bet On In Ohio:
All betting lines, odds, and props for all games, teams, and players in Ohio across all college and professional sports (via Offshore)
What You Can't Bet On In Ohio: 
No restrictions (via Offshore)
Where Can I Bet On Sports In Ohio?
No state-based sportsbooks are permitted to operate within Ohio without proper legislative approval. However, neighboring states with domestic sportsbooks are available to travel to or Ohio players can use offshore sportsbooks to gamble conveniently within their state.
Biggest Sports Betting Cities In Ohio
Cleveland
Cleveland is where the best Ohio sports action currently resides. The city is home to the Cavaliers (NBA), Indians (MLB) and Browns (NFL). You can bet on any Cleveland team through the sportsbooks mentioned in this guide.
Cincinnati
The rest of the professional sports teams play in Cincinnati, which includes the Reds (MLB) and Bengals (NFL). Betting lines can be found on both teams via the offshore sportsbooks in this guide.
Columbus
In Columbus, the Ohio State Buckeyes are one of the best teams in the country. They are one of the favorites to win the CFP National Championship for the 2018 season and Buckeyes fans and bettors can wager on the program on any of our suggested sportsbooks.
---
Frequently Asked Questions About Ohio Sports Betting
Will I Get Arrested for Betting on Sports in Ohio?
Since Ohio has not legalized domestic sports gambling players who bet through any OH-based sportsbooks can incur a violation charge by local law enforcement. For this reason, we recommend OH players only use offshore sportsbooks until there are legal domestic options available/.
Are Mobile Sports Betting Apps Legal in Ohio?
No, Ohio has not authorized any domestic sports gambling apps. Offshore sportsbooks do provide mobile sports wagering capabilities for OH players interested in betting on their favorite mobile device immediately.
What Teams Can I Bet on in Ohio?
Ohio has not set any parameters as to which wagering types are authorized or prohibited. Offshore sportsbooks place no restrictions on the types of bets OH players can make.
Are There Any Local Sportsbooks in Ohio?
No, not at this time. Ohio has not authorized domestic sports gambling and thus no legal OH-based sports betting operations are currently active. We do not recommend betting through an unlicensed and unregulated OH bookie or sportsbooks.
What is the Legal Minimum Sports Betting Age in Ohio?
Ohio has no minimum sports gambling age since it is not authorized these activities to be conducted within the state at this time. However, offshore sportsbooks do allow OH players as young as eighteen to gamble. State laws may conflict with offshore standards if the state were to legalize domestic sports gambling.
---
Ohio Legislative Resources
Ohio residents seeking to speak with a representative regarding domestic sports gambling can use the following resources to get in contact with those individuals in a position of power.
Ohio Gambling Resources
The Problem Gambling Network of Ohio has plenty of resources for OH players seeking to remedy their gambling addiction or those seeking treatment services for a loved one affected by problem gambling.