Ohio Sports Betting – How To Bet on Sports Legally in OH in 2023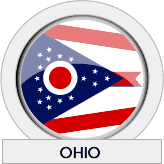 Mobile Ohio Sports Betting Debuted January 1, 2023
Online Sports Betting Available In Ohio Via Offshore Sportsbooks
Domestic In-Person Sportsbooks Expected To Open Soon
The Buckeye State is home to several major professional franchises and one of the best college programs in the country. After several failed attempts, legal sports betting in Ohio became a reality, and domestic mobile sportsbook apps debuted on January 1, 2023.
While lawmakers have now passed a bill to legalize sports betting, more time is needed before in-person Ohio sportsbooks can open their doors to customers. That is expected to happen in the early months of 2023.
Ohio sports fans can continue legally betting on sports at the trusted international sportsbooks that have been accepting their wagers for years.  Below you'll find information on these reputable online sports betting sites that legally accept OH gamblers.
Best Ohio Sports Betting Sites For 2023
These brands are highly regarded by bettors and industry insiders alike and have been in the business for years. They each feature betting lines on your favorite local teams and more. For our readers looking for more information check out our reviews page for a more detailed analysis of the brands listed below.
Is Sports Betting Legal In Ohio in 2023?
Domestic sports betting has been legalized by the Buckeye State for online. mobile, and in-person venues. There are no Ohio state gambling laws that prohibit residents from placing sports bets at international online sportsbooks operating legally outside of the United States, such as the ones listed on this page.
In addition, there are no federal laws that prohibit the use of overseas sportsbooks by OH players. Bettors in Ohio can use these sports betting sites to place bets without worrying about violating any US gambling laws.
Ohio Sports Betting Bills
Ohio lawmakers have passed House Bill 29, sports betting legislation that allows for 25 online sportsbooks and 42 brick-and-mortar venues. Retail locations are on the way, but mobile sportsbook apps will begin accepting wagers on January 1, 2023. 
To keep up with the Ohio sports betting legislation, you can use our US bill tracking tool.
OH Sports Betting Details
Legal Sports Betting: Offshore Only, Domestic Coming Soon
Ohio Minimum Sports Betting Age: 21+ Domestic, 18+ Offshore
Land-Based Sportsbooks: Coming Soon
Online Sportsbook: Offshore, Domestic
Mobile Betting App: Offshore, Domestic
In-Play/Live Betting: Offshore, Domestic
Estimated Revenue: Between $8 And $10 Billion Annually
Eligible Operators: 42 In-Person, 25 Online
Licensing Fee: $50,000/$100,000
Tax Rate: 10%
Tax-Funded: No
What You Can Bet On In Ohio:
All betting lines, odds, and props for all games, teams, and players in Ohio across all college and professional sports via offshore. Online and in-person domestic sports betting sites will cover most pro and college athletics but won't focus on entertainment odds or election betting at all.
What You Can't Bet On In Ohio: 
No restrictions when combining offshore and domestic OH sportsbooks,
Where Can I Bet On Sports In Ohio?
Domestic vendors will begin accepting bets over the web and via gambling apps on 1/1/23. Retail sportsbook locations are legal in Ohio, but no venues have opened their doors just yet. Offshore sports betting sites are also available to OH-based gamblers, and we've listed the top options available above.
Biggest Sports Betting Cities In Ohio
Cleveland Sports Betting
Cleveland is where the best Ohio sports action currently resides. The city is home to the Cavaliers (NBA), Indians (MLB), and Browns (NFL). You can bet on any Cleveland team through the sportsbooks mentioned in this guide.
Cincinnati Sports Betting
The rest of the professional sports teams play in Cincinnati, which includes the Reds (MLB) and Cincinnati Bengals (NFL). Betting lines can be found on both teams via the offshore sportsbooks in this guide.
Columbus Sports Betting
In Columbus, the Ohio State Buckeyes are one of the best teams in the country. They are one of the favorites to win the CFP National Championship for the 2018 season and Buckeyes fans and bettors can wager on the program on any of our suggested sportsbooks.
---
Legal Ohio Sports Betting FAQs
Will I Get Arrested for Betting on Sports in Ohio?
OH players that use offshore sportsbooks will not get arrested because there are no regulations in place that outlaw them. These offshore sportsbook sites will serve Ohio bettors exclusively until domestic options open after the regulation is passed.
How To Bet on March Madness in Ohio
While Ohio waits for state-regulated sportsbooks, championship NCAAAB odds can be wagered upon in the Buckeye State by using the services of the offshore March Madness betting sites we endorse in this guide.
Betting on college basketball in Ohio is a breeze when opting for international NCAAB sportsbook sites because they're open 24/7 and feature hundreds more choices for Super Bowl props, line, and odds. Don't take our word for it, Ohioans! Click on any link and find out!
Are Mobile Sports Betting Apps Legal in Ohio?
While Ohio has authorized domestic sports gambling apps, more regulation is required prior to their debut. Offshore sportsbooks do provide mobile sports wagering capabilities for OH players interested in betting on their favorite mobile device immediately.
What Teams Can I Bet on in Ohio?
Ohio has not set any parameters as to which wagering types are authorized or prohibited. Offshore sportsbooks place no restrictions on the types of bets OH players can make.
Are There Any Local Sportsbooks in Ohio?
No, not at this time. Ohio has authorized domestic sports gambling and awaits further rulemaking prior to legal OH-based sports betting operations becoming active. We do not recommend betting through an unlicensed and unregulated OH bookie or sportsbooks.
What is the Legal Minimum Sports Betting Age in Ohio?
Ohio's minimum sports gambling age is 21 years old. Ohio gamblers can become members and bet on sports at the age of 18 using offshore sportsbook sites like the ones listed in the table above.
---
Ohio Legislative Resources
Ohio residents seeking to speak with a representative regarding domestic sports gambling can use the following resources to get in contact with those individuals in a position of power.
Ohio Gambling Resources
The Problem Gambling Network of Ohio has plenty of resources for OH players seeking to remedy their gambling addiction or those seeking treatment services for a loved one affected by problem gambling.
Betting On Football In Ohio In 2023
How To Bet On NFL Football in Ohio
Ohio is home to the Cincinnati Bengals and the Cleveland Browns, both of whom are members of the AFC North Division. The online NFL betting sites included in the list above represent the top options for laying some action on pro football odds, futures, and props. Any Ohio-based bettor aged 18 and over can join and place a wager on NFL odds right now.
How To Bet On College Football in Ohio
The Ohio State Buckeyes and Cincinnati Bearcats dominate the college football landscape in OH, but did you know that OH-based gamblers can wager on NCAAF teams across the entire USA? As long as you are 18 or older, Ohio-based college football gambling is just a few clicks away. Just refer to the list of offshore sportsbooks above and click on their reviews to learn more.