BetOnline Prop Builder
BetOnline AG is one of the most respected legal sports betting sites for US members, establishing that status based on its longevity in the industry coupled with consistent, reliable performance and its forward-thinking approach to unique and entertaining betting products.
One such product is the site's new Prop Builder, an interactive tool that allows members to create their own player props and team props on all the games of the day. Being able to customize your betting action in this way really adds a new level of dynamic interactivity that elevates the whole experience, and it's something you won't find at domestic sportsbooks.
Customized Betting Action
To learn more about the BetOnline Prop Builder, our brief guide explains the basics of how this invaluable tool actually works. That said, we can't dive too deep because, with the BetOnline AG Prop Builder, you can make tens of thousands of different wagers every single day of the year. Obviously, it would take a lifetime to explain every variable.
All in all, we think it's adequate to put it like this: At BetOnline Sportsbook, if you see a line you like, you can bet on it. But with the BetOnline Prop Builder, if you don't see a line you like, you can make it and then bet on it, too!
What Is The BetOnline Prop Builder?
Debuted in 2021, the BetOnline Prop Builder is basically identical to the Bovada Prop Builder, which hit the Internet back in 2020. Of course, Bovada is something of a trendsetter for the industry, so it's no surprise that BetOnline followed suit in short order once Bovada's prop creation platform hit the market.
That said, it is something of a surprise that it's the same exact platform. It seems that the Prop Builder tool is a third-party plug-in –  operating under the "Prop Kingz" branding.
Of course, that's also very good news, as it means that members of both sites can more easily use this precise betting tool to get the best possible wagers. Remember, many online sports bettors in the US are members of multiple betting sites, as each service has different odds for moneyline bets, spread bets, straights, and pre-made props.
We always recommend shopping lines between competing sites to get the most bang for your buck, and now that you can access the same prop builder software at all the top online sportsbooks (as MyBookie also uses the Prop Kingz platform), the going is that much easier!
How To Use The BetOnline Prop Builder Tool
The best way to use BetOnline AG's create-your-own props software is to simply follow any link on this page, sign up, log in, and play with all the options at your disposal. To do that, the first step (after creating your BetOnline login) is to actually find the Prop Builder tool itself.
If you're using BetOnline's "Classic" layout, you'll find the Prop Builder link located down the left side of the page in a red box called "Player Props." On mobile, this is accessible by tapping the three-line "hamburger" menu on the upper left side of your screen.
If you're using BetOnline's new sportsbook view on desktop, just click the "Sports" tab at the top of the screen and then select "Player Props" from the left-hand menu. On mobile, tap the "Sports" icon at the bottom of the page, then tap the hamburger menu at the top-left corner of the screen. There, select "Player Props," and you're in.
Again, to really learn all the ins and outs of the Prop Kingz Prop Builder at BetOnline, you'll need to try it out for yourself. And don't worry! You'll never be charged for a wager during the prop building process. In order for your bet to go through, you must confirm your ticket after you assemble any props and parlays. This allows you to create prop bets and see how much they'll pay out before you go through with the gamble.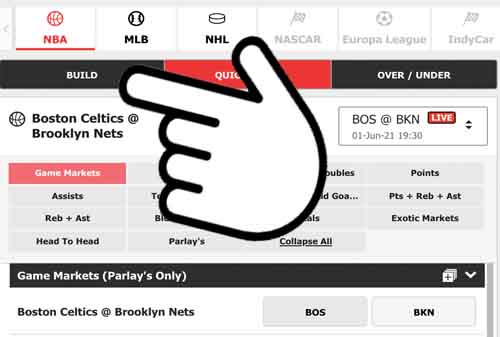 BetOnline Prop Builder Features
BetOnline already offers dozens – if not hundreds – of player props, team props, NFL player props, game props, and broadcast props on most daily contests. And that's before you add BetOnline live betting props or prop builders for the Super Bowl to the mix.
But since standard BetOnline props are all prebuilt by the sportsbook itself, sometimes the lines that really interest you just aren't available. And even though BetOnline customer service often allows you to call in and place a bet of your own making, that can take too long for time-sensitive sports wagers. That's where the Prop Builder truly shines.
When you first launch the BetOnline Prop Builder, this is what you'll see:
At the top of the Prop Builder panel, there's a row of all the day's active sports. Those sports that are in-season but are inactive for the day in question are grayed out.
Click or tap on the sport you're interested in to get to the next steps. Once you do that, you'll see three general options:
Build – This is the main feature of the BetOnline Prop Builder, as it lets you choose individual athletes participating in all the day's games. Select a player, and you can go through all their various statistical metrics and create associated prop bets. Simply tap the "plus" sign next to a player's name to start creating your custom bet slip. Most bettors will spend the bulk of their time using this option.
Quick Picks – These are pre-made props concerning each player in the Prop Builder menu. These bets are generated by BetOnline itself, and choosing from the selection is akin to placing a normal prop wager via the standard betting boards. You can modify these props to alter their associated payouts, or you can add them to custom-built props to craft unique parlay bets.
Over/Under – After choosing a particular player, you can pick from a series of over/under bets (aka totals bets) on their various in-game statistical performances. To see a given player's recent stat history, just click or tap the chart icon next to their name. These over/unders can also be added to your betting slip as parlay enhancements for other wagers.
BetOnline Prop Builder Bet Slip
Next to the above betting variables, you'll see a "Build Your Bet" option. On desktop, this is to the right of the main BetOnline Prop Builder window, where you'll see the three options listed below.
On mobile, there is no "Build Your Bet" header. Instead, the following three options are located in a row across the top of the screen, and you can toggle between them at your leisure.
Note: These options are only available on mobile after you choose a player for whom you wish to craft custom prop wagers.
Stats – This section lets you bet on the statistical performance of a one player or two players combined. After choosing your player(s), just click or tap the "Select Statistic" tab, pick a datapoint of interest, plug in the number you want to base your bet on, and choose from a list of totals bets to apply.
H2H – This section allows you to build prop bets about how two players' performances will compare during a given matchup. You will be able to choose from a number of parameters to create these "head-to-head" bets, and you can make such wagers between any two players featured on the boards.
Trios – A Trio bet featured on the BetOnline Prop Builder is like a horse racing trifecta. That is, you simply pick a stat and then choose the top three players to finish at the top of that metric, in the exact 1-2-3 order. Trios are notoriously hard to hit, but they have enormous payouts, so they're always worth buck or two.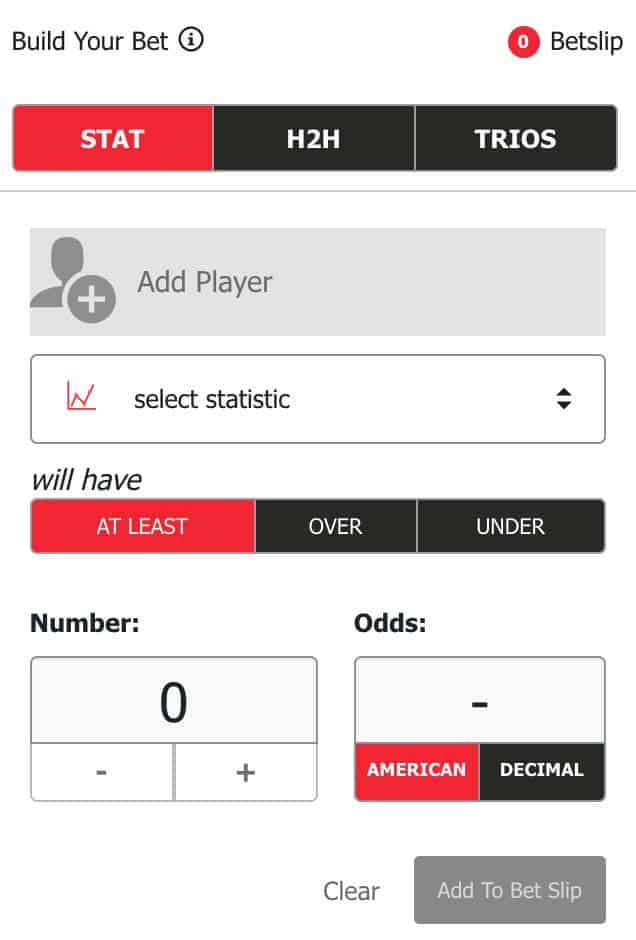 BetOnline Mobile Prop Builder App
Ironically, BetOnline's newest feature is easier to use via the site's old-school desktop computer interface. Although the Prop Builder is 100% accessible through BetOnline mobile, when you consider all the options and menus you can explore, the tool works better on bigger screens.
Fortunately, for those of you who do your online sports betting using an iPad or Android tablet, the mobile BetOnline Prop Builder implementation is basically identical to the big-screen desktop experience.
Of course, all that said, the small-screen Prop Builder isn't difficult to use. There's just less display real estate, so you've got to scroll a bit more and tap your way through a few more menus.
All that said, if you spend a few minutes with the mobile Prop Builder app for iPhone or Android, you'll get the hang of it, and you won't miss the layout of its bigger brother. Even with its slightly steeper learning curve, because you can build your own sports betting props on the go, the BetOnline mobile Prop Builder is an excellent proposition!