Legal Betting On MLB The Show Sims And eSports 2023
MLB The Show Release Date: April
Major League Baseball Sims & eSports Odds Active Now
MLB The Show Odds Are Being Offered Year-Round
When baseball is in season, sports bettors have literally thousands of wagers they can make every week. However, when baseball is out of season – or when the MLB season is delayed, fans of the game might feel like they've been caught looking.
But if you look hard enough, you'll find that you can bet on baseball sims at every major offshore sportsbook site. Powered by Sony's MLB The Show video game series, these video game sims – though not quite the real deal – are far more diamond than cubic zirconia. In other words, this is legitimate baseball betting for fans of the great American pastime, replete with all the statistics that baseball sabermetricians know and love.
To learn how to wager on MLB The Show, the batting order is simple, and we'll explain it all in our handy baseball sims betting guide.
Is It Legal To Bet On Baseball Simulation Games?
It is! In the US, you won't currently find many domestic sportsbooks that offer sim baseball betting, as the market hasn't hit these shores just yet. However, you can legally wager on MLB The Show and other sports simulations at reputable offshore betting sites. These sites are safe and legal for the vast majority of American gamblers to access, as there are no federal laws preventing participation.
Only one state – Washington – has laws barring online gambling altogether, but these are not enforced as a matter of course, and we've never heard of any of the hundreds of thousands of bettors from WA ever being fined or penalized for betting online. Still, please follow all local gambling laws.
Best Baseball Betting Sites For MLB The Show Sims
How To Bet On MLB The Show
Developed by Sony Interactive Entertainment, MLB The Show is the leading commercial baseball video game and is the best strategic baseball simulator on the market. Because the game engine uses real-world players, teams, and up-to-date stats, betting on MLB The Show mimics betting on baseball to a tee.
These games have no human component – online sportsbooks simply set up contests, set the parameters of play (lineups, pitchers, day/night games, weather conditions, etc.), and the software's random number generation – or RNG – does the rest. The games play out in real time, and you can even watch livestreams at your betting sites of choice or via services like Twitch.
All the baseball bet types you're used to are offered, including live betting so you can wager between innings. If you know how to bet on baseball, you'll feel right at home betting on The Show!
Because MLB The Show is a baseball simulator down to the last detail, you can get the full lineup of baseball odds (or odds up of baseball lines?) when wagering. The following common baseball betting options are available at offshore books featuring the popular sports sim:
Straight Moneyline – Straight bets in baseball, as in all sports, are wagers on which team will win the game outright. Negative odds show the favorite and represent how much you must risk to win $100, while positive odds are attached to the underdog and show how much you can win on a $100 bet. These are not betting minimums, merely ratios. Most baseball sim sportsbooks will accept wagers of as little as $0.50 to $1.00 (which we recommend when betting on simulations).
Run Line – The runline is baseball's version of the point spread, and these are almost always set at -1.5 for the favorite (and +1.5 for the underdog). If you pick the favored team, they've got to win by at least two runs to win the bet, while the dog can lose by a point – or win outright – for your ticket to be a winner.
Over/Under – The O/U bet, aka the totals bet, is a wager on whether or not the combined final score of the game will be higher than ("over") or lower than ("under") the point total set by your baseball sportsbook. The best baseball sim games powered by MLB The Show will always have over/unders attached.
5-Inning Lines – Five-inning lines are a baseball betting specialty, designed to allow bettors to pick a winner at the end of five innings. This is akin to halftime betting in other sports, and for baseball, it allows bettors – for the most part – to take relief pitching out of the game. Essentially, 5-inning lines are for bettors who want to focus on the acumen and impact of the starting pitchers. Baseball sims betting allows for these lines, just like the real game.
Props – Baseball player props and team prop bets are available for simulated MLB The Show betting, but options will naturally be a bit more limited than what you'd find on the lines for a real-world ballgame. Nevertheless, you can often bet on the number of strikeouts a pitcher throws, how many errors a team will commit, and more.
Futures – Because some sites offer MLB The Show in special tournament formats from time to time (like a virtual World Series), you'll be able to bet on futures odds for these contests. To do so, you'd simply pick the winner of the simulated baseball league at the outset, and if you choose correctly, the payouts can be enormous – like a bomb to deep right, right into your deep digital bankroll!
In addition to being the best baseball sim on the market, MLB The Show is also the top choice for baseball eSports. When gambling on baseball betting lines, there are a few key differences between sportsbooks' online baseball simulation league action and eSports.
While both markets use the same Sony baseball software, eSports is not only a real baseball simulation, it's also played by real professional gamers. As a gambler, you'll get all the same betting lines, but you'll also be able to wager on the performances of the human players in control of the games.
With MLB The Show eSports baseball, there is an extra layer of strategy involved, because a mediocre player using a great team is likely to get trounced by a great player using a mediocre team. Don't strike out by ignoring this curveball!
Which States Permit Betting On MLB Video Game Sims?

Currently, you won't find any baseball simulator betting at domestic sportsbooks in states with legal sports betting. However, that's simply because these books haven't yet hit the mound with odds on sports simulations.
When they finally decide to offer such baseball betting odds, you will be able to wager on MLB The Show sims in the states below, and possibly many others. Note: Only one state has banned eSports and sports sims betting to date, and that's Indiana. For ID residents, online sportsbooks operating offshore are your only option for MLB The Show betting.
Colorado
Nevada
New Jersey
Tennessee
Virginia
West Virginia
Washington
MLB The Show Betting Apps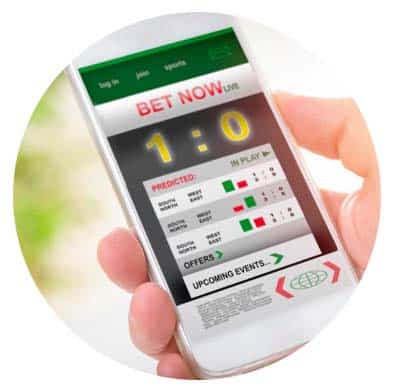 There are no official MLB The Show wagering apps available on the App Store or in Google Play. However, you can wager on this real baseball simulation phenomenon by using any top offshore sportsbook's web app platform.
All you need to enjoy iPhone sports betting and Android sports betting on The Show is a reasonably modern mobile device, an up-to-date web browser, and Internet access. That way, you can bet on baseball simulation games from anywhere, whether you're at home plate or patrolling the outfield warning track.
These mobile web apps offer a custom gambling platform that responsively fits any smartphone or tablet screen and feature full touchscreen controls, making it easy to bet on balls and strikes wherever you are in the US. Unlike domestic sports betting apps, there is no geo-fencing, so you can hit it over the fence from anywhere in the US!
MLB The Show Live Betting
Live betting is not available for free computer baseball simulation games of the non-branded variety (that's a different betting market altogether, but also a compelling one), but because MLB The Show sims play out in real time, you can bet on the games while they're being played and livestreamed.
In-game baseball betting allows you to wager on inning-by-inning outcomes, with straights, runlines, and totals doing a veritable infield shift to reflect the ebb and flow of every contest. If you make a bad bet before the first pitch, you can recover with live betting, and if you want to double down on a sure thing, you can do that, too!