Legal Kentucky Derby Betting
There is no more popular or anticipated horse race in the world than the Kentucky Derby. As the first leg of the vaunted American Triple Crown of Thoroughbred racing, the Derby – and Derby betting odds – are always hugely popular in the mainstream sports media and at sports betting sites everywhere.
Of course, many first-time gamblers might not know how to bet on horse racing and find favorable odds, especially if there's no racetrack or off-track betting (OTB) location near you. Fortunately, legal Kentucky Derby betting is available no matter where you are in the US or abroad.
Best Online Sportsbooks With Kentucky Derby Horse Odds
Is It Legal To Bet On The Kentucky Derby Online?
If you're looking for where to bet on the Kentucky Derby, depending on where you live, you may have legal options at local horse tracks and OTBs. However, regardless of where you live, you can safely bet on the Derby at any online sportsbook operating overseas.
These sites all offer racebooks with plenty of the best Derby bets, and there are no US federal laws (including the IHRA which governs horse racing betting and off-track betting) barring individual horseplayers from risking – and winning – real money online.
For those living in Washington, please be aware that there are state laws barring all online gambling, including KY Derby betting. That said, we've never heard of these laws actually being enforced, so you can feel free to gallop ahead and wager at your own risk.
Official Kentucky Derby Odds For 2022
Right now, the official Churchill Downs betting odds haven't been posted for the Kentucky Derby. Of course, these won't be finalized or fully known until all bets are in, as horse racing betting is pool-based, or pari-mutuel in nature.
Thus, you will be able to get updated Kentucky Derby odds for the entire week leading up to the race, including morning line odds on the day of the race itself.
At tracks, domestic OTBs, and domestic online betting sites, you won't know exactly how much you stand to win until all betting is closed, but when you use an offshore racebook, you will have your wagers locked in at the rate advertised when you place your bets.
The best legal online racebooks have the following Kentucky Derby 2022 odds posted on their futures boards:
2021 Kentucky Derby Field
The final field for the 2021 Kentucky Derby has been formally announced, and the gate draw has been held. The 20 horses competing in the race will be starting out of the following post positions:
Known Agenda
Like The King
Brooklyn Strong
Keepmeinmind
Sainthood
O Besos
Mandaloun
Medina Spirit
Hot Rod Charlie
Midnight Bourbon
Dynamic One
Helium
Hidden Stash
Essential Quality
Rock Your World
King Fury
Highly Motivated
Super Stock
Soup And Sandwich
Bourbonic
Post position is important for KY Derby betting, as there is a definite statistical edge to be had with certain gates compared to certain others. The following post position list shows how often horses from each gate become Kentucky Derby champions:
Gate 1: 9.0%
Gate 2: 7.9%
Gate 3: 5.6%
Gate 4: 5.6%
Gate 5: 11.2%
Gate 6: 2.2%
Gate 7: 8.0%
Gate 8: 9.1%
Gate 9: 4.7%
Gate 10: 11.0%
Gate 11: 2.6%
Gate 12: 4.1%
Gate 13: 6.9%
Gate 14: 3.1%
Gate 15: 8.8%
Gate 16: 8.5%
Gate 17: 0.0%
Gate 18: 6.0%
Gate 19: 3.7%
Gate 20: 5.9%
2021 Kentucky Derby Favorites
All the best online racebooks have Kentucky Derby odds posted, and the following three-year-old Thoroughbreds seem to be getting the most buzz. The following odds are via Bovada Racebook, but all reputable betting sites have the top horses in roughly the same order.
Essential Quality

+275

Rock Your World

+450

Hot Rod Charlie 

+800

Known Agenda

+800

Highly Motivated

+1000
What Is The Kentucky Derby?
The Kentucky Derby is the most famous Grade 1 stakes race in the world for 3-year-old Thoroughbred horses. Also known as "The Run for the Roses," "The Fastest Two Minutes in Sports," and "The Most Exciting Two Minutes in Sports," the Derby is held annually on the first Saturday in May. The venue, since its inception, has been the racetrack at Churchill Downs in Louisville, Kentucky.
The KY Derby is the single most bet-on and viewed horse race on the planet, and as the first leg of the US Triple Crown, it provides bettors with an excellent preview of the rest of the popular series.
The 2021 Kentucky Derby marks the 147th running of the race, and it will set the stage for the following pair of Triple Crown races: the Preakness Stakes and the Belmont Stakes.
Should a strong horse win the Derby, that horse will always be the big favorite for everyone betting on the Preakness Stakes. Then, if that favorite indeed takes the Preakness, Belmont Stakes betting will hit a fever pitch as everyone anticipates the next great Triple Crown champion to emerge.
How To Bet On The Kentucky Derby
There are three separate ways you can bet on the Kentucky Derby, and each one has its benefits. Of course, online Derby betting is always going to be more convenient than wagering at an OTB location or a racetrack with simulcast Kentucky Derby betting odds, and that's the method we recommend. Nevertheless, your three legal Kentucky Derby betting options are the following.
Betting At Racetracks
You can bet on live Derby odds at racetracks around the country. Obviously, Churchill Downs turns the biggest handle of them all, but not everyone can afford Kentucky Derby tickets in order to attend the festivities and bet the ponies proper.
Still, if you have a racetrack in your area, chances are they'll be offering daily Derby odds in the leadup to the race as pooled bets come in from tracks around the nation.
Here, you will simply fill out your Derby betting slip with whatever straight bets or exotics you wish to go on and turn it into the operator at the betting booth. Make sure to hang on to your receipts, as you'll need them to claim your payouts!
Betting At OTBs
Off-track betting for Kentucky Derby races is big business, and nearly all US states with legal horse betting have OTBs that accept wagers on the event. Most of these also have simulcast broadcasts of the race and its undercard, so you won't miss a minute of the action, no matter which participating state you're in.
Over 40 US states offer OTB horse racing betting, and submitting your ticket works similarly to how you wager on horses at a proper track. Again, keep your betting slip stubs handy, because you can't get your Derby payouts without them.
Note: You can also wager online through a few domestic operators. Most states (40+) with legal horse betting allow the placing of online horse wagers, and these can be thought of as OTB terminals themselves. If you're physically located in participating states, you may be able to download an iPhone horse betting app or an Android horse betting app to streamline the process and allow you to bet on the go.
Betting At International Racebook Sites
The international betting sites listed here could technically be considered OTBs, though they operate outside of the United States and don't offer pari-mutuel wagers. Instead, these are house-banked odds where your payouts are 100% locked in the moment you place your best Derby bets.
Mostly, the lines will mimic the current Derby odds presented by domestic operators and Churchill Downs itself, but the fact that your odds can't shrink from the time you bet till the time the Kentucky Derby results come in is enticing for most gamblers who want their sure thing to be a sure thing.
Because of the guaranteed Derby payouts and support for all kinds of exotic wagers, we recommend these sites above all other Derby wagering locales. Plus, you can legally bet on sports and play casino games and poker tournaments at these operators, too!
Mobile Kentucky Derby Betting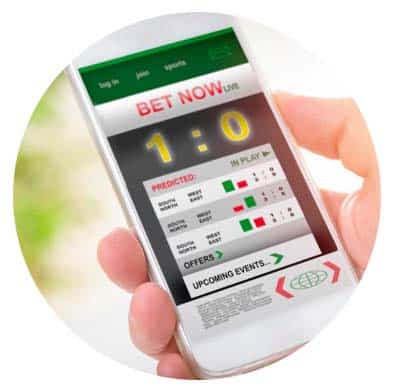 As you're probably used to with sports betting, Kentucky Derby betting can be carried out via your mobile device. However, when you use an offshore racebook like those listed here, you won't actually be able to find an iPhone Kentucky Derby app or Android Kentucky Derby app that lets you make real-money wagers.
Instead, these sites offer horse betting "web apps." All you need is any reasonably modern smartphone or tablet, an Internet connection (Wi-Fi or 3G/4G/LTE/5G), and a free site membership to the book of your choice. With these, you can wager from literally anywhere, whether you're sitting in Millionaire's Row at Churchill Downs itself or you're hosting a Kentucky Derby party at your elegant estate (or in your tiny apartment).
With mobile betting, you've basically got your bookie in your pocket or purse, and all you need to complete the ensemble is one of those bold Kentucky Derby hats for women and one of those famous Kentucky Derby drinks. (And for the latter, there's definitely an app for that!)
The 2021 Road To The Kentucky Derby
Kentucky Derby predictions are often handicapped by how well a given horse does in the Kentucky Derby qualifiers, known as the Road to the Kentucky Derby. Because the Kentucky Derby field is limited to the top 20 horses in the world, it takes several races to determine which ponies deserve to make the big race.
Typically, there are three regions for this tournament: The US, Europe, and Japan. In total, there are expected to be 36 qualifying races across these regions, and the horses to accumulate the most points earn automatic berths to the Kentucky Derby itself. Usually, four "alternates" are also invited, which are inserted into the race if there are any late scratches or disqualifications.
Recap: The 2020 Kentucky Derby Triple Crown Showdown
Technically, while there is only one Kentucky Derby each year, 2020 saw two. Kind of.
On May 2, the 2020 Kentucky Derby had already been rescheduled due to COVID-19, but NBC had the time slot reserved and used it to put on a unique presentation: A virtual horse racing Derby contest!
This simulated horse race pitted all 13 historical Triple Crown winners against one another in the virtual Derby, with random number generation (RNG) software producing a winner among the world's most famous horses of history.
Of course, to fans of the Sport of Kings, the outcome was hardly shocking. The 2020 virtual Kentucky Derby results were as follows, and you can watch the entirety of this virtual horse race here.
Secretariat (Duh)
Citation
Seattle Slew
Affirmed
American Pharoah
Whirlaway
Count Fleet
Justify
Assault
War Admiral
Omaha
Gallant Fox
Sir Barton
How To Watch The Kentucky Derby
You can watch the 2021 Kentucky Derby live on NBC. Coverage begins at 3:00 PM EST (NBC) on Saturday, May 1, 2021, with the big race itself slated to start at roughly 6:50 PM EST. You can also find Kentucky Derby streaming broadcasts online.
Date: Saturday, May 1, 2021
Time: ~6:50 PM EST
Place: Louisville, Kentucky
Venue: Churchill Downs
Attendance: Yes (social distancing TBA)
Broadcast: NBC
Streaming: NBCSports, NBC Sports App
The Kentucky Derby is held at the Churchill Down's racetrack in Louisville, Kentucky. Kentucky is considered the historic home of American Thoroughbred racing and has more horse farms and stables than any other state.
The 2021 Kentucky Derby is run on the first Saturday in May, and while the 2020 Kentucky Derby schedule was altered due to the coronavirus pandemic, the 2021 race is back on track for its normal time. 
Thus, the 2021 Derby will be run on Saturday, May 1, 2021. 
The Kentucky Derby race day's undercard starts at around 12:30 PM EST, with the main event taking place shortly before 7:00 PM (usually around 6:50 PM). 
The Kentucky Derby is scheduled to be broadcast on NBC. 
The Kentucky Derby racetrack is 1 ¼ miles long, or 10 furlongs. This makes it the second longest of the Triple Crown races, between the 9.5-furlong Preakness Stakes and the 12-furlong Belmont Stakes.   
Around two minutes. The race isn't called "The Fastest Two Minutes in Sports" for nothing! Secretariat has the Kentucky Derby record with a time of 1:59.40, which he set in 1973.
The Kentucky Derby can accommodate up to 20 horses. However, there are often fewer than 20 in the gate on race day due to various issues like illness, injury, disqualification, strategic withdrawal, and so on.
The Kentucky Derby is contested by three-year-old Thoroughbred horses.
Right now, the favorite to win the 2021 Kentucky Derby is Life Is Good, followed on the betting boards by Essential Quality.  
This is a difficult one to pin down, and we won't know the extent of any longshot's odds until race day.
Longshots rarely win the Derby, although the Kentucky Derby 2019 winner, Country House, had opening day odds of 30-1 (+3000) and won due to favorite Maximum Security's disqualification for interference.
In 1913, Donerail set the record for Derby longshots, winning the race with 90-1 (+9000) odds.
Authentic, who had +800 (or 8-1) odds going into the 2020 Kentucky Derby, beat heavy favorite Tiz The Law by 1 1/4 lengths. 
All of the best online betting sites offer futures odds and race-day odds on the Kentucky Derby, and you can visit these operators by following the links in the table above.  
There are a number of ways to deposit into your sports betting account, and each works well for Kentucky Derby wagering. However, we recommend Bitcoin over credit cards, money orders, wire transfers, and the like.
Bitcoin (BTC) and other supported cryptocurrencies offer the only way to make fee-free instant deposits, collect the best horse betting bonuses, and get same-day withdrawals. If you haven't gotten on the crypto bandwagon yet, Derby horses are pulling it!
Yes! All of the most reputable overseas betting sites with horse racebooks offer track rebates of between 3% and 9% on most races, but only one book – Bovada – allows you to use their $250 Sports Welcome Bonus on horse racing betting.
Bovada is the number-one sportsbook, racebook, casino, and poker room on the Internet.
While attendance at the 2020 Kentucky Derby was limited due to coronavirus social distancing guidelines, it is too soon to tell whether or not the same will be true for the 2021 Derby. 
It is likely that at least some attendance will be allowed, regardless of specifics, but we're hoping for a full house.
For 2021, Kentucky Derby tickets start at about $65, though they can get up into the several thousands of dollars depending on where you wish to sit.
If you plan on attending the Derby in person, remember to factor in the expense of travel, lodging, food, and the fancy clothes you've got to wear on race-day.
Those hats aren't cheap, folks!