Wyoming Sports Betting – Bet On Sports Legally In WY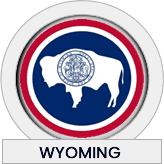 Wyoming is one of the few states in the US that seems to have no interest whatsoever in embracing state-regulated sports betting entertainment. To be honest, there is not much going on in this state regarding sports, but Wyoming is one of the states with no laws against offshore sports betting.
This ensures that there is at least one avenue available for residents who don't want to travel to another state to bet on sports.
It is impossible to say when, or even if, the Equality state will respond to the resounding drumbeat that is sweeping across the country to expand the sports gambling market.
With absolutely no legislation being introduced that is even remotely relevant to sports betting or any form of gambling, we anticipate that their frosty position concerning state based sportsbooks won't be thawing out for some time.
Is Sports Betting Legal In Wyoming?
No moves have been made to legalize state-regulated sports betting action in Wyoming, rendering domestic sports betting illegal at the state level.
However, there are also no gambling laws in this midwestern state that prohibit residents from accessing online sports betting sites that are operating offshore. So basically, sports betting is and is not legal, depending on where you place your bets.
Wyoming Sports Betting Bills
We'd love to be able to tell you that Wyoming has introduced a piece of legislation that will revolutionize the state's gambling market through state-regulated sports betting. Sadly, Wyoming gives us nothing to work with here and there's not a bill in sight.
We have no reason to expect this to change in the near future, but hey, call us optimistic dreamers, we're going to go ahead and cross our fingers that the call for a more fiscally comfortable state budget starts having some influence on the state's lawmakers.
When, or if Wyoming starts changing their tune concerning sportsbook gambling, we will update the information here on this page and include it on our legal sports betting bill tracker.
Online Sportsbooks That Legally Accept Wyoming Residents
The following list of online sportsbooks has been determined to be among the best available online betting destinations for Wyoming residents.
They are each reputable, secure and hold legitimate licensing, or are owned and operated by a parent company that possesses valid credentials.
These sportsbooks each legally operate offshore and provide a host of betting lines, wagering options, bonus offers, and US-friendly banking options.
There is no obligation to register for an account or place any bet(s) upon viewing the site. If you need more information about the brands listed below check out our sports betting site reviews page.
Wyoming Sports Betting Details
Because offshore online sports betting is the only legal option for betting on sports in Wyoming, all of the details below will apply to this type of wagering. Should the state ever change its stance on sports betting, this information will be updated to include state-regulated sportsbook information.
Legal Sports Betting: Offshore Only
Minimum Sports Betting Age: 18 years old via Offshore
Land-Based: N/A
Online: Offshore Only
Mobile: Offshore Only
In-Play: Offshore Only
Estimated Revenue: N/A
Eligible Operators: N/A
Commission: N/A
Licensing Fee: N/A
Tax Rate: N/A
Tax-Funded: N/A
What You Can Bet On In Wyoming:
All betting lines, odds, and props for all games, teams, and players in Alabama across all college and professional sports (via Offshore)
What You Can't Bet On In Wyoming: 
No restrictions (via Offshore)
Where Can I Bet On Sports In Wyoming?
As of now, online sportsbooks operating outside of the United States, such as the ones listed on this page, are your best bet for legal, secure and high quality betting action that is comparable to the Vegas bookmakers. We sincerely hope that the tide changes in this state and that next year we can report that state-regulated sportsbooks have been added to our list of available betting destinations.
Biggest Wyoming Sports Betting Cities
Sports Betting In Cheyenne, WY
Wyoming is pretty dry when it comes to sports. There are no major professional or college teams in the state. The University of Wyoming has several athletic programs, but they play in the lesser Mountain West division.
Cheyenne is the capital city located in the southeastern part of the state with a population of almost 4.5 million. The bulk of college sports betting action lies with teams in the SEC, ACC, Big 12, Big 10 and PAC 12. Even though there are no big-name teams, that doesn't mean WY residents have to miss out on sports gambling.
Our recommended sportsbooks allow you to bet on any team in the NFL, NBA, NHL, MLB, and NCAA. Fans of international sports will be happy to learn that these sites feature betting lines on teams and leagues from around the world—all in one convenient location.
Frequently Asked Questions About Sports Betting In Wyoming
Will I get arrested for betting on sports in Wyoming?
No, you won't.  All prohibitive laws in Wyoming concerning sports betting target the owners and operators of illegal gambling services. Local bookies are not legal in this state, and we recommend that you do not visit or associate with any such bookmakers. Because there are no laws prohibiting online betting at offshore sportsbooks, you are not at risk of being arrested for this type of betting.
Are mobile sports betting apps legal in Wyoming?
The state has not expressly legalized or prohibited mobile sports betting apps. All of the online sportsbooks featured on this page offer mobile betting apps that are automatically triggered when you access their sites from a smartphone or tablet. Since these sportsbooks are operating legally within the industry, they are free to offer their services to nearly everywhere they so choose, including Wyoming.
What teams can I bet on in Wyoming?
The offshore sportsbooks we recommend do not place any restrictions concerning which teams you can or cannot wager on, so customers are free to place bets on all US college and professional sports teams, as well as teams and leagues in the International sports arena. While many states place restrictions concerning betting on college sports, we are not sure what position WY would take on that matter.
Are there any local sportsbooks in Wyoming?
No there are not.  In fact, local bookmakers are illegal in Wyoming.
What is the legal minimum sports betting age in Wyoming?
Since state-regulated sports betting has not been made legal in Wyoming, the state has not established a legal minimum age for sports betting entertainment.  The online sportsbooks we recommend all accept bettors who are 18 and over.
Who regulates sports betting in Wyoming?
Nobody yet.
Wyoming Legislative Resources
Wyoming Gambling Resources
We strongly encourage all individuals who are considering sports betting to carefully plan out how you intend to keep from succumbing to compulsive gambling.  Problem gambling is a serious issue that has impacted the lives of millions of people. Responsible gambling is the ONLY method by which to successfully enjoy gambling entertainment. Please take advantage of the multiple tools offered by many online sportsbooks.  Below are a few resources for those who find themselves struggling with problem gambling symptoms.