Legal Betting On The Emmy Awards
Emmy Award Nominees Debut In July
Emmy Odds Expected To Debut Soon After Nominations
Watch The Primetime Emmys On CBS Each September
Each year, Emmy Awards are given to recognize excellence in the television industry, with hundreds of honors doled out across a wide variety of categories. The television broadcast also inspires entertainment betting sites to produce odds for the event, allowing for legal betting on the Primetime Emmy Awards.
After all, the main event is the Primetime Emmy Awards ceremony, which attracts the biggest TV stars and high rollers, and the show experiences extremely high ratings and viewership. And why wouldn't it? The Emmys features the same stars that drive the prime-time network ratings routinely.
Why not cash in huge on a few entertainment prop bets while watching your favorite stars walk the red carpet in the latest fashions and seven-figure jewelry? That's where our Emmys betting primer comes in. Read through and find out about the legalities of placing a bet on the Emmys and what online sportsbooks are accepting wagers.
Is It Legal To Bet On The Emmy Awards?
Yes. Betting on TV, Film, Music, and Award shows is legal as long as it is done with an international sportsbook operating within a regulated jurisdiction outside of the USA or with a domestic USA sportsbook offering Emmy nominations 2023 odds. Federal and state gaming regulations provide no guidance or rules regarding wagering with an international entity online, so betting on the Emmys with an offshore book won't get anyone into trouble.
Washington has laws that forbid all online gambling, but the betting sites we recommend accept members from WA. That's because the laws in WA are intended to prevent illegal providers, and their state agencies have no jurisdiction over any betting activity occurring outside of their borders.
Best Sportsbooks for Betting on the 2023 Emmys
2023 Emmy Vegas Odds
The Emmys odds feature dozens of categories across the full spectrum of television production, but lines are not available for each award given out. International sportsbooks that accept wagers on entertainment odds focus on the most popular categories and provide straight winner money line odds on the Primetime Emmy Awards Nominees in each one.
Below are the current betting odds for the Emmy Awards Nominees. See our review of Bovada's world-famous sportsbook to learn what other entertainment betting options are available.
How To Bet On The Emmy Awards
Domestic sportsbooks inside the USA have been hesitant to provide Emmys 2023 odds, and do not offer lines on the Primetime Emmy Awards winners. Offshore betting sites don't have such reservations and have accepted wagers on the Emmys, provided odds on the Oscars, and lines on other popular awards shows for years now.
Placing a wager with an international sportsbook requires signing up for membership. We detail the process below in a few easy steps.
Once bettors have decided which one of our recommended online sportsbooks they want to join, click on the link we've provided above.
On the main page, locate the "join" button on the top right. Registrants will be taken to a page that will ask for their name, and address, and will require the creation of confidential login credentials.
The next page will ask for a new member's first deposit and will also present them with promotional offers that can match a percentage of the first transfer. This portion can be skipped, but no wagers can be made prior to depositing cash into a new bettor's bankroll.
Now that the financials have been handled, members can head to the sportsbook portion of the betting site and locate the "entertainment" section where Emmy Awards odds can be found.
Mobile Betting On The Emmy Awards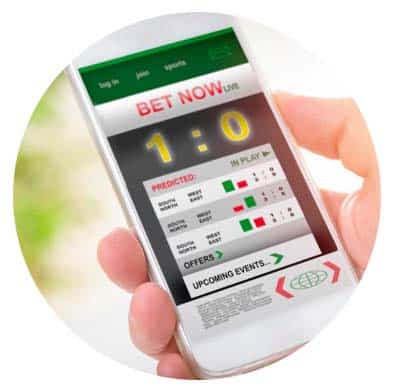 The entertainment betting sites that we list on this page are available to Emmy Award enthusiasts on modern tablets or smartphones (iPad, iPhone, Android-based devices). Mobile betting can be achieved by clicking on one of the links above using a current browser.
The best part is there's no download required. Simply click on one of the links above and the responsive design technology does the rest. So whether you're at an Emmy Award party, or locked in the basement away from your family so you can watch the show in peace, if your mobile device has an internet connection, then you can bet on the nominees and winners with ease.
What are the Emmy Awards?
Emmy Awards are presented annually to the best performers in a range of categories recognizing television excellence. Awards are given to those in front of the camera and to the various production personnel who are responsible for preparing it for the airwaves.
The Emmy Awards that receive the most attention from the American public and from offshore sportsbooks are the Primetime Emmy Awards, which focuses on programming that airs between 8 to 11 PM or is produced for cable networks, regardless of the start time.
Each Primetime Emmy Award winner is decided by a peer group for each category, each containing its own criteria for excellence. The Primetime Emmy Awards nominations are announced each June/July.
Host of Emmy Awards 2023
The host of the 2023 Primetime Emmy Awards has yet to be announced but will be posted here once confirmed.
2023 Emmy Awards Presenters
The presenters for the 73rd Emmy Awards have not been revealed, but keep checking back, as we will post the list here once the announcement occurs. Who knows? Perhaps a prop bet or two will be produced regarding what one of the celebrity presenters will do, say, or wear!
Primetime Emmy Awards 2020 Winners
Below we have provided an Emmy Awards 2020 winners list to give bettors an idea of what shows, and actors are developing a track record of critical success. Oftentimes, once a show or performer are recognized by the Emmys, they appear time and time again amongst the nominees.
Primetime Emmy Awards 2019 Winners
Below we have provided an Emmy Awards 2019 winners list to give bettors an idea of what shows, and actors are developing a track record of critical success. Oftentimes, once a show or performer are recognized by the Emmys, they appear time and time again amongst the nominees.