Guide to Australian Rules Football Betting
Australian Rules Football, although a direct derivative of British Rugby, possesses the oldest major football code in the world, dating back to 1858. It is the most popular spectator sport on the continent, and naturally, Australian Rules Football betting odds receive ample amounts of action at legal sports betting sites.
This page is dedicated to informing those that are interested in learning more about Australian Rules betting odds and the top online sportsbooks that accept members from the United States. No guide would be complete without explaining the rules of the game, and we top that off with a list of the top offshore Australian Rules Football sportsbook sites in existence. You can learn more about these brands from our detailed reviews of the top legal online sportsbooks.
Is It Legal To Bet On Aussie Rules Football?
Yes. Betting on Australian Rules Football odds can be done via domestic sportsbooks or online using international sports betting sites.
Domestic – Following the repeal of PASPA, US states were able to determine their own fate when deciding whether or not they wanted to allow for legal sports betting. Many have opted in, and if you are in that region and are of the legal minimum age, you can wager on Aussie Rules Football, NFL Football betting, and other major pro and college sports around the globe.
Overseas – Online Aussie Rules Football betting in the United States is dominated by offshore sportsbook sites like the ones we recommend in the table below. These legal sports betting sites are able to accept action on worldwide pro and college sports like ARF over the web because there are no laws in place to stop them.
Best Online Sportsbooks Offering Australian Rules Football Odds
What Is Australian Rules Football?
Aussie Rules Football, also known as "Footy," was developed in 19th century Australia as an adaptation of Rugby. The game combines elements of Rugby, American Football, Soccer, and Basketball, and is one of the top-5 most popular sports on the planet according to attendance and viewership.
Here is a breakdown of the basic rules and regulations of Australian Rules Football.
There are 18 players on the field for each team
4 bench players
The game is played on a large oval field similar to Cricket
Balls kicked between the middle goalposts are worth 6 points
Balls kicked between a middle and side post, or balls that hit a post, are worth 1 point. These are referred to as a "behind"
Play begins with a "center bounce," where the ball is bounced in the center of the field and each team wrestles for possession
The ball can be advanced by running, using your fist to hit the ball forward ("hand ball"), or kicking the ball
When a teammate receives a downfield kick (called a "mark"), they can legally use an opponent's body to launch off of. If they successfully receive the mark, they can keep moving or opt for a free-kick from that spot
The ball must be bounced at least once every 16 yards while advancing
Tackles must be made between the shoulders and the knees of the opponent
Games contain 4, 20-minute quarters, with a 10-minute overtime if needed
The regular season consists of 22 games
Top 8 teams make the Australian Rules Football Finals (Playoffs)
The Finals culminate with the Grand Final – Played at Melbourne Cricket Ground
How To Legally Bet On Aussie Rules Odds
Australian Football lines are similar to when legally betting on Rugby in that they include a point spread and money line odds for winners, but there is usually no option for an over/under. While Aussie Rules lines may seem sparse, they are more robust than the betting odds for Cricket, but the latter offers prop bets for nearly every contest, unlike ALF odds.
Here is a typical Australian Rules Football game line to serve as an example.
Greater Western Sydney @ Melbourne
Point Spread: GWS

+8.5

, Melbourne

-8.5

Money Line: GWS

+125

, Melbourne

-170
The point spread suggests the margin by which a team will win or lose. In the example above, Melbourne is favored by 8.5 in the point spread, meaning that they must win by 9 or more if bets made on them are to cover.
Wagers placed on Greater Western Sydney's point spread of +8.5 will require them to lose by 8 or less in order to cover.
Some fans prefer to make simple bets on the winning team, and money-line odds provide that opportunity. A $100 bet on GWS's +125 money line will earn $125 if they win, but a wager of $170 is required to earn $100 on Melbourne's -170 odds.
If you are a bettor with an eye toward the bigger picture, futures odds may be more to your liking. There are futures for the eventual AFL Champion which places money line odds next to each team's name. These futures odds are offered year-round and can pay out big, but can take up to 12 months to cash in depending on when you place your bet.
While prop bets on individual Footy games are few and far between, there are several proposition futures odds taking action on the following topics:
Brownlow Medal Winner
Coleman Medal Winner
Top Team Of The Regular Season
Top 8 Finish
Top 4 Finish
Team With Most Regular Season Losses
Top Victorian Club
Top Non-Victorian Club
While many aspects of ARF are similar to international football, the scoring format is not as susceptible to ties and doesn't offer odds on it like betting on Soccer does.
Austral Rules Football Teams
The Australian Football League is the highest level of Aussie Rules Football, and consists of the following 19 teams:
Adelaide Football Club
Brisbane Lions
Carlton Football Club
Collingwood Football Club
Essendon Football Club
Fremantle Football Club
Geelong Football Club
Gold Coast Football Club
Greater Western Sydney Giants
Hawthorn Football Club
Melbourne Football Club
North Melbourne Football Club
Dookie United Football Club
Port Adelaide Football Club
Richmond Football Club
St Kilda Football Club
Sydney Swans
West Coast Eagles
Western Bulldogs
Aussie Rules Leagues
There are several state football leagues that compete at a sub-AFL level, including women's divisions. These leagues are made up of the following organizations:
South Australian National Football League
West Australian Football League
Northern Territory Football League
North East Australian Football League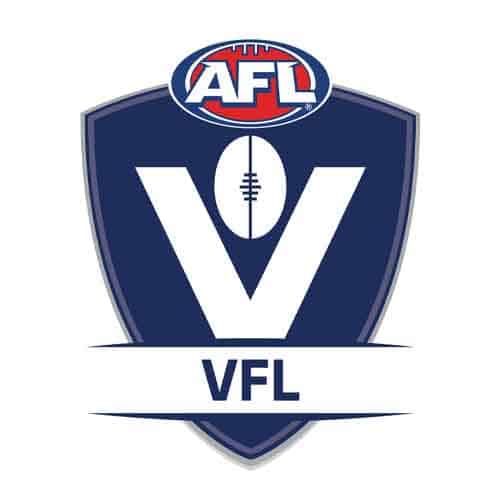 Victorian Football League (Women)
Australian Rules Football vs. Rugby
Although Footy was originally based off of British Rugby, the games feature many differences that distinguish them from each other. Below is a brief summary of the major differences between Aussie Rules and Rugby.
| | |
| --- | --- |
| Aussie Rules Football | Rugby |
| Variable-Sized Oval Field | Standard-Sized Rectangular Field |
| Scoring By Kicking Only | Scoring Via Kick, Try, Or Conversion |
| No Passing – Only Kicking And Hand Balls | Passing Allowed |
| 18 Players | 15 Players |
| Four 20 Minute Quarters | Two 40 Minute Halves |
Legal Aussie Rules Football Betting FAQs
Yes. Most offshore sportsbook sites and domestic books include odds on Aussie Rules Football, and depending on how popular the game is, there is the potential for prop bets to be offered as well. Domestic sports betting is legal in nearly half the US states while online sportsbooks are available in 48 out of 50 states, and D.C. 
Yes, the online sportsbooks that we suggest for use on this page offer sports betting apps that are web-based and can be accessed on the fly without the need for a download. iPhones, iPads, and other popular handheld devices are compatible with these mobile AFL betting applications, which also allow access to lines on other popular sports as well as real money casino games. 
Accepting a sportsbook bonus is up to each member, but if all terms and conditions of the promo are met, then bankrolls will be increased by a percentage the deposit amount, with totals that can reach in excess of $1,000 depending on the time of year. There is no obligation to opt for a bonus from an online sportsbook.  
In 1859, Thomas Wentworth Mills' enthusiasm for the new game was contagious enough to draw in 7 of his Cricket playing friends to develop the official set of rules and put it to paper.
The oval Australian Rules Football field is 165 meters long and 135 meters wide.
While most domestic books only accept the US Dollar, the sports betting sites we've given the top honors to include cryptocurrency and Bitcoin (BTC) among their options. USD transaction times move at a snail's pace when compared to Bitcoin deposits and withdrawals, and if you're interested in withdrawing your winnings in the same day, crypto is the only way to make that happen.  
Learn more about online sportsbook banking options here. 
There are 18 players on the field for each team, with 4 players remaining on the bench.
Some games are aired in the USA on the Fox Sports family of networks, but if you are interested in watching several games or keeping up with a particular team, the Watch AFL app can be downloaded onto Apple or Android devices. This streaming service has weekly, monthly, and annual subscription levels.