Mississippi Sports Betting – How To Bet On Sports Legally In MS in 2023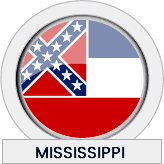 Online Sports Betting Available In MS Via Offshore Sportsbooks
In-Person Domestic Sports Betting In Mississippi Casinos
Legislative Movement Toward Mobile Sports Betting: Yes
The Magnolia State has joined other US states which provide legal sports betting options at the state level. This means MS residents can bet on their beloved college teams or any sports team from around the world through state-licensed sportsbooks at Mississippi casinos in addition to reputable international sportsbooks that are operating legally outside of the United States.
Mississippi was among the first states in the US to legalize and launch sports betting in 2018 after the Supreme Court ruled PASPA unconstitutional. Domestic sports wagering options were launched on August 1st in 2018 and are available at this moment in MS land-based casinos.
Is Sports Betting Legal In Mississippi in 2023?
Yes, as of late 2018 Mississippi legalized and launched its domestic betting options for MS residents and visitors to enjoy. Mobile and online betting are not yet authorized to be offered by the local sportsbooks.
Mississippi state laws do not directly prohibit the use of internet-based offshore sportsbooks for betting nor do US federal gambling laws. Therefore, MS players are free to use the legitimate international online sportsbooks recommended here in addition to domestic state-licensed brick-and-mortar sports betting options.
Mississippi Sports Betting Bills
The Status of MS Sports Betting Legislation for 2023
While the state had five bills proposed relevant to sports betting for the 2023 session, with two of them directly targeting mobile betting, only one survived the session. HB606 was passed, creating a mobile/online betting task force. This group will perform a study regarding all forms of online sports betting for analysis by the legislature. 
The results of this task force study will be revealed on December 15, 2023. If the findings are to local lawmakers' liking, there is a solid chance that mobile or online sportsbooks could gain traction during the 2024 session. For now, all online and mobile sports betting in MS is limited to the grounds of the venues where retail sportsbooks are located. 
To get more information on these MS sports betting bills, visit our state sports wagering bill tracker here. 
Best Sports Betting Sites In Mississippi 2023
Each one of the sports wagering sites you see below has been screened by our team and accepts residents of Mississippi. Our research includes checking for items like legal licensing, regulation, mobile betting capabilities, bonuses, betting lines, wagering type selection, and more. You can look through these brands with no obligation by clicking on the links provided in the table.
Casinos in Mississippi with Sports Betting
The state quickly passed legislation to regulate sports betting in land-based casinos after the repeal of PASPA. Over 20 land-based casinos now offer domestic sports wagering options. Below we list the top 3 casinos in MS which offer sports betting.
Ameristar Casino Hotel
Beau Rivage Resort & Casino
Boomtown Casino
MS Sports Betting Details
This information details how Mississippi's current domestic sports betting market operates, including their sports wagering regulator, and what forms of betting are available.
Legal Sports Betting: In-state, Offshore
Mississippi Minimum Sports Betting Age: 21 years old
Land-Based: 23 Locations
Online: Offshore Only
Mobile: Domestic: On-site only / Offshore:  Yes
In-Play: Offshore Only
State Sportsbook Revenue: $8,108,102
Eligible Operators: Beau Rivage, Gold Strike, and 21 other MS casinos
Commission: Mississippi Gaming Commission
Licensing Fee: N/A
Tax Rate: 12%
Tax-Funded: 8% state and 4% local government
What You Can Bet On In Mississippi:
In-state: All bet types and professional and college sports are allowed
Offshore: all betting lines, odds, and props for all games, teams, and players across all college and professional sports are allowed at offshore sites
What You Can't Bet On In Mississippi: 
In-State: Sportsbooks prohibit wagers on any amateur sport or athletic event, the outcome of any election for any public office, and any event which the Executive Director deems to be contrary to public policy
Offshore: No restrictions
Where Can I Bet On Sports In Mississippi?
In Mississippi, you can wager through any of the 23 land-based casinos licensed in the state to offer betting. No true state-wide mobile betting through state-licensed operators are available. However, offshore sportsbooks are available to MS players for online and mobile sports wagering.
Best Mississippi Mobile Sports Betting Apps for September 2023
As it stands now, the mobile betting options available at local MS sportsbooks require you to be present on their property in order to use their apps, which doesn't exactly deliver on the convenience bettors are looking for in mobile access to betting lines.
While state lawmakers were unsuccessful in 2021 to usher in true state-regulated mobile sports betting apps, the industry-leading online sportsbooks featured above all provide mobile versions of their betting sites through a web-based mobile application that can be bookmarked on your smartphone or tablet home screen for easy access.
No downloads are required, and even their advanced features such as live, in-play betting are available through these mobile apps.  You can manage your account, make deposits and withdrawals, and place your bets using a sophisticated, browser-based, mobile betting app.
Biggest Betting Cities In Mississippi
Jackson Sports Betting
Jackson is the capital of Mississippi and while there are no professional teams in the state there are two powerhouse college athletic programs located close by. The Ole Miss Rebels and the Mississippi State Bulldogs both have athletic programs and play such sports as football, baseball, basketball, softball, wrestling, and more.
Jackson residents can bet on these events with the use of offshore sportsbooks. Domestic sportsbooks are now operating at some of the casinos in Mississippi since the PASPA act has been repealed.
Biloxi Sports Betting
Biloxi was one of the first two towns to start accepting sports bets in Mississippi. The town attracts tourists with its southern Mississippi flare, sandy white beaches, and multiple entertainment options usually provided by the casinos. Residents and visitors can partake in casino gambling and now place legal sports bets at those casinos.
For further information check out our Biloxi sports betting guide.
Tunica Sports Betting
Tunica is a north-west Mississippi town with a striving casino community located just outside the city limits. There are currently 9 casinos operating along the Mississippi River, most of which has already incorporated legal sports betting into their facilities. Due to Tunica's geographical location, most casinos offer sports betting to tourists from neighboring states such as Arkansas, Tennessee, Alabama, and others.
---
Legal Mississippi Sports Betting FAQs
Will I Get Arrested for Betting on Sports in Mississippi?
No. Since domestic sports wagering is authorized through licensed operators, MS players utilizing legal avenues to wager on will not get arrested. offshore sportsbooks are also legal to wager on since there are no direct state or federal laws prohibiting them.
However, if MS players wager through a state-based bookie or sportsbooks not licensed and regulated by the Mississippi Gaming Commission, they could face a potential charge but mostly the operator of the unlicensed sportsbook would be penalized for violating state laws.
How To Bet on March Madness in Mississippi
While domestic options for legal sports betting in Mississippi may be limited to 21+ retail locations, 18 and over gamblers can bet on March Madness with the offshore sportsbook sites listed above.
NCAAB prop bets and overall March Madness odds will greatly outnumber what is offered at MS sportsbook venues, and accept college basketball bets around the clock, all year long.
Are Mobile Sports Betting Apps Legal in Mississippi?
There are no true sportsbook apps available in MS, this is due to current sports gambling laws which do not allow state-wide mobile sports wagering. Rather Mississippi's law only allows on-site mobile sports betting which requires players to be near or within the casino offering sports gambling. However, legislation was introduced to expand mobile wagering beyond on-site betting to state-wide sports wagering capabilities.
What Teams Can I Bet on in Mississippi?
There are no restrictions for MS players in regards to which teams they may wager on. Rather the only restriction MS has on wagering is for political offices and high school sports. MS players can wager on professional and collegiate sports teams even those located within the state through state-licensed sportsbooks. Offshore sportsbooks have no restrictions on what players can wager on.
Are There Any Local Sportsbooks in Mississippi?
Yes. There are 23 venues in Mississippi that offer betting services. These licensed and regulated sportsbooks are the only local sportsbooks we recommend MS players to use. We do not encourage sports wagering through unlicensed and unregulated individuals or groups.
What is the Legal Minimum Sports Betting Age in Mississippi?
The minimum age to wager at MS land-based casinos is 21. however, offshore online sportsbooks only require players to be at least 18 years old. While this information is conflicting, we recommend following them closely. 18-year-old MS players who want to wager should use offshore sportsbooks rather than try to break any law relating to the state's minimum sports wagering age.
Who Regulates Sports Betting in Mississippi?
The Mississippi Gaming Commission currently regulates all of the state's sports wagering activity. The MGC is responsible for providing licenses to operators such as the 23 land-based casinos currently offering sports betting. These powers were granted under the state's legalized sports gambling bill.
---
Mississippi Legislative Resources
Mississippi residents who want to express their concerns or support for the current domestic sports wagering options or for pending legislation in the state can contact their local representatives and politicians. Below we provide resources to reach those individuals.
Mississippi Gambling Resources
We encourage gambling responsibly but some players can find themselves developing signs of problem gambling. If you or someone you know is experiencing these issues we recommend reaching out to the department of the Mississippi Gaming Commission on Compulsive and Problem Gambling.
Betting On Football In Mississippi In 2023?
How To Bet On NFL Football in Mississippi
There are loads of opportunities to bet on NFL odds in the state of MS, but to take advantage of the best sportsbooks available, we suggest that you investigate our top-ranked sportsbook sites above
How To Bet On College Football in Mississippi
Mississippi State and Ole Miss both play NCAAF in the SEC Conference which places them in direct competition with some of the nation's best teams. The best options for betting on college football in MS are represented by the online sportsbooks above. They accept members from across the entire state at the age of 18 and allow them to bet on game even after the kickoff has occurred.