Ria Sports Betting Deposits
Millions rely on the world's #1 international money remittance service
PHONE IN YOUR BETS - Deposit securely right through the Ria app!
Low fees & extra privacy for online betting peace of mind
Ria Money Transfer is one of the most popular electronic funds transfer platforms in the world. Actively used in over 160 countries, many businesses and partner financial institutions use Ria to allow people from one country to send money to those living in another.
As a result, some of the best online sportsbooks have adopted Ria as a legal betting deposit option to use for quick, convenient bet funding. Ria sports betting deposits are legitimate, safe, and secure, and they have a better overall success rate than many other banking methods (i.e. credit or debit cards) while allowing site members to claim the same bonuses and promotional perks they expect.
That said, there are a few things to be aware of when using Ria to send money online (i.e. the Ria money transfer limit, Ria money transfer rate, and so on), which is why we've put together this handy guide.
Best Online Sportsbooks That Take Ria Deposits In 2023
What Is Ria?
Ria – or Ria Money Transfer – is a company that specializes in facilitating international financial transactions between individuals. However, unlike a P2P service (i.e. PayPal, Venmo, Cash App, etc.), Ria does not allow person-to-person transfers.
Instead, all Ria transactions go through partner banks or retailers. Five countries allow residents to send international payments using Ria Money Transfer, which are commonly known as the "Ria sending countries":
United States
United Kingdom
Australia
Spain
However, there are over 160 Ria receiving countries in the Ria bank and partner network. This has allowed Ria to become the third-largest electronic fund transfer service in the world.
As a result, some of the best online sportsbooks are now using Ria to help their members make efficient international transfers so they can top off their betting bankrolls and wager on the day's contests faster than ever.
With so many Ria Money Transfer reviews highlighting the strengths of this service, it's no wonder that it's quickly becoming a betting favorite!  
Is It Legal To Use Online Sportsbook Sites That Accept Ria Transfers?
Yes! If you live in the United States, there are no federal sports betting laws that prevent you from gambling real money at online sportsbooks operating internationally. Also, the UIGEA banking regulation does not negatively impact Ria transfer services when making online sportsbook deposits.
That said, Washington has technical mandates barring online sports betting, though these laws don't appear to have ever been enforced. Still, if you live in WA, we insist that you follow all local laws and wager online only at your own risk.
How To Make Online Sports Betting Deposits Using Ria
When it comes to how to send money with Ria, there's not much to it. The process for making a Ria money transfer to your offshore sports betting site is simple, but it does require that you have a Ria account.
As long as you have an active Ria membership, simply visit your online sportsbook, select the Ria deposit option from the Cashier menu, and input the desired amount of money. You must then enter your contact information in the form provided on the site, and submit the ticket.
Next, you'll need to visit your Ria Money Transfer login, where you'll see a Ria reference number. Enter this number in the appropriate field at your sportsbook site, and then finalize the deposit. You can make sure your funds are processed correctly by using the Ria Money Transfer tracking feature in your Ria app.
Ria payment recipients "expire" within 48 hours, so it's important to send your funds ASAP. After all, you don't want to miss out on that valuable betting line for this weekend's game, do you?
Benefits Of Ria Deposits
The chief benefit of using Ria Money Transfer to fund your legal online sports betting is that the service has an extremely high success rate.
The pesky UIGEA banking regulation sometimes interrupts other more traditional options like credit cards, debit cards, and wire transfers, while cashier's checks usually take too long to clear for most sports gamblers.
Therefore, if you need to top off your bankroll today so you can bet tomorrow – and if you want to avoid all the hiccups associated with "old school" banking methods – then Ria is a great option at participating online sportsbooks.
In short, Ria Money Transfer gambling deposits offer the following:
Same-day deposits with 100% success rate
State-of-the-art data security with SSL/TLS encryption
Access to valuable welcome bonuses and reload bonuses
Numerous withdrawal methods
Minimal transfer fees (which are often waived)
Ria Sports Betting Bonus Options
Most online sportsbooks operating internationally offer their members two distinct types of bonuses: standard betting bonuses and crypto betting bonuses.
Typically, standard bonus options are available to any player that uses traditional deposits (credit, debit, gift card, cashier check, bank wire, etc.). These can boost your account by 50% to 100% of your deposit, giving you up to $1000 in free plays to use for betting on sports online.
Meanwhile, Bitcoin betting bonuses, Litecoin betting bonuses, and other crypto bonus options will increase these numbers by up to 300%, giving you substantially more bang for your buck. Of course, this is done because most legal betting sites prefer their members to use cryptocurrency banking options, as there is comparatively little overhead, and it's cheaper – and far more secure – for everyone involved.
Ria, though not a traditional banking method, is treated like one, which means that you'll be eligible for all the regular bonuses you expect, but not for the enhanced crypto bonuses offered by your sportsbook of choice. Still, Ria is easier to use than BTC or altcoins for many bettors, and it's a compelling option in and of itself.
Ria Mobile Betting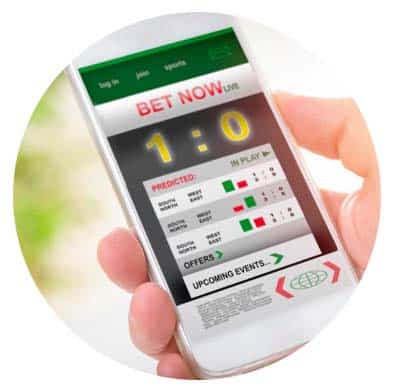 To use Ria, you will likely need the Ria app. And if you've ever used the mobile Ria app for iPhone or Android, you already know how easy it makes things.
With the app, you can check on your Ria money tracking data, you can easily contact Ria Money Transfer customer service, and more. You can even use it to find close "Ria Transfer Near Me" locations. Still, your mobile phone isn't just for Ria online banking, and the Ria Money Transfer app is only a small part of what your iPhone or Android has to offer.
If you bet sports online, all the best sites are optimized to fit your phone or tablet regardless of the make or model, with pixel-perfect visuals and easy-to-use one-tap betting menus. Mobile sports betting is the fastest, simplest, and most convenient way to wager on your favorite players and teams safely and legally from anywhere in the USA.
All you need is a relatively modern mobile device, an up-to-date web browser, and an Internet connection. There's nothing to download, nothing to update, and no geofencing restrictions of any kind. Bet wherever, whenever, 24/7/365!
Ria Sports Betting Payouts
While the most reputable, trusted online sportsbooks are located in legitimate Ria Money Transfer locations (i.e. Ria receiving countries), they're not actually headquartered in any of the five Ria sending countries. As such, you can't claim your sports betting payouts using Ria financial services.
That said, the top sports betting sites have numerous withdrawal options to choose from, allowing you to request your bet payouts via any number of more traditional methods. These are the most popular ways to withdraw your winnings after making a Ria deposit:
Courier Check
Money Order
Bank Wire
Person-To-Person Service
If you use Ria, send money online to your sportsbook site, and then claim a withdrawal, you will not be able to get a same-day payout, as these are limited to Bitcoin and other cryptocurrency transactions.
The above payout methods each take between 2-5 days for your money to show up stateside, and they come with variable fees. Most sites, however, will give you one free check withdrawal every 90 days or so, so this is something to take advantage of whenever possible.
Ria Money transfer is a money remittance service that was launched in California in 1987 and is a subsidiary of Euronet Worldwide, Inc.
The business primarily serves individuals who wish to send money to their families in other countries quickly and conveniently. There are five Ria sending countries and more than 160 Ria receiving countries.
The five Ria sending countries are the US, Canada, the UK, Spain, and Australia.
However, many additional countries do allow domestic money transfers within their own borders when using Ria, though money cannot be sent internationally.
There are over 160 Ria receiving countries.
These are too numerous to list, but most of the countries that regulate and house legal international betting sites are among them.
This is why it's possible to use Ria to make payments to overseas betting sites from the United States. 
Absolutely. Ria Money Transfers are tried and true, and the company has been in business for over 30 years.
In that time, it's become one of the most respected names in the industry, winning countless awards for innovation, accessibility, and more.
Further, all Ria deposits to participating online sportsbooks are fully guaranteed, and the Ria iPhone app and Ria Android app both use cutting-edge security technology to keep your financial information private.
Most customers on the receiving end of a Ria payment prefer to use one of the service's many retail partner venues.
In the US, for example, you can find Ria Money Transfer in Walmart stores, with thousands of nationwide locations.
No matter where in the USA you live, you're likely to have numerous nearby Ria outlets to help you receive Ria payments. 
Ria supports American Express Serve cards. Serve by American Express is a prepaid debit card, and it pairs nicely with the Ria service.
Of course, you can also use your card to make direct American Express betting deposits at most legal online sportsbooks, though Ria has the advantage of more thoroughly bypassing the UIGEA.
In the context of Ria Money Transfer, the answer is a mystery.
However, the company could have created this name as a play on RIA, which stands for Registered Investment Advisor. This would be a tongue-in-cheek comparison of "mundane" money remittance services to high-dollar investment firms.
Since that explanation is amusing – and since the real meaning of the word is completely unknown – we're going to go with the gag.
Disclaimer: Ria Money Transfer is a third-party P2P payment processor/remittance service and does not endorse this site or any online sports betting site in any way. This page is for informational purposes only.