2023 Triple Crown Betting Guide
NOW LIVE – Bet on Triple Crown horse racing odds today
Will there be a Triple Crown winner in 2023?
Which horse will be the 14th-ever Triple Crown champion?
The US Triple Crown of Thoroughbred Racing is the ultimate achievement in the world of horse racing, and each year as the season gets underway, millions of dollars are wagered on whether or not there will be a new Triple Crown champion. In all the years that the Triple Crown races have all been held in the same calendar year, only 13 horses have won it. What's more, in the last 40+ years, only two ponies have taken home the Triple Crown trophy.
Still, online horse betting odds on the Triple Crown are perennially popular, and that's especially true lately. Because winners tend to come in bunches – and because the two most recent champions were (triple) crowned in 2015 and 2018 – many horseplayers believe another winner is bound to turn up sooner rather than later. And with our legal Triple Crown betting guide, you'll know exactly where and how to bet on that dark horse when he does!
Is Horse Betting On The Triple Crown Legal?
Yes! Domestically, US residents can legally bet on the Triple Crown races themselves – and just about all other US-based horse races – in over 40 states. Domestic online betting is even possible in most states thanks to the Interstate Horse Racing Act (1978).
However, futures odds on Triple Crown champions are not considered pari-mutuel, which means that most local racebooks can't offer such lines in accordance with US gambling laws.
To bet on Triple Crown futures and other horse racing props legally and safely, you'll need to use a reputable international betting site like those listed here. These sites operate outside of US borders and can legally take action from most US residents aged 18 and up.
Best Triple Crown Betting Sites For 2023
What Is The Triple Crown?
The Triple Crown of Thoroughbred Racing is an annual series of three horse races in the US. These are the Kentucky Derby, the Preakness Stakes, and the Belmont Stakes. Taken together, these races effectively constitute the "Super Bowl" of horse racing.
To win the Triple Crown, a racehorse must win all three of the above races, and the Kentucky Derby winner is always hyped as a strong contender to do exactly that.
In general, horse racing and betting on horse odds are limited in popularity to those areas where tracks are physically nearby, though simulcasting and the advent of OTBs (as well as online horse betting) have increased the hoofprint of the sport.
Still, for the majority of sports fans and casual bettors, the Triple Crown is horse racing, and the three contests that make up the series are all broadcast on primetime network television. Usually, the health of the market is determined in large part by the ratings for these races, as well as by the horse racing betting handle turned on them.
2023 Triple Crown Races and Schedule
There are three Triple Crown races in American Thoroughbred horse racing, and each one is contested two to three weeks after the previous contest.
Most years, the Kentucky Derby is the first race, taking place on the first Saturday in May. Next up, the Preakness Stakes is typically held two weeks later on the third Saturday in May. Finally, the Belmont Stakes is run in June on the third Saturday following the Preakness (i.e. the second Saturday in June).
Betting is always brisk on the Derby and Preakness, but if a Triple Crown horse emerges with a chance to win it all at the Belmont, horse betting reaches a certified fever pitch.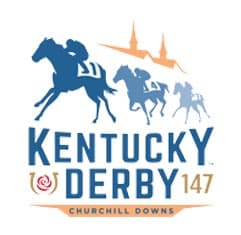 The 10-furlong Kentucky Derby is the most famous – and most wagered on – horse race in not only America but the entire world. Legal online horse betting always sees its highest yearly handle for the Kentucky Derby, which is also the sport's biggest spectator event.
As the first leg of the Triple Crown, the Kentucky Derby – nicknamed "The Run for the Roses" and "The Fastest Two Minutes In Sports" – is traditionally held on the first Saturday in May at Churchill Downs in Louisville, KY. The race has been run every year since its inception in 1875, and the maximum field is 20 horses.
When: First Saturday in May 2023
Where: Churchill Downs, Louisville, KY
Broadcast: NBC
The Preakness Stakes is the second leg of the Triple Crown series, and its nickname is "The Run for the Black-Eyed Susans." Inaugurated in 1873, the 9.5-furlong race has been contested most years, though it was not run in 1891, 1892, or 1893. Betting on the Preakness is popular, though usually, the Derby turns a higher handle.
Traditionally, the Preakness Stakes is held annually on the third Saturday in May, with the Kentucky Derby winner always being the favorite to win. The Preakness Stakes has been contested at the Pimlico Race Course in Baltimore, MD, for most of its existence, and the field is limited to 14 horses.
When: Third Saturday in May 2023
Where: Pimlico Race Course, Baltimore, MD
Broadcast: NBC
The Belmont Stakes is the longest of the Triple Crown races at 12 furlongs, making it more of a marathon and less of a sprint. This is why it's often referred to as "The Test of the Champion." In keeping with the Triple Crown flower theme, the Belmont is also called "The Run for the Carnations."
Inaugurated in 1867, the Belmont Stakes has been contested every year except 1911 and 1912 due to anti-gambling laws in New York. Belmont Park in Elmont, NY, has been home to the race since 1905, and the Belmont field is capped at 12 horses. If the Derby winner also wins the Preakness, Belmont Triple Crown odds automatically become the most popular betting lines in the world.
When: Second Saturday in June 2023
Where: Belmont Park, Elmont, NY
Broadcast: NBC
How To Bet On The Triple Crown
When it comes to legal Triple Crown betting, you have three viable options if you live in the United States. For most US residents, pari-mutuel wagers can be placed on all the Triple Crown horse races at domestic racetracks and simulcasting venues. Most states also have OTB locations that will take your pool-based Triple Crown bets.
However, if you want to wager on horse betting futures and other house-banked Triple Crown odds, you can only do that at a legal online sports betting site operating outside of US borders.
The latter are our favorite venues for horse betting, as they have the best horse odds, you always know how much you stand to win, and you consistently get more betting lines than anywhere else.
The most common place to find Triple Crown horse odds (on individual Triple Crown races) is at your local horse track. Even at venues other than the three Triple Crown tracks, you can wager on these races thanks to the advent of simulcast horse racing betting.
Simulcast betting effectively makes almost every US horse track into a one-stop shop for all domestic horse racing betting from any venue in the country.
That said, you can only place pari-mutuel horse bets at a horse racing track, as that's the only kind of domestic wagering allowed on the ponies in the US.
OTBs – aka off-track betting locations – are retail venues that are considered "satellite" stations to a given horse track. OTBs effectively allow horseplayers to place their wagers without having to go to any track itself.
Typically, OTB wagers are considered part of a track's betting pool on any races held there, though OTBs also allow for interstate betting so you can wager on Triple Crown races and other major meets even if you're in a different state from the event itself.
Most states with legal horse racing betting also have OTBs available (including domestic online horse racing betting), but again, only pari-mutuel betting – i.e. pool-based betting – is allowed.
Online horse betting at the best international racebooks (or "international OTBs") is our preferred way to wager on the Triple Crown and other big races.
For one thing, these sites are available to almost all US residents aged 18 and up, even in states that don't allow domestic horse betting.
But the bigger reason we prefer horse race betting online with overseas operators is that they offer house-banked odds. That means you don't have to wait for all the action to close before you know your exact horse racing Triple Crown odds and payouts.
With online racebooks of this type, you can also place futures bets on horse racing props, such as wagers on whether or not there will be a Triple Crown winner in a given year.
Mobile Triple Crown Betting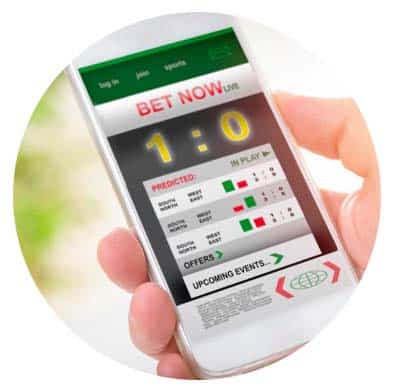 While you won't find a legitimate international horse racing betting app in the App Store or Google Play store, the good news is that you don't need one! All the best horse betting sites recommended here have horse odds available right through any modern mobile browser.
The racebooks themselves are designed to be responsive and dynamic, allowing them to fit any size of mobile device, from the smallest iPhone and Android smartphones to the biggest iPads and tablets.
As long as you have a reasonably modern device, an up-to-date web browser like Safari or Chrome, and an active mobile network connection (cellular or Wi-Fi), you can bet the ponies from anywhere in the USA, legally and securely.
And because these horse betting apps are actually web apps, there's never anything to download or update. Just saddle up and place your Triple Crown bets!
Triple Crown Horses
Every year, there's always interest that the new popular pony might be the next Triple Crown horse. And though the winner of the Kentucky Derby is almost always favored to take the Preakness – and so is almost always a Triple Crown favorite – it rarely works out in the end. Horsefeathers!
Indeed, the achievement is exceedingly rare, as there have been only 13 Thoroughbreds to win the coveted prize in 142 years. Each Triple Crown champion is considered to be among the greatest racehorses to ever live:
Sir Barton - 1919 Triple Crown Winner
Gallant Fox - 1930 Triple Crown Winner
Omaha – 1935 Triple Crown Winner
War Admiral – 1937 Triple Crown Winner
Whirlaway – 1941 Triple Crown Winner
Count Fleet – 1943 Triple Crown Winner
Assault – 1946 Triple Crown Winner
Citation – 1948 Triple Crown Winner
Secretariat – 1973 Triple Crown Winner, G.O.A.T.
Seattle Slew – 1977 Triple Crown Winner
Affirmed – 1978 Triple Crown Winner
American Pharoah – 2015 Triple Crown Winner
Justify – 2018 Triple Crown Winner
Triple Crown Records
There are a number of Triple Crown records and notable statistical minutiae of interest to the avid horseplayer, but for most folks, all Triple Crown records of import can be summed up in one word: Secretariat.
Secretariat, the 1973 Triple Crown champion and most famous racehorse in history, holds all three Triple Crown track records:
Kentucky Derby – 1:59.40
Preakness Stakes – 1:53.00
Belmont Stakes – 2:24.00
As if holding all three records weren't impressive enough, Secretariat also had faster successive split times in every single race. This means he was constantly accelerating in each race, from start to finish! While Secretariat's records could fall one day, most horse racing purists hope they never will.
Triple Crown Horse Racing FAQs
The three races of the Triple Crown of Thoroughbred Racing (USA) are the Kentucky Derby, the Preakness Stakes, and the Belmont Stakes.
13 horses
To date, there have been 13 horses that won the Triple Crown. While a rare feat, they seem to come in clusters.
Given that the last two winners took the titles in 2015 and 2018, a new Triple Crown winner could be imminent – and so could a big payout!
Though there have been 13 Triple Crown horses, there have been only 12 Triple Crown jockeys. That's because hall of famer Eddie Arcaro won the prestigious title twice, in 1941 and 1948.
To date, the following jockeys have won the Triple Crown:
1919 – Johnny Loftus (Sir Barton)
1930 – Earl Sande (Gallant Fox)
1935 – Willie "Smokey" Saunders (Omaha)
1937 – Charles Kurtsinger (War Admiral)
1941 – Eddie Arcaro (Whirlaway)
1943 – Johnny Longden (Count Fleet)
1946 – Warren Mehrtens (Assault)
1948 – Eddie Arcaro (Citation)
1973 – Ron Turcotte (Secretariat)
1977 – Jean Cruguet (Seattle Slew)
1978 – Steve Cauthen (Affirmed)
2015 – Victor Espinoza (American Pharoah)
2018 – Mike Smith (Justify)
1973
Secretariat won the Triple Crown in 1973 and is universally regarded as the most dominant Triple Crown champ of all time. 
The Triple Crown horse races traditionally take place in May and June of each year over a roughly five-week span.
The Kentucky Derby is historically held on the first Saturday in May, with the Preakness being held on the third Saturday in May.
The final Triple Crown race, the Belmont Stakes, is contested on the third Saturday following the Preakness.
Of course, to get the best horse racing odds and the most valuable Triple Crown bet payout, you're going to want to pick your potential winner before the running of the Derby at the start of the series.
The three Triple Crown races are each contested over different distances. While these can be altered due to scheduling conflicts or other emergencies (as was the case in 2020, due to the coronavirus pandemic), the races are historically run as follows:
Kentucky Derby – 10 furlongs (1 1/4 miles, 2000m)
Preakness Stakes – 9.5 furlongs (1 3/16 miles, 1900m)
Belmont Stakes – 12 furlongs (1 1/2 miles, 2400m)
Because the Derby and Preakness are very similar in length, it isn't uncommon for the same horse to win both races and thus be favored to be the next Triple Crown winner.
However, because the Belmont is so much longer, the race is better suited to marathoners rather than sprinters. This is the reason why Triple Crown winners are so rare.
Yes! In fact, there are two trophies for each Triple Crown race (a traditional "cup" style trophy and a blanket of flowers), and there's a special trophy awarded to any owner whose horse wins the Triple Crown.
Kentucky Derby – Kentucky Derby Trophy, blanket of roses
Preakness Stakes – Woodlawn Vase, blanket of yellow flowers
Belmont Stakes – August Belmont Trophy, blanket of carnations
The Triple Crown Trophy is a silver inverted triangular "cup" designed and crafted in 1950 by the Cartier Jewelry Company.
This trophy – like the NHL's Stanley Cup – goes from Triple Crown horse to Triple Crown horse, though it spends most of its time on display at the Kentucky Derby Museum.   
Justify, 2018
The last Triple Crown winner was Justify in 2018.
Just three years prior, in 2015, the American Pharoah Triple Crown made headlines after a 37-year dry spell which started after the Affirmed Triple Crown in 1978.
No
No, there was no Seabiscuit Triple Crown.
While Seabiscuit was an extremely accomplished racehorse in the late 1930s (and was Horse of the Year in 1938), he never actually won even a single Triple Crown race.
Nevertheless, Seabiscuit is widely regarded as one of the best Thoroughbred champions of all time, and Blood-Horse ranks him as the 25th best racehorse of the 20th century.