Legally Betting On US Open Tennis Odds
2023 US Open Tennis Tournament: August-September
US Open Futures Are Live Now
Bet On Men And Women's US Open Winners Online
Nothing ramps up the excitement for legal tennis betting quite like Grand Slam Tournaments do. During late August and early September each year, legally betting on US Open Tennis odds commences at the USA's best online sportsbook sites.
If you'd like to know more about how to bet on the US Open Tennis Tournament, digest the following guide and learn what match lines, the over/under, futures odds, and game spreads are. We also disclose the best online tennis betting sites that accept US-based gamblers for your convenience.
Bovada Sportsbook

#1 Site For Tennis Betting Lines
Best US Open Tennis Betting Sites
Is US Open Tennis Betting Legal?
Betting on the US Open Tennis Tournament in the United States is legal and can be done with domestic and offshore sportsbooks.
Offshore – Legal sports betting is available via offshore sportsbooks to those that are 18 and older in the USA because there are no laws in place to prohibit them. The online sportsbooks that we recommend on this page for US Open Tennis betting are located offshore and serve the entire United States between them.
Domestic – Most state-regulated sportsbooks in the USA will offer US Open Tennis odds, with a majority of them requiring a minimum age of 21.
What Is The Tennis US Open?
The US Open Tennis Tournament is one of four Grand Slam Tournaments on the pro tennis schedule each year. It occurs annually between the end of August and early September and places the top 128 men and 128 women players in a two-week long tournament.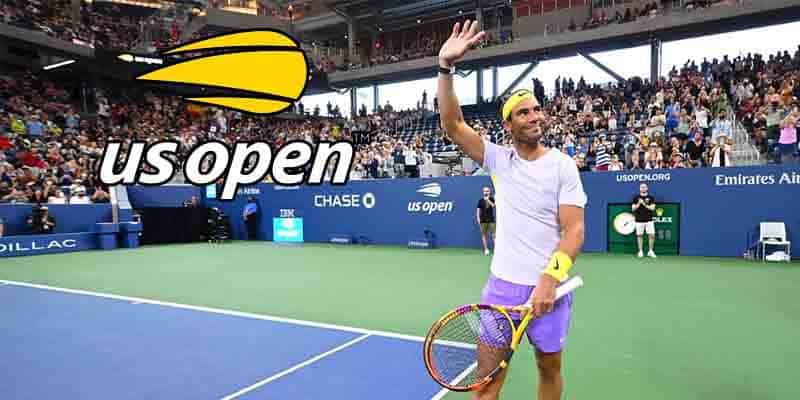 2023 Tennis US Open Dates & Location
August-September
USTA Billie Jean King National Tennis Center in Queens, NYC
How To Bet On US Open Tennis
There are four major categories to betting on a Grand Slam tennis tournament. Just like when betting on Wimbledon, or legally betting on the Australian Open, there will be futures odds for men and women winners, individual match lines, live betting, and tennis prop bets for all other trackable occurrences.
In the following sections, we detail how each US Open tennis bet type works.
Tennis US Open Futures
Futures betting lines feature a list of potential winners in the order of first to worst according to the moneyline odds to win. Tennis futures for the US Open are produced well in advance of the tournament and remain posted until at least the quarterfinals.
Gamblers can place a bet on the player they think will win the tournament or will win what is being asked in the betting line. If the player wins, the bet is a winner as well. Cash payouts are determined based on the amount of money risked versus the odds for the tennis player to win.
We've posted the latest US Open Tennis futures for men and women below.
US Open Tennis Match Lines
Betting lines for each tennis match in the US Open will be posted at offshore sportsbook sites once the players are determined. Match lines will feature a game spread (the number of games a player is expected to win or lose by), moneyline odds for winning players, and the over/under for total games played.
Here is an example of a US Open tennis match line:
Iga Swiatek vs. Sloane Stephens
Game Spread: Swiatek -5.5, Stephens +5.5
Moneyline: Swiatek -700, Stephens +475
Over/Under: 19.0
Swiatek must win by six or more games overall to cover the spread. Alternatively, Stephens must lose by five games or less to cover. Moneyline odds payout when the player wins with a $7 bet on Swiatek required to earn $1, and $1 wagers on Stephens earning $4.75. Under wagers will hit if the total games equal 18 or less, with the over winning if the total surpasses 20.
US Open Prop Bets
Any other verifiable outcome occurring at the US Open Tournament can result in the production of a tennis prop bet. Propositions can involve yes or no options or multiple potential winners. Below is a prop asking how far Rafael Nadal will advance in the US Open.
Men's US Open Stage of Elimination - Rafael Nadal
Winner +350
Runner Up +450
Semi Final +300
Quarter Final +400
4th Round +650
3rd Round +650
2nd Round +1000
Another popular tennis prop places two players head-to-head and asks which one will advance further.
Who Will Go Further? - Medvedev v Nadal
Daniil Medvedev -150
Rafael Nadal +115
Live Betting On US Open Tennis Matches
Once a match starts in a pro tennis tournament, the odds remain on the board as our top sportsbook sites allow for in-game betting on the over/under, spread, moneyline, and props. As long as the outcome of the match or prop is in doubt, live match lines will remain available.
In-match betting lines can be removed anytime, so don't take too long to make up your mind. Each sportsbook may vary in what type of tennis odds they offer for live betting.
Tennis Betting Apps
Gamblers don't have to miss out on making US Open bets just because they are on the move. Smartphones and tablets can bet on pro tennis odds without downloading software to your device when wagering with the top mobile sportsbooks we recommend.
Mobile browsers can be used to access any of the tennis sportsbooks listed on this page. US Open betting odds will populate Apple and Android screens with touch-button navigation that behaves just like a downloadable app.
How To Bet On The US Open for Tennis Online
Before any wagers can be placed on the US Open, Wimbledon, or the bets on Australian Open, a membership with an online sportsbook that we list on this page must be created. 18 and older gamblers in the United States can bet on the US Open before and during the tournament using web-ready devices, so read through our list of reviews and consider joining more than one.
We suggest registering with multiple tennis sportsbooks because it allows line shopping to find the best payouts. If you're only a member of one tennis betting site, you'll be limited to one set of odds to wager on.
The sportsbook account creation process can be completed in a few minutes. Just press the join button at the top of any page inside of the online sportsbook and enter your profile information. The next page will ask for your first deposit for betting in the sportsbook. Submit money into your account using USD or cryptocurrency.
Once funds are transmitted, you are ready to place a bet on a US Open tennis match or any other major sports happening worldwide.
Sportsbook Banking Options
A benefit of betting with an offshore sportsbook site is that they accept cryptocurrency (Bitcoin, Ethereum, Cardano, Dogecoin, Tether, and more) as well as standard US dollar methods. Crypto deposits can upload nearly instantly as transactions are not slowed down by unnecessary regulatory processes.
Withdrawing winnings using cryptocurrency is also the fastest method available out of all sportsbook banking options, as most altcoin transactions can be completed within 24 hours of being requested and approved. USD payouts tend to take at least 48 hours to process.
Sportsbook Promo Codes for Betting on Tennis
New and sometimes existing account holders at offshore sports betting sites are eligible to enter a promo code when making a deposit that adds extra cash to accounts. What's the catch?
These promotional funds almost always have conditions that require extended playthrough to become withdrawable cash. Read the terms and if you can meet them, accept the bonus and enjoy the free money. Taking a sportsbook bonus is not mandatory and can be refused.