Louisiana Sports Betting – How To Bet On Sports Legally In LA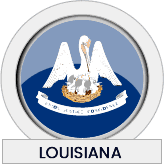 Online Sports Betting Available In LA Via Offshore Sportsbooks
Domestic Louisiana Sportsbooks & Mobile Apps Available
Louisiana Online & Mobile Sports Betting Apps Available Now!
Louisiana typically maintains a pro-gambling stance in general, despite their struggles to usher in state-regulated sports betting. Those struggles subsided in November of 2020 when Louisiana voters enacted domestic sports betting in 55 out of 64 parishes. Domestic sportsbooks opened in October of 2021, and mobile sports betting apps debuted in January of 2022.
Residents can also take advantage of the fact that Lousiana is one of the many US states that allows sports betting through online sportsbooks operating from a jurisdiction outside of the country. Offshore sports betting is not prohibited in Louisiana, leaving sports fans in the state with a legitimate online and mobile betting option.
Is Sports Betting Legal In Louisiana in 2023?
Yes. Domestic sports betting was made legal in November of 2020 in nearly all parishes in Louisiana and the first sportsbook opened its doors in October of 2021. LA followed up those efforts by legalizing mobile sports betting applications in January of 2022.
Placing a bet on sports over the Internet with an internationally-based sportsbook is also currently an option in Louisiana. These offshore sports betting sites can accept wagers from people over 18 in LA because there are no laws that say that it is against the rules - and, they are available in all of Louisiana's parishes.
Louisiana Sports Betting Bills
The Status of Lousiana Sports Betting Legislation in 2023
Thanks to sports betting legislation passed in 2021 and 2022 in Louisiana, sports fans can place bets online and on mobile devices using domestic sportsbooks. 
HB697 outlines tax rates and licensing requirements for electronic betting operators. The bill was signed by the Governor in an effort to bring offshore revenue back into the state. Mobile sports betting apps debuted in Louisiana on January 28, 2022. 
To keep up with future sports wagering bills and legislation, be sure to visit this page to track the progress of sports betting legislation. 
Best Sports Betting Sites In Louisana 2023
Below is a list of the top-rated sportsbooks that accept LA bettors. Each of these brands has been verified through our review process and found to provide the type of betting experience we ourselves look for when it comes to a Vegas-style online sportsbook.
These websites are USA-friendly, offer both online and mobile betting options, and accept USD for transactions and withdrawals. You can learn more about any of these brands from our sportsbook reviews.
LA Sports Betting Details
If you live in Louisiana, then here you will find a complete breakdown of all the details regarding sports betting in your state. Everything below is based on what LA residents can and can't do under current law. Additionally, everything here is subject to change should state legislators enact new laws on sports betting.
Legal Sports Betting: Domestic, Offshore
Louisiana Minimum Sports Betting Age: Domestic 21, Offshore 18
Land-Based Sportsbooks: Yes
Online Sportsbook: Domestic, Offshore
Mobile Betting App: Domestic, Offshore
In-Play/Live Betting: Domestic, Offshore
Estimated Revenue: TBD
Eligible Operators: TBD
Licensing Fee: TBD
Tax Rate: TBD
Tax-Funded: TBD
What You Can Bet On In Louisiana:
Louisiana residents can freely place real money wagers on all betting lines, odds, and props for all games, teams, and players across all college and professional sports via international sportsbooks operating offshore and domestic sportsbooks taking bets in the state.
What You Can't Bet On In Louisiana: 
No wagering on high school sports via domestic books. No restrictions exist for offshore sports betting sites.
Where Can I Bet On Sports In Louisiana?
Louisiana gamblers can bet at a local sportsbook or download a mobile sports betting application right now. Legal online or mobile sports betting is also available to Louisianans via Internet-based offshore sportsbooks that operate outside of the USA's jurisdiction like the ones featured in the table above.
Biggest Sports Betting Cities in Lousiana
New Orleans
New Orleans is the cultural epicenter of the Bayou State. Aside from all the music and food, betting on the NFL and the New Orleans Saints, or laying some action on the New Orleans Pelicans and their NBA odds, are hot ticket items. You can bet on either team via the licensed offshore sports sportsbook sites recommended in this guide.
Baton Rouge
Baton Rouge is the capital of Louisana and while there are no professional sports teams, there is a major college athletic program with Lousiana State University (LSU). Baton Rouge residents can legally bet on the LSU Tigers and the college football odds with the use of offshore online sportsbooks that service the Louisana area. Residents are also allowed to wager on other teams across the US or any other international team, whether it be betting on March Madness, or risking some bankroll on political election odds.
Louisiana's Best Mobile Sports Betting Apps
All of the online sportsbooks we recommend have their own mobile sports betting app that is legal to use in the state of Louisiana. These web-based apps can safely be used on any smartphone, tablet, or any other popular mobile device.
You're not missing out on anything either, as every sportsbook option is ported over to the mobile version, so iPhones, iPads, and Android-based devices can be used to bet on sports from anywhere in the state.
No download is required to access these web-based betting apps. Just click on one of the sportsbook links we've provided above and your device will handle the rest, allowing for push-button controls that look and feel like a downloadable app, but without the need for a visit to the app store.
Bitcoin Betting In Louisiana
Bitcoin (BTC) is the most popular cryptocurrency on the planet and is also the most advantageous funding option at the online sports betting sites we recommend to LA bettors. These international sportsbooks prefer BTC because of the lack of regulatory obstacles in place that can slow down transaction times.
Bitcoin deposits will have Louisiana-based customers betting within an instant, and BTC withdrawals can be made in twenty minutes, and is the only option that can deliver the good within a day.
Live Betting
Point spreads, money lines, and the over/under can be bet on while the game is ongoing using the live betting options at top Louisiana online sportsbooks. Live betting odds have become increasingly popular because bettors no longer need to place their wagers before the game begins.
Bets can be made at any point during the contest with odds that update as the clock ticks away. Hedge your early losers with late-game live betting instead of accepting your loss. Cruise the top sportsbooks we list on this page for the best live betting available in Louisiana.
Lousiana Sports Betting FAQs
Will I get arrested for betting on sports in Louisiana?
You have nothing to worry about when using offshore sports betting sites since there is no law - either state or federal - that prevents you from signing up and wagering real money on sports as long as you are 18. If you are 21, you can visit an in-person LA sportsbook. However, illegal bookies and unauthorized sports betting rings located inside state lines are strictly prohibited and can lead to your arrest.
How To Bet on March Madness In Louisiana
While Louisiana may offer in-person NCAAB wagering opportunities on a Parrish-by-Parrish basis, March Madness betting in LA is best done by opting for one of the college basketball sportsbook sites listed in the table above.
These Louisiana Super Bowl sportsbooks offer NCAA Basketball betting odds and prop bets for the big tournament all year long to 18 and over online gamblers.
What are sportsbook bonuses and should I accept one?
Accepting a sportsbook bonus is entirely up to the member. It is not a requirement of membership, so read up on the terms. Promotions differ from site to site, but typically offer to match a percentage of your deposit, and can range anywhere between 25%-100%.
What teams can I bet on in Louisiana?
The offshore sports betting sites listed above do not have any restrictions regarding any team, player, or game, which means you can pretty much bet on anything you can think of when it comes to sports. Dometic sports betting regulations prohibit betting on high school sports.
What are my options for funding my sportsbook account in LA?
Bitcoin and cryptocurrency offer the quickest withdrawals and deposits, and come with the highest level of welcome bonus offers attached. At the same time, we realize that not everyone in Louisiana is using cryptocurrency, so we ensure that the sportsbook sites we recommend also accept the following sportsbook funding options:
Deposit: Debit Cards, Credit Cards, Wire Transfer, Money Transfer Services, Zelle (USD-to-BTC), Cashier's Check, Cryptocurrency (Bitcoin, Bitcoin Cash, Ripple, Tether, Cardano, Ethereum, Litecoin)
Withdrawal: Wire Transfer, Cashier's Check by Courier, Cryptocurrency* (Only method that can be withdrawn in less than 24 hours)
Are there any local sportsbooks in Louisiana?
Yes, and they opened up in October of 2021, and many more are expected to follow. Mobile sports betting apps are also available domestically in LA, first debuting in January of 2022.
What is the legal minimum sports betting age in Louisiana?
The minimum legal sports betting age requirement in Louisiana is 21 at domestic books. The offshore sites we recommend require you to be at least 18 years old to sign up and bet on sports.
Betting On Football In Louisiana In 2023
How To Bet On NFL Football in Louisiana
The New Orleans Saints compete in the NFC South each year against the Atlanta Falcons, Tampa Bay Buccaneers, and Carolina Panthers. NFL betting in the bayou region is legal and available to 18+ gamblers when taking advantage of the offshore sportsbooks that are featured in this guide. Super Bowl betting, NFL Playoff odds, prop bets, futures, and game lines for all 32 teams are all available now so check out each book we recommend to see for yourself.
How To Bet On College Football in Louisiana
Louisiana is SEC country with the LSU Tigers making up the largest fanbase in the state. LSU is a member of the Southeastern Conference which means that betting on the College Football Playoffs is always on the minds of local NCAAF gamblers.
No matter what team you are interested in laying some action on, legal college football betting is best done in LA using any offshore sportsbook site that we endorse here at SBL. Don't limit yourself to the paltry NCAAF odds at domestic books – check out the best offshore betting sites in Louisiana via the list above.
Louisiana Legislative Resources
We believe you should voice your opinion on the possibility of sports betting coming to the state of Louisiana. Below you'll find resources that will put you in contact with your governor, senators, and representatives.
LA Gambling Resources
We strongly encourage everyone in Louisiana to bet on sports responsibly and to treat your sportsbook account like a bank account. However, we acknowledge that problem gambling is real and addictive and can have a negative impact on your personal life and finances. If you or someone you know is exhibiting any warning signs of problem gambling habits, please contact the Louisiana Association on Compulsive Gambling for immediate assistance.