Louisiana Sports Betting – Bet On Sports Legally In LA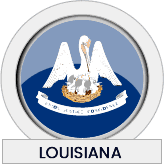 Louisiana typically maintains a pro-gambling stance in general, despite their struggles to usher in state-regulated sports betting. The state's lawmakers have expressed an interest in authorizing domestic sports betting, so as long as they keep trying, we're hopeful they will sort it out.
Residents can take heart that Lousiana is one of the US states that allows sports betting through online sportsbooks operating offshore. Offshore sports betting is not prohibited in Louisiana, leaving sports fans in the state with at least one option to bet on sports.
Is Sports Betting Legal In Louisiana?
Yes, and no. It is not illegal for LA residents to place bets online at reputable sports betting sites legally operating outside of the United States. However, Louisiana does not offer any state-regulated sports betting options at this time. We are hopeful that next year's legislative session might change help the state get involved with domestic sports gambling.
Lousiana Sports Betting Bills
Efforts to usher in state-regulated sports betting have met with some unexpected twists that ultimately left the Bayou State wanting.....again. 2019 is the second year in a row that lawmakers were unable to get a sports betting bill through the state's legislature despite having had 4 bills to work with.
Things looked hopeful for at least one of those bills until the Appropriations Committee dismantled the bill by adding stipulations that postured it for failure, such as requiring the integrity fees, allowing bets to be placed at video poker destinations, and unacceptable taxation requirements. The legislative session closed without a bill making it through.
We expect the state to start the process once again during next year's session.  You can follow the progress (or lack thereof in this case) using our state sports betting bill tracker.
Best Online Sportsbooks For Louisana Residents
Below is a list of the top-rated sportsbooks that accept LA bettors. Each of these brands has been verified through our review process and found to provide the type of betting experience we ourselves look for when it comes to a Vegas-style online sportsbook. These websites are USA friendly, offer both online and mobile betting options, and accept USD for transactions and withdrawals. You can learn more about any of these brands from our sportsbook reviews.

LA Sports Betting Details
If you live in Louisiana, then here you will find a complete breakdown of all the details regarding sports betting in your state. Everything below is based on what LA residents can and can't do under current law. Additionally, everything here is subject to change should state legislators enact new laws on sports betting.
Legal Sports Betting: Offshore Only
Louisiana Minimum Sports Betting Age: 18 years old (via Offshore)
Land-Based Sportsbooks: TBD
Online Sportsbook: Offshore Only
Mobile Betting App: Offshore Only
In-Play/Live Betting: Offshore Only
Estimated Revenue: TBD
Eligible Operators: TBD
Licensing Fee: TBD
Tax Rate: TBD
Tax-Funded: TBD
What You Can Bet On In Louisiana:
Louisiana residents can freely place real money wagers on all betting lines, odds, and props for all games, teams, and players across all college and professional sports (via Offshore)
What You Can't Bet On In Louisiana: 
No restrictions (via Offshore)
Where Can I Bet On Sports In Louisiana?
Because the Louisiana sports betting bills failed to pass during the 2019 session, residents will be without local sportsbooks for at least another year since state lawmakers will have to wait until the 2020 session attempting to pass another measure. At this time, the only legal sports betting option available to Louisiana residents is to use offshore sportsbooks on the Internet that are located outside the state's jurisdiction.
Biggest Sports Betting Cities in Lousiana
New Orleans
New Orleans is the cultural epicenter of the Bayou State. Aside from all the music and food, professional teams to bet on in the city include the Saints (NFL) and the Pelicans (NBA). You can bet on either team via the licensed offshore sports gambling sites recommended in this guide.
Baton Rouge
Baton Rouge is the capital of Louisana and while there are no professional sports teams their is a major college athletic program with Lousiana State University (LSU). Baton Rouge residents can legally bet on the LSU Tigers with the use of offshore online sportsbooks that service the Louisana area. Residents are also allowed to bet on other teams across the US or any other international team.
---
FAQs
Will I get arrested for betting on sports in Louisiana?
You have nothing to worry about when using offshore sports betting site since there is no law - either state or federal - that prevents you from signing up and wagering real money on sports. However, illegal bookies and unauthorized sports betting rings located inside state lines are strictly prohibited and can lead to your arrest.
Are mobile sports betting apps legal in Louisiana?
All of the online sportsbooks we recommend have their own mobile sports betting app that is legal to use in the state of Louisiana. These web-based apps can safely be used on any smartphone, tablet, or any other mobile device. At this time, in-state mobile sportsbook apps operating from inside state lines remains illegal.
What teams can I bet on in Louisiana?
The offshore sports betting sites listed above do not have any restrictions regarding any team, player, or game, which means you can pretty much bet on anything you can think of when it comes to sports.
Are there any local sportsbooks in Louisiana?
No, and there won't be for at least another year. Because the introduced bill failed to pass during the 2019 session, Louisiana lawmakers will have to wait until 2020 to try again.
What is the legal minimum sports betting age in Louisiana?
There is not a minimum legal sports betting age requirement in Louisiana because the state does not allow sportsbooks to operate within its borders. The offshore sites we recommend require you to be at least 18 years old to sign up and bet on sports.
Who regulates sports betting in Louisiana?
There is no regulatory body for sports betting in the state of Louisiana at this time since it's not yet legal in the jurisdiction. If the state does legalize sports wagering in the future, then lawmakers will likely make a gaming commission or the state lottery to the regulators.
---
Louisiana Legislative Resources
We believe you should voice your opinion on the possibility of sports betting coming to the state of Louisiana. Below you'll find resources that will put you in contact with your governor, senators, and representatives.
LA Gambling Resources
We strongly encourage everyone in Louisiana to bet on sports responsibly and to treat your sportsbook account like a bank account. However, we acknowledge that problem gambling is real and addictive and can have a negative impact on your personal life and finances. If you or someone you know is exhibiting any warning signs of problem gambling habits, please contact the Louisiana Association on Compulsive Gambling for immediate assistance.