Oklahoma Sports Betting – Bet On Sports Legally In OK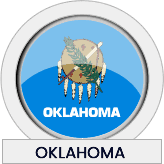 In Oklahoma, state residents and visitors do not have any domestic sports gambling options. Unlike other US states that allow sports betting, OK is very selective and only permits OK players to use offshore sportsbooks.
If the state were to consider domestic sports gambling legalization, Ok players would have domestic and offshore sportsbooks to choose from. However, it does not seem that Oklahoma will be embracing domestic sports wagering options any time soon.
Is Sports Betting Legal In Oklahoma?
Oklahoma has no domestic sports gambling opportunities. The state has not considered domestic sports betting legalization and may not for a long time. However, no American federal gambling law directly prohibits US players from accessing and gambling on offshore sportsbooks.
Offshore sportsbooks are outside US jurisdiction and the state of Oklahoma does not enforce any laws against offshore betting. This means OK residents are free to bet on any team they like whether they are based in the USA or overseas through offshore sportsbooks.
Oklahoma Sports Betting Bills
Oklahoma not considering sports gambling legalization. However, if the state were to consider any bills related to sports gambling you could find that information on our US bill tracker page.
Best Online Sportsbooks For Oklahoma Residents
Below is a table made up of the best available sportsbooks accepting Oklahoma residents. OK residents are within their rights in using these sportsbooks.
If you are interested in placing a bet on the Sooners, Thunder, Cowboys or any other team, take a moment to browse our recommendations or you can find more information about the brands listed below by reading our reviews page.
OK Sports Betting Details
Below is a complete breakdown of Oklahoma's current sports gambling market. From what you can see, offshore sportsbooks make up the majority of the state's legal sports wagering offers. However, if the state were to consider legalized betting we could update the following information accordingly.
Legal Sports Betting: Offshore Only
Oklahoma Minimum Sports Betting Age: 18 years old (via Offshore)
Land-Based Sportsbooks: TBD
Online Sportsbook: Offshore Only
Mobile Betting App: Offshore Only
In-Play/Live Betting: Offshore Only
Estimated Revenue: TBD
Eligible Operators: TBD
Licensing Fee: TBD
Tax Rate: TBD
Tax-Funded: TBD
What You Can Bet On In Oklahoma:
All betting lines, odds, and props for all games, teams, and players in Oklahoma across all college and professional sports (via Offshore)
What You Can't Bet On In Oklahoma: 
No restrictions (via Offshore)
Where Can I Bet On Sports In Oklahoma?
State-licensed sportsbooks have not been made available yet as there is no pending legislation for this type of legalization in consideration. Nonetheless, OK players can travel to Mississippi sportsbooks or use offshore online sportsbooks in the meantime.
Biggest Sports Betting Cities In Oklahoma
Oklahoma City
The Oklahoma Sooners from Oklahoma City play in the Big 12 Conference and fielded their first collegiate football team in 1895. The program is one of the most successful in college football history, winning 45 conference championships, seven national championships, and producing six Heisman Trophy winners.
Tulsa
The second largest city in Oklahoma has no professional or major college athletic program but is near several prestigious athletic programs and the Oklahoma City Thunder. Residents are not limited to these programs, with online sportsbooks Tulsa residents can bet on any team around the world. Online you will find betting lines for professional, college, and other sports that you might not have known you can bet on.
Norman
The Sooners play in the Big 12 Conference are one of the surprise teams of the 2017-2018 season. Their football program is projected to do well this year and the team's performance justifies its national ranking. OK residents can bet on the Sooners as they attempt to qualify for the CFP through our recommended sportsbooks.
Stillwater
The Oklahoma State Cowboys football team played their first season in 1901 and compete in the Big 12 Conference. The Cowboys have won 10 conference titles, claim one national championship (1945), and have produced one Heisman Trophy winner in their history.
---
Frequently Asked Questions About Oklahoma Sports Betting
Will I Get Arrested for Betting on Sports in Oklahoma?
Since there are no authorized licensed sports gambling services in Oklahoma, players wagering on sports through OK-based services would be in violation of state laws. Offshore sportsbooks are the only platforms currently permitted to offer OK players sports betting services.
Are Mobile Sports Betting Apps Legal in Oklahoma?
No, not at this time. OK has yet to legalize domestic sports wagering and thus no in-person or mobile betting options are legally available. However, offshore sportsbooks offer mobile sports betting capabilities to Ok players who want to bet right now from their favorite mobile devices, phones, or tablets.
What Teams Can I Bet on in Oklahoma?
Oklahoma has not regulated domestic sports betting and thus has no details on which teams, wagering types, and events are prohibited to bet on. Offshore sportsbooks, on the other hand, do not place any restrictions on OK players seeking to bet on teams located in their state, out of state, or in amateur leagues.
Are There Any Local Sportsbooks in Oklahoma?
No, since OK has not legalized state-based betting operations local sportsbooks are unauthorized. Do not gamble through any OK-based bookie or sportsbook or you will risk being in violation of state laws. We do not recommend using any local OK-based sportsbooks.
What is the Legal Minimum Sports Betting Age in Oklahoma?
Oklahoma has not set a legal minimum sports gambling age since there are no sports betting laws on the books. Offshore sportsbooks accept O players as young as eighteen. Once the state authorizes domestic sports wagering their minimum sports gambling age may conflict with the age set by offshore bookies.
---
Oklahoma Legislative Resources
Oklahomans looking to contact their state legislators regarding sports gambling are encouraged to do so. They can find contact information, bill supporters, and more through the following legislative resources.
Oklahoma Gambling Resources
The Oklahoma Department of Mental Health and Substance Abuse Services Problem and Compulsive Gambling Addiction program is the best recommendation for OK players suffering from signs of problem gambling or individuals seeking help for a loved one suffering from a gambling habit.