Venmo Sports Betting Deposits
You can finally Venmo your online bookie! Well, almost…
Popular app - Find sportsbook voucher buyers and sellers FAST
Score valuable sports betting promos + claim same-day payouts
Most of the world's commercial industries have been able to employ popular P2P instant payment systems, but online sportsbooks operating legally outside of US jurisdiction have been left out. Due to federal banking restrictions, companies like Venmo do not process legal online betting deposits. And without Venmo sports betting deposits, many avid bettors have no quick, secure way to get their accounts funded. But that's finally changing!
The best online sportsbooks are truly pushing the envelope with new ways to allow members to use Venmo and other P2P services to fund their betting accounts indirectly, via the cooperation of the betting community itself. This is done through the voucher or player transfer model, as well as the Bovada-exclusive MatchPay option.
Regardless of method, these online betting sites are now bona fide Venmo betting sites. Using player-to-player banking options, online bettors can rapidly deposit with Venmo and to receive Venmo same-day payouts. To learn more about using Venmo to legally bet on sports, our short guide explains the simple process.
Best USA Sports Betting Sites Accepting Venmo In 2023
What Is Venmo?
Venmo is an instant-pay, peer-to-peer (or P2P) money sending service owned by PayPal. And while PayPal sports betting deposits are now also available through the same methods as Venmo deposits, many users prefer the latter due to its social media aspects, as users can automatically share their purchase histories with followers.
Typically, Venmo transfers from your checking account take between 1-3 business days to go through, though Venmo also allows for an instant-pay option. This comes with minimal added fees, though they're usually waived if senders/recipients are technically "private" parties (which, for online bet funding, they are).
If you want to make rapid Venmo sports betting deposits, you'll have to opt for the instant-pay portion of the service. Otherwise, Venmo's lead time is more in line with traditional sports betting banking options (like wire transfers) and is less ideal for those looking to bet on today's games.
To use Venmo for sports betting at sites like Bovada, you can't employ the service directly. That is, Bovada and other books cannot accept Venmo transfers as such. Instead, you must purchase Bovada Voucher codes (or other sportsbook voucher codes) from fellow sportsbook members using Venmo or other P2P apps like PayPal, Cash App, Zelle Pay, etc. Alternatively, you can use the Bovada MatchPay service, which works similarly.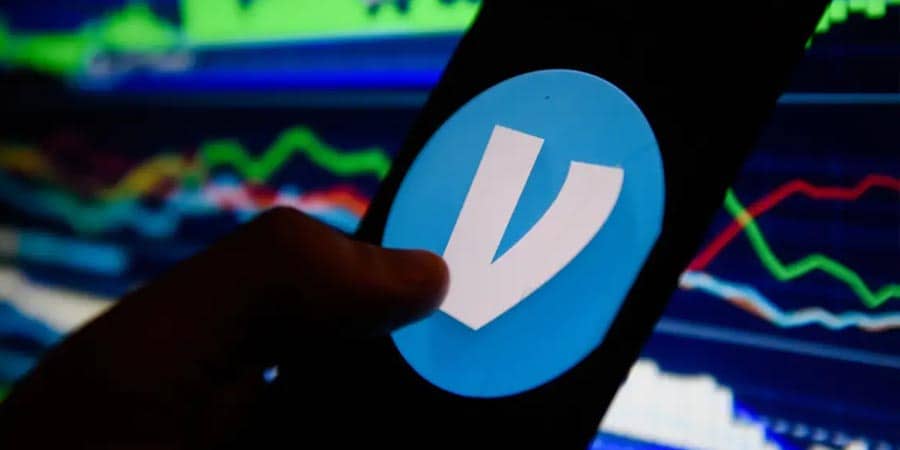 Is It Legal To Use Venmo To Fund Bets Online?
Yes. Because it is legal to place online sports bets with service providers operating overseas, you're breaking no US gambling laws when doing so. Additionally, because it is legal to use Venmo to fund all lawful transactions, you are free to use the service in conjunction with sportsbook vouchers, player transfers, and MatchPay to send money to or receive money from other US-based sports bettors at participating sites.
In Washington state, there are laws on the books barring individuals from all online gambling, including sports betting. However, these laws don't appear to be enforced or enforceable, and the best online sportsbooks all accept members from WA. Nevertheless, you are advised to follow all local gambling laws.
Benefits Of Betting With Venmo Deposits
There are several benefits to using Venmo deposits at US sportsbooks. The biggest benefit, obviously, is that Venmo is a hugely popular service that you likely already use in your daily life for regular purchases on the Internet and at local retailers, restaurants, and elsewhere.
With well over 40 million active Venmo users in the USA, this opens the door to a whole new segment of customers for legal online sports betting sites. In total, the following Venmo pros are why the pros use Venmo to make online sports bet funding easier than ever:
Instant transfers allow you to fund your sportsbook bankroll in just minutes instead of days
Reasonable betting limits suitable for the vast majority of bettors
No added fees for voucher/transfer/MatchPay deposits or withdrawals
Use your existing Venmo account for maximum convenience
Mobile-friendly Venmo app for those who like to handle all their banking on the go
Make quick, easy Venmo deposits and withdrawals backed by Venmo and sportsbook service guarantees
Earn online sports betting bonuses with Venmo sports betting voucher deposits
Claim same-day payouts using Venmo when selling your eligible account balance via voucher, player transfer, or MatchPay
Venmo Sports Betting Bonuses
Whenever you sign up at a legal online sportsbook – or whenever you make a fresh deposit into your account – you'll be eligible to receive deposit-match bonuses that adds significant extra cash to your bankroll.
While cryptocurrencies offer enhanced sports betting bonuses, Venmo bonuses are in line with the typical deposit perks you get for using non-crypto. (Thus, if you want the absolute biggest bonuses available, you should go with Bitcoin sports betting deposits, Ethereum sports betting deposits, or deposit using Bitcoin Cash, Litecoin, Stellar, Ripple, USD Coin, Chainlink, Dogecoin, etc.)
That said, crypto is inconvenient for many users, as there's a learning curve to setting up your accounts and transferring assets to and from the exchanges. Crypto acquisition also has an enormous 10-day lead time when using USD or other fiat currencies to buy Bitcoin and various altcoins for the first time (which you can bypass if you use Zelle to buy Bitcoin from private sellers on a third-party exchange).
For those who want to easily deposit USD with Venmo, the voucher/player transfer model or MatchPay service are far better options. And while you won't get quite the same big boosts to your bankroll that crypto betting bonuses offer, Venmo sportsbook bonuses are still well worth accepting, as they come with low rollover requirements and allow you to be a high roller right out of the gate.
Legal Venmo Mobile Betting
Mobile sports betting is where the action is, and that means it's also where the money is. Let's face it: If you can't use your smartphone or tablet to bet on the go, you probably aren't going to bet. To that end, because all the top legal sportsbook recommended here support full mobile betting, it only makes sense that you should be able to easily fund your account via mobile.
Venmo – through the mobile Venmo app – allows for just that. And because vouchers, player transfers, and MatchPay are also mobile-optimized, you can handle all of your sports betting – and sports betting banking – on your portable device of choice. Best of all, while you can and should download the dedicated Venmo iPhone app or Venmo Android app, when it comes to the books themselves – and to the voucher/transfer model – everything is fully mobile-optimized and browser-based.
That is, you don't need a dedicated sportsbook app for iPhone betting or Android betting, and you don't need one to use Venmo, either. As long as you have a modern mobile device, an Internet connection, and an up-to-date web browser, you can use Venmo to bet on the go from anywhere in the USA!
Venmo Same-Day Payouts
When you use Venmo at legal offshore betting sites, you won't only be able to make deposits to fund your wagers, you'll also be able to sell all or part of your account balance to other sportsbook members by requesting a voucher code from your site's cashier and then selling that to another player. And if you use MatchPay, you don't even have to do that, as MatchPay automates the pairing process!
Because these members will be buying your balance in a private person-to-person Venmo transaction, this often allows you to claim same-day payouts. Previously, same-day payouts were the sole domain of crypto sports betting, but Venmo vouchers, transfers, and MatchPay allow bettors to get their money in USD deposited directly into their Venmo accounts, which they can then use immediately to purchase goods and services stateside.
Venmo same-day sportsbook payouts are actually more convenient than same-day Bitcoin payouts or other crypto payouts, because these withdrawals come directly to you in US dollars – You don't have to move your money to exchanges and then go through any extra steps to turn that money into USD. For bettors who want to use their winnings for things like paying bills, buying groceries, and other day-to-day expenditures, Venmo payouts are a true gamechanger.  
How To Use Venmo With Vouchers And Player Transfers
Now that you know why the voucher code Venmo deposit option is such a revolution in terms of convenience and accessibility, you'll need to understand how the sports betting voucher deposit process works. This is simple enough, but it does require you to engage with your online betting community.
While every sportsbook that supports vouchers and/or player transfers will walk you through the steps required, we can replicate those here, as they're mostly universal.
For our example, we will be using Bovada's process, as Bovada Vouchers are the first iteration of the method to roll out. However, the procedure should be identical for any other site that employs sports betting voucher or player transfer options in the future.
Follow any link on this page to Bovada Sportsbook (or another voucher-compatible betting site).
Sign up using your real information, including your name, birthday, email address, and phone number. Be sure to use verifiable info, as you will need to prove your identity with your sportsbook operator before you'll be able to withdraw any sports betting winnings. Please do not sign up behind a VPN service, as your IP address must be legitimate and originate from a region your sportsbook supports.
At the "Deposit" stage of sign-up, select the Voucher or Player Transfer option.
Check out the Bovada Community pages or an external site like the Bovada Reddit for a Bovada Voucher code for sale. Once you find one for an amount you like, use Venmo to pay the seller in a private transaction. You will be able to set up a direct Venmo payment to the member.
Once the Venmo trade is accepted, the seller will release the voucher code to you. Simply enter this code at the relevant Bovada deposit menu, select any bonus you wish to have applied to your account, and your funds will be available immediately. (Venmo instant transfers come with minimal added fees, so be sure to factor this into your bankroll management process.)
Now that your account is fully funded with Venmo vouchers, you are ready to bet on sports or enjoy casino games and any other betting markets offered by your chosen sportsbook operator.
Note: The process for claiming a Venmo payout is largely the same, only you're on the other side of the equation. As a seller, you'll need to request a payout via the voucher/player transfer option, enter in the amount of your account balance you wish to pull out, and post an ad to sell the voucher code generated by your site's cashier. Once a buyer contacts you, conclude the deal via Venmo, release your voucher code to the buyer, and you're done!
How To Use Venmo With MatchPay
MatchPay betting deposits and withdrawals work exactly like sportsbook vouchers and player transfers, but there are considerably fewer hoops to jump through. MatchPay is a third-party service that automatically pairs up sports betting account buyers and sellers and concludes these transactions using Venmo or any other P2P app or e-Wallet you assign.
To use MatchPay, you do have to sign up for the free service, though this only takes a minute. Currently, Bovada is the only legal sportsbook that supports MatchPay, and you can join right through the site's cashier page. After you've created your MatchPay account, anytime you want to make a Venmo deposit or claim a same-day Venmo payout, just choose the MatchPay option, enter in the amount you'd like to buy or sell, and the service takes care of the rest.
MatchPay makes the voucher/transfer process much easier, but it has one drawback to be aware of, which is that MatchPay banking limits are much lower than those for vouchers or transfers. However, this is a small price to pay for Venmo support, no-fee deposits, and same-day payouts all in one.
Venmo Sports Betting FAQs
In previous years, it was impossible for US-based sports bettors to make deposits into their betting accounts with Venmo.
Now, with the voucher/player transfer/MatchPay systems, you can use Venmo to send money from your Venmo account to another private party in exchange for their betting balance.
Using Venmo for sports betting is literally the same process as using Venmo for anything else.
Yes!
Venmo is a safe, reliable P2P online financial transaction platform, and it is trusted by over 40 million Americans every day.
Since the best-rated online sportsbooks are also trusted by millions of US gamblers every day – and since sportsbook vouchers/transfers and MatchPay are new methods that have been adopted by the most reputable books in America (namely Bovada) – all aspects of the Venmo bet funding process are rigorously overseen and guaranteed by multiple operators.
When you make a Venmo Bovada deposit using vouchers, player transfers, or MatchPay, you will have your account credited in full in just minutes, every time. 
Venmo, LLC, is a subsidiary of PayPal.
The brand was launched by PayPal in 2009 and has rapidly grown in popularity since then, thanks in large part to its more "social media" take on P2P payments.  
Venmo does not charge a special added fee for sports betting transfers, as these are typical P2P transfers.
However, Venmo does charge a general service fee for instant payments, which amounts to 1% of the transaction or a flat $10 fee, whichever is lower.
For private money transfers, there are typically no added fees. 
When it comes to how to put money on Venmo so that you can use vouchers and similar services to make quick, legal sports betting deposits, credit cards are an option.
That said, there are more restrictions and higher fees (3%) for using credit cards with Venmo.
As a result, we recommend using your bank account directly or using a debit card linked to that account in order to avoid paying heightened credit card fees.
Different sportsbooks will have different voucher/transfer/MatchPay limits.
Right now, Bovada is the only sportsbook accepting Venmo deposits via these methods, and such transfers come with the following limits for both deposits and payouts:
Voucher Code: $10 min, $3000 max
Player Transfer: $10 min, $15,000 max
MatchPay: $20 min, $1000 max
Note: Venmo itself has transfer limits – both sending limits and receiving limits – to be aware of. These are different depending on your membership status and past history, so please be sure to check your Venmo limits before agreeing to buy or sell a voucher code or kicking off a MatchPay transaction.
No.
While Venmo's longer, bank-wire-like service option does allow for transaction cancellations and reversals, the instant-pay option employed by voucher buyers/sellers and MatchPay Traders does not have a mechanism by which you can cancel the transfer.
This is for the convenience of the buyer, the seller, and the sportsbook itself, so please be sure that you're ready to bet when making a Venmo deposit.
No.
Venmo is a US-only instant-pay P2P money transfer service, much like Zelle Pay.
Thus, you cannot use Venmo to send money directly to sportsbooks legally operating outside of the USA.
The reason Venmo works to fund your offshore betting account is that voucher ads and/or MatchPay pair you up with other US-based users of the sportsbook in question.
Your sportsbook will then transfer their account balance to yours (for the amount paid), and vice versa for sellers.
Most Venmo voucher transfers should be completed within about 10-15 minutes.
This makes the process take slightly longer than typical credit card deposits, but there is no risk of the transfer being declined due to gambling banking laws like the UIGEA.
As long as the sporting event you'd like to bet on doesn't take place within the next 30-60 minutes, a Venmo transfer using vouchers, player transfers, or MatchPay will allow you to deposit with plenty of time to bet on your favorite players and teams.
Yes!
If you have a prepaid card powered by Visa, Mastercard, American Express, or Discover, you can use those cards with Venmo by linking them to your Venmo account in your Venmo app.
Currently, only one sportsbook accepts Venmo deposits: Bovada Sportsbook (via Bovada Vouchers, Bovada Player Transfers, and Bovada MatchPay).
However, in the near future, we expect all the major operators in the space to also employ these kinds of platforms.
After all, allowing members to finally make fast, convenient Venmo betting deposits is a major boost not only to customer convenience, but also to sportsbook membership in general.
There are plenty of new and first-time bettors who are only held back by the lack of Venmo banking options, and now that this hurdle has been cleared, a whole new generation of sports bettors is sure to emerge.
And that, of course, means better betting lines – and better potential payouts – for everyone!
Disclaimer: Venmo is a third-party P2P payment processor and eWallet service. Venmo does not endorse this site or any online sports betting site in any way. This page is for informational purposes only.