Visa Sports Betting Deposits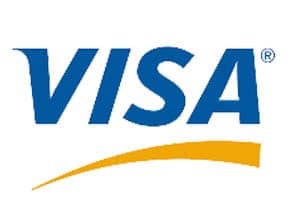 3-5% transaction fees + 90%-plus UIGEA deposit success rate
Most popular option for international GIFT CARD deposits
Accepted by all USA legal online sports betting sites
For many users, the most critical aspect of any legal sports betting site is how the operator handles deposits and withdrawals. Fortunately, the online sportsbook banking options supported by the best betting sites in the business give their members a host of efficient bet funding avenues. But despite the growing popularity of Bitcoin, good old Visa remains the number-one deposit method for the majority of bettors.
Visa sports betting deposits have long been the gold standard. And even though the occasional inconvenience can arise due to the international nature of sports betting deposits with overseas bookmakers, Visa is still the fastest way to deposit your account topped off so you can bet on your favorite players and teams right now. To learn more about how to load up your bankroll at the best Visa betting sites, give our guide a little credit!
Best Online Sports Betting Sites That Accept Visa Deposits In 2023
The following are the top online gambling sites that accept Visa deposits. Each operator listed here is among the very best in the industry, with thousands of daily betting odds, live betting options, and full mobile sports betting compatibility.
Most of these sites also feature other gambling markets in addition to their award-winning sportsbooks, including eSports betting, virtual sports betting, online casinos and poker, and more. Whether your favorite sports are in season or on break, you'll always have plenty to bet on with these excellent providers.
Are Sportsbooks That Accept Visa Legal To Use?
Yes! Legitimate online sports gambling sites that accept Visa are legal to use for all US players aged 18 and up. There are no federal gambling laws barring individuals from using Visa cards to fund their online sportsbook accounts, and every major site accepts Visa transactions for deposits.
As long as you're at least 18 years old, you can join any of the sites listed here safely and legally, and you can use your Visa card to make instant deposits so you can bet ASAP.
Note: WA has state laws nominally barring all online gambling, which includes sports betting. While these laws have not been historically enforced and all major sites accept members from both states, you are advised to follow all local gaming mandates and proceed only at your own discretion.
Visa Sportsbooks And The UIGEA
The above notwithstanding, there is a federal gambling restriction to be aware of, and that's the UIGEA (2006). This law is a banking regulation that targets US-based financial institutions and prevents them from "knowingly" processing payments to and from gambling and sports betting sites that are not domestically regulated.
The UIGEA does not make these sites illegal to use, nor does it criminalize individual users. Instead, all the UIGEA really does is occasionally cause credit and debit transactions to such operators to be declined.
Additionally, the UIGEA is why legal online sportsbooks operating offshore no longer employ Visa chargeback options for payouts, as they are less reliable than they used to be. To get around the annoying UIGEA, Visa gift cards are the best option. All the sites listed here are sportsbooks that accept Visa gift cards, as long as those gift cards are rated for international purchases.
Visa Sports Betting Banking Options
When you sign up at any reputable online sports betting site, you will have a host of banking options to choose from. While we recommend Bitcoin or the Zelle Pay process over all other methods (as these come with no added fees and are the only way to claim same-day payouts from international sportsbooks), Visa is still the most accessible method for most users. When you deposit with Visa, you have four options:
Visa Credit Cards
Visa credit cards are the go-to for the majority of bettors. These come with added fees that are between 3% and 7% at most books, though sports betting sites will often waive all fees associated with your very first Visa deposit. (You may also incur an additional small fee for international transactions, which is levied by your bank, not your legal online sportsbook.)
That said, Visa gambling restrictions occasionally interrupt your deposits, per the UIGEA. About 5% of all Visa sports betting deposits are declined. The same is true for all card-based deposit methods with Mastercard sportsbooks and Discover card sportsbooks.
If this happens, you can wait about 15 minutes and try again, or you can use a different deposit option. Please note that if your Visa deposit is rejected, you have broken no laws and have done nothing wrong, and your card has not been deactivated.
Visa Debit Cards
Visa debit cards will work at all major US sportsbooks that accept Visa, but they can have the same issues with the UIGEA that Visa credit cards do. As a result, about one transaction in 20 will likely be hung up due to the banking regulation's red tape.
As with credit cards, Visa debit cards – when declined – are not disabled, and you can either try again in a few minutes or use a different banking option.
The same transfer fees apply when using Visa debit cards as they do for Visa credit cards, including possible international fees charged by your issuing bank. Again, most sportsbooks will waive any fees for new members' first Visa debit deposits.
Visa Prepaid Cards
All the best online sportsbooks that support Visa deposits also allow you to top off your account with Visa prepaid cards (i.e. Visa secured credit cards).
That said, there is no single best prepaid Visa card for online gambling, as they all work the same way, and all US banks abide by the same rules.
Thus, the rejection rate for prepaid Visa cards is in line with those for credit and debit deposits. Additionally, the same general fee structure applies, though first-time depositors will often have these covered by their legal online sportsbooks.
Visa Gift Cards
If you're going to use a Visa product to fund your online sportsbook betting, the best option is to go with a Visa gift card. The books listed on this page are all reputable, trusted betting sites that accept Visa gift cards.
The Visa gift card deposit process is identical to the above methods. That is, you simply click or tap the Visa option on your site's Cashier page and enter the gift card's number, and your account will be credited instantly.
While we don't have any particular favorites when it comes to the best Visa gift card for online gambling on sports, it's important to note that you can only use those gift cards which are rated for international transactions.
Since sports gambling sites that accept Visa gift cards are all based outside of the US, you must make sure the card you choose is good for international purchases.
How To Buy Bitcoin With Visa
Visa is a great way to deposit into your legal sports betting account, but there are a few drawbacks that might make some bettors more interested in using alternative bet funding methods such as Bitcoin (BTC). Fortunately, Visa also works great for that, and there's no UIGEA-type interference when buying BTC with Visa cards.
To buy BTC with Visa, the first thing you need to do is set up an account at a recognized commercial Bitcoin exchange. These cryptocurrency exchanges – like Coinbase, Bittrex, Kraken, and other US-based platforms – all accept card deposits to purchase BTC.
However, you won't be able to simply use your Visa to buy Bitcoin and have your crypto in hand just like that. Because these are regulated exchanges, there are a few hoops to jump through. Still, the steps are easy enough:
Sign up at a legitimate online Bitcoin exchange
Enable two-step verification for your account (optional but recommended)
Prove your identity by following the BTC exchange's Know Your Customer (KYC) protocols
Link your Visa card to your account
Use your Visa to purchase the desired amount of Bitcoin
Wait for your BTC to be disbursed to your exchange Bitcoin wallet
The last step above can be a hurdle for some users, as many crypto exchanges require new customers to wait between 5-10 days to receive their BTC after first-time purchases. If you need to bet right away on tonight's big game, this is not ideal.
In such a case, you can use Visa to purchase BTC from private exchanges.
Note: If you need to know how to buy Bitcoin with prepaid card options or gift card options branded by Visa, the process is the same as using your regular Visa credit or debit card.
Visa Sportsbook Deposit Limits
At every legal online sportsbook, Visa options come with deposit limits. Visa deposits – whether for credit cards, debit cards, prepaid cards, or gift cards – come with the same minimum and maximum limits at any individual site.
That said, these limits vary site to site, as different brands have different financial approaches based on their average user needs. Still, all Visa betting deposits typically fall into the following range:
Minimum Visa Betting Deposit: $20-50
Maximum Visa Betting Deposit:

$1500-$5000 
Visa Sportsbook Withdrawal Options
Unfortunately, regardless of the type of Visa deposit you make – whether you're using a standard Visa card, a Visa debit card, a Visa gift card, or a prepaid Visa for online gambling – you cannot claim a payout via the same means.
Years ago, Visa chargebacks were used for payouts by the best online sportsbooks, but due to the UIGEA and the reliability issues thereof, the Visa chargeback process simply no longer works up to the standards bettors and their bookmakers expect.
Even claiming a chargeback on Visa debit cards has proved problematic, so the best books have simply moved on to other solutions. When you deposit with Visa cards of any kind, you will be eligible for the following payout options instead:
Bank Wire
Courier Check
Money Order
Person-To-Person Transfer
Each of these payout options comes with various fees, though most books will offer their customers one free check withdrawal per 90 days. Additionally, none of the above options supports same-day payouts, with the occasional exception of sports betting vouchers.
If you wish to claim same-day payouts from your online sportsbook, you will have to deposit with Bitcoin or another cryptocurrency (such as Bitcoin Cash, Litecoin, Ethereum, Ripple, Stellar, Dash, etc.).
Note: When you choose to withdraw with Vouchers, you can make plans to sell your sports betting voucher code to other site members using P2P instant-pay services like PayPal, Cash App, Apple Pay, Google Pay, Venmo, Zelle, etc. These P2P platforms cannot be used to deposit or withdraw directly, so this is a good option for those who deposit with Visa but wish to be paid out via one of the above person-to-person services.
Visa Sports Betting Bonuses
Whenever you make a Visa betting deposit, you will have access to a selection of online sportsbook bonuses. Different sites have different bonus options, but in general, they all follow the same format.
This, of course, is the deposit match bonus, which is a sports betting promo that boosts your bankroll by a certain percentage of the amount you deposit, up to a given limit.
In general, a Visa deposit will make you eligible for the following types of sports betting bonus options, with totals that vary depending on your particular book of choice:
Sports Betting Welcome Bonus – 50-100% Deposit Match, $250-1000
Sports Betting Reload Bonus – 40-100% Deposit Match, $500-1000
Sportsbook Refer-A-Friend Bonus - $100 Per Referral
Please be aware that all bonuses are entirely optional and come with rollover terms and conditions. That said, given that these rollover requirements are player-friendly and easy to meet, we recommend that all players at legal online sports betting sites accept these promotions when offered.
Using Visa With Quickbit
Update 2022: Quickbit (aka QB Direct) is no longer supported by any reputable online sports betting site. Please use one of the many alternative, rapid bet funding methods instead.
One option at several top online sportsbooks is to use your Visa card to make your deposits with a third-party service called Quickbit. This service is also called QB Direct at some sites, but it's the same thing, and it works the same way.
When you deposit with Quickbit, you send your funds via Visa the same way you would when making any other card-based transaction online. Then, Quickbit converts your money to the Litecoin cryptocurrency on the fly, and that Litecoin is deposited into your betting account.
This allows you to bypass typical crypto exchanges and their lengthy wait times, and it means you can get enhanced crypto sports betting bonuses. Best of all, using Visa to make Quickbit deposits makes you eligible for same-day payouts with no added fees!
To learn more about this excellent alternative, please check out our Quickbit deposits page.
*Disclaimer: Quickbit/QB Direct is not a gambling product and is not associated with this site or any legal online sportsbook in any way. Quickbit/QB Direct is a third-party cryptocurrency exchange and retail crypto payment service that select Internet gambling sites have chosen to employ for customer convenience.
Visa Sports Betting Banking FAQs
Visa itself does not allow or disallow online gambling.
That said, because Visa must comply with the automated UIGEA banking regulation, the company will occasionally block or decline credit/debit/prepaid card transactions.
For the most reliable Visa bet deposits, we recommend using international Visa gift cards.
Visa itself does not directly restrict online gambling.
However, because Visa is a regulated financial institution, it must abide by the federal UIGEA banking law, which can cause your Visa deposits to be declined or otherwise delayed.
Yes! Prepaid Visa cards (aka Visa secured credit cards) are supported by all the major online sportsbooks in the international gambling market.
That said, the same general limitations and fees apply, and the UIGEA can occasionally block these transactions.
Definitely. All the most reputable legal sportsbooks operating overseas accept Visa gift card deposits.
Still, you must ensure that your Visa gift card is rated for international purchases. Otherwise, the transaction will not go through.
Virtual Visa cards are just Visa cards that exist in an electronic format instead of as physical "plastic."
As a result, virtual Visa cards have the same limitations as regular Visa cards when it comes to depositing funds at your legal online sportsbook(s) of choice.
Unfortunately, this is no longer possible.
At every trusted online sportsbook, Visa transactions can only be used to deposit, as new Visa chargeback rules prevent betting withdrawals in accordance with UIGEA compliance.
Some Visa prepaid cards allow for cash withdrawals at ATMs, but these are few and far between.
Additionally, since you cannot receive payouts via Visa cards per the Visa merchant chargeback guidelines and the UIGEA, this option is irrelevant for sports bettors.
Remember: You cannot claim payouts via Visa cash withdrawal at any reputable online sports betting site.
No. Unfortunately, while Visa gift cards are the best way to deposit with the platform, they do not make you eligible to receive payouts as gift card chargebacks.
For all intents and purposes, online sports bettors cannot withdraw money from Visa card options of any type.
Vanilla Visa is a branded gift card platform, and all legitimate international sports betting sites will accept deposits using this option.
However, with a Vanilla Visa gift card, online gambling deposits require your card to be rated for international transactions in order to go through.
Disclaimer: Visa is a third-party payment processor and does not endorse this site or any online sports betting site in any way. This page is for informational purposes only.