Betting on Tiger King Season 2
Tiger King Season 2 Available On Netflix Now
Tiger King Odds For Season 2 TBA
Joe Exotic Is Currently Awaiting A Reduced Sentence
Tiger King is a popular Netflix documentary series that debuted its second season in November of 2021. Due to the overwhelming popularity of the outlandish Tiger King cast featuring Joe Exotic and Carole Baskin, betting odds have been posted by bookmakers at online entertainment sportsbooks for a variety of show-related outcomes.
Online sportsbooks offer entertainment betting lines that cover everything from American Idol odds to gambling on a Tiger King pardon. Learn more about how these entertainment prop bets operate, and what online sportsbooks provide Tiger King odds legally within the United States by reading the following guide.
Is It Legal To Bet On Tiger King?
Yes, betting on the Tiger King and other forms of entertainment odds including celebrity wedding betting odds (Joe is engaged) are legal in the USA. There are no specific federal laws that forbid US residents or visitors from placing bets at legitimate sportsbooks as long as they are operating legally within the industry, such as the ones you see listed here on this page.
Washington state legally prohibits online betting of any kind: Although state-regulated sports betting is expanding across the US, most of the domestic sportsbooks do not offer betting lines on the Tiger King or other entertainment formats.
Best Tiger King Season 2 Betting Sites
The following sportsbooks are our top picks for betting on Tiger King Season 2 and other popular television shows and other forms of entertainment. The sites listed below offer reputable online betting options with multiple US-friendly banking methods. As an added perk, the following sportsbooks offer additional services, including casino games, poker, and horse racing bundled into a single user account.
Odds For Tiger King Season 2
Betting on Tiger King Season 2 is now underway as Netflix debuted the second set of 5 episodes on November 17, 2021.
When streaming series drop entire seasons all at once, it removes the opportunity for entertainment oddsmakers to produce betting lines based on plot turns, character appearances, cameos, and final outcomes of storylines.
Critics have been harsh when reviewing Tiger King 2, suggesting it is merely a lackluster follow-up attempting to capitalize on the original series' success. However, betting odds on Netflix Tiger King Season 2 allow gamblers to profit from the reality docu-series by laying some action at the online sportsbooks linked to within this guide.
Tiger King Pardon Odds
Due to the popularity of the Netflix docuseries "Tiger King," several online sportsbooks offered odds for the show and whether or not he'll receive a pardon. These Tiger King betting lines have been archived here for reference. We will post Tiger King Season 2 odds here once they debut.
Who Is The Tiger King?
Joseph Allen Maldonado-Passage, aka Joe Exotic is the self-proclaimed Tiger King. He is a gay gun-toting Republican man from Oklahoma. Before his documentary was picked up by Netflix, he was known throughout Oklahoma as a local zoo owner, tiger breeder, and inspiring politician.
Season 2 Tiger King Cast
Joe Exotic
Tim Stark
Jeff Lowe
Allen Glover
James Garretson
Tiger King Season 2 Episodes
Beg Your Pardon
The Carole Diaries
Bounty Hunting
The Lyin' King
Stark Raving Mad
Is Carole Baskin In Tiger King Season 2?
No. Carole Baskin filed a lawsuit against Netflix following their release of the Tiger King Season 2 Trailer in early November of 2021. Baskin was unable to stop Netflix from airing the entirety of the second season of Tiger King, but the lawsuit is still pending as of this writing.
Joe Exotic's History of Performing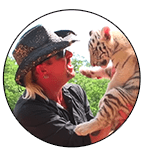 After Joe's brother Gerald died in a car accident in 1997, he purchased a 16-acre farm in Oklahoma which would become known as the Gerald Wayne Exotic Animal Memorial Park (GW Zoo). For 20 years Joe operated the Zoo while producing his online reality show. During this time Joe operated sideshows where he would allow people to get up close and personal with baby tiger cubs. Joe and his crew spent many years touring around the United States offering cub petting at shopping malls and state fairs.
Joe Exotic was also an aspiring country singer and had many songs written and performed for him. Joe did not play or sing any of his songs but did create music videos to give the impression that he was a country music singer. Exotic is now serving a 22-year prison sentence but it is expected to be reduced to a lesser term in the near future.
Where Is The GW Zoo?
The GW Zoo is located in Wynnewood Oklahoma and is currently owned and operated by Jeff Lowe. In 2019, Lowe announced that he plans on closing the GW Zoo and will be moving the animals to a new location in Thackerville, Oklahoma.
Tiger King Movie
A Tiger King movie, say what? The big-screen adaption has not yet been confirmed but several big-time actors are already throwing their cards into the hat. Below are the odds for who could be cast in certain roles if the docuseries were to make a big-screen debut. The following odds can be found at BetOnline.
Tiger King Season 2 FAQ's (spoilers)