Legal Betting On Virtual Racing
Wagering on racing is likely one of the first instances of betting in the history of mankind. Most historians say horse racing betting was the first such commercial market several thousand years ago, but it's impossible to know for sure. Regardless, betting on races is embedded in our DNA. Now, in the computer age, legal betting on virtual racing is an emerging option for online bettors, and our virtual sports dream team will detail the vital aspects in our all-inclusive guide.
When placing a wager at a real race, bettors do so at a racebook adjacent to the track or by visiting an online sportsbook operating in-state or offshore. Betting on virtual races is very similar, except you can do so almost anywhere with an internet-ready device and a solid connection to the web.
So, is betting on virtual races online legal? We'll provide the details legalities and showcase the best virtual racetracks and racebooks to wager at that won't get bettors into trouble with the law. We'll also point out the different varieties of races that virtual sports can offer and discuss the features of each. We complete our resource guide by sprinkling in some virtual racing betting tips that'll help bettors get to the checkered flag – and go all the way to the bank! – ahead of the competition.
Is It Legal To Bet On Virtual Racing?
Although gaining momentum (accelerating?) in the sports betting world, wagering on virtual racing is only available online at the moment. We've heard of some forms of virtual sports betting in New Jersey, but no other US States outside of Washington have passed gambling laws that govern online betting with an offshore sportsbook, so if you live in most of the US, you can bet on virtual races at legal offshore sites safely and easily.
As for WA, they have laws that forbid all forms of online gambling. Thus, betting on virtual racing with an offshore site is not technically legal there, but it also must be noted that even though they've outlawed online gaming, all legal sports betting sites accept members from Washington, and there have been no convictions on record for the crime of betting over the Internet.
Most Trusted Sites For Legal Virtual Race Betting For 2023
What Is Virtual Racing?
Virtual racing is a gambling market that has many different subcategories (see below), but they've all based on the same thing: Fictional competitors compete against one another in a simulated manner with no human interaction, and the results are determined by random number generation (RNG) software.
Regardless of the race type and any real-world "inspiration," similarities are only skin deep, and no actual historical data is used to rank or rate the racers in question. This is all computer-versus-computer stuff, and virtual racing is more akin to slot machine gaming than actual racing in the real world.
That said, these virtual contests are a whole lot of fun, the action is available all day long, and you can learn a lot about how to bet on races by taking in the virtual derbies on offer from the best legal online sportsbooks.
What Is Betting On Virtual Races?
Not to be confused with a popular trend in treadmill exercising, virtual racing is a wagering category at offshore betting sites. They feature similar betting lines and odds that appear when betting at a real racetrack, and unlike virtual team sports, virtual racing often shows the entire, unabbreviated race.
Virtual races usually only last a few laps and have a duration of two minutes or less. There is a betting window of roughly 60 seconds until the next virtual race begins, so it's a race to bet on the races!
Types of Virtual Racing Available To Bet On
Virtual Car Racing
Virtual car racing is sometimes referred to as Supercars at popular online sportsbooks. The competition appears similar to stock car racing, IndyCar racing, or more specifically, NASCAR.
Virtual Speedway Racing
Speedway racing is the high-speed battling of motorcycles around a dirt oval track. It is not Motocross, as that involves ramps and jumps. This is also the only virtual sport that we have seen that features live racers instead of virtual riders. However, this is just for show, as the racers you wager on are fictional and the results are determined by RNG software. The virtual speedway race is shown in full.
Virtual Horse Racing
These races recur every few minutes and are shown in their entirety. The virtual horses are entirely fictional and do not accurately reflect the skills of any real racers. Virtual horse race betting has become a very popular niche within this betting venue.
Virtual Greyhound Racing
Virtual greyhound racing is just like the events at your local dog track (if you still have one, as the industry is going extinct), but betting on virtual greyhound racing doesn't require anyone to leave the house – nor does anyone abuse the dogs! These races feature random results and occur many times per hour.
Virtual Camel Racing
Betting on virtual camel racing is very similar to wagering on horses. Betting lines are offered for final placement of each camel (as well as exactas and trifectas), with races beginning every few minutes.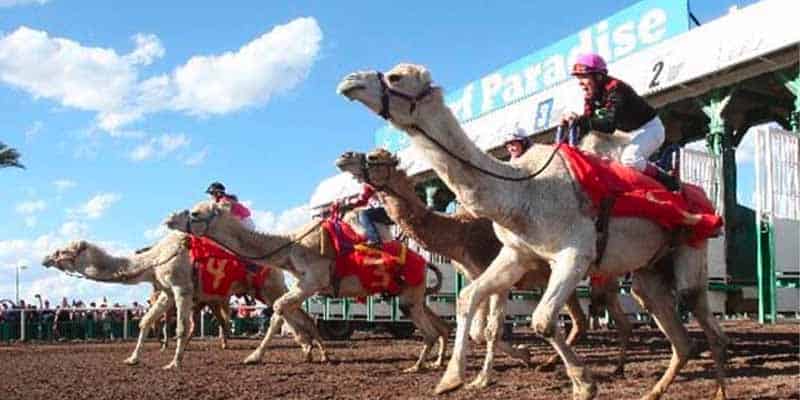 ---
Virtual Racing vs. Racing Simulations
These two betting categories can appear quite similar on the surface. Both are competitions using CPU controlled racers that allow for wagering odds. The difference is in the software that is used.
Virtual racing software utilizes generic racers that do not attempt to replicate any real-life competitors. On the other hand, racing simulations use popular video games such as NASCAR 21 that include the attributes of real drivers and cars in the digital world.
Unlike legal betting on virtual racing, video game sims allow for the full duration of lengthy races of up to 500 laps that are shown in full and allow for live betting odds. You can usually catch the virtual races at streaming sites like Twitch, and links are provided from your legal sportsbook of choice.
Virtual Racing vs. eSports Racing
Betting on eSports involves the same type of popular gaming software that is used by simulations, but human gamers control the action onscreen. Legal betting odds are crafted according to the statistics of the virtual racers that are selected as well as the gaming prowess of the human players in control. As mentioned previously, virtual sports do not allow for human interaction and do not reflect the attributes of real racing competitors.
The most common software used for auto racing eSports is NASCAR 21. However, don't confuse NASCAR 21 eSports with iRacing, which uses its own software and features NASCAR, IndyCar, and other professional racing circuit branding. iRacing does not use the NASCAR 21 series of games, but it is immensely popular, and you can often find betting lines on their events.
Virtual Racing Betting Odds
The various forms of virtual racing do not resemble each other in every aspect, but they do share relatively common betting lines. Moneyline odds offered for legal virtual race betting include but are not limited to the following options.
Winning Racer
Place (Racer Finishes First Or Second)
Show (Racer Finishes In Top Three)
Exacta (Pick The Top Two Finishers Exactly)
Trifecta (Pick The Top Three Finishers Exactly)
Top Or Bottom Half Final Placement
Even Or Odd Numbered Final Placement
Live Betting Options
Because virtual races take place every few minutes, there is no opportunity for live betting. Once the software outputs the virtual race results on video, everything has already been decided by the random numeric data.
Besides, live betting is all about staying in the game, right? Well, legal betting on virtual racing at the best online sportsbook sites allows gamblers to take advantage of wagering opportunities 24 hours a day, 365 days a year, which is a pace that even the most live-betting-friendly real sports could never match.
Mobile Virtual Racing Gambling Options
The most trusted offshore sportsbooks featured on this page offer web apps that supply a premium mobile virtual race betting experience. Just by clicking on one of the virtual racing sportsbooks we recommend on this page using a major mobile browser such as Google, Chrome, Safari, Firefox, or Opera, the responsive touch interface will conform perfectly to the size of any screen.
The virtual race feed is affixed at the top of the display with touch-button betting lines featured below. The web apps offered by the best offshore betting sites supply optimum mobile betting without the need for any downloads or updates. For iPhone betting and Android betting, forget about the App Store and Google Play, and hit the Information Superhighway at full throttle!
Legal Banking Methods For Virtual Race Betting
Top offshore betting sites that offer virtual sports prefer the use of cryptocurrency like Bitcoin (BTC). The cash amount for welcome bonus offers increase when using crypto, and this virtual currency is the only form of withdrawal that can be received the same day you request your payouts.
Cryptocurrencies we've seen supported thus far include Bitcoin, Bitcoin Cash, Ripple, Litecoin, and Ethereum, among others. To bypass lengthy crypto buy-in times at major exchanges, you can also use Zelle with third-party private exchanges. Here, you can convert cash to Bitcoin quickly (30-60 minutes) for the purposes of online deposits.
Other common methods of deposit and withdrawal include:
Deposit – Credit and Debit Cards, Wire Transfers, Cashier's Checks, Person-to-Person, Money Orders, Betting Vouchers
Withdrawals – Wire Transfers, Cashier's Check by Courier, Person-to-Person, Money Orders, Betting Vouchers
Virtual Racing Bonuses
At most virtual racing sites, sportsbook bonus offers are extended to new members that match a portion of their first deposit. One example of a welcome bonus, also known as a signup bonus offer would be this:  50% match up to $250.  This offer matches 50% of your initial deposit for up to $250 in free plays. The welcome bonus offers are often increased if you use Bitcoin or another cryptocurrency to deposit with.
Terms and conditions (i.e. rollover/playthrough) are attached to these bonus offers, and these should be read through prior to accepting, as new members are not required to take any promotional bonus.
Many sportsbooks also offer reload bonuses, referral bonuses, seasonal promotions, and special promotions for existing members refreshing their accounts, which is also something to consider, as not all sites feature these promos.
Tips And Tricks For Legally Betting On Virtual Races
Since there is no real historical data to cull betting information from, virtual race betting is mostly for the purposes of entertainment and wagering frequency.
The best tip we can offer to gamblers entering any new form of wagering is to study the virtual races and how they fare against the odds. It doesn't cost anything to watch the races, so get to the virtual racetrack and watch as many free virtual contests as possible before risking your hard-earned cash.
Other than that, just like the simulated racers on the screen, remember to pace yourself. Virtual racing is available 24-7, but if you marathon it, you might be out of cash long before you come close to that last mile.
FAQs