Legal Online Sports Betting In The U.S.
Is sports betting legal in the United States? Where can I legally bet on sports if I live in the US?  These are questions we are asked every single day, and it is our primary objective to help you understand the current legal landscape of sports betting in the United States and be able to make an informed decision about your participation in legal sports betting entertainment.
This includes current news about US sports betting legislation, professional insight that will help you find the most trusted legal online sports betting sites, avoid scams and predatory gambling operations, and access to legal betting options that give you the most value with competitive betting lines and odds.
We are avid gamblers as well as industry professionals, and we take the process by which we find legal, trustworthy sportsbooks that are legally sanctioned and operating legitimately within the industry very seriously. If you want to learn more about the legal status of sportsbook gambling in the United States, we deliver this to you in a comprehensive, user-friendly format that breaks the information down into manageable pieces.
We're simply aiming to help our fellow gamblers, specifically American sports bettors, understand their betting options and how to enjoy online sports gambling entertainment within the confines of sports betting laws in the US.
Top Rated Sportsbooks Open To U.S. Players
The Legality of Sports Gambling in America - Is Online Sports Betting Actually Legal in the USA?
Yes, it is, and in more ways than one. With the repeal of PASPA, which altered the application of the Federal Wire Act, both domestic and offshore online sportsbooks are now able to provide betting services to USA residents.  Neither of these laws has ever prohibited offshore sports betting, so those destinations that operate outside of the United States do have a bit of a head start on the US-based bookmakers.
The federal bans imposed through PASPA and the Wire Act only applied to US-based gambling businesses when they were fully in force, but they effectively prevented any type of expansion in the US domestic sports wagering market for over two decades. The recent changes to federal gambling regulations that have taken place have removed the chains from the US betting industry and many US states have embraced their newfound freedom.
To learn more about the legality of sports betting in your area see our legal online sports betting faq's page or simply explore the federal laws below.
PASPA, also known as the Professional and Amateur Sports Protection Act, made it illegal to own or operate a brick and mortar sportsbook anywhere in the United States with the exception of four specific states that were exempted from the law - those four states were Nevada, Delaware, Oregon, and Montana.
Now that PASPA has been fully repealed (as of May 14, 2018), states are currently passing laws to allow domestic sports betting and the industry is expanding quickly.  As of this writing, more than 15 states have already legalized state-regulated sports betting, most of those states have launched some form of sports betting (brick and mortar, online, and/or mobile), and more than 22 states have pending legislation to follow suit.
The Federal Wire Act does not prohibit American residents from placing bets online at either domestic or offshore sportsbooks, though the DOJ is complicating matters by attempting to expand the reach of the interstate restrictions. These restrictions affect state-based gambling sites, not the bettors themselves. Since The Federal Wire Act deals only with the act of accepting bets or sending gambling information across state lines, there are no longer any federal laws preventing American citizens from placing bets at licensed online betting sites based within the US or offshore.
The UIGEA is a federal law passed in 2006 to impose strict regulatory oversight concerning how gambling related transactions can be processed by US banks and credit card companies.  The primary concerns at the time this law was passed included fraud, identity theft, and money laundering, all of which had been tied to the gambling industry by unscrupulous operators and gamblers. The UIGEA did shake the online gambling industry up quite a bit, and not in a very pleasant way, even for those who were participating legally as an operator or bettor.
However, since that time, gambling operators and payment processor have evolved and have learned to operate within the industry while adhering to the confines of this law. Several reputable brands have returned to the US gambling market and gambling transactions, online payment options, and identity protections are much safer.  With very few exceptions, this safety net is not in place at online sportsbooks that are not licensed and regulated, which is why we focus on providing information that points to legally sanctioned and reputable sports betting destinations.
The are two major milestones that have taken place in Federal gambling law that transformed the US sports betting market.  The first was the DOJ's 2011 Formal Opinion on the Federal Wire Act. This official memorandum indicated that individual states were free to allow or prohibit state-licensed online gambling with the exception of sports betting since PASPA was still in force. While this didn't affect sports gambling in the US immediately, it would ensure that once PASPA was nullified, online betting was on the table for those states that wanted it.
The most monumental moment for US sports betting was undeniably the Supreme Court's repeal of the Professional and Amateur Sports Protection Act (PASPA) in May of 2018. This historic ruling lifted a 26-year federal ban on sports betting expansion in the US. This singular event triggered an instantaneous trend towards state-regulated sports betting entertainment.
Those two modifications to US Federal gambling laws have brought us to where we are today, and can we say, its about DAMNED TIME!  State-licensed sports wagering is expanding rapidly and is providing sports fans and state budgets with precisely what they have been looking for. As strong advocates for states' rights - we support each individual region's choices concerning what is best for their communities.
What Sports Can I Legally Bet On In The United States?
As far as domestic sports betting goes, each individual state will dictate which sports and leagues are eligible for wagering within their borders. Most state-regulated bookmakers offer the most popular sports and leagues such as NFL, NBA, MLB, NHL, and some NCAA sports. However, some states do impose restrictions concerning college sports. It is also unusual to find betting options for politics, entertainment or much in the way of international leagues at these destinations. The range of eligible lines and wagering options will vary significantly from state to state, and even sportsbook to sportsbook.
Offshore sports betting is a different playing field altogether.  These sites typically offer a much larger variety of sports coverage, betting lines and wagering options, and include both USA sports as well as many international leagues and events. We are in the process of launching individual betting guides for each sports category, and below are the most popular ones that are currently available. As we complete each sports category or league page, we will add it to the main menu.
If you are opting for one of the premium legal sportsbooks featured on this page, then you will have a wide range of sports to bet on that include leagues and events from all around the world.  Here we have listed just a few of the most popular leagues, however, if you visit our Sports and Alt Sports menus above, you will see a much longer list of options and an even more extensive list on the actual sportsbooks themselves.
What's Happening Now in Sports in 2021
While Covid did temporarily suspend quite a lot of sports events around the globe, we have seen most of the major leagues and sports events return to the fields, courts, tracks, and sportsbooks.  Below is a preview of some of the most popular sports available to bet on right now at our recommended sports betting sites.  Keep in mind that there are always futures bets available on most mainstream sports categories that are not even in season, and lots of niche sports options that you may never have considered betting on before now.
What Sports Can I Bet on Right Now in 2021?
July 24, 2021
Category: Boxing

Jun 28-July 11, 2021
Category: Tennis

May 22-June 22, 2021
Category: NBA Playoffs

July 15-18, 2021
Category: PGA Golf

February 26, 2022
Category: NFL, Super Bowl

April 1 - October 3, 2021
Category: Professional Baseball
July 10, 2021
Category: UFC

Starts May 11, 2021
Category: Professional Hockey

Begins July 7, 2021
Category: Entertainment

February 9 - November 7, 2021
Category: NASCAR

June 26 – July 18
Category: Tour de France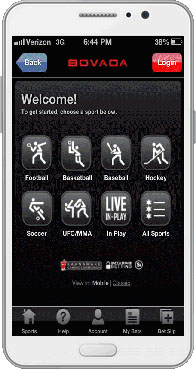 States With Legal Sports Betting in 2021
Many states have already passed legislation that authorizes some form of state-licensed sports betting, including some combination of brick and mortar, mobile, and/or online wagering. Since the Supreme Court ruled PASPA as unconstitutional in May of 2018, the states on the map below are shown in dark red and light red have legalized sports gambling in some form, though not all have launched their sportsbooks yet.
In addition, none of the states in this map with the exception of Connecticut and Washington have any restrictions in place when it comes to sports betting at online sportsbooks operating legally outside of the US.  This means that American sports fans in almost every state can enjoy online sports betting at the sportsbooks listed on this page without violating any state or federal gambling laws. If you want to know more about domestic gambling services see our sportsbook revenue tracker to learn what options are available and how much money has been wagered to date.
We encourage you to visit our section about states that offer legal sports betting. We cover all 50 states, which laws are in play and which online betting sites can legally accept players from each specific jurisdiction. Keep in mind that each state has its own take on what this industry should look like, so there are states that have legalized sports betting but do not offer online wagering. There is one state, Tennessee, that has only legalized online and mobile betting. Our state pages will provide you with details on what every region is allowing and/or prohibiting.
Tracking 2021 Sports Betting Legislation By State
Since PASPA"s repeal, legislation to legalize domestic sports betting has literally been sweeping across the United States.  Many states have already passed sports betting bills while others have pending legislation on the docket. In order to keep up with this whirlwind of change taking place in the US sports betting market, we've created a State Sports Betting Bill Tracker page to monitor and provide updates in real-time for each state currently involved in the legislative process relevant to sports wagering.  We also provide a weekly legislative calendar covering all active bills that have scheduled hearings each week.
Even states that have already legalized sports betting have presented bills to expand and/or amend existing regulations. Since this market is new at the state level, some regions are learning as they go or are intentionally passing the bare-bones legislation in order to get things up and running quickly with the understanding that details will be hammered out afterward.
On The Docket – 2021 Sports Betting Legislative Hearings: June 14 - 18, 2021
Below is a list of the legislative hearings taking place this week concerning the legalization of sports betting entertainment and relevant issues.
Why Legal Offshore Sportsbooks Are Still So Popular in 2021
Sports betting is definitely experiencing an uptick in popularity, and this means more and more bookmakers are welcoming US-based players to participate in real money wagering. Even though many states have launched legal domestic betting options, in many cases they still can't compete to the more experienced offshore sportsbooks.
Technological advancements have made it possible to experience secure, high-quality sports betting action online through our computers and mobile devices.  Here are a few reasons international online sportsbooks have gained tremendous momentum among USA bettors:
Convenience is certainly an important factor in online betting popularity. Multiple states have launched online sports betting options, but in some cases bettors must be within a specific proximity to the brick and mortar destination in order to participate.
Technology provides the opportunity for sports events to be broadcast on a global scale, ensuring more of the world's population is engaged and certainly makes live in-play betting even more popular. Offshore sportsbooks facilitate live betting on your PC, laptop or mobile device.  Technology has expanded the sports betting market to most corners of the world. In addition, online sportsbooks also offer inviting sports betting bonus offers and promotions that sweeten the deal quite a bit.
What We're Here to Do for U.S. Sports Gamblers
Our primary goal here at sports betting.legal is to offer a comprehensive and up to date guide about betting on sports legally throughout the world. Currently, we have a focus on helping bettors in the United States since it's one of the most confusing markets from a legal perspective.
Sports betting is not a zero-sum game. The more people who bet, the more money there is to be won! So we want you to find the best and most reliable online sportsbooks with which to bet. It works out better for everyone that way.
We're going to direct you to the leading and most trusted online sportsbooks that are operating legally within the industry after we've thoroughly vetted them from head to toe. We look at reputation, credentials, security, sportsbook funding options, who the fastest paying sportsbooks are, betting lines and options, software used, where they pull their lines from, and so much more. We've also compiled a comprehensive comparison chart of sportsbook deposit and payout options to help you make a truly informed decision from a financial perspective.
When we find a quality sportsbook for you, we'll offer our recommendation along with a detailed sportsbook review. We hope that through our efforts you find what you need to make informed decisions that coincide with your needs and preferences when it comes to betting entertainment.   It's that simple.
Sports Betting By Country
Along with monitoring the status of domestic and offshore sports betting in the United States, we also closely watch the growth of betting markets on a global scale.  As we compile our resources for each relevant country, the list below will be updated to show our progress.