Missouri Sports Betting – How To Bet On Sports Legally In MO in 2023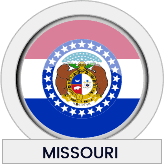 Online Sports Betting Available In MO Via Offshore Sportsbooks
No Domestic Sports Betting In Missouri As Of September 2023
Legislative Movement Toward Sports Betting: Yes
Missouri has always had a favorable stance concerning gambling. For the last several years Missouri has shown interest in joining other US states that permit legal sports betting by introducing multiple pieces of legislation related to legalizing Missouri sports betting at the state level. Unfortunately, none of these bills have accomplished their purpose. You can get a Missouri sports betting update a little further down on this page.
Sports fans in the state do have access to place bets through online sportsbooks that operate outside of the US and legally accept bettors from Missouri. Currently, offshore sportsbooks make up the whole of Missouri's sports betting options.
Is Sports Betting Legal In Missouri in 2023?
Missouri hasn't authorized domestic sports wagering as of yet but did consider legislation to permit local sportsbooks during the 2021 and 2022 sessions. Until some kind of Missouri sports betting bill is passed, international online sportsbooks are the best option for MO sports fans seeking betting action without having to travel to another state.
Interestingly enough the state does not have any explicit laws against offshore sports gambling. In addition, US federal laws do not prohibit access to offshore sports betting sites either. These international sportsbooks operated outside US jurisdiction and cannot be banned due to free trade laws.
Missouri Sports Betting Bills
The Status of Missouri Sports Betting Legislation in 2023
Resident bettors of Missouri have waited endlessly on legislation that would bring state-regulated sports betting to the region. Even so, the 2022 session adjourned without progress on legal MO sports betting. Eleven separate bills related to sports betting in Missouri were introduced and subsequently died soon after. 
HB2502 made it the furthest after the Missouri House Committee voted in favor of the bill with a 4-2 vote. It was then advanced to be considered by the Missouri Senate where it died shortly before the legislative session adjourned until the next year when we are all hopeful they will make it back to the drawing board. 
If you live in Missouri and want to keep up with sports betting bills as they are introduced, be sure to visit our state by state bill tracker page.
Best Sports Betting Sites In Missouri 2023
The following brands are our recommendations for the top, most trusted online sports betting sites for bettors in Missouri.  Each of them is an industry leader and can legally accept sports gambling action from bettors in MO and across the US.
You can get more information on each of these brands from our detailed reviews of legal online sportsbooks.
Is Online Sports Betting Legal in Missouri in 2023?
There are no state-regulated online sportsbooks in the state of MO as of yet.  If you are placing an online sports bet at a sportsbook that is operating legally outside of the state, then yes, it is legal to place bets online.  The sportsbooks you see listed above are all legal options for MO sports fans seeking legitimate online sports betting.
MO Sports Betting Details
Below are available details on Missouri's current sports betting market.
Legal Sports Betting: Offshore Only
Missouri Minimum Sports Betting Age: 18 years old (via Offshore)
Land-Based Sportsbooks: TBD
Online Sportsbook: Offshore Only
Mobile Betting App: Offshore Only
In-Play/Live Betting: Offshore Only
Estimated Revenue: TBD
Eligible Operators: TBD
Licensing Fee: TBD
Tax Rate: TBD
Tax-Funded: TBD
What You Can Bet On In Missouri:
All betting lines, odds, and props for all games, teams, and players in Missouri for professional and collegiate teams (via Offshore)
What You Can't Bet On In Missouri: 
No restrictions (via Offshore)
Where Can I Bet On Sports In Missouri?
State-regulated sportsbooks are not yet legally authorized. Nonetheless, offshore sportsbooks are available for MO residents who want to conveniently wager within their state without violating any laws. The offshore sportsbooks recommended on this page were picked for their quality offerings, payout speed, and security.
Biggest Sports Betting Cities In Missouri
St. Louis Sports Betting
St. Louis features the Cardinals and Blues. The Cardinals play in the National League Central division and finished third at the end of last season. Their last World Series win came in 2011, so they have not been successful in recent years.
Betting lines are available for both teams throughout their respective seasons.
Kansas City Sports Betting
Kansas City plays home to the Royals (MLB) and Chiefs (NFL). The Royals finished their season third in the American League Central and will look to retain their star players in the offseason. They haven't won a World Series since 1985. The Chiefs won Super Bowls 54 and 57 recently, and are favored in the betting odds most years.
Area gamblers can bet on both teams through the licensed offshore sportsbooks recommended in this guide.
Columbia
The University of Missouri (Mizzou) Tigers play in the tough SEC. Their football team has been successful in the past, but are currently struggling with their fierce conference opponents. Their men's basketball program has made NCAA March Madness appearances in the past and will look to reach the coveted tournament again this upcoming season.
College betting lines are also available through the same sports betting destinations listed in this guide.
---
Legal Missouri Sports Betting FAQs
Will I Get Arrested for Betting on Sports in Missouri?
Players who wager with MO-based unlicensed and unregulated sportsbooks will likely be charged with illegal gambling. However, state laws concerning this typically target the operator of the sportsbook. Alternatively, sports gambling through offshore sportsbooks doesn't violate existing state or federal laws.
How To Bet on March Madness in Missouri
Since domestic sportsbooks have not received approval from the MO legislature, the best option for legally betting on March Madness in Missouri is via the offshore NCAAB gambling sites listed above.
Missouri gamblers that are 18 and over can legally access these March Madness betting sites and lay some action on the tournament from anywhere in the state with a connection to the web.
Are Mobile Sports Betting Apps Legal in Missouri?
There are no state-licensed and authorized mobile sports betting options in the state at this point in time. However, offshore sportsbooks offer mobile sports wagering capabilities which are legally accessible for MO players to use.
What Teams Can I Bet on in Missouri?
Residents would possibly be able to bet on notable state-based professional and college teams such as the St. Louis Cardinals (MLB), Kansas City Royals (MLB), Kansas City Chiefs (NFL), St. Louis Blues (NHL) or the University of Missouri Tigers through domestic sportsbooks.
However, since no legislation has passed yet detailing whether or not local teams would be authorized for domestic sports wagering the best option is to utilize offshore sportsbooks, which have no restrictions on the teams MO players can wager on.
Are There Any Local Sportsbooks in Missouri?
Missouri has yet to authorize domestic sports wagering and thus does not license any MO-based sportsbook operation. MO-based bookies and sportsbooks currently in operation are unlicensed and unregulated thus illegal and in violation of state laws.
What is the Legal Minimum Sports Betting Age in Missouri?
Missouri has yet to establish a sports gambling law which would detail the minimum acceptable sports wagering age. Some US states with legal sports wagering have set their minimum gambling age at 21, while others chose to set theirs at 18.
In addition, offshore sportsbooks typically accept players as young as eighteen and these are currently available to MO players.
---
Missouri Legislative Resources
Missouri residents interested in showing their support for domestic sports gambling options, tracking current bills, or getting in touch with their representatives can use the following resources to meet their needs.
Missouri Gambling Resources
At sportsbetting.legal we encourage all Mo players to gamble responsibly. If you feel you or someone you know is developing signs of gambling addiction we strongly suggest you reach the local resources recommended by the Missouri Department of Health Compulsive Gambling Treatment Programs.
Betting On Football In Missouri In 2023
How To Bet On NFL Football in Missouri
St. Louis may be a baseball town but NFL betting is as popular in MO as anywhere else in the country. Have a look through the online sportsbook sites that we recommend in this guide for the best NFL betting sites in existence today. These premiere venues accept Bitcoin and other cryptocurrencies for betting on all 32 NFL teams, with lines and props for each game.
How To Bet On College Football in Missouri
The Missouri Tigers are an SEC program that competes against the country's top college football programs. If you want to bet on college football, regardless of where the game is being played or who the teams are, check out the online sportsbooks we recommend here at SBL for the most lines, odds, and props, as well as futures for conference and CFP Champions.