Legal Pro Wrestling Betting Guide
Professional wrestling has come a long way from its origins in the sideshow circuit of the late 1800s. Since the dawn of broadcast television, pro wrestling has been a huge ratings draw, inspiring fans of all ages to cheer for the babyface and boo the heel competitors, or vice-versa.  In recent years, betting on pro wrestling has emerged as a viable option for fans and gamblers alike.
But isn't pro wrestling fake? Yes, wrestling is scripted fiction, just like a television show or a movie. That places wrestling wagering firmly in the realm of entertainment betting. However, because of its increased popularity, WWE odds and AEW betting lines are typically featured in their own wrestling category at popular online sportsbooks.
Our guide to legal pro wrestling betting will detail all important aspects of wagering on major promotions such as the WWE and AEW. We'll cover the legalities involved with wrestling betting, how to read wrestling betting odds, and the best online sportsbooks taking wagers on WWE and AEW matches.
Is It Legal To Bet On Professional Wrestling In the USA?
Yes, betting on pro wrestling is legal in the USA, and in more ways than one:
Place your bets at a state-regulated sportsbook (though we have not seen lines for pro-wrestling offered at domestically based bookmakers as of yet)
Place your bets at an online sports betting site operating legally outside of the United States.
The best option to enjoy betting on WWE or AEW events is with an offshore sportsbook operating online. While these betting sites are not sanctioned by any US authority, federal gambling laws and most state laws do not define or detail wagering with one. This scenario creates a loophole that allows for United States-based gamblers to safely bet on pro wrestling without fear of penalty or arrest.
Washington has passed laws that forbid all online gambling, but there have yet to be any arrests in those regions because the regulations target illegal providers and not the participants.
Furthermore, many of the pro wrestling betting sites that we recommend on this page accept members from WA. Before placing a bet on WWE, AEW, or a match from any other pro wrestling promotion, it's best to familiarize yourself with regional gambling laws, as well as the terms and conditions of membership with the betting sites you choose to wager with.
Best Sportsbooks for Betting on Wrestling
Wrestling Betting Odds For Past Events
Chris Jericho vs. Orange Cassidy
Chris Jericho -120
Orange Cassidy -120
Hikaru Shida (AEW Women's Champion) vs Thunder Rosa
Hikaru Shida -500
Thunder Rosa +300
Jon Moxley (AEW Heavyweight Champion) vs MJF
Four-Way 60-Minute Iron Man Match Winner
Finn Balor +150
Tommaso Ciampa +150
Adam Cole +250             
Johnny Gargano +350
@BetOnline
Apollo Crews (United States Champion - Raw) vs Bobby Lashley
Bobby Lashley -250
Apollo Crews +170
Bayley & Sasha Banks vs Shayna Bazler & Nia Jax
Shayna Bazler & Nia Jax -150
Bayley & Sasha Banks +110
Bray Wyatt (WWE Universal Champion - SmackDown) vs Braun Strowman vs Roman Reigns
Bray Wyatt -300
Roman Reigns +150
Braun Strowman +500
Keith Lee vs Randy Orton
Keith Lee -120
Randy Orton -120
Mandy Rose vs Sonya Deville
Mandy Rose -400
Sonya Deville +250
Apollo Crews (United States Champion - Raw) vs MVP
Apollo Crews -200
MVP +150
Bayley (Women's Champion - Smackdown) vs. Asuka
Braun Strowman (Universal Champion - Smackdown) vs. Bray Wyatt
Bray Wyatt -170
Braun Strowman +130
Drew McIntyre (World Heavyweight Champion - Raw) vs. Randy Orton
Randy Orton -140
Drew McIntyre +100
Sasha Banks (Women's Champion - Raw) vs. Asuka
Asuka -130
Sasha Banks -110
Seth Rollins vs. Dominik Mysterio
Seth Rollins -130
Dominik Mysterio -110
The Street Profits (Raw Tag Team Champions) vs. Adrade & Angel Garza
Andrade & Angel Garza -165
The Street Profits +125
The Most Popular Pro Wrestling Promotions In The US
World Wrestling Entertainment (WWE)
Formerly the WWWF, and then the WWF, World Wrestling Entertainment represents the last remaining promotion from the territory days, securing supremacy after buying out or defeating all competition by the year 2001. Vince McMahon purchased the company from his father in 1979, and quickly began raiding the other territories of their top talent. Hulk Hogan became his top star, and together, they transformed the industry, launching annual pay-per-view mega shows such as WrestleMania.
The WWE has been the controlling force of professional wrestling for the entire 21st century thus far and has only recently received any legitimate competition from another promotion. They even have their own streaming app, the WWE Network, which now airs all of their pay-per-view programming, as well as a massive catalog of archived materials.
The WWE presents three prime time cable television broadcasts per week. Each program is dedicated to one of their three different wrestling brands, all featuring their own rosters of competitors.
WWE Raw: USA Network, Mondays at 8 PM
WWE Smackdown: FOX Network, Fridays at 8 PM
NXT: USA Network, Wednesdays at 8 PM
Royal Rumble - January
Elimination Chamber - February
Fastlane – March
WrestleMania – April
Money in the Bank – May
Stomping Grounds – June
Extreme Rules – July
Summer Slam – August
Clash of Champions – September
Hell in a Cell – October
Survivor Series – November
TLC (Tables, Ladders & Chairs) - December
All-Elite Wrestling (AEW)
In September of 2018, an independent pay-per-view wrestling event titled All-In was held in Las Vegas, NE, featuring non-WWE talent. The event sold 10,000 tickets within a few minutes, and inspired Tony Khan, owner of the NFL's Jacksonville Jaguars, to start a new wrestling promotion – All-Elite Wrestling.
The AEW was able to quickly secure a national television deal with TNT, and now competes head-to-head with the WWE each Wednesday evening, airing at the same time as their NXT promotion. All-Elite Wrestling is the first real competition for the WWE in nearly twenty years.
AEW Dynamite: TNT Network, Wednesdays at 8 PM
AEW Dark: AEW's YouTube Channel, Tuesdays at 8 PM
Revolution - February
Double or Nothing – May
Fyter Fest – June
Fight for the Fallen – July
All Out – August
Full Gear - November
Other Significant Pro Wrestling Promotions
Impact Wrestling (Formerly TNA) – USA
Ring of Honor (ROH) – USA
Lucha Libre AAA Worldwide (AAA) – Mexico
New Japan Pro-Wrestling (NJPW) – Japan
All Japan Pro Wrestling (AJPW) - Japan
Betting On Pro Wrestling Pay-Per-Views And Television Events
First and foremost, wrestling television programs such as Raw and Dynamite are geared towards drawing ratings and earning advertising revenue. A secondary function of these broadcasts is to build toward their pay-per-view broadcasts, where the biggest matches occur as feuds are settled and angles are completed.
Pro wrestling sportsbook sites will sometimes offer odds on television show matches, but pay-per-view betting lines are what you will usually find. These offerings will look similar to the lines offered for betting on the UFC, with each fight in the card listed, and moneyline odds featured next to the combatant's name.
Chris Jericho Vs. Jon Moxley
Jon Moxley -140
Chris Jericho +130
Using the above betting line as an example, Moxley is favored to win because his moneyline odds are in the negative. A wager of $140 will earn a payout of $100 if Moxley is the winner. Jericho's odds are in the positive, which means he is predicted to lose. A wager of $100 on Jericho will earn $130 if he defies the odds and wins.
Occasionally, prop bets will be offered for larger wrestling events that will place odds on occurrences that do not involve who will win or lose. Examples of wrestling prop bets include, who will apply their finishing hold first, how the match will end (pin, submission, disqualification), or the order of eliminations for a battle royal.
Notable Professional Wrestling Superstars
Brock Lesnar
Roman Reigns
Seth Rollins
John Cena
A.J. Styles
Charlotte Flair
Becky Lynch
Randy Orton
Cody Rhodes
Chris Jericho
Jon Moxley (Formerly Dean Ambrose in the WWE)
Kenny Omega
The Young Bucks (Matt and Nick Jackson)
 
Pro Wrestling Mobile Betting Apps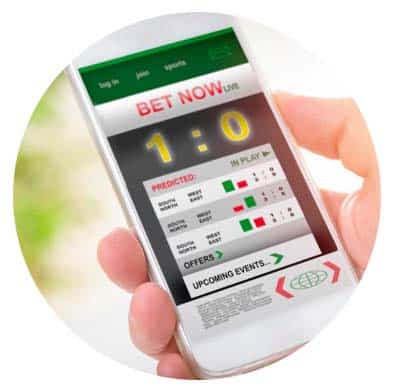 WWE and AEW fans can bet on professional wrestling while on the go with the web-based mobile betting apps offered by our top-rated sportsbooks. No download is required to access these web apps. Just click on one of our recommended betting sites in this guide using a current mobile browser such as Chrome, Opera, Firefox, Google, or Safari, and your iPad, iPhone, or Android device will be converted into a mobile wrestling betting tool.
The responsive design technology will conform to mobile screen sizes and features all of the options on the regular site with push button control. Premium pro wrestling betting on the go can be achieved from almost anywhere in the United States with these mobile wagering apps.
Banking Options
The betting sites we feature in this guide offer a wide variety of deposit and withdrawal options for maximum convenience.  Below are the most common options our team has seen at wrestling sportsbooks.
Sportsbook Deposits:
Credit Card
Debit Card
Wire Transfer
Money Transfer Services
Money Order
Cashier's Check
Cryptocurrencies (Bitcoin, Bitcoin Cash, Ripple, USD Coin, Ethereum, Litecoin, Stellar, etc.), Zelle (Cash-to-Bitcoin)
Sportsbook Withdrawals:
Wire Transfer
Cashier's Check by Courier
Retail Transfer Services
Cryptocurrency*
*Cryptocurrency is the only method of withdrawal that can be used for a payout in the same day it was requested. All other forms of withdrawal require a minimum of 24 hours to process.
Pro Wrestling Betting FAQs
Yes. Although the results are scripted, sportsbook sites produce betting lines on WWE matches which can be wagered upon. WWE betting falls under the category of entertainment but is oftentimes listed under its own category of wrestling.
Wrestling betting lines are similar to the odds you will find when wagering on boxing or MMA, with moneyline odds placed on each fighter. By visiting one of our recommended sportsbooks, bets can be placed on the wrestler that you think will win, with payouts entirely dependent on the moneyline odds and amount risked.
Yes. WrestleMania is the Super Bowl of wrestling. It is the most widely featured wrestling event of the year at online sportsbooks, with odds on the winner of each match, as well as prop bets on occurrences during the broadcast.
Wagers can be placed on AEW pay-per-view matches at the sportsbooks we recommend in this guide. We've also seen odds placed on matches occurring on their television show, Dynamite. If the match has been announced ahead of time, then that allows oddsmakers enough leeway to produce betting lines for it.
All of the sportsbooks listed on this page offer a welcome bonus or sign up bonus and sometimes more than one. These offers will usually look something like this:  100% match bonus up to $300.  This means that the sportsbook will match your deposit dollar for dollar up to a maximum of $300.  These offers are often more attractive if you are using Bitcoin or another cryptocurrency to make your deposit. 
Other types of bonus offers include reload bonuses, seasonal and special promotional bonuses, referral bonuses, and sometimes you even get a birthday bonus offer.  These offers vary from brand to brand, but they all find some way to incentivize bettors to stop by and try them out.