Political Betting Guide
2024 Presidential Betting Odds Favor Joe Biden To Win
Donald Trump Odds Favor Additional Indictments
2024 Election Day Is Tuesday, November 5th
Betting on political election outcomes has always been prevalent around the world, especially in the US, long before polling was available. Political betting was the first indicator of the market since there were no scientific polls and it increased public engagement in relation to the elections.
Over a hundred years ago, betting on politics was as popular as the Super Bowl is today. Patrons would gather at taverns or within town squares for betting on Presidential candidates in hopes of earning a large cash payout.
Today political wagering is still as popular as ever and there are multiple legal avenues for participating. With the legal betting market in the US expanding, additional forms of betting are surfacing, including betting on political events and elections. Presidential election betting odds and lines have become prevalent at many reputable and popular sportsbooks, and political prop bets are enjoyed by political enthusiasts from all backgrounds.
Is It Legal To Bet On Politics?
Nothing is illegal about betting on politics, 2024 candidates, US Supreme Court odds, or any other political props, specifically at state-regulated or offshore sportsbooks. However, each state and offshore sportsbook applies different policies concerning what types of betting action they offer.
Political wagering is most commonly found at the offshore online sportsbooks that accept US players, including the ones we recommend on this page.
Political betting is considered a niche option of sports gambling and may not yet be easily found at domestically operated sportsbooks. Nonetheless, the US has no laws against offshore sports gambling.
Best 2023 Presidential Election Betting Sites
Legal Betting on the 2024 US Presidential Election
2024 Presidential election betting is expected to be a tight contest due to how close this past election was. Presidential betting markets should be watched as political betting odds are subject to change with the flow of information and change with the confidence of each Presidential candidate winning either their party nomination or the election.
Numerous political betting sites will be offering presidential betting lines, as well as odds on the Vice President picks for the DNC and GOP, and congressional odds.
Who is Running for President In the US?
President Joe Biden has announced his intentions to run for reelection in 2024. There is no DNC opposition at this time, and it is likely that he'll run unopposed for the Democratic Party's ticket.
Former President Trump has announced his intentions to run again in 2024, and political election odds are forecasting him as the top candidate in the Republican Party. If Trump is found guilty of a felony, which is a strong possibility, he would be disqualified from seeking another term as POTUS.
Florida Governor Ron DeSantis has also announced that he'll run for President in 2024 under the GOP banner, but his initial odds to win trail Biden and Trump.
To bet on any of the 2024 candidates to win their party's nomination, you can sign up for free at any reputable offshore sportsbook. Below, we take a look at each party's running candidates.
Odds for the 2024 Democratic Nomination
2024 US Presidential betting odds will likely change drastically throughout the course of the Democratic primary debates and state-by-state elections, so betting early can reward large cash payouts if played correctly.
Odds for the 2024 Republican Nomination
At this time, Donald Trump is favored to win the Republican Party's nomination for the 2024 Presidential election, a status that was previously held by Ron DeSantis. Nikki Haley is also running in 2024.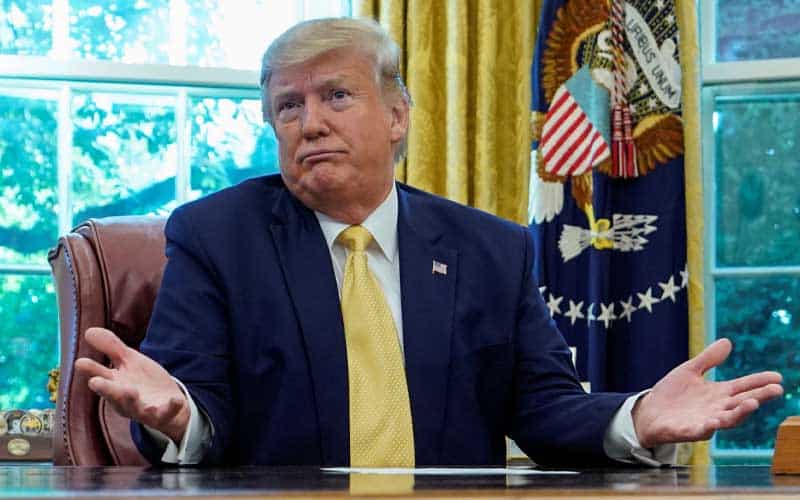 2024 Presidential Election Odds
Oddsmakers have posted odds for running Republican and Democratic contenders as well as potential candidates who may enter the 2024 race. Suspected candidates for winning the overall 2024 Presidential election can include any living human that the sportsbook decides to include, and the options will differ from site to site.
2024 Candidates With Betting Lines and Odds:
Odds available at Bovada
Joe Biden +190
Donald Trump Sr. +275
Ron DeSantis +390
Gavin Newsom +2500
Kamala Harris +2500
Michelle Obama +3500
Nikki Haley +3500
Pete Buttigieg +3500
Mike Pence +5000
Vivek Ramaswamy +5000
Gretchen Whitmer +5500
Hillary Clinton +6000
Glenn Youngkin +6500
Mike Pompeo +7000
Tim Scott +7000
Alexandria Ocasio-Cortez +10000
Amy Klobuchar +10000
Elizabeth Warren +10000
Ted Cruz +10000
2024 Gubernatorial And Congressional Election Odds
The 2024 election cycle represents a potential turning point in American politics where the GOP can potentially retain control in the Senate and keep the US House while setting the stage for a Republican White House in 2024.
Right now, it is too early to tell which way the US voting population will cast their ballots. Political oddsmakers feel the same way as they've yet to produce any odds for the US House, Senate, or Gubernatorial election results in 2024.
2024 Election Odds For The US Senate And US House
The Democratic Party holds a slim majority in the US Senate, and that status will be in jeopardy in 2024 when 33 seats are up for re-election. Majority lines and odds for each US Senate race will appear closer to November of 2024.
Which Party Will Control The Senate After The 2024 Elections?
Republican TBD
Democratic TBD
The US House was retaken by the GOP in 2022, and they'll look to build upon that lead in 2024 when all seats are elected once again. Betting odds for the 2024 US House elections, as well as political prop bets for the majority party, should appear in the near future.
Which Party Will Win The House In The 2024 Elections?
Republican TBD
Democratic TBD
2023 and 2024 Gubernatorial Elections
In 2023, three US states will elect a new governor, and they are as follows:
Kentucky - Current KY Governor: Andy Beshear (D)
Louisiana - Current LA Governor: John Bel Edwards (D)
Mississippi - Current MS Governor: Tate Reeves (R)
The 2024 Gubernatorial election cycle will send voters to the ballot boxes in the following 11 states and 2 US territories:
Delaware - Current DE Governor: John Carney (D)
Indiana - Current IN Governor: Eric Holcomb (R)
Missouri - Current MI Governor: Mike Parson (R)
Montana - Current MT Governor: Greg Gianforte (R)
New Hampshire - Current NH Governor: Chris Sununu (R)
North Carolina - Current NC Governor: Roy Cooper (D)
North Dakota - Current ND Governor: Doug Burgum (R)
Utah - Current UT Governor: Spencer Cox (R)
Vermont - Current VT Governor: Phil Scott (R)
Washington - Current WA Governor: Jay Inslee (D)
West Virginia - Current WV Governor: Jim Justice (R)
American Samoa - Current Governor: Lemanu Peleti Mauga (Non-Partisan)
Puerto Rico - Current PR Governor: Pedro Pierluisi (New Progressive)
There are no Gubernatorial betting lines for 2023 or 2024 on the boards at this time, but we will update this section once they debut on election sportsbook sites.
Odds To Impeach Joe Biden From Office
Now that the Democrat House has set a trend for impeaching Presidents following two successful attempts during Trump's tenure, more interest has been generated in the betting world.
Odds for whether or not the President will be impeached are now commonplace at political sportsbook sites and typically offer incredibly profitable betting opportunities when wagered upon well in advance.
President Biden Impeachment Odds
Will Joe Biden be impeached during his first term as President?
Will Joe Biden finish his first term as President?
Political Prop Bets
Political prop bets encompass minor and major events during an election cycle, including debates, rallies, town halls, speeches, political indictments, and more.
Here are the current political props that are on the boards as of September 2023.
Will Joe Biden pardon Donald Trump?
Joe Biden To Pardon Donald Trump For All Potential Federal Crimes Before The 2024 Election +600
Joe Biden NOT To Pardon Donald Trump Before The 2024 Election -1200
Will Donald Trump avoid the New York trial with with a plea bargain?
Plea Bargain +450
NO Plea Bargain -775
Will Donald Trump be found guilty of one or more felonies in New York?
Prison Match Bet: To Serve Time First
Donald Trump -2500
Hillary Clinton +800
2024 Presidential Debate Prop Bets
The next Presidential debate cycle will occur in the late Summer of 2024, and we expect political prop bets to be produced just prior to each event.
For now, we've included the Presidential debate odds that were in play for the 2020 Presidential Election cycle to give bettors an idea of what to expect.
Biden agrees to 4th debate moderated by J. Rogan*
Biden publicly responds to Rogan's debate offer*
Yes - To 4th Debate Offer 

+100

No - To 4th Debate Offer   

-140
Will Donald Trump say Qanon?*
Will Donald Trump say sleepy Joe?*
Will Donald Trump mention Joe Biden's basement?*
How many times will Donald Trump say China?*
Over 6.5

-500

Under 6.5

+300
Will Donald Trump say anarchists?*
How many times will Donald Trump say ANTIFA?*
Over 4.5

+155

Under 4.5

-220
How many times will Donald Trump say Portland?*
Over 2.5

-280

Under 2.5

+190
How many times will Donald Trump say Seattle?*
Over 1.5

+150

Under 1.5

-200
Will Donald Trump mention Ted Wheeler by name?*
Will Donald Trump say law and order?*
How many times will Donald Trump say law and order?*
Over 3.5 

-120

Under 3.5 

-120
How many times will Donald Trump say Obama?*
Over 3.5 

+100

Under 3.5 

-140
How many times will Joe Biden say Q or Qanon?*
Over 1.5 

+300

Under 1.5 

-500
Will Joe Biden say very fine people?*
Will Joe Biden call Donald Trump a racist?*
How many times will Joe Biden say Antifa?*
Over 1.5

+300

Under 1.5

-500
Will Joe Biden say fact-check?*
Will Joe Biden call Trump a liar?*
Will Joe Biden mention Bob Woodward?*
Will Joe Biden mention number of USA COVID-19 deaths?*
Biden misquotes # of USA COVID deaths by over 100k?*
Will Joe Biden say Russia?*
How many times will Joe Biden say China?*
Over 2.5

-120

Under 2.5

-120
Who will CNN say won the first debate?*
Donald Trump

+400

Joe Biden

-700
Who will FOX News say won the first debate?*
Donald Trump

-600

Joe Biden

+350
Will Joe Biden participate in the second debate?*
Will Joe Biden participate in the third debate?*
*Odds from Oct. 9th, 2020
Political Futures Bets
Not all political betting lines must be timely with the event they are associated with. Many political futures odds are available well in advance of election day and can be bet upon using mobile sportsbook applications at the bettors' convenience.
Futures odds involve any occurrence that will take place tomorrow or after, and includes moneylines on each potential outcome. Below are examples of futures odds for political betting.
Joe Biden leave office via Impeachment?
Joe Biden Exit Date
2025 -120
Not Before 2026 +275
2023 +500
2024 +800
Joe Biden Approval Rating
Over 52½ % -135
Under 52½ % -105
Other Global Political Betting Options
Political betting markets and wagering are not exclusive to the United States and its political market. Prominent online sportsbooks often cover politics on a global scale, offering odds and betting lines for elections and political events in multiple countries.
Below are examples of betting odds for international political elections as well as Royal Family futures.