Tennessee Sports Betting – Bet On Sports Legally In TN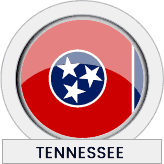 Tennessee residents can currently enjoy mobile sports betting regulated by the Volunteer state. In 2019, Tennessee Governor Bill Lee let a sports betting bill become state law without his signature.
He told media sources that the only reason he let this bill become law is that it didn't include casino gambling expansion or any other gambling expansion.
Tennessee is the first southern state to legalize domestic sports betting in 2019 and is the only state to only legalize online sportsbook gambling.
While there are some other states talking about allowing state-regulated sports betting only TN has made it to the finish line. Tennessee will only allow their mobile sportsbooks to use official league data to provide betting lines to TN players.
Is Sports Betting Legal In Tennessee?
Yes. Tennessee residents have multiple options when it comes to sports betting. The state has recently passed its online sports betting bill that will allow the state to offer mobile sports betting in the near future. The state-based online and mobile sports betting platform is expected to launch sometime in 2019.
Tennessee residents also have access to offshore sportsbooks that operate legally outside of the United States. There are no specific laws forbidding TN residents from accessing or wagering on these sites. Offshore sportsbooks offer many betting lines for college, professional, and international sports.
Tennessee Sports Betting Bills
Along with the two pieces of sports gambling legislation that have already passed in TN, there are also two sports betting bills that are in committee to be heard and debated by the state legislature.
These bills affect various aspects of the infrastructure and financial stipulations of the already legalized sports betting industry in the state. Our sports betting bill tracker is the perfect place to read up on all the bills that could affect you in the near future.
Tennessee Sports Betting Laws
In 2019 Tennessee passed H001, a mobile sports betting bill that allows the state to license and collect revenue from domestic mobile sports betting. The bill has been passed into law, but residents are still waiting on the official sports betting launch. The launch is expected to come sometime later in 2019.
Sportsbooks That Are Legally Licensed To Accept TN Residents
Below is a table comprised of the best available online sportsbooks accepting Tennessee residents. Our selected brands have passed our intensive screening process that searches for several qualifications. Most importantly, each one of our selections is legally licensed regulated by a respected government.
If you are interested in placing legal bets on sports online in the state of Tennessee, you will be able to choose from the state-licensed mobile sportsbooks or these offshore sportsbooks that are legally operating outside of US borders.
For our readers looking for further information about the brands listed below, check out our US sportsbook reviews page where we go into further detail.
Tennessee Sports Betting Details
Legal Sports Betting: In-state Mobile, Offshore
Minimum Sports Betting Age: 18 years old
Land-Based: No
Online: In-state, Offshore
Mobile: In-state, Offshore
In-Play: In-state, Offshore
Estimated Revenue: $50 Million
Eligible Operators: TBA
Commission: Tennessee Department of Justice
Licensing Fee: $750K annually
Tax Rate: 20%
Tax-Funded: Education
What You Can Bet On In Tennessee:
Details of sports betting in Tennessee are still in the works; all betting lines, odds, and props for all games, teams, and players across all college and professional sports are allowed at offshore sites.
What You Can't Bet On In Tennessee:
Where Can I Bet On Sports In Tennessee?
TN residents will have to choose between state-regulated mobile sportsbooks and offshore sportsbooks. While the state-regulated sportsbooks offer more insurance offshore sportsbooks offer more betting lines and other options that are restricted by state laws.
Biggest Sports Betting Cities in Tennessee
Sports Betting In Nashville, TN
Nashville is one of the best cities for music in the country, but it is also home to 2 major professional sports franchises in the Tennessee Titans (NFL) and Nashville Predators (NHL). Nashville residents and fans can bet on both of these teams through any of the sportsbooks recommended in this guide.Sports Betting In Memphis, TNMemphis is home to the Memphis Grizzlies (NBA). The Grizzlies are unfortunately slotted in the Western Conference, easily the tougher of the 2 Conferences, so their Playoff hopes are not looking too good. However, they are strong throughout the regular season and worth tracking. You can bet on all Grizzlies games via a licensed offshore sportsbook.
Sports Betting In Knoxville, TN
Aside from 3 professional franchises, Tennessee is home to a notable college athletics program, the Tennessee Volunteers who are in Knoxville and compete in the Southeastern Conference (SEC). You can bet on Tennessee Volunteers sports on our suggested sportsbooks.
---
Frequently Asked Questions About Sports Betting In Tennessee
Will I get arrested for betting on sports in Tennessee?
 No. there are no laws that prevent TN residents from accessing online sportsbooks offshore or within state lines. All federal and state laws are directed towards the operator and not the individual. Since TN passed online state-regulated sports betting bettors have been enjoying the best of both worlds with offshore and domestic sports betting options.
Are mobile sports betting apps legal in Tennessee?
Yes. Tennessee only has mobile sports betting and while none of the mobile sportsbooks have launched yet they are going to be live before the end of 2019. TN residents can also wager with offshore sports betting apps offered from operators located overseas.
What teams can I bet on in Tennessee?
Offshore sportsbooks have no restrictions on what teams sports bettors can bet on. State-operated sportsbooks will only be allowed to use official data and since the mobile launch has not happened yet there are still some details to be hammered out.
Are there any local sportsbooks in Tennessee?
No, H1 does not give tribal casinos the option to accept bets on sports. This bill only includes mobile sports betting but further expansion laws could come in the future.
What is the legal minimum sports betting age in Tennessee?
To gamble in Tennessee you must be at least 18 years of age.
---
Tennessee Legislative Resources
Tennessee Gambling Resources
If you or a loved one is struggling with gambling addiction we urge you to contact the Tennessee National Council on Problem Gambling to seek help. Without proper help sports wagering could turn into a serious problem for some gamblers.