Tennessee Sports Betting – How To Bet On Sports Legally In TN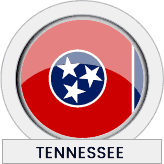 Online Sports Betting Available In TN Via Offshore Sportsbooks
Domestic Tennessee Sportsbooks Available Via Mobile Apps
Legislative Movement Toward In-Person Sportsbooks: Yes
Tennessee residents can currently enjoy mobile sports betting regulated by the Volunteer state. In 2019, Tennessee Governor Bill Lee let a sports betting bill become state law without his signature.
Tennessee sports betting can be enjoyed by regional patrons via domestic sportsbook apps and international sports betting sites that have been offering their services to US bettors, including those in TN, for years (some for more than a decade).
Read through the rest of our legal TN sports betting guide to find out more regarding the legalities of sportsbook sites, what options are available to TN bettors, as well as some helpful tips and tricks for navigating the sometimes rocky Tennessee betting landscape.
Is Sports Betting Legal In Tennessee?
Yes. Tennessee residents have multiple options when it comes to sports betting. The state features domestic mobile sports betting apps that are taking bets now.
Tennessee residents also have access to offshore sportsbooks that operate legally outside of the United States. There are no specific laws forbidding TN residents from accessing or wagering on these sites. Offshore sportsbooks offer many betting lines for college, professional, and international sports.
Tennessee Sports Betting Laws
In 2019 Tennessee passed H001, a mobile sports betting bill that allows the state to license and collect revenue from domestic mobile sports betting activity. TN mobile sports betting apps were launched in November of 2020.
There is no provision within TN state gambling laws that prohibits online sports betting at sportsbooks that are legitimately operating internationally, such as the betting sites you see listed below.  
Tennessee Sports Betting Bills
Tennessee recently passed legislation that would affect sports betting at the operator level. While sports wagering in the state was previously overseen by the Tennessee lottery corporation, SB0588 delegates the responsibility to a newly founded committee called the "sports wagering advisory council." The bill orders that the council meets quarterly, if not more often.
This change will take effect at the beginning of 2022 but will not compromise any existing laws regarding sports betting. Even so, it's important to stay in the know with TN sports betting legislation as it refines and potentially expands the existing state-regulated gambling industry. Our comprehensive sports betting bill tracker is the perfect place to read up on all the bills that could affect you in the near future.
Best Sports Betting Sites In Tennessee
Below is a list comprised of the best available online sportsbooks accepting Tennessee residents. Our selected brands have passed our intensive screening process that searches for several qualifications. Most importantly, each one of our selections is either individually licensed or operates under the licensing credentials of their parent company and is operating legally within the industry.
For our readers looking for further information about the brands listed below, check out our US sportsbook reviews page where we go into further detail.
Tennessee Sports Betting Details
Legal Sports Betting: In-state Mobile, Offshore
Minimum Sports Betting Age: 18 years old
Land-Based: No
Online: In-state, Offshore
Mobile: In-state, Offshore
In-Play: In-state, Offshore
State Sportsbook Revenue: $13,244,908
Eligible Operators: DraftKings, FanDuel, BetMGM, Action247
Commission: Tennessee Education Lottery Corporation (TEL)
Licensing Fee: $750K annually
Tax Rate: 20%
Tax-Funded: Education
How To Bet On The NBA Playoffs In Tennessee
While TN has several options for legal online NBA Playoffs betting, only offshore sportsbooks can accept cryptocurrency deposits with Bitcoin and other popular altcoins.
Offshore Tennessee sportsbooks also create thousands of pro basketball prop bets when shopping the odds for NBA betting, something domestic books don't delve as deeply into.
What You Can Bet On In Tennessee:
Domestic TN betting allows for most major college and professional sports, including the NFL, NCAA sports, NBA, MLB, Boxing, Golf, NHL, MMA/UFC, and much more. Domestic sportsbook apps in TN do not offer live betting at this time. All betting lines, odds, and props for all games, teams, and players across all college and professional sports are allowed at offshore sites.
What You Can't Bet On In Tennessee:
US Politics, amateur sports, high school sports
Live betting odds
Where Can I Bet On Sports In Tennessee?
TN residents will have to choose between state-regulated mobile sportsbooks and offshore sportsbooks. While the state-regulated sportsbooks offer more insurance offshore sportsbooks offer more betting lines and other options that are restricted by state laws.
Biggest Sports Betting Cities in Tennessee
Sports Betting In Nashville, TN
Nashville is one of the best cities for music in the country, but it is also home to 2 major professional sports franchises in the Tennessee Titans (NFL) and Nashville Predators (NHL). Nashville residents and fans can bet on both of these teams through any of the sportsbooks recommended in this guide. Sports Betting In Memphis, TN Memphis is home to the Memphis Grizzlies (NBA).
The Grizzlies are unfortunately slotted in the Western Conference, easily the tougher of the 2 Conferences, so their Playoff hopes are not looking too good. However, they are strong throughout the regular season and worth tracking. You can bet on all Grizzlies games via a licensed offshore sportsbook.
Sports Betting In Knoxville, TN
Aside from three professional franchises, Tennessee is home to a notable college athletics program, the Tennessee Volunteers who reside in Knoxville and compete in the Southeastern Conference (SEC). You can bet on Tennessee Volunteers sports at our suggested sportsbooks.
---
Legal Tennessee Sports Betting FAQs
Will I get arrested for betting on sports in Tennessee?
No. Domestic betting apps are legal, and there are no laws that prevent TN residents from accessing online sportsbooks offshore or within state lines. All federal and state laws are directed towards the operator and not the individual.
How To Bet on March Madness In Tennessee
While there are no in-person sportsbooks in Tennessee, legal March Madness betting can occur online both domestically and offshore. The best options for Tennessee college basketball betting are contained within the above table and can be accessed on laptops and mobile devices just by clicking on any of the provided links.
Seemingly endless March Madness prop bets are posted each February for the tournament, as well as game lines with point spreads, moneyline odds, and totals.
Are mobile sports betting apps legal in Tennessee?
Yes. Tennessee only has mobile sports betting apps that can be used to wager on professional and college sports from anywhere inside of the state. TN residents can also wager with offshore sports betting apps offered from operators located overseas.
What teams can I bet on in Tennessee?
Domestic and offshore sportsbooks that take bets from TN patrons have no restrictions on what teams sports bettors can bet on, but TN mobile sportsbook apps do not allow live betting at this time.
Are there any local sportsbooks in Tennessee?
Yes, but only via mobile sportsbook apps. There are no domestic sportsbooks that bettors can visit inside of Tennessee's borders.
What is the legal minimum sports betting age in Tennessee?
To gamble in Tennessee you must be at least 18 years of age to wager at an offshore sportsbook site. TN's in-state mobile betting apps require a minimum age of 21 to place a bet.
---
Tennessee Legislative Resources
Tennessee Gambling Resources
If you or a loved one is struggling with gambling addiction we urge you to contact the Tennessee National Council on Problem Gambling to seek help. Without proper help sports wagering could turn into a serious problem for some gamblers.