Love Island Betting Odds (USA)
Each summer on CBS, the passion heats up on Love Island, where an equal number of attractive young men and women are placed in a secluded island atmosphere and given a chance for a romantic partnership as well as a large cash prize. Speaking of cash, Love Island betting odds are awarding massive potential payouts at legal entertainment sportsbook sites, so swipe right on this guide to learn how and where.
When the lucky couple wins Love Island, you can take home a large payout at our top online sportsbook sites that are offering prop bets on reality television shows. You won't find these options at domestic sports betting venues, so read on to learn how to find out the best way to lay some action on Love Island odds to win.
Is Betting On Love Island Odds Legal?
Yes. While many US states feature legal sportsbooks licensed by local government, none of them have yet to roll out Love Island odds,  or betting lines for any other reality television programs. That's because entertainment betting is exclusive to offshore sportsbook sites that base their operations in a jurisdiction outside of the USA.
Because there are no prohibitions in place to prevent overseas sportsbook sites from taking wagers over the web in the United States, betting on Love Island does not violate any existing gambling laws except for in WA where all online gaming is banned.
Best Legal Online Sportsbooks For Betting On Love Island
How Does Love Island Work?
The USA incarnation of Love Island is based on a UK series of the same name that began in 2015. Each season begins with an equal number of men and women (usually 5 couples) that are isolated in a remote, tropical location.
Each contestant is expected to partner up romantically and/or strategically with a member of the opposite sex. Re-coupling opportunities are presented when additional cast members are introduced that create for uneven numbers of men and women, where those that remain without a partner are up for potential elimination.
The most difficult aspect of betting on Love Island is that new cast members are introduced often, and represent new wagering options that weren't present in prior entertainment prop bets offered on the show.
There are also occasions where viewers are allowed to vote on who a contestant goes on a date with, throwing a monkey wrench into a current connection or inspiring a new one. The winning couple at the end of the season will each win $100,000, and with any luck, will also end up in a romantic relationship that's built to last.
How To Bet On Love Island Online
Betting on reality television shows like the Bachelor, the Amazing Race, or love island is only available at offshore sportsbook sites and requires the creation of an online account. The process for registration is easy, however, and is detailed below.
Browse through each of the online entertainment sportsbooks above and locate the Love Island betting odds that are the most appealing.
Venture to the homepage of that sportsbook site and click on the join button.
Enter your account data for creation of a user profile.
The next page will ask for the first deposit for betting on Love Island odds. There are several options for USD and cryptocurrency sportsbook deposits which are detailed in a later section.
Once your sports betting account is funded, make your way to the entertainment section of the sportsbook site and lay some action on the odds for Love Island.
Love Island UK Betting
While not on the air in the United States, Love Island (UK) commands loads of attention overseas at online sportsbooks. While we've yet to see odds appear in the USA, odds on Love Island (UK) flood the entertainment books that cater to the UK and EU markets.
The UK version of Love Island operates similarly to its USA spinoff, but was rocked with controversy in the years following its debut due to four former contestants taking their own life following their time on the show.
Mobile Betting On Love Island Odds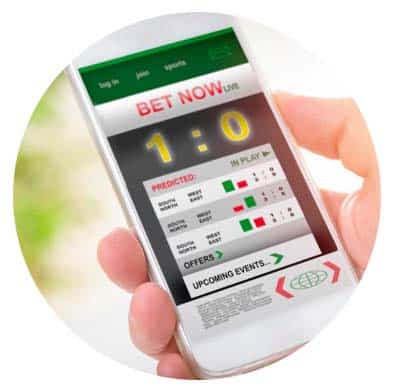 iPhones, iPads, and other popular tablets and smartphones are able to access entertainment odds for Love Island by simply clicking on one of the sportsbook links in this guide using a mobile browser.
All of the reality television odds that are available via the regular website are ported to web-ready portable devices quickly and without the need for a download. These mobile betting apps allow for legal betting on Big Brother, America's Got Talent, and many more popular entertainment options.
Bonus Cash Offers
When making a deposit into any of our reputable entertainment sportsbook sites that we endorse, there'll be enticing offers to add bonus cash to your betting bankroll that can equal free money if all terms and conditions are met.
These terms often require extended betting periods prior to withdrawing winnings won using bonus cash, so read through them to ensure you can meet the requirements. A common offer we see for new members is a 50% match bonus up to $250.
Options For Funding Online Sportsbook Accounts
A plethora of options for depositing and withdrawing at online sportsbooks are available depending on which site is chosen, and that includes the US Dollar and cryptocurrency. While most opt for USD methods, we suggest exploring the benefits of cryptocurrencies such as Bitcoin (BTC) or Litecoin (LTC).
The perks of crypto include heightened bonus cash offers, expedient transaction times, unrivaled levels of online security and encryption, and same-day withdrawals (the only option that can make that claim).
Live Betting On Love Island Odds 2023
In sports, live betting odds allow for wagers to be placed while the game clock is running and last until the final seconds expire. Because all Love Island odds are in-play until a winner is declared or a contestant is eliminated, any line offered for the show can be considered live betting.
Bets can be placed on Love Island odds, next eviction lines, and more, all up until just before the moment the outcome is announced, but don't wait too long. The odds narrow as the decision draws near, so don't hesitate when betting on Love Island 2023.
Previous Winners Of Love Island (USA)
Love Island Season 2 Winners - Justine Ndiba and Caleb Corprew
Love Island Season 1 Winners - Zac Mirabelli and Elizabeth Weber