North Carolina Sports Betting – Bet On Sports Legally In NC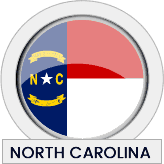 North Carolina's available sports wagering options are currently supported by offshore sportsbooks. However, the state is in consideration of several sports gambling legalization bills. If passed North Carolina could join other US states which offer legal sports betting.
The addition of domestic sports wagering options would complement players' current availability to bet on sports on offshore sportsbooks. Offshore sportsbooks have no restrictions on the types of wagers North Carolina players can make, however, we cannot guarantee this will be the case for any legal NC sports gambling bills turned into law.
Is Sports Betting Legal In North Carolina?
North Carolina has no domestic sports betting operations currently active or authorized by the state legislature. Without domestic sports wagering options, North Carolina players must use offshore sportsbooks to lawfully bet through while currently located within their state. There are no state laws forbidding the use of offshore sportsbooks by NC residents.
North Carolinians can use the offshore sportsbooks to bet on NCAA basketball, College football, and a bunch of other American professional sports and sports from across the globe, including those located in NC. No USA gambling law enforced by the federal government prohibits offshore sportsbooks either, meaning NC players can use these sites without worry.
North Carolina Sports Betting Bills
North Carolina has considered domestic sports gambling legalization. The state has several sports gambling bills in consideration. Likely the state introduced these bills to legalize domestic sports wagering after neighboring states contemplated legalizing similar legislation. If you want to learn more information about these bills, their sponsors, or bill specifics we recommend using our US sports betting bill tracker.
Best Online Sportsbooks For North Carolina Residents
We have found the most trusted sportsbooks accepting NC residents and listed them on the table below. You can bet on each of your favorite local teams, or any other team for that matter, through their simple interface. With years of experience and positive reputations within the industry, our recommended sportsbooks are among the best.
Read our USA sportsbook reviews page, as our industry professionals go further in-depth with the brands listed below.

NC Sports Betting Details
Below NC players can find a complete breakdown of their sta's domestic sports betting market and options. At this time, offshore sportsbooks support the state's betting market. However, should the state's lawmakers pass legal domestic sports wagering, we will update the below details to reflect this change.
Legal Sports Betting: Offshore Only
North Carolina Minimum Sports Betting Age: 18 years old (via Offshore)
Land-Based Sportsbooks: TBD
Online Sportsbook: Offshore Only
Mobile Betting App: Offshore Only
In-Play/Live Betting: Offshore Only
Estimated Revenue: TBD
Eligible Operators: TBD
Licensing Fee: TBD
Tax Rate: TBD
Tax-Funded: TBD
What You Can Bet On In North Carolina:
All betting lines, odds, and props for all games, teams, and players in North Carolina across all college and professional sports (via Offshore)
What You Can't Bet On In North Carolina: 
No restrictions (via Offshore)
Where Can I Bet On Sports In North Carolina?
State-regulated sportsbooks have yet to be authorized by the state via passed sports gambling legislation. However, offshore sportsbooks remain an option, as well as, neighboring states with legal sports betting.
Biggest Sports Betting Cities In North Carolina
Charlotte
Charlotte is a large metropolitan area in NC and home to the Carolina Panthers (NFL) and Charlotte Hornets (NBA). The Panthers were one of the best teams in the league a couple seasons ago, but have since lost their rhythm. They play in the NFC South division and are off to a much better start than the previous season.
The Hornets play in the NBA's Eastern Conference and have a solid lineup heading into this next season. Look for them to be a sleeper team in the east. Both teams are available for betting through the offshore sportsbooks listed in this guide.
Raleigh
Raleigh is the home of the Carolina Hurricanes, the state's NHL team. The Hurricanes play in the Metropolitan division and are one of the weaker teams in the league, but fans remain loyal no matter what. Bettors can place sports wagers on the Hurricanes throughout the season via any of the sportsbooks mentioned on this page.
College Sports Betting In NC
North Carolina contains several noteworthy college athletic programs. There are the University of North Carolina Tar Heels, NC State Wolfpack, Duke Blue Devils, and Wake Forest Demon Deacons. All 4 teams compete in the ACC, which has emerged as arguably the strongest conference in the NCAA (the SEC formally held the title and some believe it still does).
Each of these schools boasts successful football and men's basketball programs within their respective divisions. Fans can bet on anyone, or all, of these college teams with our recommended licensed offshore sportsbooks.
---
Frequently Asked Questions About North Carolina Sports Betting
Will I Get Arrested for Betting on Sports in North Carolina?
If players bet on sports through an unlicensed or unregulated NC-based platform they may be charged with a violation by the state. However, offshore sportsbooks are not in violation of state laws and thus able to offer sports wagering services to North Carolina players.
Are Mobile Sports Betting Apps Legal in North Carolina?
At this time, North Carolina has not authorized the use of any NC-based mobile sports gambling apps. However, offshore sportsbooks provide mobile sports wagering capabilities otherwise inaccessible to NC players.
What Teams Can I Bet on in North Carolina?
There are currently no restrictions on what teams North Carolina players may bet on since the state has no laws detailing which sports, teams, or wagering types are prohibited. Offshore sportsbooks do not place any restrictions on what kinds of bets NC players can make.
Are There Any Local Sportsbooks in North Carolina?
At this time there are no sportsbooks available or authorized to operate in the state of North Carolina. The state's legislature has not legalized this form of gambling and thus we do not recommend betting through any sportsbook or bookie based in NC claiming to be a regulated or licensed operator.
What is the Legal Minimum Sports Betting Age in North Carolina?
North Carolina has yet to set a minimum sports gambling age since they have not authorized domestic sports gambling as of yet. However, offshore online sportsbooks accept players from North Carolina as young as eighteen. If the state were to authorize domestic sports gambling they may adopt a minimum sports wagering age of either 18 or 21.
---
North Carolina Legislative Resources
North Carolina players interested in reaching their local representatives in regards to domestic sports gambling can use the following resources to find a politician's contact information, specific bill sponsors, or reach other services.
North Carolina Gambling Resources
We encourage NC players to gamble responsibly through any sports wagering methods used. However, we also understand that some individuals may develop signs of problem gambling. For this reason, we would suggest utilizing the North Carolina Problem Gambling Program to get resources to assist you or a loved one who may be suffering from a gambling addiction.