Legal Betting on Presidential Impeachment Odds
Bet On Joe Biden's Odds Of Impeachment
Wager On Political Odds For Biden Completing First Term
Political Prop Bets Are Live Now
Every US President faces talk of their removal from office at some point during their time in the White House, but impeachment betting odds are usually reserved for when there is a serious Congressional push to launch an inquiry or bring charges against a sitting head of state.
Of course, when that happens, impeachment odds become the most popular and sought-after betting lines at legal online sportsbooks, and the US House now seems to have an appetite for the process.
Still, because impeachment is an intensely political process with ramifications on both sides of the aisle and with the public at large (no matter which way the proceedings go), bettors are often extremely tempered in their analysis of whether or not a President will be impeached. That said, as with all legal political betting, there is much to be gleaned about a President's impeachment chances by looking to the odds boards.
Is Presidential Impeachment Betting Legal?
Yes, it is legal to wager on Presidential impeachment odds if you use an offshore betting site to do so. Despite the growing number of US-regulated online and brick-and-mortar sportsbooks popping up across the country, you will not find political betting odds at these locations.
Fortunately, political betting has always been popular at offshore sportsbook sites, and those remain the only places to find odds on politics and government-related issues.
Important note: In one US state – Washington – there are laws on the books that ban online betting of any kind. That said, these laws are considered unenforceable, and have never resulted in an arrest or fine for gambling over the Internet. Still, if you live in WA, we advise you to follow local and all federal betting laws and only bet online at your own risk.
Best Impeachment Betting Sites
Betting On Joe Biden's Impeachment Odds
Typically, you can bet on Joe Biden's impeachment odds at any reputable offshore sports betting site, but the odds can come and go at without a moment's notice. Presidential impeachment odds are more prominent at online sportsbook sites following the unprecedented level of activity that occurred during Trump's tenure in the Oval Office.
Our political prop bets guide is a good tool for exploring prop bets such as impeachment odds, indictment betting, and other factors surrounding the 2024 Presidential election. This prob bet tutorial will properly prepare bettors for when impeachment odds eventually reappear at political sportsbooks.
Examples Of Odds for Joe Biden's Impeachment
Odds for President Biden's impeachment are on the board purely because of Trump's experiences with the process during his first term and not due to an impending investigation. The below impeachment betting odds for Biden imply that he will almost certainly not be removed from office via that method.
Will Joe Biden Be Impeached By June 30, 2023? (Bovada)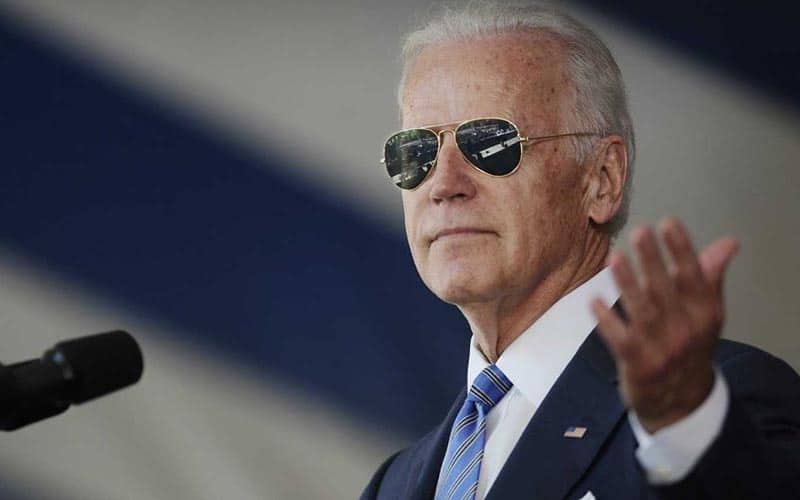 Russian Ukraine Conflict And Biden's Impeachment
While impeachment betting odds for Joe Biden did not emerge at the onset of the Russian invasion of Ukraine in February of 2022, the President's response will largely indicate the potential for articles to be drawn up for his removal.
President Biden has aligned with other nations in crippling Russia's financial assets, but only time will tell how effective the measure was in bringing the Russia-Ukraine conflict to a peaceful and satisfactory conclusion for all.
The results of the Russian invasion will largely impact the odds of Biden's removal from office and/or props for the completion of his first term in office.
Afghanistan's Impact On Biden's Impeachment Odds
In August of 2021, the Kabul Airport in Afghanistan was attacked by the Taliban, initiating the takeover of the nation's capital city and creating an incredibly difficult scenario for the United States and President Biden's regime.
In one week's time, President Biden's odds of impeachment dipped 800 points from a -2000 to a -1200 moneyline. While Joe Biden's odds still favor an outcome that does not include impeachment articles, further difficulties in the Middle East will cause removal from office political lines to gain favor.
US Representative Madison Cawthorn has asked Kamala Harris, in her capacity as Senate President, to invoke the 24th amendment and remove Biden from office, but since the DNC controls both Congressional chambers, a Biden impeachment is unlikely.
2025 -120    
Not Before 2026 +275    
2023 +500    
2024 +800
What Is a Presidential Impeachment?
Impeachment is a largely misunderstood concept. Many people think that impeachment means that a President will be removed from office, but that's actually never happened. Impeachment is a legal accusation of criminal malfeasance, and it is purely a political process.
An analogy to Presidential impeachment is, for private citizens, a criminal or civil charge in a court of law. And like every person in America, once impeached, the President gets due process before removal can ever happen.
Throughout all of US history, only two Presidents have ever been impeached: Bill Clinton (1998-1999) and Andrew Johnson (1868). Richard Nixon was set to face impeachment in 1974, but he resigned from the Presidency before any charges were brought.
How Does the Impeachment Process Work?
The Presidential impeachment process is simple enough, and it includes the following fundamental procedural steps:
The US House of Representatives opens an impeachment inquiry against a sitting President after reports or evidence that said President has committed an illegal action that falls under the umbrella of "Treason, Bribery, or other high crimes and misdemeanors."
The US House takes a vote on whether or not to bring Articles of Impeachment against the President. A simple majority is required to officially bring such charges.
Once the Articles of Impeachment are passed, the US Senate takes over, conducting a trial of the President. This trial is overseen by the Chief Justice of the US Supreme Court.
If the President is found guilty via a two-thirds supermajority vote in the Senate, he or she is immediately removed from office.
The Vice President then becomes the President of the United States.
If the VP is also impeached, the House Speaker would become President.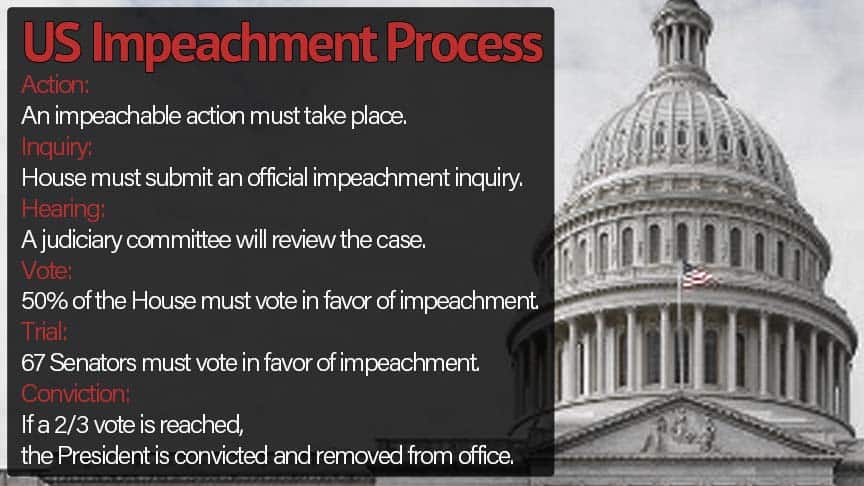 Political Betting Apps For Impeachments
On the go mobile sports betting on political indictment odds is actually a lot easier than using the desktop sportsbook site because touch-button controls allow for single-handed navigation of impeachment props and much more.
All that is required for mobile bettors is to merely click on any link provided within this page using a current iPhone, iPad, or Android smartphone or tablet.
No download is necessary - just click and begin the mobile political betting on indictment odds at 18 or over from wherever election gamblers choose inside the United States.