MyBookie Sportsbook Rating
MyBookie Sportsbook hasn't been around as long as some of the other brands we've provided sportsbook reviews on, but they have quickly become a preferred option for US sports fans looking for some legal betting action. MyBookie is licensed in Curacao, and it has more bet types than most online sportsbooks we've come across. If you're a sports fan looking for a noticeably larger number of wagering options and competitive betting lines, this bookmaker could turn out to be a spot you really connect with.
New players can claim a 50% bonus up to $1,000 on their first deposit.  Additionally, the site offers reload bonuses to loyal players, and there is also the option to bet on horses and play a full menu of casino classics, including live dealer table games. The variety of venues does appeal to me because I like the simplicity that consolidated options offer since I do enjoy multiple gambling markets. To be honest, as far as casinos go, I prefer Bovada for that side of the action.  I do absolutely feel that MyBookie is very competitive for sports betting and horse race betting.
MyBookie Sportsbook Overview
MyBookie launched in 2014 and has since become a pretty dominant force in the online sports betting industry. Lcensed by the Curacao government in the Netherlands Antilles, this bookmaker allows players from the United States to bet on sports both legally and safely.
MyBookie caters to a decidedly American clientele, with odds and lines that are designed for US bettors in mind. The site covers all the biggest leagues in the nation, putting them front and center whenever you log in, which doesn't really set them apart. They do also cover lines from many international leagues, sports, and events.
What I really like about this brand is that they go where nobody else dares to go, at least not publicly.  They think outside of the box and offer unique lines that you don't see anywhere else, such as lines for celebrity divorces, death matchups, and odds on religious events.
MyBookie offers competitive lines compared to other books and even Vegas, often differentiating itself with significantly better odds on certain contests. Unlike most domestic sportsbooks, MyBookie accepts bettors 18 and up from most states, with the exception of NY, NJ, PA, and NV.
Our team has over two decades of combined experience in the realm of online sports betting, but we're not just writers. We're sports bettors ourselves. When we endorse MyBookie, it's because we have chosen to do business with them over hundreds of other offshore books that we've reviewed.
The results and conclusions that we've posted in this MyBookie AG Sportsbook review are based on our own experiences, and we already have several years in the books of closely monitoring their operations. When we venture online to place a legal bet on sports, MyBookie is always among our first few stops. 
While MyBookie AG excels in many areas, the following premium features of their sportsbook are the ones keep us using their legal online sports betting services year after year.
Game Lines For All Major Pro & College Sports: NFL, NCAAF, NHL, NBA, MLB, UFC/MMA
Election Betting Odds & Prop Bets
Bitcoin Deposits, Withdrawals, & Promotions
Convenient Sportsbook Search Feature
Exclusive Entertainment Betting Lines & Odds
Money Line Odds That Differ From Other Online Sportsbooks
MyBookie Sports Betting Options
In my opinion, MyBookie offers an exceptional user experience and a slick mobile interface, but all of that means nothing if there isn't a full slate of sports on which to wager. When it comes to the sports betting options at MyBookie, I've rarely come across an online sportsbook that offers so many odds across so many US and global sporting events.
MyBookie Live Betting
I personally think that live betting is one of the most exciting ways to bet on sports, because I can lay down action on odds and lines all game long. These update in real-time according to the ebb and flow of the game. With live betting at MyBookie, I can wager while I watch, recovering bad pre-game bets or doubling down on longer odds when the games get tight.
Live betting adds literally hundreds of fresh wagers to every contest, but you have to act fast, because the odds are usually only up for a few moments before the next play alters the course of the projections and the lines change.
Sports To Bet On At MyBookie Sportsbook
MyBookie Football Odds: NFL, NCAAF
MyBookie Baseball Odds: MLB, NCAA
MyBookie Soccer Odds: MLS, Premier League, Bundesliga, etc.
MyBookie Hockey Odds: NHL
MyBookie MMA Odds: UFC
MyBookie Boxing Odds: Celebrity Boxing
MyBookie Golf Odds: PGA
MyBookie NASCAR
MyBookie eSports odds: LOL, CSGO, Dota 2, COD, etc.
MyBookie Virtual Sports Odds: Virtual basketball, virtual car racing, etc.
MyBookie Sports Sims Odds: NBA 2K 20, Madden 21, MLB The Show, NASCAR Heat 4, NHL 20, FIFA 20, UFC 3, etc.
MyBookie Futures Odds: Spans most major leagues and sports
MyBookie Entertainment Odds: American Idol, The Voice, The Oscars, movies, TV show outcomes, celebrity divorce, death matchups
MyBookie Political Betting Odds: US election odds
MyBookie Horse Racing Odds: Domestic and international horse racing betting
And More!
MyBookie AG allows for maximum bets of $2,000, but caps prop bets and futures at $250. Members have the option of increasing these limits by contacting MyBookie customer service and providing specific information regarding betting types, limit amounts, sport of choice, and intentions.
The team at MyBookie will review the request and respond within 12 hours. MyBookie does not allow for bets to be made that are less than $2.
MyBookie's Design Interface
One design component that sets MyBookie apart from the pack is their search feature. The betting line that you are after can be found by entering relevant data into the search bar and hitting enter.
This is a major time saving advantage over other offshore sportsbook sites because it can get bettors to lines quickly, and doesn't require additional navigation through tabs and sub-sections.
It also conveniently compiles any betting line including the search data onto one page without the need to locate each line in their individual sections.
For instance, if a bettor searches for Donald Trump, all Presidential betting odds that involve Trump will be compiled onto one page, including prop bets, and other alternate lines that might not be included in the political section or listed right next to each other.
The main "featured" page of MyBookie's Sportsbook features the major professional games that are most likely to intrigue US-based bettors at the top (NFL, NCAAF, NHL, NBA, MLB).
Banking Options
MyBookie's banking suite is pretty US friendly.  The site accepts Visa, Mastercard, Person2Person services (MoneyGram et al.), cashier's checks, money orders, bank wires, Bitcoin, and other cryptocurrencies (Litecoin, Ethereum, Bitcoin Cash). Depositing funds is quick and painless for the most part, especially when I used cryptocurrency.
So after you win, how do you get your winnings paid out? The process is not hard or complicated, and I found it to be very efficient. There are significantly fewer MyBookie payout options than there are deposit options - but this is due to adherence to the UIGEA regulations. For a MyBookie withdrawal, you can ask for a bank wire transfer, a Person2Person payment, a courier check, or Bitcoin/crypto. As a team we tried them all and found that each method is reliable, but our favorite is Bitcoin, as it's the only same-day sportsbook payout option.
Even though we believe that MyBookie should consider expanding its banking options going forward to remain competitive, all of us on the team can definitively say that we never had any issues with transactions. Our sportsbook banking comparison guide shows what funding options legal sportsbooks accept and what site is right for your preferred deposit and withdrawal methods.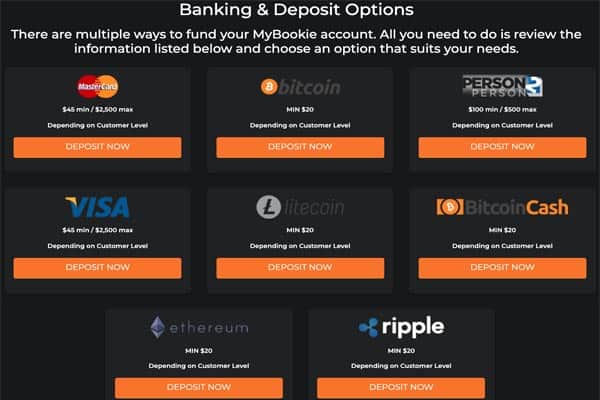 How To Deposit Bitcoin At MyBookie
At MyBookie, Bitcoin is your best banking option by far. BTC allows you to transfer funds instantly and securely, bypasses all banking and governmental hold-ups that might happen from time to time with other deposit methods, has no added fees, comes with high limits, and is the only same-day payout option available. MyBookie Bitcoin payouts process in as little as an hour - and personally, I like getting my winnings as fast as possible.
To deposit with BTC, you don't need a MyBookie Bitcoin promo code, you just need some Bitcoin and a Bitcoin wallet. Navigate to the site's cashier section, click or tap the "Deposit" option, and select Bitcoin from the menu. From there, simply follow the instructions provided.
You'll get MyBookie's Bitcoin wallet address, and from your e-Wallet, simply plug in that address, select the amount of money you wish to deposit and submit! Your account will be credited in seconds, and you'll be ready to bet immediately.
Note: If you don't yet own any BTC, you can purchase Bitcoin off of several exchanges, like Coinbase. However, this process can take up to 10 days, so if you need to bet on a line tonight or tomorrow, you should consider the Zelle-to-Bitcoin option. Using Zelle to buy Bitcoin is simple, as you simply use your bank's existing Zelle Pay option to purchase BTC from private sellers at the popular LocalBitcoins.com site.
There are some bonuses and promotions available at MyBookie. The bonuses are optional, you can take advantage of the extra cash that MyBookie wants to put into your account or you can pass it up.  Why would anyone pass on a bonus?
Well, there are wagering requirements that apply, so you have to bet a certain amount to be able to claim any winnings associated with the bonus. The bonus is designed to entice bettors to keep laying down action.  If you're planning to stick around and bet for a while - the bonus is a good option and the rollover is certainly reasonable.  If you are only planning to bet on a single event or game, you might want to take a pass.
After you deposit funds into your account, you will be given the opportunity to claim any applicable bonuses and will have access to current MyBookie bonus codes. The reload bonus is pretty nice and not something you will find at all online sportsbooks.
MyBookie $1000 New Member Bonus 
If you are a new MyBookie signup, you can get a 50% deposit match bonus at the MyBookie Sportsbook that tops out at $1000. This has a low rollover and is a great option for beginners and veteran bettors alike.
MyBookie Sports Reload Bonus Up To $500
MyBookie has a 25% reload bonus worth up to $500 for existing account holders, and that's along with the rotating promotions that become available whether it's football, basketball, baseball, or any sport that is in season. This bonus also comes with a very low, very attainable rollover.
MyBookie Refer-A-Friend Bonus 
MyBookie offers a referral bonus that consists of a deposit match of 250% up to $200 on your friend's first deposit when you use their Refer-A-Friend promo. It is a pretty attractive offer and not a bad incentive to get you to do some advertising on their behalf. Most referral bonuses we've seen have been quite a bit smaller, so Mybookie is on the generous side here.
Is MyBookie Sportsbook Legal For US Players?
Yes! There are no gambling laws in the United States - at either the state or federal level - that prevent MyBookie from allowing adults who are at least 18 years old from signing up and betting real money on sports online. This is because MyBookie is legally licensed and located outside of the US border, outside of legal US jurisdiction. As long as you live in a state that the site accepts members from, you can sign up safely and legally.
There are technically two exceptions. The states of CT and WA both have laws on their books barring all online gambling, including sports betting. However, MyBookie accepts members from both states, and we've never heard of any Washington or Connecticut resident getting cited, fined, or arrested for offshore sports betting. Still, you must proceed only at your own risk.
Note: MyBookie does not currently accept bettors from NY, NJ, PA or NV at this time.
Is MyBookie Sportsbook Safe?
The security profile at MyBookie provides a really safe environment for your personal information and your betting action.  Data encryption, firewall protection, and anti-theft protocols that exceed industry standards are in place to keep your financial information and transactions completely safe and secure. It is in their best interest to protect their customers if they want to see bettors return for more action, and that is reflected in their performance as an operator.
The nice thing is they've accomplished this without making everything too complicated. Despite advanced security protocols, registration and account funding is still a simple a straightforward process. There are some hoops to jump through on your first withdrawal to prove your identity, but personally, I appreciate anti-theft procedures and I also like that it prevents minors from being able to engage.
Without mobile betting, no sportsbook would be worth much nowadays. If any business wants to stay relevant and make money, they've got to cater to the mobile crowd, as that's where the majority of Internet traffic – and Internet betting – takes place.
If you're looking for a MyBookie mobile app on the App Store or in Google Play, you won't find one. This is due to Apple and Google corporate policies, as they don't allow real money sports betting apps from offshore operators in their US marketplaces.
That said, you can still participate in iPhone sports betting and Android sports betting safely and conveniently because MyBookie's sports wagering web app is a web based application that requires no downloads or app store purchases. The mobile portal is designed to responsively adjust to any sized device (including tablets large and small), and the touchscreen interface is slick, responsive, and easy to navigate.
All you need for mobile MyBookie betting is a recent smartphone or tablet, an up-to-date browser (Safari, Chrome, Firefox, etc.), and an Internet connection. There's never anything to download or update, so you can bet immediately, anytime of day or night, 24/7.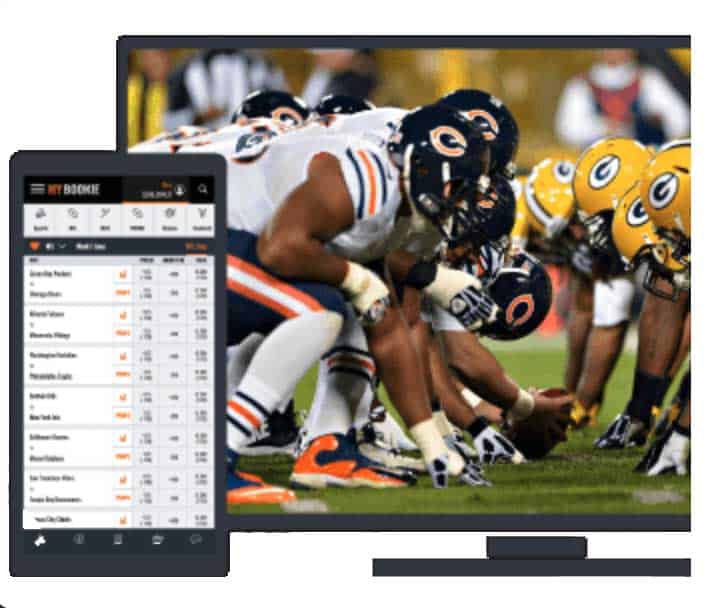 MyBookie Summary
Overall, we give MyBookie sportsbook a 4.5/5 without hesitation. We are not only confident in recommending them to you, but every member of our team is also a registered customer and lays down action at the site weekly. Even if you don't like sports, MyBookie makes it a point to offer odds on numerous betting lines for other things happening in the world so no one feels like they are getting left out of the action.
Ultimately, MyBookie sits a little on the edgier side of the tracks as far as what they cover in their lines (I personally see their willingness to cover lines nobody else will as a plus...) and more importantly, Mybookie is a legal and safe betting site that checks nearly all the boxes for what we want to see in a trusted bookmaker.
Yes! MyBookie has been in operation for many years, and they have an excellent reputation for safety.
MyBookie uses state-of-the-art encryption (SSL), offers best-in-class data security, will never sell your private information, and uses sophisticated Know Your Customer (KYC) standards to ensure that you always get your payouts in a timely manner. 
For added peace of mind, we recommend using Bitcoin, as the blockchain encryption employed by the cryptocurrency adds another level of safety on top of MyBookie's already robust security profile. 
MyBookie is legal to use, with technical exceptions for WA and CT residents (see above). If you live in the US and MyBookie accepts members from your state, you can sign up without worry, as there are no federal US laws that bar individual players from betting on sports for real money at offshore sites. 
MyBookie is absolutely one of the most legitimate sportsbooks on the Internet. The site is licensed and registered in Curacao and conforms to all local laws and regulations. Additionally, MyBookie is regularly audited not just by government officials, but by third-party industry watchdogs who make sure all their business practices are on the up and up. 
Unfortunately, in the US market, there is no MyBookie iPhone app or MyBookie Android app on the App Store or in Google Play. This is because of Apple and Google policies, and it is not a negative reflection on the legitimacy of MyBookie in any way. You can't find any offshore sports betting app on these storefronts. 
However, you can get mobile access to MyBookie by using a smartphone or tablet with a modern browser and an Internet connection. The site's mobile web app is slick, lightning-fast, and fun to use, and you don't need to download or update anything. Just visit the URL via one of the links here, sign up, and bet from anywhere, anytime!
Yes it does! If you want to know how to withdraw from MyBookie, the site's cashier page will walk you through the steps involved, but it's all very straightforward. You can choose from several different payout methods, but if you want the fastest sportsbook withdrawal, you'll need to use Bitcoin. 
Bitcoin (BTC) is the only same-day payout option at MyBookie, and it comes with no added fees and has some of the highest limits available. If you want your money and want it now, MyBookie's Bitcoin support is second to none. In most cases, you'll have your winnings in an hour or two! 
Note: Please remember that to withdraw in BTC, you must first deposit in BTC. Otherwise, you will have to use one of the other payout options, which take a bit longer to process (3-5 days on average).