How To Bet On The Masked Singer Legally
The Masked Singer Airs Multiple Seasons Per Year On Fox
Odds Available To Bet On Singers
Bet On The Masked Singer At Top Online Sportsbooks
One of the most popular reality television shows released in the United States in recent years is The Masked Singer. Because of the competitive nature of the program and the creation of gambling odds for winners and losers, inquiries on how to bet on this reality competition show is a question that we get a lot here at SBL.
If you are interested in the option to bet on the singers and win money, numerous online betting sites servicing the United States are ready to accept your wager. This guide recommends the top entertainment betting sites legally offering Masked Singer odds. We also detail the types of bets you'll encounter.
Best 2023 Sportsbooks To Bet On The Masked Singer
Is It Legal To Bet On The Masked Singer?
Yes. Betting on The Masked Singer, American Idol, the Voice, or any other singing competition is legal as long as you are wagering with a regulated sportsbook and are of the appropriate minimum gambling age. We're unaware of any domestic sportsbooks offering Masked Singer betting odds, but offshore gambling sites are where these types of entertainment prop bets thrive.
Offshore sportsbooks can legally accept Masked Singer bets online because they exist on foreign soil and possess licenses to offer gambling over the web internationally. This places them outside the jurisdiction of the USA and creates a loophole for legal online betting without any risk of getting into trouble.
What Is The Masked Singer?
First launched in South Korea in 2015, The Masked Singer is a reality television show that expanded to the United States in 2019. Each week, performers that are entirely covered by costumes and masks sing a song for a panel of judges who then must try to guess their identity.
In each episode, the judges and audience vote for their favorite singer. The masked singer with the lowest score must reveal their identity while the remaining contestants move on to the next round. Each episode can be bet on at an online sportsbook site that offers Vegas odds on the Masked Singer.
How To Watch The Masked Singer
Wednesday Nights At 9:30 PM On FOX
Begins September
How To Bet On Masked Singer Odds
Entertainment odds for reality television shows are typically offered in the form of prop bets and futures. Entertainment props are created for episodic eliminations, how judges will score, and any other weekly on-air occurrence that can be tracked and is worthy of creating a line for.
Masked Singer, American Idol, or America's Got Talent futures odds all take action on the eventual winner. The difference between a prop bet and futures odds is that propositions can take action on the winner being female or male, while futures will include a list of all masked singers with odds on each of them winning.
Regardless of which Masked Singer bet you place, the wager will be on a given outcome and the associated odds. These moneyline odds will be negative or positive numbers. The higher the number is in the positive, the less likely the occurrence is to happen.
The lower, or further into the odds go into the negative representing a higher probability of success. For instance, +200 odds will award $2 in profit for each dollar bet. Alternatively, a -200 moneyline will reward $1 in profit for each $2 wagered.
Mobile Sports Betting Apps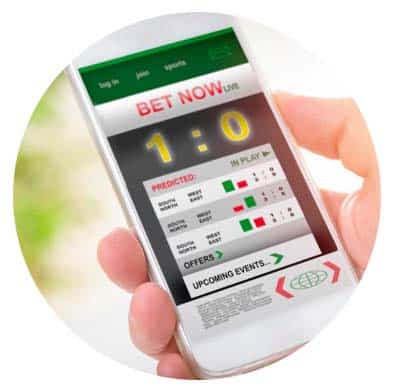 As mentioned earlier in this guide, state-regulated sportsbooks do not offer entertainment odds. Therefore, domestic sports betting apps cannot be used to wager on The Masked Singer. However, Masked Singer bets can be made on smartphones and tablets in the United States with no download needed.
Just pull up any of the sites included in our online sportsbook reviews using your iPhone or Android using a web browser app and place a mobile wager. While these are not downloadable gambling applications, they operate just like one via touchscreen controls and graphics that fill all popular mobile screen sizes.
No matter where you are in the United States, you have the ability to place a mobile bet on The Masked Singer or any other reality television show that inspires odds at entertainment sportsbooks.
Where Can I Bet On The Masked Singer
As of November 2023, there are no sportsbooks that operate domestically in the United States that provide odds for betting on the Masked Singer. That leaves offshore sportsbook sites as the lone provider of Masked Singer odds in the US and worldwide, but not all betting venues are legitimate and trustworthy.
That's why we've created a list of the best sportsbooks on the web – so you don't have to search around and find a legit betting site yourself. The sportsbooks we recommend here are licensed by recognized gambling commissions or governments and have received our highest ratings after years of membership and consistent performance.
How To Bet On The Masked Singer Online
As we mentioned in the prior section, we recommend sticking with the entertainment betting sites that are linked to in this guide for the best experience possible. However, if you want to place a Masked Singer bet, you'll need to become a member first.
Here is how to join an online sportsbook and bet on Masked Singer odds within minutes:
Click on any sportsbook link we have provided on this page and decide which one you want to join.
After that decision has been made, click on the join button at the top of the homepage of your desired sportsbook.
Enter your account details and create a confidential sportsbook login that you can also easily remember.
Submit your first deposit for Masked Singer betting. You can use USD or cryptocurrency at the sites we list here.
Enter the sportsbook section of the gambling site and then locate the tab for entertainment betting.
Click on The Masked Singer odds you want to bet on and submit the amount of money you want to bet in the slip.
Watch The Masked Singer and collect your payout if you win.
Should I Bet On The Masked Singer?
If you've arrived at this page, chances are you're a fan of the show and are looking to bet on Masked Singer winners and losers. There's nothing wrong with betting on the Masked Singer, and it is advisable if you have a strong feeling about a given gambling outcome being offered by an entertainment sportsbook.
Just make sure you've got disposable income to risk. It is called entertainment betting for a reason. It is fun and should not be leaned upon as a source of income. Can you win money? Yes. But the max bets are typically low on entertainment odds, so don't expect to pay your mortgage with the proceeds.
About The Masked Singer
Based on a 2015 series that began in South Korea, the United States version launched in 2019 and quickly produced ten seasons before the end of 2023. The show gained immense popularity during the COVID-19 pandemic and continues to draw in viewers by the millions today.
In each episode, masked singers perform anonymously and are voted on by a panel of judges. The least favorite candidate must reveal their identity at the end of each episode. Participants range from professional singers, athletes, actors, politicians, and performers from all walks of entertainment.
Current Masked Singer Judges
Ken Jeong
Jenny McCarthy Wahlberg
Nicole Scherzinger
Robin Thicke
Masked Singer Host