Legal Korean Baseball Betting
The KBO League – or the Korean Baseball Organization – has been the top professional South Korean baseball organization since its founding in 1982.
The league consists of 10 teams that play 144 games each season. That means there are more than enough opportunities for legal Korean Baseball betting, and sportsbooks have come out swinging for the fences with their Korean baseball odds.
Read on as we detail what makes the KBO League unique and what legal sports betting options are available for wagering on this popular market. You'll learn some basics about the game and get insight into the laws that govern online sports betting in the US, and we'll also show you the top offshore sportsbooks offering KBO action so you can knock it out of the park at the best baseball betting sites!
Is It Legal To Bet On The KBO League?
Yes, as long as your bets are placed at a sportsbook that is operating legally within the industry.  Some states authorize domestic sports betting venues within their borders, and only two states have attempted to block their residents from accessing legal offshore online sportsbooks (CT & WA).
There are not any federal gambling laws prohibiting offshore betting, so KBO fans across the US (with the exception of CT & WA) do not have to worry about violating any US gambling laws when accessing South Korea baseball betting lines.
Best Korean Baseball League Betting Sites
What Is The KBO League?
The highest level of baseball, and the most popular sports league in South Korea, is the KBO League. Founded in 1982, the KBO league begins play each spring, with the regular season beginning in March and concluding with its championship series in October. The odds and lines featured for the KBO League resemble what you'd see when legally betting on the MLB.
KBO League Teams
The KBO originally consisted of six teams, but as the league grew in popularity, so did the number of professional South Korean baseball franchises. Five of the original six teams remain and are marked in bold. The Kia Tigers are the most successful team in KBO League history with 11 championships – and they come with a 10-year powertrain warranty, standard!
Doosan Bears - Seoul
Hanwha Eagles - Daejeon
Kia Tigers - Gwangju
Kiwoom Heroes - Seoul
KT Wiz - Suwon, Gyeonggi
LG Twins - Seoul
Lotte Giants - Busan
NC Dinos - Changwon, Gyeongnam
Samsung Lions - Daegu
SK Wyverns - Incheon
The KBO League schedule consists of 144 games and includes an All-Star Game during the middle of the season. The top five teams in the KBO League standings at the end of the season make the post-season playoffs, with the top seed immediately advancing to the KBO Championship Series of seven games. The four remaining teams battle it out in 5-game series to determine who will face off against the #1 seed for the title.
Live Betting on South Korean Baseball
Live betting on the KBO League is available at our top-rated sportsbooks and can keep bettors involved in the action long after the first pitch. Individual inning leaders, prop bets, totals, and winner odds are updated throughout the contest that allow for legal betting until the final out is secured. Live game lines take the place of the original lines once any KBO game begins, as pre-game odds close before the first pitch is delivered.
Mobile Betting Options For KBO League Baseball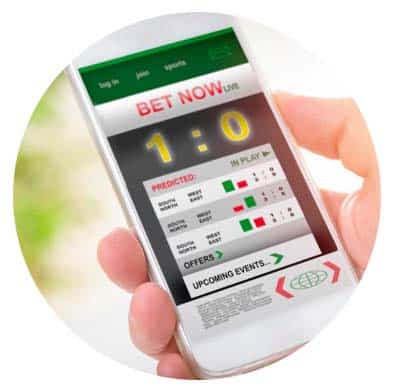 The sportsbooks that we recommend offer legal mobile betting with web apps that perform like regular downloadable apps do. The major difference is that no download is required.
Just step up to the plate and click on one of our sportsbook links using a current mobile browser such as Chrome, Firefox, Opera, or Safari. Your Apple or Android smartphone will become a portable KBO League betting station in the palm of your hand.
And no, the experience isn't better on Samsungs than on iPhones, despite the former being the home town favorite.
Legal Offshore Sportsbook Bonus Offers
When new members sign up for an account with an offshore sports betting site, they will encounter promotional offers based on the percentage of their first deposits. For example, you may find that your book of choice offers a 50% match of up to $500 or more. This means that if you deposit $1000, you'll have $1500 to toss around the diamond!
Legal sportsbook welcome bonuses always contain terms and conditions. Accepting a bonus is not a requirement of membership, however, and you should be sure to read all the details before committing to any betting promo. As an additional note, bonus levels usually increase with the use of cryptocurrencies like Bitcoin (BTC), which is explained below.
Banking Options For KBO League Betting
As mentioned earlier, cryptocurrency – specifically Bitcoin – is preferred by offshore betting sites and offer increased levels of bonuses compared to other deposit methods. Crypto is also the only method of withdrawal that can provide a same day payout – sometimes in as quick as 15 minutes. Talk about a fastball!
Popular cryptocurrency types that are accepted at most KBO betting sites include Bitcoin, Bitcoin Cash, Ethereum, Litecoin, Ripple, and more. Legal offshore books prefer crypto because of its unregulated status worldwide, allowing for ease of online monetary transactions without any government or bank interference.
The complicated blockchain encryption involved in crypto transactions make them a more secure method of transfer than using credit cards or other options. Best of all, if Bitcoin purchasing is a little too complicated for you, some offshore betting sites show you how to easily use Zelle for quick cash-to-Bitcoin purchasing and depositing.
Traditional forms of payment are also utilized but include delayed transaction times and often have added fees. Addition financial options include the following:
Deposit:
Cryptocurrency: (Bitcoin, Bitcoin Cash, Ethereum, Litecoin, etc)
Credit/Debit Cards:  Visa, Mastercard, Amex, Discover Card
Wire Transfers
MoneyGram
Western Union
Cashier's Checks
Money Orders
Withdrawal:
Cryptocurrency
Wire Transfers
MoneyGram
Western Union
Courier Checks
Money Orders
South Korean Baseball Rules
The rules for South Korean professional baseball are practically identically to those in Major League Baseball, or more specifically, the American League, because of their inclusion of the designated hitter position (though this is reportedly changing in the American game next season, which is bad news for NL purists). Regular season games are limited to 12 innings with post-season games limited to 15, with contests being declared ties if no one is ahead at the conclusion. In this respect, the Korean game blends the US game with Japan's Nippon Professional Baseball league.