Legally Betting On Star Wars Odds
Star Wars Betting Odds Are Live Now
Bet On Star Wars Movies, TV Shows, And More!
Watch Star Wars On The Disney+ App
Right now, in the Milky Way Galaxy, gamblers can bet on Star Wars from anywhere in the United States without the need to navigate the back-alley casinos of Mos Eisley to make it happen. If you've got a strange feeling about this, don't worry! Legally gambling on Star Wars odds can be done online, and we've compiled the Jedi Council of entertainment betting to show new padawans how it is done.
Whether interested in legal sports betting on Star Wars movies, or television series odds for the Mandalorian or other popular upcoming shows, the following guide reveals the mystical force behind it all without leading prospective gamblers to the dark side.
Is It Legal To Bet On Star Wars?
Yes. Betting on Star Wars odds is legal, but domestic books do not offer entertainment prop bets for related films and television series at this time.
The best legal option for betting on Star Wars films and TV shows is at an online sportsbook operating overseas. US gambling laws do not mention or forbid American bettors from placing wagers over the web on The Mandalorian, Rogue Squadron, or any other Star Wars odds with an offshore sportsbook site.
The force is strong with the Star Wars betting sites in the following table, and they fall under the offshore category previously mentioned.
Best Star Wars Betting Sites
How To Bet On Star Wars Movies & TV
Most Star Wars prop bets involve outcomes for series and films that will be released soon. Wagers can be placed on the fates of characters if old favorites appear for a cameo, how much a film will gross in the box office, or any other outcome that might generate interest from Star Wars fans.
Anything that involves a yes or no outcome, a winner or a loser or an over/under total on a Star Wars property can be bet upon, with Hollywood odds produced in the weeks leading up to the release date.
How To Bet On Star Wars Online
The best online sports betting sites that offer Star Wars odds are featured in the table above, but wagers cannot be placed until an account is created. This process is easy, and is detailed in the following steps:
Click through each of the Star Wars betting sites featured in the table above and figure out which sportsbooks you want to become a member with
On the homepage of the entertainment sportsbook, click on the sign up or join icon at the top of the screen
Enter the requested data accurately so that everything processes smoothly when payouts are requested and collected
Make your first deposit using a large variety of sports betting banking options 
Locate the entertainment section of the online sportsbook and place a bet on Star Wars!
Upcoming Star Wars Series To Bet On
Now that Disney is a few years into their ownership of the Star Wars franchise, they've prepared a massive slate of television shows revolving around individual characters both old and new.
Because entire seasons of television series are often posted on streaming services at the same time, betting odds for Star Wars tend to involve projected plot points and character appearances. Due to this, the Star Wars betting lines usually disappear once the series debuts.
Upcoming Star Wars Movies To Bet On
While the gears of the Star Wars movie-making machine has slowed down recently, there are still several projects in development that are slated for a future theatrical release. Below is a listing of Star Wars films that are confirmed to be in production and their release date, if announced.
Star Wars: Rogue Squadron – In Theaters December 22, 2023
A 4th Star Wars Trilogy Directed By Rian Johnson (TBA)
A Star Wars Movie Directed By Taika Waititi (TBA)
A Star Wars Movie Directed By Kevin Feige (TBA)
A Star Wars Movie Directed By J.D. Dillard (TBA)
Star Wars Prop Bets
Due to the nature of what is being offered at the online sportsbooks that have been included in the list of our top betting site reviews, all Star Wars odds qualify as propositions.
A prop bet in sports covers any and all outcomes that don't involve the point spread, moneylines for winners, and the over/under. None of those game line standards are involved in Star Wars gambling, meaning that they all are technically entertainment prop bets.
Mobile Star Wars Betting Apps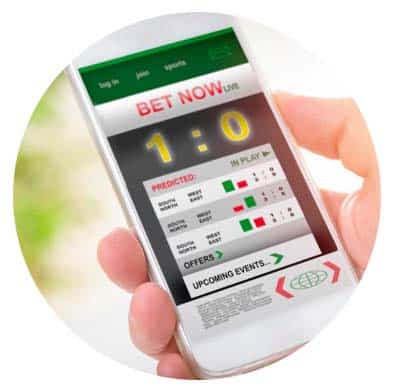 If you are standing in line at the theater or at a friend's house about to watch the season debut of The Mandalorian and you want to lay some action on whether or not an Ewok makes a surprise appearance, mobile Star Wars betting on Apple and Android powered devices can provide a calming force from anywhere inside the United States.
You don't need Uncle Lars and Aunt Beru's permission to access these mobile betting apps as long as you're 18 years of age, have some money to risk on Star Wars odds, and possess a web-ready smartphone or tablet with a mobile browser on board.
Using iPhones, iPads, and other popular hand-held devices, gamblers can click through each of the online sportsbooks linked to in this page and bet on Star Wars from anywhere they want, whenever they want.
Live Star Wars Betting
Live betting most often refers to wagering on sports while the games are ongoing, but because entertainment props for betting on Hollywood odds receive action until a winner is decided, they are also considered "live."
For instance, if a prop bet is produced that asks if Jabba The Hutt will appear in an episode of The Mandalorian, odds won't cash in or conclude until that bulbous, blubbering gangster appears (or doesn't).
These live betting lines for Star Wars will be removed and wagers will no longer be accepted once the movie or TV series in question hits the airwaves or theater screens, so be sure to visit the entertainment sportsbook well in advance of opening day.
Is There Gambling In Star Wars?
Yes! Han Solo (Harrison Ford/Alden Ehrenreich) and Lando Calrissian (Billy Dee Williams/Donald Glover aka Childish Gambino) are both notorious gamblers, and have even made wagers using the Millennium Falcon as the ante.
Much of the plot of Star Wars Episode 1: The Phantom Menace involves a massive wager on a podracer piloted by a young Anakin Skywalker. The activities closely resemble NASCAR betting, but in this case, the entire fate of the universe is on the line.
There is also an entire planet dedicated to gambling in Star Wars called Cantonica which was visited by a small team of good guys in The Last Jedi. Their time on the planet involved a heist amid a large crowd that had gathered for horse racing betting, albeit some oddball form of space alien horse.
"Never Tell Me The Odds" – Han Solo
One of Han Solo's many clever retorts offered throughout the Star Wars saga is "Never tell me the odds," which was first said to C3PO in response to his utterance of their futile probability of survival while trying to wade through an asteroid field in The Empire Strikes Back.
Han Solo is a true gambler and is willing to roll the dice while relying on his charm and skill for victory.
"I Like Those Odds" – The Mandalorian
The lead character of the hit Disney Plus series of the same name is more intrigued by betting odds than Han Solo, even though they tend to suggest certain death for The Mandalorian. Solo is affected negatively by a poor outlook, while Mando uses lousy betting odds as inspiration to prove them wrong.
Popular Star Wars Characters To Bet On
Original Trilogy
Prequel Trilogy
Disney Era Films
Television Series
Luke Skywalker

Han Solo

Princess Leia

Darth Vader

Yoda

Obi Wan Kenobi

Lando Calrissian

C3PO

R2-D2

Emperor Palpatine

Chewbacca

Boba Fett

Jabba The Hutt

Qui-Gon Jinn

Jar Jar Binx

Princess Amidala

Anakin Skywalker

Mace Windu

Obi Wan Kenobi

Yoda

Emperor Palpatine

Darth Maul

Count Dooku

General Grievous

Jango Fett

Ki-Adi Mundi

Rey

BB-8

Captain Phasma

Chewbacca

Finn

General Hux

Kylo Ren (Ben Solo)

Luke Skywalker

Han Solo

Poe Dameron

Rose Tico

Snoke

General Leia Organa

Baby Yoda/Grogu

The Mandalorian

Obi Wan Kenobi

Boba Fett

Ahsoka

Lando Calrissian

Cara Dune

Kuill

Greef Karga

Bib Fortuna

Moff Gideon

Bo-Katan Kryze

The Armorer
Previously Released Star Wars Movies And TV Series

Original Trilogy
Prequel Trilogy
Sequel Trilogy
Anthologies/Other
Star Wars Episode IV: A New Hope

Star Wars Episode V: The Empire Strikes Back

Star Wars Episode VI: Return Of The Jedi

Star Wars Episode I: The Phantom Menace

Star Wars Episode II: Attack of the Clones

Star Wars Episode III: Revenge of the Sith

Star Wars Episode VII: The Force Awakens

Star Wars Episode VIII: The Last Jedi
Star Wars Episode IX: The Rise of Skywalker

Rogue One

Solo: A Star Wars Story

Caravan of Courage: An Ewok Adventure

Ewoks: The Battle For Endor

The Clone Wars (Animated)

Television Series And Specials

Live-Action

The Mandalorian
Boba Fett
Obi-Wan
The Star Wars Holiday Special

Animated

The Bad Batch
Clone Wars
The Clone Wars
Ewoks
Droids
Rebels
Forces of Destiny
Resistance
Visions
Additional Resources For Betting On Star Wars