Fastest Paying Sportsbooks of 2023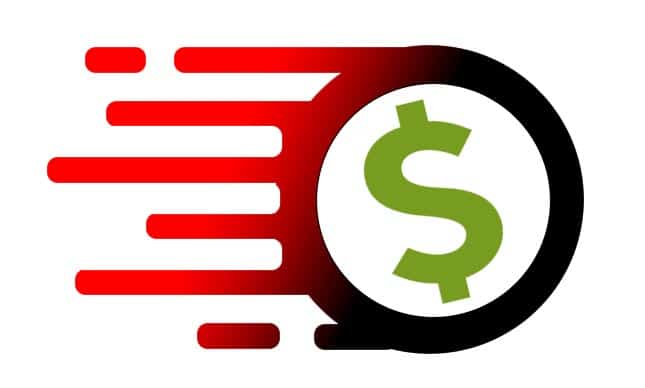 Fastest online banking methods for sportsbook withdrawals
Crypto processing times
Traditional banking processing times
For many sports bettors, the main consideration when choosing an online operator is the site's payout speed. While some bettors keep their balances in their sportsbook accounts, others regularly withdraw their winnings to pay bills, buy goods and services, and more. For such players, instant withdrawals are key, so they'll want to join only the fastest paying sportsbooks available online.
Of course, since payout time is largely dependent on each operator's sports betting deposit methods, you'll need to pick the right bet funding option – at the right legal betting site – to suit your needs. For instant payouts, our brief guide offers an instant payoff!
Bovada Sportsbook

#1 For Fast Payouts!
Bonus: 50% Sign-Up Bonus Up To $1000
Bonus: 75% Bitcoin Sign-Up Bonus Up To $750 
Bovada isn't just the best USA online sportsbook, it's also the fastest. It was the fastest to accept Bitcoin, it was the fastest host an interactive prop builder tool, and it's always the fastest to post fresh odds on the most popular games of the day. Given all that, it's no surprise that our Bovada sportsbook payout review rates it as the fastest cashout gambling venue, too!
Several Bovada sports betting payouts can be claimed same-day, from Bitcoin, Ethereum, and Litecoin withdrawals to Bovada Voucher withdrawals and MatchPay payouts using popular P2P and eWallet services.
No other book offers nearly as many rapid payout selections, making Bovada the best online sportsbook for fast and secure withdrawals across the board.
Best Online Sportsbooks For Fast Payouts & Same Day Withdrawals in 2023
What Are The Fastest Sports Betting Withdrawal Methods For 2023?
The fastest payout sportsbook options are all listed on this page, as each site featured here offers Bitcoin (BTC) and other cryptocurrency (i.e. altcoin) support.
Of course, ever since Bovada introduced the voucher/player transfer option and the MatchPay bet funding method, players have been attracted to the fact that they can use fast payout apps like PayPal, Venmo, and other P2P and eWallet services. Each of these instant cashout banking options is discussed below.
Since all reputable online sportsbooks accept Bitcoin deposits, they are, by default, instant BTC payout sites. In other words, as long as you deposit using the Bitcoin cryptocurrency, you can get same-day payouts when withdrawing in BTC.
Some sites also offer special Bitcoin bonuses for players who participate in Bitcoin gambling, which sweetens the pot even more. With Bitcoin, you can bet more, win more, and receive quick payouts every time, guaranteed!  
The best legal sports betting sites each support a menu of cryptocurrencies other than Bitcoin. These include altcoins like Ethereum (ETH), Litecoin (LTC), Bitcoin Cash (BCH), Ripple (XRP), Stellar (XLM), USD Coin (USDC), Cardano (ADA), Solana (SOL), and more.
As with Bitcoin betting, whenever you deposit with a supported altcoin, you'll be eligible for enhanced bonuses and same-day instant payouts. In addition to Bitcoin, we consider altcoins to be the best online sportsbook withdrawal method available.   
Sports betting vouchers (aka player transfers) were introduced by Bovada in 2020, allowing site members to buy and sell account balances among one another.
When you claim a withdrawal in the form of a Bovada Voucher, you can sell your balance to another player using popular P2P apps (PayPal, Venmo, Cash App, Zelle Pay) and eWallet P2P options (Apple Pay, Google Pay, Samsung Pay).
While you can't always get a guaranteed same-day payout via vouchers or player transfers, these remain a fast-paying withdrawal option.
Bovada MatchPay was reintroduced in the second half of 2021, and it works just like vouchers. And while MatchPay is exclusive to Bovada for now, it is not a Bovada product. That means that in the future, other sites may use the service to facilitate P2P banking options like PayPal, Venmo, Cash App, Zelle, and others. 
To sign up for MatchPay at Bovada, you can find the portal through the site's cashier page. It's fast and free to enroll. Once you're a MatchPay Trader, you can make online sports betting deposits and claim same-day payouts by simply selecting the MatchPay option from the banking menu. 
What Are The Easiest Sports Betting Cash-Out Options?
While most bettors consider instant cash-out options to be the best sportsbook payouts (and we agree!), they're not always the easiest sportsbook payouts.
That's because not everyone has – or even cares about acquiring – cryptocurrencies, and most sites haven't yet followed Bovada's lead and implemented a convenient sportsbook voucher system or jumped on the MatchPay bandwagon. That said, once you do have crypto, it's easily the simplest withdrawal method available.
Although some bettors may consider a traditional banking method (i.e. courier checks, bank wires, etc.) to offer the easiest payout, sportsbook operators simply can't get these withdrawals to you instantly. Such methods come with wait times of 2-7 days. That may be fine for many bettors, but it's something to keep in mind. If you still want to learn more about the fastest online banking options see our how-to guide for funding online sports betting accounts with cryptocurrency.
Average Wait Times For Each Legal Sportsbook Withdrawal Method
We've already discussed how – for our money (and yours!) – the best sportsbook payouts are cryptocurrencies and gambling vouchers/MatchPay. However, the list of supported withdrawal methods is far longer than those options alone, and while the remaining methods are slower, it's important to put them in context.
Truth be told, same-day payout sportsbook withdrawals aren't necessary for all players, but guaranteed, reliable payouts are. Additionally, no payout method should ever take more than a week or so, and the best online betting sites all meet that threshold with every banking avenue in their portfolios.
We grade every site we recommend as offering the best online sportsbook withdrawals, and here's how long you can expect each different supported cashout option to take, measured from the time you request your withdrawal to the moment you actually receive your winnings stateside:
Sports Betting Quickest Payouts Ranked
Avalanche (AVAX) – Same-day (3-5 min.), no fees
Litecoin (LTC) – Same-day (3-5 min.), no fees
Solana (SOL) – Same-day (3-5 min.), no fees
Stellar (XLM) – Same-day (3-5 min.), no fees
Binance Coin (BNB)- Same-day (15-20 min.), no fees
Bitcoin SV (BSV) – Same-day (5-10 min.), no fees
Cardano (ADA) – Same-day (5-10 min.), no fees
Polygon (MATIC) – Same-day (5-10 min.), no fees
Ripple (XRP) – Same-day (5-10 min.), no fees
Bitcoin Cash (BCH) – Same-day (15-20 min.), no fees
Chainlink (LINK) – Same-day (15-20 min.), no fees
Bitcoin (BTC) – Same-day (30-60 min.), no fees
Dogecoin (DOGE) – Same-day (30-60 min.), no fees
Ethereum (ETH) – Same-day (90-120 min.), no fees
Shiba Inu (SHIB) – Same-day (90-120 min.), no fees
Tether (USDT) – Same-day (90-120 min.), no fees
USD Coin (USDC) – Same-day (90-120 min.), no fees
ApeCoin (APE) - Same-day (90-120 min.), no fees
Sportsbook Vouchers* – Same-day, no fees
Player Transfers* - Same-day, no fees
MatchPay* - Same-day, no fees
PayPal* – Same-day, no fees
Venmo* – Same-day, no fees
Cash App* – Same-day, no fees
Zelle* – Same-day, no fees
Apple Pay/Apple Cash* – Same-day, no fees
Google Pay/G Pay* – Same-day, no fees
Samsung Pay* – Same-day, no fees
Courier Checks – 3-5 days, moderate fees
e-Checks – 3-5 days, moderate fees
Money Orders – 3-5 days, high fees
Bank Wires – 5-7 days, highest fees
As you can see, Bitcoin is among the slowest of the fast payout betting options available, despite being the most popular. This is due to the complexity of the Bitcoin blockchain, as processing the "blocks" to certify BTC transactions can take up to an hour depending on network congestion.
For truly instant payouts, Litecoin is the number-one option, as all the best legal sports betting sites support the popular altcoin. Stellar, USD Coin and sports betting with Avalanche or sports betting with Polygon are all speedy, but site access is limited.
*Sportsbook vouchers, player transfers, and MatchPay are currently available exclusively at Bovada LV, as are all P2P and eWallet options (which are used specifically with the voucher/transfer/MatchPay systems).     
Note: The above is a brief sportsbook cash-out overview. For more information and more in-depth sportsbook payout reviews, you can check out our legal sports betting banking comparison page.
Fastest Sportsbook Deposits – Because They're Important Too!
While most players are concerned with the fastest payouts when betting sports online, it's equally important – and in many cases, even more important – that your chosen deposit method gets the job done as quickly as possible.
After all, if you don't have money in your account, you literally can't bet, and the best betting lines tend to shift by the hour. "Blink and you'll miss it," as they say.
Well, these are the best deposit options so you'll never have to blink at all:
Credit/Debit – Instant
Cryptocurrency* – 5-90 minutes
Vouchers/MatchPay/Player Transfers – 1-2 days
Retail Money Transfers – 2-3 days
Cashier's Checks – 3-5 days
Money Orders – 3-5 days
Bank Wires – 5-7 days
*For those sports bettors new to crypto, you can bypass lengthy exchange waiting periods (5-10 days on average) and have your chosen cryptocurrency ready to send to your sportsbook of choice within the hour when you buy crypto with Atomic Wallet.  
Disclaimer: The above sports betting banking services are independent third-party companies and do not endorse this site or any online sports betting site in any way. This page is for informational purposes only.