Maryland Sports Betting – Bet On Sports Legally In MD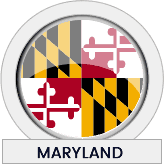 Online Sports Betting Available In MD Via Offshore Sportsbooks
Domestic Maryland Sportsbooks Not Available At This Time
Legislative Movement Toward Sports Betting: Pending Regulation
The question of whether Maryland residents wanted domestic sports betting to exist within their state borders was responded to in a positive manner in 2020, and now MD lawmakers must decide where they want sportsbooks to exist, what the minimum age will be to partake, and whether they'll allow for online or mobile betting options.
Fortunately, Maryland sports betting doesn't have to wait for the legislature to get their act together. International betting sites are able to take bets from people inside of MD right now, and our guide includes the best offshore sportsbooks in business today. We also provide a glimpse of what MD bettors can expect when visiting a premium overseas sports betting site, including mobile sportsbook apps, bonus offers, funding options, and more.
Is Sports Betting Legal In Maryland?
Although Maryland lawmakers have approved of in-state sports betting, the regulatory process is just now beginning, and domestic sportsbooks should debut at some point in 2021 or after. However, overseas sports betting sites can accept wagers from Maryland bettors over the web because there are no laws in place to prevent international sportsbooks from doing so. For further details, please visit our gambling laws page via our menu at the top of this page.
Maryland Sports Betting Bills
Since Maryland residents voted in favor of sports wagering in 2020, lawmakers in the state have been tasked with developing rules and regulations for the practice. Over the course of three months, legislators finally designed and passed HB940 in May of 2021. The bill covers all legal facets of sports gambling and authorizing MD sports wagering via physical and online/mobile sportsbooks.
A unique aspect of this MD sports betting bill is that it extends opportunities to minority and women-owned businesses looking to become sports wagering operators. For more information on Maryland sports betting bills, be sure to check out our bill tracker page.
Best Online Sportsbooks For Maryland Residents
Our team has searched for best available sportsbooks accepting Maryland residents, and below you'll find the sites that have passed our vetting process, where we look at the sportsbooks' betting lines, wagering type selection, security features, customer support, generous bonuses, and promotional offerings, and live and mobile betting capabilities.
There is no obligation to register for an account or place a bet upon viewing the site. For more details, check out our unbiased reviews written by our staff for each of the sports betting sites.
MD Sports Betting Details
The following details represent MD's current offshore sports betting status and will be updated to reveal their domestic allowances as they become available.
Legal Sports Betting: Offshore Only, Domestic On The Way
Maine Minimum Sports Betting Age: 18 years old (via Offshore), Domestic TBD
Land-Based Sportsbooks: TBD
Online Sportsbook: Offshore Only, Domestic TBD
Mobile Betting App: Offshore Only, Domestic TBD
In-Play/Live Betting: Offshore Only, Domestic TBD
Estimated Revenue: TBD
Eligible Operators: TBD
Licensing Fee: TBD
Tax Rate: TBD
Tax-Funded: TBD
What You Can Bet On In Maryland:
Residents of Maryland can place real money wagers on all betting lines, odds, and props for all games, teams, and players across all college and professional sports (via Offshore)
What You Can't Bet On In Maryland: 
No restrictions (via Offshore)
Where Can I Bet On Sports In Maryland?
The only legal option Maryland residents have when it comes to betting on sports is at online sportsbooks that operate offshore and outside the jurisdiction of Maryland and the United States. If MD lawmakers finalize domestic sports betting regulations next year, then residents will finally be able to bet on sports at the local level.
Mobile Sports Betting Apps In MD
The offshore sportsbook sites that we list on this page make their betting sites available on Apple and Android smartphones and tablets through the use of web-apps. These mobile betting apps can be accessed by clicking on any of the links that we provide in this guide using an up-to-date mobile browser. All the latest betting lines can be accessed from anywhere in the state as long as you've got a solid data connection.
The best part is, because these apps are web-based and don't require a download, odds can be pulled up in no time in the palm of your hand. Grab your iPhone or iPad and check out any of the online sports betting apps we recommend and see for yourself.
Live Betting
Schedules don't always align with the start of a ball game, so live betting removes the restrictions that the clock can place on your wagering options. Bet on sports on your time with the live betting options offered up at our top online sportsbooks for MD gamblers. Bet on live odds for the point spread, money line, over/under, and more, but don't wait too long, because once the game is over, the betting window closes.
MD Online Sportsbook Funding Options
If you are seeking the most reliable online sportsbook funding option with the fastest transaction times, Bitcoin (BTC) is your answer. Because cryptocurrency has no regulations attached to slow down online transaction times, Bitcoin deposits can complete within minutes. Bitcoin withdrawals can complete in less than a day, with all non-crypto options requiring at least 24 hours before funds hit Bitcoin wallets.
Maryland sports bettors also have the following, more traditional sportsbook funding options at their disposal:
Deposit: Debit Cards, Credit Cards, Wire Transfer, Zelle (USD-to-BTC), Cashier's Check, Money Transfer Services, Cryptocurrency (Bitcoin, Bitcoin Cash, Ripple, Cardano, Ethereum, Litecoin, etc.)
Withdrawal: Wire Transfer, Cashier's Check by Courier, Cryptocurrency* (Same Day Withdrawals)
Sports Betting Cities in Maryland
Baltimore
Baltimore is the heart of the sports action in Maryland. Residents have both the Baltimore Orioles (MLB) and Baltimore Ravens (NFL) to root for and both teams have a passionate and dedicated fanbase. Residents can bet on the NFL or the MLB through the licensed offshore sportsbooks listed above.
College Park, MD
Maryland is also home to a Division 1 college program at the University of Maryland Terrapins. The Big Ten school is more known for its men's basketball team, but their college football odds are typically featured at online sportsbooks. College basketball betting lines and NCAAF odds are available through any of the legally sanctioned offshore sportsbooks recommended in this guide.
---
Frequently Asked Questions About Maryland Sports Betting
Will I get arrested for betting on sports in Maryland?
When you place a wager at any of the betting sites we recommend, you're not breaking any state or federal laws so you don't have to worry about being arrested or charged with a crime. However, using an illegal bookie that operates inside Maryland state lines is a serious offense and we strongly advise against betting with them.
What teams can I bet on in Maryland?
If you sign up and play at an offshore sports betting site that accepts members from Maryland, then you'll be happy to know there are no limitations on what college, professional, or international teams you can bet on.
Are there any local sportsbooks in Maryland?
There are no domestic sportsbooks within Maryland at this time, but because voters recently made sports betting legal in MD, they'll be appearing soon. For now, the only legit option for sports betting in Maryland is with the offshore books that we link to on this website.
What is the legal minimum sports betting age in Maryland?
Maryland does not have a minimum sports betting age instituted since the state has not decided on that particular regulation. However, offshore sports betting sites legally allow you to sign up and play as long as you're at least 18 years old.
Should I accept a bonus from an online sportsbook?
While these offers create a scenario where your bankroll will be enhanced by a percentage of your deposit total, we advise reading through the attached terms to ensure the requirements match your sports betting strategy.
---
Maryland Legislative Resources
We believe in giving Maryland residents and everyone in the United States direct access to the governor, senators, and representatives that determine the laws of your state. Below you'll find resources that will put you contact with the individuals at the state level of government, so you can be sure that your voice is heard.
MD Gambling Resources
We acknowledge and understand the potential pitfalls and the addictive nature of problem gambling and sports betting. We encourage everyone to play responsibly and to never bet more than you're willing to lose because nothing is a safe bet. If you or someone you know in Maryland is currently struggling with problem gambling, please contact the Maryland Center of Excellence on Problem Gambling for help.