Maryland Sports Betting – Bet On Sports Legally In MD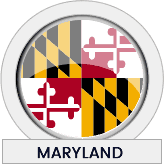 At the start of 2019, it looked as though Maryland lawmakers would legalize sports betting after introducing six bills that would allow land-based, online, and mobile sportsbooks to operate inside state lines. However, that dream soon became a nightmare for residents hoping their state would pass and sign a sports betting bill into law.
Before the Ides of March, every piece of sports betting legislation that was introduced failed to make it to either the House or the Senate floor for a vote.
Now, MD residents will have to wait another year for lawmakers to try again, meaning 2020 will be the absolute earliest we will see sportsbooks operating inside state lines.
Fortunately, all hope is not lost for sports fans in Maryland wanting to get in on the action because residents of the state can already legally bet on sports as long as the sportsbook operates outside the Maryland and United States jurisdiction
Is Sports Betting Legal In Maryland?
At the local level, sports betting is still not legal, and after the failed attempts to pass legislation in 2019, it means residents will have to wait until 2020 at the earliest before being allowed to place real money wager at state-regulated sportsbooks. Several states, including Washington DC, have legalized sports betting in 2018 and 2019, but Maryland will remain a big question mark since the introduced legislation was shot down rather quickly.
In May 2018, the Supreme Court overturned a federal law known as PASPA, which had prevented states from legalizing sports betting in their respective jurisdiction. However, even though state lawmakers have yet to allow sportsbooks to operate inside states lines, MD resident can take advantage of the fact that they can already legally sign up and play at sports betting sites that are located offshore and outside the jurisdiction of Maryland and the United States.
Maryland Sports Betting Bills
Sports betting won't be coming to the state of Maryland for at least another year due to the failed attempts to pass any of the bills introduced by state lawmakers during the 2019 legislative session. Even though none of the measures made it to a floor vote, you can find all of the sports betting bills that were presented to the legislature this year with our US sports betting bill tracker, which will also update you as soon as new sports gambling bills are introduced for the next session.
Best Online Sportsbooks For Maryland Residents
Our team has searched for best available sportsbooks accepting Maryland residents, and below you'll find the sites that have passed our vetting process, where we look at the sportsbooks' betting lines, wagering type selection, security features, customer support, generous bonuses, and promotional offerings, and live and mobile betting capabilities. There is no obligation to register for an account or place a bet upon viewing the site. For more details, check out our unbiased reviews written by our staff for each of the sports betting sites.

MD Sports Betting Details
Since there is no chance Maryland residents will see a sportsbook operating inside state lines for at least another year, the following breakdown will provide you with all the details you need to know.
Legal Sports Betting: Offshore Only
Maine Minimum Sports Betting Age: 18 years old (via Offshore)
Land-Based Sportsbooks: TBD
Online Sportsbook: Offshore Only
Mobile Betting App: Offshore Only
In-Play/Live Betting: Offshore Only
Estimated Revenue: TBD
Eligible Operators: TBD
Licensing Fee: TBD
Tax Rate: TBD
Tax-Funded: TBD
What You Can Bet On In Maryland:
Residents of Maryland can place real money wagers on all betting lines, odds, and props for all games, teams, and players across all college and professional sports (via Offshore)
What You Can't Bet On In Maryland: 
No restrictions (via Offshore)
Where Can I Bet On Sports In Maryland?
At least until 2020, the only legal option Maryland residents will have when it comes to betting on sports will be at online sportsbooks that operate offshore and outside the jurisdiction of Maryland and the United States. If MD lawmakers pass legislation next year, then residents will finally be able to bet on sports at the local level.
Sports Betting Cities in Maryland
Baltimore
Baltimore is the heart of the sports action in Maryland. Residents have both the Baltimore Orioles (MLB) and Baltimore Ravens (NFL) to root for and both teams have a passionate and dedicated fanbase. Residents can bet on both teams through the licensed offshore sportsbooks listed above.
College Park
Maryland is also home to a Division 1 college program at the University of Maryland Terrapins. The Big 10 school is more known for their men's basketball team, but their football program is a strong force in the Big 10 East division. College betting lines are available through any of the legally sanctioned offshore sportsbooks recommended in this guide.
---
Frequently Asked Questions About Maryland Sports Betting
Will I get arrested for betting on sports in Maryland?
When you place a wager at any of the betting sites we recommend, you're not breaking any state or federal laws so you don't have to worry about being arrested or charged with a crime. However, using an illegal bookie that operates inside Maryland state lines is a serious offense and we strongly advise against betting with them.
Are mobile sports betting apps legal in Maryland?
Since sports betting is not yet legal in the state of Maryland, online and mobile app-based sportsbooks cannot operate from the state's jurisdiction. However, if the website or app runs its operations offshore and outside the United States - such as the sportsbooks we feature - then it is legal.
What teams can I bet on in Maryland?
If you sign up and play at an offshore sports betting site from Maryland, then you'll be happy to know there are no limitations on what college, professional, or international teams you can bet on.
Are there any local sportsbooks in Maryland?
Since all of the sports betting bills that were introduced during the 2019 legislative session failed to pass, Maryland residents will have to wait until at least 2020 before any local sportsbooks can operate inside state lines.
What is the legal minimum sports betting age in Maryland?
Maryland does not have a minimum sports betting age instituted since the state does not allow sportsbooks to operate in its jurisdiction. However, offshore sports betting sites legally allow you to sign up and play as long as you're at least 18 years old.
Who regulates sports betting in Maryland?
Maryland has not established a regulatory committee to authorize and license sportsbooks in the state. If Maryland does legalize sports betting in the future, then you can expect either a gaming commission or the state lottery to regulate sports betting.
---
Maryland Legislative Resources
We believe in giving Maryland residents and everyone in the United States direct access to the governor, senators, and representatives that determine the laws of your state. Below you'll find resources that will put you contact with the individuals at the state level of government, so you can be sure that your voice is heard.
MD Gambling Resources
We acknowledge and understand the potential pitfalls and the addictive nature of problem gambling and sports betting. We encourage everyone to play responsibly and to never bet more than you're willing to lose because nothing is a safe bet. If you or someone you know in Maryland is currently struggling with problem gambling, please contact the Maryland Center of Excellence on Problem Gambling for help.