Legal Horse Racing Betting Guide for 2023
Online horse betting = MORE ODDS (horse racing futures, props, etc.)
Legally bet on daily horse races at US + international horse tracks
Bet on Triple Crown races – Kentucky Derby + Preakness + Belmont!
Ah, the Sport of Kings! There's really nothing quite like it, and it's one of the classic betting sports in all of history. Horse racing today is as popular as ever, with the biggest horse races garnering hundreds of millions of dollars in betting handle while the industry clears several billion in wagers each year.
If you're wondering how to legally bet on sports and live in the United States, you likely have several horse race betting options available to you, including physical tracks, OTBs, and online options domestically and at international sites. Our legal horse racing betting guide will teach you about pari-mutuel betting and will have you lining up at the gate, handicapping like a pro, and raring to go!
Is Horse Racing Betting Legal?
Yes! Horse racing betting is the most common legal betting market in the US, with over 40 states offering in-person and/or local online betting options. With legitimate international online racebooks added to the mix, residents of all 50 states can bet on horses legally, all year long.
At the federal level, horse racing betting was legalized by the Interstate Horse Racing Act of 1978 and is governed under Title 15, Chapter 57 of the United States Code.
Betting on the ponies is not considered traditional gambling, nor is it part of the sports betting market from a legal perspective. Horse bets are pari-mutuel (aka pool-based), and it is for this reason that the industry is its own unique market.
Best Horse Racing Betting Sites For 2023
Triple Crown Races
The American Triple Crown of Thoroughbred Racing has been an institution since the Kentucky Derby's inaugural running in 1875. The three races include – in order – the Kentucky Derby, the Preakness Stakes, and the Belmont Stakes.
Kentucky Derby betting turns the largest handle in the sport, and you can usually get Kentucky Derby odds (in the form of futures) several weeks or even months before the race. Preakness Stakes betting odds are offered shortly after the Derby, and Belmont Stakes odds are posted a week or two after that.
Breeder's Cup – USA
Pegasus World Cup – USA
Japan Cup – Japan
Epsom Derby – England
The Everest – Australia
Melbourne Cup – Australia
Sheema Classic - UAE
Prix de l'Arc de Triomphe – France
Saudi Cup – Saudi Arabia
Horse Racing Betting Apps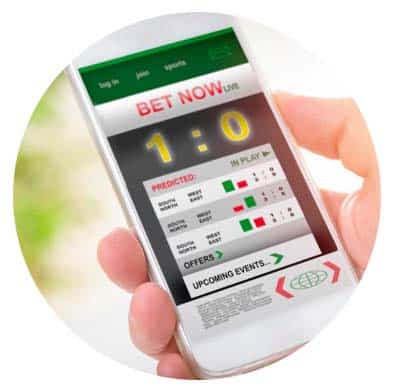 Most horse bettors who wager online do so via mobile, as mobile horse betting is quickly becoming the preferred way to play. The online racebooks we recommend all have dedicated web app portals that dynamically conform to fit any device you're using, from the smallest smartphones to the biggest tablets.
For the best horse racing betting apps, iPhone and Android users don't need to download anything from the App Store or Google Play. Instead, just visit any site listed here using your mobile device, and you'll get a custom betting experience where you can browse the boards quickly and submit your ticket with one-touch controls. Giddy up!
Live Horse Racing Betting Online
Nothing beats live horse racing at your local track. Unfortunately, most of us can't get to our local tracks regularly, or we don't have local tracks to begin with. But even those who can get to the races every day can't actually partake in live horse racing betting, as it simply doesn't exist in those terms.
Live betting is usually defined as wagering on an event during the action itself. In horse racing, once the Thoroughbreds are lined up in their starting gates, all betting is closed, and your horse racing odds are locked in.
Thus, you're not really missing any opportunities when wagering online, despite not getting the thrills of being in the stands as these magnificent beasts sprint down the homestretch. As long as you keep up with the horse racing schedule, you'll always have plenty of chances to win.
States With Legal Domestic Horse Racing Betting

You can legally bet on horses in 43 of 50 states. These states have an assortment of track-based betting, off-track betting (OTB) terminals, and online domestic betting options. Many offer all three, but each allows for US-based Internet wagering with the exceptions of Nevada and Texas. That said, it is possible to wager online legally in 48 US states if you use a racebook operating outside American borders.
WA does not allow any form of online gambling. However, the top offshore racebooks allow residents from Washington to sign up and bet real money, and we've never heard of any fines or other legal issues stemming from such participation. Still, please follow all local gambling mandates.
The states where you can conveniently bet the ponies are:
Alabama
Arizona
Arkansas
California
Colorado
Connecticut
Delaware
Florida
Idaho
Illinois
Indiana
Iowa
Kansas
Kentucky
Louisiana
Maine
Maryland
Massachusetts
Michigan
Minnesota
Missouri
Montana
Nebraska
Nevada*
New Hampshire
New Jersey
New Mexico
New York
North Dakota
Ohio
Oklahoma
Oregon
Pennsylvania
Rhode Island
South Dakota
Tennessee
Texas*
Vermont
Virginia
Washington†
West Virginia
Wisconsin
Wyoming
*No domestic online betting (tracks/OTBs only)
†No domestic or international online betting
States Where Domestic Horse Racing Betting Is Illegal
Alaska – No horse tracks, no domestic betting
Georgia – Horse tracks allowed, no domestic betting
Hawaii – No horse tracks, no domestic betting
Mississippi – No horse tracks, no domestic betting
North Carolina – Horse tracks allowed, no domestic betting
South Carolina – Horse tracks allowed, no domestic betting
Utah – Horse tracks allowed, no domestic betting
Washington DC – No horse tracks, no domestic betting
Note: Though you cannot find domestic betting options in the above states, you can safely and legally wager on horses via any legitimate online racebook operating outside of US borders.
Domestic Vs. International Online Horse Racing Betting
American gamblers have ample horse racing options at tracks, OTBs, and domestic online sites. However, not all US residents can wager so readily on horses through these means, which is where the best international racebooks at legal online betting sites come into play.
Each common venue for Thoroughbred betting is briefly explained below, and the vast majority of states only require horseplayers to be 18 or older.
Racetracks
Most US states have active horse racetracks within their borders, and at the majority of these, fans can wager at the track itself on race day.
Most active horse tracks that have on-site betting also have simulcast options for betting on other races around the country.
Racinos
Racinos are casino-like add-ons at racetracks and dog tracks. Sometimes, you can wager on races happening right at the racinos, but these mostly operate as simulcast venues, allowing patrons to bet on horse racing on TV. Such simulcast lounges usually feature races from across the entire United States.
Off-Track Betting
Off-track betting sites, aka OTBs, comprise standalone retail outlets that operate horse betting ticket windows. Often, there will be simulcast broadcasts at these small venues, but not always. OTBs are often viewed as remote betting kiosks, and many of them are run by the prominent tracks within their states of operation.
Domestic Online
There are a few companies that offer domestic online horse betting on races happening throughout the USA.
These are open to residents in 41 states, but those living in the remaining nine states (plus Washington DC) will have to wager with sites that operate outside of US jurisdiction, like those listed on this page.
Intl. Online
Online horse racing betting is available to residents in all 50 states, provided they use a racebook that operates outside of US borders. The top racebook online options usually feature all US races and a number of international races from countries like Canada, Mexico, England, Ireland, Japan, Australia, and the Middle East region. For sheer quantity, this is the best option by far for the most avid pony enthusiasts.
Off-Track Betting Explained
Technically speaking, the off-track betting definition has expanded over the years. While these historically applied to physical storefronts located away from the racetracks where books took action on those remote races (as you see in the box above), OTBs are now considered to be any location that accepts wagers on any race taking place elsewhere, whether in the US or internationally.
Simulcast racing parlors are OTBs, using wire communications and television broadcasts to bring the races to the bettors. However, with the advent of online horse betting, it can be argued that domestic Internet-based racebooks and online racebooks operating overseas are also OTBs.
The offshore horse betting sites recommended here that are outside of US jurisdiction can be referred to as international off-track betting venues, and it is helpful to view them in this context.
What Is Pari-Mutuel Betting?
Pari-mutuel betting is a type of wagering where the house – in this case the racetrack or racebook – does not extend credit or take on any risk. In traditional casino gambling, games are "house-banked," meaning that you can win money from and lose money to the house.
Racebooks work on a different system, whereby all wagers come in, are pooled together, a commission is removed from the pot by the bookmaker, and then the remainder is paid out to winners. This is pari-mutuel wagering. Literally, the pari-mutuel definition is "mutual betting," or pool-based betting.
This disparity between the pari-mutuel system and typical gambling is how horse racing betting got its own laws separate and distinct from the state and federal gambling regulations that govern casinos and card rooms in the US.
When you're learning how to bet on horse racing, the first step is to understand the basic bet types involved. Unlike sports betting – with the exceptions of things like Triple Crown futures – all wagering is pool-based, or pari-mutuel, in nature. That means that bettors won't know the exact payouts associated with their wagers until all bets are in and the racebook takes its cut.
While there are numerous wager types available, the following are the basic horse bets you'll see for most races. When you see a line you like, make sure you saddle up and place your wagers immediately. Remember: The smartest bet in horse racing is the one you're actually able to place – and when you win, you'll have something to show for it!
Straight Wagers (WPS)

Win – A bet on the winner of the race.
Place – A bet that a given horse will finish in either first or second place.
Show – A bet that a given horse will finish in first, second, or third place.
Exotic Wagers (Parlays)

Exacta – A bet on the winner and runner up, in order.
Quinella – A bet on the winner and runner up, in either order.
Trifecta – A bet on the winner, second place, and third place, in order.
Superfecta – A bet on the winner, second place, third place, and fourth place, in order.
Box Bet – A bet where you "box" a group of horses and wager on every possible exacta, trifecta, superfecta, etc. outcome.
Daily Double – A bet on the winners of two consecutive races on the ticket.
Pick 3 – A bet on the winners of three consecutive races on the ticket.
Pick 4 – A bet on the winners of five consecutive races on the ticket.
Pick 6 – A bet on the winners of six consecutive races on the ticket.
Funding Options For Online Horse Racing Betting
There are numerous ways to fund your accounts at horse racing online betting sites. All of the top online racebooks accept Bitcoin and other cryptocurrencies, which are their preferred methods of deposit. Not every site will accept each of the following banking options, but you'll find support for most of them as a general rule:
When your horse racing results come in and you're a winner, you'll want to withdraw your money ASAP. For this, there is no better option than Bitcoin, as BTC is the only way US horseplayers can get same-day payouts from legal overseas betting sites. The following are the most common payout options:
Bitcoin (BTC)
Altcoins (Litecoin, Ethereum, Ripple, Bitcoin Cash, etc.)
Courier Checks
Money Orders
Bank Wires
Betting Vouchers
Person-To-Person Services (P2P)
Sportsbook Bonuses for Online Horse Racing
Online sportsbooks and racebooks typically have several sign-up bonuses available for new customers, and many also offer account reload bonuses for returning members who are topping off their bankrolls.
Some horse racing betting sites will allow sportsbook bonuses to be applied to the ponies, though not all will. For those that do, the bonuses in question are deposit-match promos where the bookmaker matches a percentage of your deposit with free money.
Regardless of whether or not you can use these kinds of bonuses with online racebooks, all horse racing betting sites give their customers track rebates. Horse racing rebates are usually set at between 7% and 9%, and they refund you a portion of your wagers on specific races, whether you win or lose. Be sure to check your site's terms and conditions to see which races are eligible for horse betting rebates.
Past Triple Crown Winners
There have been 13 Triple Crown winners since the circuit was formally established in 1875. The last Triple Crown winner was Justify, who won the prestigious series in 2018.
Before Justify, American Pharoah won in 2015, ending a 37-year drought. These winners tend to come in bunches with long periods in between.
*Secretariat, who won the Triple Crown in 1973, still holds every track record for all three races.*
2018 – Justify
2015 – American Pharoah
1978 – Affirmed
1977 – Seattle Slew
1973 – Secretariat
1948 – Citation
1946 – Assault
1943 – Count Fleet
1941 – Whirlaway
1937 – War Admiral
1935 – Omaha
1930 – Gallant Fox
1919 – Sir Barton
Horse Racing Betting Resources
To learn more about the Sport of Kings and to keep up on the laws and state of horse racing in the US, the following resources should be your primary destinations.