Legal Sports Betting Age By State In The USA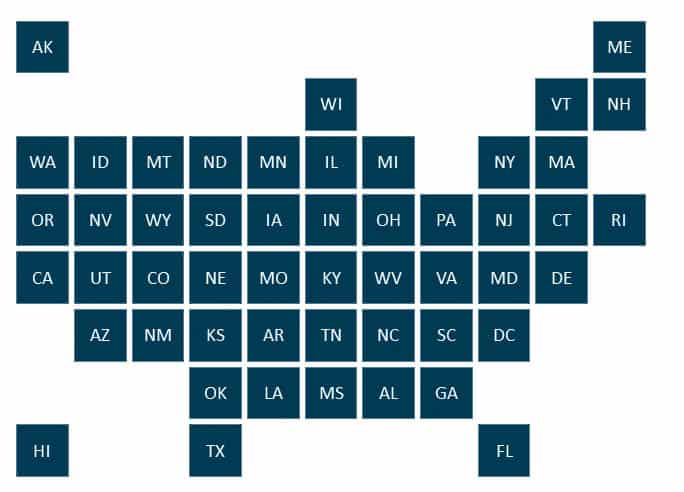 Domestic Sportsbook Minimum Age Requirements Vary By State
Offshore Sports Betting Sites Accept US-Based Members At 18
7 States Currently Offer Domestic Sports Betting At 18 Years Old
The landscape of sports betting across America changes from state-to-state, but the details become easier to follow when considering offshore sportsbook sites. The legal sports betting age by state in the USA fluctuates from 21 to 18, but offshore sportsbook sites mostly favor eighteen-year-old customers.
The following guide reveals the differences between the legal sports betting age using domestic and offshore sportsbooks in each state, and also details the advantages that international gambling sites hold over their state-based counterparts.
States Where The Legal Sports Betting Age Is 18
States With Local 18+ Sportsbooks
What states can you gamble at 18 on pro and college sports? The following states feature domestic sportsbooks that allow for eighteen and over legal sports betting to take place.
Montana (Mobile/Online)
New Hampshire (Online/Mobile/In-Person)
New Mexico (In-Person)
Rhode Island (Online/Mobile/In-Person)
Tennessee (Online/Mobile)
Washington, D.C. (Online/Mobile/In-Person)
Wyoming (Online/Mobile)
Offshore Sportsbooks That Allow For 18 & Over Betting
Because offshore sportsbooks like the ones we link to on this page operate from within regulated gambling jurisdictions that fall outside of the United States, they are able to accept bets online over the Internet without violating any state or federal laws that are currently in place.
The only state that has a prohibition on all online gambling is Washington, however, their legislature is considering legalizing web-based sportsbooks which will remove this law from the books. Furthermore, there have yet to be any arrests made in WA for online sports betting with an offshore book, and several of the sites listed among our sportsbook reviews accept members from there.
US States Where The Legal Betting Age Is 21
States With Regulated 21+ Sportsbooks
A majority of the domestic sportsbooks that are currently operating in the USA are limited to 21 and older patrons. These state-regulated sports betting venues are open to residents and visitors to the region.
Customers can travel to any local brick-and-mortar sportsbook, or one that is located in another state, but online sports betting cannot take place across state lines because of the Federal Wire Act and UIGEA.
The following states feature domestic in-person, online, or mobile sports betting to 21+ gamblers:
Arizona (In-Person, Online, Mobile)
Arkansas (In-Person, Online, Mobile)
Colorado (In-Person, Online, Mobile)
Connecticut (In-Person, Online, Mobile)
Delaware (In-Person, Online, Mobile)
Illinois (In-Person, Online, Mobile)
Indiana (In-Person, Online, Mobile)
Iowa (In-Person, Online, Mobile)
Louisiana (In-Person, Online, Mobile)
Maine (In-Person, Online, Mobile)
Maryland (In-Person, Online, Mobile)
Michigan (In-Person, Online, Mobile)
Mississippi (In-Person, Online, Mobile)
Nevada (In-Person, Online, Mobile)
New Jersey (In-Person, Online, Mobile)
New York (In-Person, Online, Mobile)
North Carolina (In-Person)
North Dakota (In-Person)
Ohio (In-Person)
Oregon (Online/Mobile)
Pennsylvania (In-Person, Online, Mobile)
South Dakota (In-Person)
Virginia (In-Person, Online, Mobile)
West Virginia (In-Person, Online, Mobile)
Wisconsin (In-Person, Online, Mobile)
What Is The Legal Age For Betting On Sports At Offshore Sportsbooks?
18 years old is the legal age to become a member with most offshore sportsbooks, but some of them require customers to be 19, 20, and 21 to place a wager online. The international sports betting sites that have earned our highest ratings all feature a minimum age of 18 to join and lay some action on favorite teams, players, and games.
How To Sports Bet Under 21
While online sports betting sites can be pulled up in seconds, no bets can be placed until you create an account. 18 and over sports bettors can create a new account within a minute or two – here's how:
Before signing up as a new user with an offshore sportsbook site, have a look through each one of our top online sports betting options listed above. The perks, features, and wagering options differ across the board so consider becoming a member with multiple books to exploit them all.
At the top of any page within the online sportsbook site will be a join button that can be clicked to initiate the new member process.
Type in the requested information to create an account and sportsbook login.
The next page will ask for the first deposit that must be made before any bets can be submitted. There will be several sportsbook banking options in play that include cryptocurrency and USD.
Now that sportsbook accounts are funded with betting cash, new account holders can wager on the sport of choice at 18 from anywhere inside the United States at 18 as long as the site serves that region.
Sports Betting Apps For 18 Year Olds
Legal sports betting can take place on mobile devices across the entire country at 18 years of age when using our top sportsbook apps that are based in a regulated international gambling jurisdiction.
Offshore sportsbook sites do things a little bit differently when it comes to mobile sports betting - there is no download required to Apple or Android devices.
All that is mandatory is a connection to the web and the best in online sports betting can be instantly accessed in any US state by clicking on the sportsbook links provided above using iPhones, iPads, or any other current smartphone or tablet.
Can You Gamble At 18 On Sports?
Yes. There are some states that regulate local sportsbooks with an allowance for 18-year-old customers to partake. Most domestic books require a minimum age of 21 to enter and place a bet on sports, largely due to alignment with the local drinking age.
While some offshore sports betting sites require minimum ages that exceed eighteen, the online sportsbooks we include and link to in the list above are all 18-friendly, and between them, they cover every single state in the USA.
Legal Sports Betting At 18 vs. 21
The options for legal sports betting differs across each US state, and that includes the minimum age to lay some action at a regulated sportsbook. For a detailed breakdown of which states offer legal sports betting through domestic means at the age of 18 and 21, refer to the sections above.
If you're 21 and located inside of the USA, any legitimate sportsbook (mobile/online/in-person/offshore) can be legally accessed and utilized to bet on sports depending on which state you're in.
It gets tricky when dealing with betting on sports legally between ages 18 and 20, which is a major factor as to why we so strongly endorse overseas gambling sites like the ones above.
There's no need to worry about state-to-state regulations when using our top offshore sportsbook sites as they all allow for eighteen-year-old members to join. Legally betting at 18 at domestic sportsbooks is a much more limited prospect.
Can You Sports Bet At 18 At Offshore Sportsbooks?
Yes, 18 and over sports bettors located inside of the United States are legally able to wager on pro or college athletics over the web using an offshore sportsbook that is operating from within a regulated gaming jurisdiction.
Not all international sports betting sites allow members at the age of 18 from within the United States. However, the online sportsbooks we feature in this guide all allow for 18+ members to join and bet on sports 24/7/365.
Why Is The Legal Gambling Age 21 Across Most Of The USA?
The decision-making process that leads regional politicians to place a 21 and older requirement on legal sports betting at domestic sportsbooks is largely due to the minimum age to drink alcohol. Because domestic books often reside or are operated from within a retail casino that serves alcohol, it makes sense to forbid 20-and-under customers.
Even in states where 18+ sports betting is legal, domestic sportsbooks may still restrict their services to 21 and older patrons to avoid any complications with serving alcoholic beverages on site.
Do You Have To Be 21 To Sports Bet?
No. Some states and most offshore sportsbooks allow for legal sports betting at the age of 18 or older. A majority of domestic sportsbooks require a minimum age of 21 to wager on pro or college sports. The online sportsbooks we link to above are located overseas and serve 18 and older gamblers across every state in the USA between them.