New Jersey Sports Betting – How To Bet On Sports Legally In NJ in 2023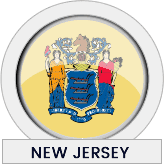 New Jersey Was Responsible For The Repeal of PASPA
In-Person Domestic Sports Betting In New Jersey Is Legal
Legal Mobile & Online Sports Betting In NJ Via Mobile Apps & Web
New Jersey sports betting at the local level was one of the first markets to expand the US gambling market as a state that features legal sports betting via legislation that was enacted after PASPA's removal in 2018.
The Garden State has become a leader in domestic sports gambling reform, leading the way with multiple local options for sports betting in New Jersey, including brick-and-mortar retail bookmakers as well as state-licensed mobile and online wagering services.
Many international betting sites refrain from offering their services to those within NJ's borders through agreements with industry operators, despite the fact that it is not a violation of any specific NJ gambling laws.
There are a few offshore sportsbooks that accept bettors from the Garden State, but they are few and far between. Influential individuals and/or groups in the state have found a way to curtail the competition from New Jersey sportsbooks based outside of the state.
Is Sports Betting Legal In New Jersey?
Yes, the state legalized domestic sports gambling options right after the Supreme Court ruled an American federal gambling law (PASPA) unconstitutional in 2018. This ruling allowed US states to legalize domestic sports wagering opportunities. No other federal law prohibits states from offering sports gambling options.
Despite the fact that there are no NJ gambling laws preventing bettors in the state from placing bets online at international betting sites, most of them no longer accept sports bettors from the Garden State.
NJ Sports Betting Laws
New Jersey enacted laws to allow sports betting at the Atlantic City casinos in 2014 which was the reason they were sued by the US sports leagues. Then-Governor Chris Christie and NJ lost their case in a lower court system before asking the Supreme Court to review the case.
The Supreme Court ruled in their favor on May 14th, 2018. Today, NJ State assembly law A4111 allows NJ residents over the age of 21 to wager on sports at state-licensed sportsbooks operating over the internet, at racetracks, and at casinos.
NJ Sports Betting Bills
During the 2022 legislative session thus far, eleven sports betting-related pieces of legislation have been presented, with one bill dying through being vetoed. One bill has been passed and signed into law already. S3771 establishes that racetracks that hold a sports betting license must maintain live horse racing activities. In other words, they can call themselves a racetrack and only do sports betting. 
Additionally, another bill currently in committee, A4397, would authorize betting on esports matches and tournaments and provide for licensing solely for esports betting. This would allow operators who only want to offer esports the opportunity to do so, and make NJ one of the first states to legalize state-licensed esports betting. 
The New Jersey legislative session convenes through December 31, so you can monitor current and future bills with our US betting bill tracker.
Sportsbooks Operating In New Jersey
New Jersey has multiple domestic sports betting options available through either online, mobile, or brick-and-mortar means. These are three of the most popular brick-and-mortar casinos that also offer sportsbook capabilities found in Atlantic City:
The Borgata Hotel, Casino and Spa
Golden Nugget Casino
Resorts Casino
However, the single most popular sportsbook in the state is the FanDuel sportsbook located at The Meadowlands in East Rutherford, which accounts for roughly half of the sports betting action in New Jersey.
NJ Sports Betting Details
Below you can find a brief summary on New Jersey's sports betting market. The below information includes domestic sports wagering information and if the state were to adopt a new sports gambling bill, the information below would reflect these updates.
Legal Sports Betting: Yes, In-state
Launch Date: June 14, 2018
New Jersey Minimum Sports Betting Age: 21 years old
Land-Based Sportsbooks: Atlantic City and Racetracks
Online Sportsbook: Legal
Mobile Betting App: Legal
In-Play/Live Betting: Land-based locations, Mobile, and Online
State Sportsbook Revenue: $50,554,535
Eligible Operators: Atlantic City operators, Draftkings, Fanduel, Meadowlands, Monmouth Park.
Commission: New Jersey Casino Contol Commission
Licensing Fee: $100,000
Tax Rate: 8.5% land-based betting, 13% casino-based online betting, 14.25% racetrack-based online betting
Tax-Funded: TBD
What You Can Bet On In New Jersey:
In-state: All bet types on professional sports and out-of-state college sports are allowed
What You Can't Bet On In New Jersey: 
In-state: No bets are allowed on NCAA teams from the state of New Jersey or collegiate events occurring within NJ
Where Can I Bet On Sports In New Jersey?
In NJ, casinos within Atlantic City are permitted to offer domestic sports gambling services.  There are also two racetracks that currently offer domestic betting services (Monmouth Park and The Meadowlands). In addition, NJ has several mobile sports wagering apps which players can use to bet on wherever they are located in the state.
Biggest Sports Betting Cities In New Jersey
Newark Sports Betting
Newark is home to the New Jersey Devils, the state's NHL representation. The Devils are not exactly the strongest team in the Metropolitan Division, but they have a loyal and dedicated fan base. The Devils will have an uphill battle as the season begins, but everyone loves an underdog story.
Atlantic City Sports Betting
Atlantic City is the betting mecca of New Jersey. The coastal town is littered with mega-casinos that offer all sorts of entertainment and other tourist attractions. While there are no professional sporting teams from Atlantic City, the casinos are now home for domestic New Jersey sports betting.
East Rutherford Sports Betting
East Rutherford, NJ, is home to both the New York Giants and the New York Jets professional football teams with both sharing MetLife Stadium since 2010.
The Giants franchise is one of the oldest in the NFL, dating back to 1925, and currently competes in the NFC East. The franchise is considered one of the most successful in the NFL, and since 1925, the Giants have won 16 division titles, four pre-Super Bowl era NFL Championships and 4 Super Bowls.
The Jets played their first season of professional football in 1960 and currently compete in the AFC East. Since becoming an NFL franchise, the team has won four division titles and one Super Bowl in 1968 (Super Bowl III).
---
Legal New Jersey Sports Betting FAQs
Will I get Arrested for Betting on Sports in New Jersey?
If a player from New Jersey is using licensed and regulated domestic sportsbooks, there should be no reason for the individual to be arrested. However, unlicensed and unregulated betting services based in NJ would classify as a chargeable offense for both the player caught wagering on sports and the operator.
Are Mobile Sports Betting Apps Legal in New Jersey?
Yes, New Jersey has launched several state-licensed mobile sports wagering apps. These apps use geo-targeting technology to ensure players are located within the state's borders.
What Teams Can I Bet on in New Jersey?
New Jersey's domestic sports gambling market does not authorize betting on any New Jersey-based collegiate sports teams or any college sporting events occurring within the state.
Are There Any Local Sportsbooks in New Jersey?
Yes, there are numerous available sportsbooks in New Jersey's Atlantic City. Sportsbooks located outside of this city are not authorized by the state to operate.
What is the Legal Minimum Sports Betting Age in New Jersey?
New Jersey's minimum sports gambling age for domestic betting options is 21. This restricted age is followed by NJ's domestic brick-and-mortar sportsbooks and online/mobile betting services.
---
New Jersey Legislative Resources
NJ residents interested in expressing their support for sports gambling or have a concern they would like heard can contact their local political representatives by using the following resources. Find bill sponsors, contact information, and additional services through these tools.
New Jersey Gambling Resources
We highly recommend players gamble responsibly. However, we also understand that some individuals can develop gambling habits. For this reason, we have included a resource to New Jersey Casino Gambling Self-Exclusion Program which will assist problem gamblers in reducing their access to gaming.