Online Boxing Betting Guide
Bet On Fury vs. Ngannou Odds At Online Sportsbooks Now
Tyson Fury vs. Francis Ngannou - October 28, 2023
Learn How To Bet Boxing In Your State Legally
Boxing is perhaps the oldest competitive sport known, with an official "prehistoric" designation for its origin. The modern game, with gloves and defined rules, dates back 1867 when the Marquess of Queensberry Rules were established. And naturally, even before those rules – when bareknuckle bouts ruled the roost – as long as there has been boxing, there has been boxing betting.
Today, betting on boxing – especially over the Internet – is big business, as the most marketed prizefights draw in millions of viewers and bettors each year. If you want to learn how to wager on the Sweet Science, our legal online boxing betting guide is the ultimate ring walk. With a little bit of knowledge under your belt, you can land blow after blow and take home the biggest purse possible, so step into the squared circle!
Is It Legal To Bet On Boxing Online?
Yes! Boxing betting has always been a staple of legal sportsbooks, and with the growth in US online betting options, you can expect el boxeo to be a mainstay on those sites. However, not every US bettor has access to domestic online books, which means they have to use offshore sites to place their wagers.
There are no US federal laws barring offshore sports betting in all of the US States except for Washington that actually ban all online gambling. WA doesn't seem to enforce these bans and we've never heard of any fines or arrests related to boxing betting online, however, you are advised to follow all local regulations.
Best Boxing Betting Sites For 2023
How Does Boxing Betting Work At Legal Online Sportsbooks?  
If you know how to bet on boxing in Vegas, you know how to bet on boxing online. The only difference, of course, is that if you don't live in Nevada, you can't actually place boxing bets in Vegas and will have to use an offshore sportsbook to make your wagers.
Fortunately, that's a simple process. All you need is a computer or mobile device, an Internet connection, and a few dollars, and you can step into the ring immediately as long as you're at least 18 years of age.
Just pick one of the legal, reputable betting sites listed here, find the "Join" button, click or tap it, enter your personal information, make a deposit, select an optional welcome bonus, and you're in!
Note: You must use your real name and contact information, as your identity must be verified before you can claim any sports betting payouts. Rest assured that each of these operators uses state-of-the-art SSL and TLS encryption to keep your personal and financial data private. They'll also never sell your info to any third party or advertiser, so you won't have to punch 'em out!
Mobile Boxing Betting Apps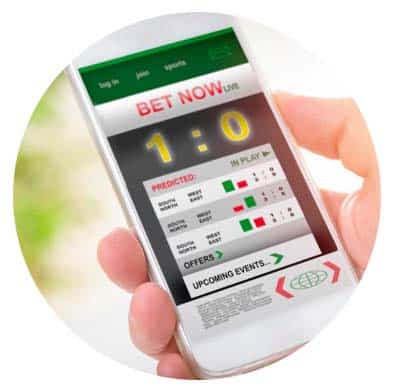 Mobile sports betting is the favored way to wager for most US gamblers. Domestic online sportsbooks all provide native iPhone sports betting apps and Android betting apps, but offshore operators are not allowed – by corporate policy – to offer their wares on the App Store or in Google Play.
But you can't keep a real champion down! Because all the sites listed here use web apps that are device-agnostic, it doesn't matter what kind of iPhone, iPad, Android phone, or tablet you own – You'll always get a first-class, customized betting experience when you log in from anywhere in the US. Best of all, there's never anything to download or update, so your bookie is ready to take your boxing bets any time you ring the bell.
Live In-Play Boxing Betting
Live betting is available for most sports at offshore sites, boxing included. However, live boxing betting is a bit different from other markets, as you can only place wagers between rounds when the in-game betting odds are updated.
The benefits of in-game betting are that boxing odds can shift dramatically depending on the results from previous rounds.
If a fighter is staggered early, for example, you can expect winner odds to change accordingly, often flipping in favor of the underdog. This can help bettors recoup bad pre-fight wagers and even double down on a good bet with a one-two combo.
Banking Options for Betting on Boxing Online
The sports betting deposit and payout options available to online bettors will vary by book. Some sites support more forms of payment than others, while other sites will have different fees, betting limits, and so on. When selecting a legal betting site to wager on boxing, their financial options should be a chief consideration.
Sportsbook Withdrawals
Bitcoin (BTC)
Altcoins
Courier Checks
Bank Wires
Money Orders
Money Transfer Services
Vouchers
The only way to get same-day payouts on your boxing betting is to use Bitcoin (BTC) or other cryptocurrencies when depositing. Bitcoin payouts transfer in just a few hours (instead of a few days for most other withdrawals), and there are no added fees.
Further, BTC offers the best bonus incentives and highest limits, as well as the most secure blockchain encryption for safety and reliability. Just remember that to claim a Bitcoin payout, you must first deposit in BTC or another supported cryptocurrency.
Online Sportsbook Bonus Options to Bet on Boxing Matches
All the top legal sportsbooks operating offshore have a selection of bonus offers for new members, and most also have account reload bonuses to choose from. Additionally, you'll usually get even more bonus money added to your bankroll by using crypto to deposit. These promotions are always optional.
That said, it's important to remember that online sportsbook bonuses come with terms and conditions in the way of rollover requirements. For most sports betting promos, rollover will be between 5X and 10X, which is easy to meet and helps new bettors get off to a hot start in Round 1!
If you've never wagered on boxing before, it's pretty simple, and most of the betting lines that you'll come across mirror the types you'd find on most other sports. You can find the most common boxing betting odds explained below:
Straight Bets – Just pick the winner, straight up! The odds are presented in the moneyline format, with the favorite having a negative moneyline (showing how much you must wager to win $100) and the underdog having a positive moneyline (showing how much you stand to win on a $100 bet). All wagers have associated moneylines that work according to the same rules, and most sites accept bets of as little as $0.50 to $1.00.
Over/Under Bets – Also called totals, O/U bets in boxing have to do with the number of rounds the bout will last. A sportsbook will present a number, like 10.5 rounds, and if the fight lasts more than 10 rounds, the "over" bet wins, while if the fight ends in 10 or fewer rounds, the "under" bet wins.
Boxing Prop Bets – Boxing props are popular and comprise wagers on things like round betting (pick the round the fight ends in), round group betting (pick a range of rounds the fight ends in), and method of victory (pick whether the fight ends via KO, TKO, DQ, or decision). You can also usually bet on whether or not the fight will go the distance.
Spread Betting – Spread bets in boxing are rare, but you find them occasionally. Most often, a boxing spread will have to do with how many more punches a given fighter will throw or land compared to his or her opponent, but there can be other spreads offered, as well. Only the biggest bouts tend to have boxing spreads offered.
Current Boxing Organizations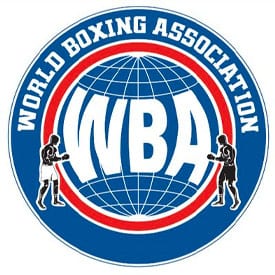 Not to be confused with boxing promotions (like Banner Promotions, Golden Boy Promotions, Top Rank Promotions, etc.), boxing organizations are effectively boxing leagues. While there are numerous such leagues worldwide, on the major professional boxing circuit, there are only four that really matter:
WBA – World Boxing Association (1921)
WBC – World Boxing Council (1963)
IBF – International Boxing Federation (1983)
WBO – World Boxing Organization (1988)
Each organization has its own fighter rankings, fight rules, and hierarchies, and the goal of every top-level boxer is to "unify" the belts. This means that a single boxer is the defending champion in his or her weight class for all the above organizations simultaneously.
This is an uncommon achievement, to say the least. Whenever two champions in different organizations fight one another, the contest is called a unifying bout, and those typically attract the most gambling action. Celebrity Boxing is for pure entertainment purposes and is not commissioned by any of the organizations mentioned above, but the celebrity boxing betting options effectively add to the entertainment.