Legal Online Celebrity Boxing Betting Guide
Bet On Floyd Mayweather, Jr., Mike Tyson, & Jake Paul Fights
Creator Clash Odds Available For Each Fight
Celebrity Boxing Betting Sites Accept 18+ Members
Sports betting is one of the most popular gambling markets in the world, and entertainment betting has long been a very active part of sports betting in general. However, with the advent of reality television and social media, celebrity boxing has become more and more popular among bettors, which is likely the same reason celebrity golf betting has gained momentum as well. It's a spectacle every time, and you don't need to know much about the Sweet Science in order to watch, bet, and have a blast.
If you want to wager on this niche market, our legal online celebrity boxing betting guide pulls no punches and tells you everything you need to know. Signing up with a reputable bookie is quick, easy, and secure, and all the top international sportsbooks operating online accept US members at just 18 years old. So read on and lace 'em up!
Is It Legal To Bet On Celebrity Boxing?
Yes! If you live in the United States, you can bet on boxing or celebrity boxing anytime, anywhere. Some states with legalized domestic sports betting host celebrity boxing odds, but you won't find near the selection that you'll get at the top online sportsbooks operating legally offshore. Plus, to wager with an in-state book, you've got to actually be inside the state in question.
For those casual bettors for whom celebrity boxing matches are tailored, this is not ideal. Fortunately, there are no federal US gambling laws that make it a crime for anyone in America to use these overseas sportsbook sites, and only one state – Washington – has laws nominally barring individuals from online betting.
While the top sports gambling operators will accept residents of WA, we recommend following all local gaming mandates and proceeding only at your own risk – not unlike a celebrity trying to duke it out in the squared circle!
Best Celebrity Boxing Betting Sites 2023
Examples Of Celebrity Boxing Betting Odds
You won't always find celebrity boxing odds online, but once a fight is rumored or announced, you can be sure that the best boxing betting sites will have plenty of odds and props for current events, including celebrity boxing.
Before matches are official, you can bet on whether or not the fights will actually happen, and after they're scheduled, you'll get all the same kinds of prop bets as you would for traditional boxing betting.
Right now, these are the top betting lines on celebrity boxing that you can wager on today (via Bovada):
What Is Celebrity Boxing?
Celebrity boxing is a hoot, that's what it is. Otherwise, it's exactly what it sounds like: boxing matches where celebrities – usually without any real athletic acumen or fight training – take each other on in the boxing ring.
Matches are exhibition-style, and they usually use Olympic boxing rules insofar as protective equipment. That is, you can expect bigger gloves and plenty of head gear. Celebrities are all about recognition, but when they're getting hit in the face, they seem to be okay with letting a soft helmet cover up their trademark features.
Celebrity boxing matches are typically much shorter than traditional boxing bouts, usually lasting for 3-5 rounds (unless a bad left hook – or abysmally poor cardio – ends things sooner). These events are almost always televised, and the biggest names are often featured on undercards of big boxing fights on pay-per-view.
That said, celebrity boxing fans and bettors usually don't have to buy a dedicated celebrity boxing PPV ticket to enjoy such fights, as you can reliably find celebrity boxing live streams free online through official channels.
Note: Not all celebrity boxing is contested between non-boxers and non-fighters. There is a recent trend that retired fighters or cross-sport fighters (i.e. MMA stars) participate in celebrity boxing matches or exhibition boxing matches. These straddle the line a bit between legitimate fights and celebrity fights, but given that they are PR events, we view them as celebrity boxing. Think about the infamous Floyd Mayweather-Conor McGregor bout, and you'll get the idea.
Showstar Boxing Betting
On March 5, 2022, Showstar Boxing's first pay-per-view event featured a full card of rival YouTubers and Social Media Influencers testing their pugilistic skills against each other in the squared circle to the delight of fighting fans and sports bettors alike.
The first Showstar Boxing card featured a main event between YouTube stars where Alex Wassabi was able to best Deji via a split decision.
The Showstar Boxing: UK vs. US PPV was a success and the promotion has taken to social media with suggestions that a future pay-per-view celebrity boxing event is imminent. Stay tuned for updates regarding betting on Showstar Boxing odds.
Celebrity Boxing Betting Apps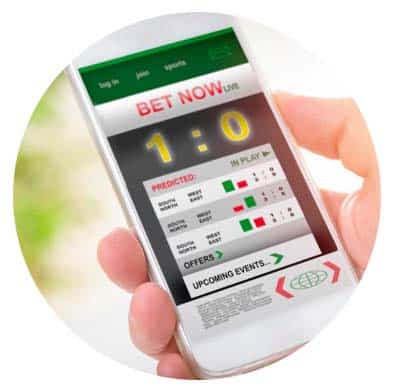 You probably already watch all your favorite celebrities on your smartphone or tablet, as streaming options are available for pretty much every show, movie, and song in existence. Naturally, then, it only makes sense that you'd be able to legally bet on celebrity boxing, death matchups, celebrity golf, celebrity divorces, celebrity wedding odds and more using your mobile device, too. And you can!
That said, there are no iPhone sports betting apps or Android sportsbook apps for the top overseas gambling sites, as the US App Store and US Google Play store do not host legal offshore gambling apps.
Instead, you can get mobile access to boxing betting odds on celebrity fights or more professional events like Bellator sports betting through your device's browser. All of the best sportsbooks online offer customized web-app experiences, with full touchscreen controls and dynamic designs that automatically work with every smartphone/tablet model and screen size.
These browser-based apps are safe and secure, and they're not geo-fenced in any way, so you can bet from anywhere in the United States as long as you have a mobile network connection and a membership at any of the best online sports betting sites.
Live Celebrity Boxing Betting
Like most other sports, celebrity boxing odds are often presented in a live betting format. Live boxing betting allows you to place wagers on fight outcomes during the fights themselves, as the odds change based on the round-by-round performances of the popular pugilists in the ring.
That said, you have to act fast when it comes to live celebrity boxing betting, as the lines will only be up for a minute or two before they shift.
In order to successfully place in-game bets on celebrity boxing contests, you need a way to watch the fight and place your wagers at the same time. Fortunately, live boxing bets can be placed on your smartphone or tablet, so as long as you've got an Internet connection, you can put money on any matchup.
From the living room to the bar to ringside seats at the fights themselves, live boxing betting is the most engaging, immersive way to wager. Just be careful with your money – You don't want to place a bad bet and take one on the chin. Leave that to the celebrity athlete wannabes!
Legal Online Bet Funding Options For Celebrity Boxing Fights
If you can't get money into your betting account quickly and easily, you could miss out on some of the biggest celebrity boxing fights of the year.
Fortunately, all the top legal online sportsbooks operating outside of US jurisdiction have plenty of legally sanctioned deposit and withdrawal options. These include the following, though not every online sportsbook will support each payment transfer method.
Celebrity Boxing Deposit Options
Bitcoin (BTC)
Altcoins (Bitcoin Cash, Litecoin, Ethereum, Ripple, Stellar, etc.)
Zelle-To-Bitcoin
Betting Vouchers (PayPal, Venmo, Cash App, Zelle)
Credit Cards (Visa, Mastercard, American Express, Discover card)
Debit Cards
International Gift Cards
Cashier's Checks
Bank Wires
Money Orders
Retail Money Transfers
Celebrity Boxing Withdrawal Options
Bitcoin (BTC)
Altcoins (Bitcoin Cash, Litecoin, Ethereum, Ripple, Stellar, etc.)
Betting Vouchers (PayPal, Venmo, Cash App, Zelle)
Courier Checks
Bank Wires
Money Orders
Retail Money Transfers
Same-Day Payouts And Other Crypto Banking Benefits
The best banking options at any reputable, legal online betting site are Bitcoin and other supported cryptocurrencies. BTC and altcoins allow you to make rapid deposits that will never be declined or get stuck behind the red tape of UIGEA banking regulations, which means you'll get your money into your account safely and quickly, guaranteed.
Further, Bitcoin betting and altcoin betting allow you to get the best bonuses with the most free plays, come with no added fees of any kind, have the best deposit and withdrawal limits, and are the only options for claiming same-day payouts at the best offshore sports betting sites.
If you don't already have Bitcoin or other cryptos, you can acquire them through the typical cryptocurrency exchanges or use the Zelle-To-BTC option to buy Bitcoin immediately.
Online Boxing Betting Bonuses
Every notable online sportsbook gives their members several bonus options to choose from. These are typically deposit match bonuses, where your initial deposit (or account reload) is boosted by a given percentage. You can often double your funds by accepting these bonuses, allowing you to bet even more money on all the celebrity boxing odds and other sports betting lines on offer.
Bonuses come with basic rollover requirements, which are easy to understand and even easier to meet. Additionally, bonuses are wholly optional, but because they're basically free money for the avid bettor, we recommend accepting online sports betting promos whenever you get the option. Friend referral bonuses and special Bitcoin bonuses are also available.
How To Bet On Celebrity Boxing
Now that you know where to bet on boxing's biggest celebrity showdowns, understanding boxing odds is the next step. Luckily, you don't need to have boxing betting odds explained in-depth to get the gist of it all. In short, here's how boxing odds work:
First and foremost, the celebrity boxing betting odds you come across will likely be presented in the American moneyline format. The favorite will have a negative moneyline, while the underdog will have a positive moneyline.
Put simply, a negative moneyline shows how much money you have to risk to win $100, while a positive moneyline shows how much you'll win on a $100 bet. The bigger the favorite, the smaller the payout, while the bigger the underdog, the bigger the payout. All sports betting works like this.
And remember, that $100 is a reference point for these wagers (i.e. the payout ratio), not a betting minimum. Most legal celebrity boxing betting sites will accept wagers of as little as $0.50, so you'll never go dead broke betting on these stupid rich celebs.
The following boxing betting types apply to celebrity boxing in exactly the same way as they do for regular boxing betting:
Celebrity Boxing Straight Bets – Pick a winner, straight up.
Celebrity Boxing Spread Bets – Pick whether or not a certain fighter will beat any spread offered by your sportsbook (i.e. punches thrown, punches landed, etc.)
Celebrity Boxing Totals Bets – Pick the over or the under on how many rounds you think the fight will last. Totals betting is also called over/under betting for this reason.
Celebrity Boxing Prop Bets – Pick the outcome for various other statistical occurrences within the fight. Boxing props are presented as "yes/no" bets or "over/under" bets. Common props include round betting, methods of victory (KO, TKO, DQ, etc.), and so on.
FAQs For Legal Betting On Celebrity Boxing
Yes! As long as you use a legitimate online betting site operating outside of US jurisdiction, there are no laws barring participation in real-money boxing betting (or betting on any other sports).
That said, there are two caveats, as the states of WA and CT have nominal laws barring individuals from all online gambling and sports betting. While unenforced historically, we recommend abiding by all local restrictions.
If you select one of the trusted sports betting sites listed here, absolutely. Remember, all online gambling sites are not created equal, and it's critical that the site you choose is licensed, regulated in its own home country, and utilizes state-of-the-art data security for all your personal and financial information.
The sites we recommend all fit the bill and answer the bell when it comes to treating their customers with respect and consideration.
Legal celebrity boxing betting works the same way that all legal sports betting does, and if you're familiar with the market, the odds and lines on offer are easy to understand.
Best of all, it's extremely easy to place wagers online: Just log in to your site of choice, head over to the sportsbook section, and choose the boxing category. (Some sites may feature celebrity boxing odds under the entertainment betting category.)
From there, just tap on the line you want, enter the amount you wish to wager, and a live boxing betting calculator will show you exactly how much you stand to win.
Some sites even have custom bet creation options. For example, Bovada boxing bets can be made via the site's Prop Builder feature for even more granular control.
Yes! All of the most popular celebrity boxing events are available to view online. While some of the most anticipated matches will be on PPV undercards, you usually don't have to buy PPV boxing online to watch them, as celebrity matches are PR events that are usually available to stream.
To stream boxing online free, there are a number of different sites and services that let you do this safely and legally. Remember, for in-game boxing betting, watching boxing free online – in real-time – is the key to staying in the black (as opposed to getting a black eye).
Round betting in celebrity boxing – and in boxing in general – is a type of wagering where you pick the round in which the fight will end. This is considered a boxing prop bet.
The Celebrity Boxing Federation isn't much of anything, frankly.
Celebrity boxing fights are sanctioned, but they are promotions that don't actually feature prominently with any championship boxing organization (i.e. the WBA, WBC, WBO, or IBF).
While there might be a legitimate CBF in the future, right now it's just a silly Facebook group. 
The Female Celebrity Boxing Association is a promotional enterprise that seeks to promote…female celebrity boxing.
The FCBA has been around since at least 1999 in one way or another, but it doesn't have a major following, and it's very much a niche entertainment market.
Legal online betting sites do not customarily offer lines on specific FCBA fights, though you may come across celebrity boxing matches that do feature FCBA fighters in certain bouts (and thus have active betting odds available). 
Celebrity Fight Night is a charitable promotion that brings celebrities together in an evening of music, festivities, and fund-raising with satirical "boxing" as a backdrop.
The CFN is not a boxing league and does not host traditional boxing or serious celebrity boxing events.
The Celebrity Fight Night is nearly 30 years old, and it is run by the Celebrity Fight Night Foundation started by Jimmy Walker. Their slogan is "Winning the Fight for Charities."
"Celebrity Boxing" was a TV reality show on FOX that ran for two episodes (March 13, 2002, and May 22, 2002). It suffered from poor ratings, and TV Guide ranked the limited-run special as number 6 on its list of the worst television shows of all time.
Modern celebrity boxing has nothing to do with this old FOX show, instead finding itself on the undercards of actual boxing fights rather than relying on the fickle reality TV format.   
If you've been following the phenomenon of celebrity boxing, you've certainly come across a number of amusing participants. Betting has been available on celebrity boxing events for years, and some of the most compelling lines have been on promotions featuring the following names:
Dustin Diamond celebrity boxing (aka Screech celebrity boxing)
Jose Canseco celebrity boxing
Manute Bol celebrity boxing
Stitches celebrity boxing
George Zimmerman celebrity boxing
Tonya Harding celebrity boxing
Logan Paul celebrity boxing
KSI celebrity boxing
And many more!