Chainlink Sports Betting
Popular crypto – Top 25 coin by market capitalization
Transfers take just a few minutes + ZERO ADDED FEES
"LINK" your account to the biggest sportsbook promos!
It's no secret that sports bettors and legal online sportsbooks both prefer to use cryptocurrency sports bet funding options whenever possible. But there's a lot more to crypto than just Bitcoin, and the best sites support a number of altcoins, too. To that end, the newest altcoin to be accepted by the most reputable books is Chainlink (LINK), and our guide to Chainlink sports betting deposits will get you over the fence and betting with crypto ASAP.
As with all crypto coins, using Chainlink to bet online comes with no added transfer fees, the best possible sports betting bonuses, and allows players to claim same-day payouts from the fastest-paying sportsbooks. Even better, crypto transactions to and from legal international sports gambling sites can never be interrupted or derailed by meddlesome banking regulations, making them 100% guaranteed to go through.
Best USA Online Sportsbooks Accepting Chainlink Cryptocurrency In 2023
How To Make Chainlink Sportsbook Deposits
The first step when making a Chainlink deposit at any legal online sportsbook is to actually acquire the altcoin, which you can do through any major US-friendly crypto exchange. (That process is outlined further down the page.) Once you own some LINK and are able to transfer the asset, betting deposits are fast and easy. Simply follow these brief steps:
Visit any recommended sportsbook using a link provided on this page. New members will have to sign up before depositing, which can be done by clicking or tapping the "Join" or "Sign Up" button.
Enter in all the required account information, making sure to use real, verifiable data. The best sportsbooks use industrial KYC (Know Your Customer) standards and never share or sell your private personal or financial information.
Select the Chainlink deposit option and copy your sportsbook's Chainlink sending address.
Open your Chainlink exchange wallet (or private LINK wallet) and select the "Send" option. There, paste in your sportsbook's Chainlink address and enter in the amount of LINK you wish to transfer. Submit the form.
That's all there is to it! Chainlink transfers typically take about five minutes, making them one of the faster cryptocurrency options out there. Your betting site will not assess any additional fees for these transfers, though the LINK blockchain does have minimal native transfer fees to be aware of.
How To Claim Chainlink Sportsbook Payouts
Once you've deposited with LINK, the payout process is a breeze since you've already done all the legwork regarding wallet setup and so on. LINK payouts are extremely straightforward and work more or less like deposits:
Navigate to your site's Cashier page and select the Chainlink withdrawal option.
In the provided field, enter the amount of your eligible sports betting account balance you'd link to pull out.
Open your Chainlink wallet and select the "Receive" option. This will provide you with a unique Chainlink receiving address, which you'll need to copy.
At your sportsbook, paste the above LINK address into the withdrawal form and submit the request.
Most legal sports betting sites will process your LINK withdrawal within just a few hours. Once that's done, they'll send the requested amount to your Chainlink wallet, and it should show up in 5-10 minutes, depending on network activity and congestion.
Important: Online sportsbooks like BetOnline and SportsBetting AG use Chainlink ERC-20 wallets. As LINK operates on the Ethereum network and uses the ERC-677 standard (which is backwards compatible with ERC-20), it will work with any ERC-20 ETH wallet, though we still recommend using dedicated Chainlink wallets. In either case, please ensure that your LINK wallet uses the ERC-20 standard before you send your Chainlink to the sites featured here. If you send your LINK coins to a non-supported wallet address, you will lose your crypto.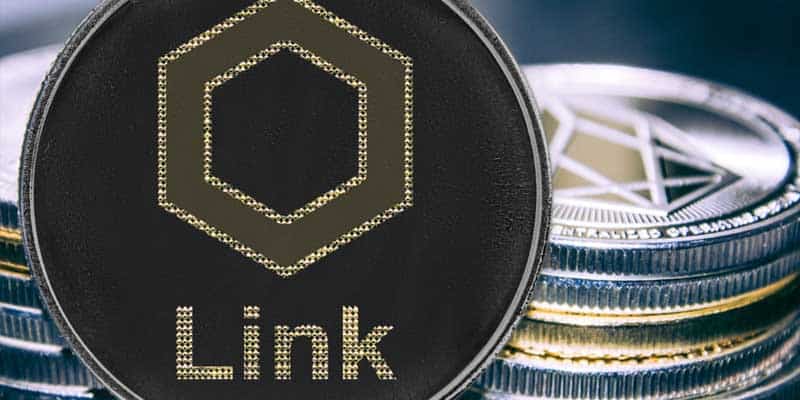 Chainlink (ticker symbol LINK) is a cryptocurrency that was developed starting in 2014 and launched in 2017, designed as a decentralized network that provides valuable data for various blockchain smart contracts.
The Chainlink token is based on Ethereum (ERC-677/ERC-20), and this flexibility has caused a massive spike in the Chainlink current price, going from an initial low of about one cent to a Q2 2021 valuation of roughly $20. The Chainlink all-time high is just over $52, making the current price a compelling investment even for those who don't intend using it to bet sports online.
Of course, if you wish to fund your legal sports betting activity using LINK, the fact that you can buy in relatively cheaply right now makes its potential all the more attractive for investors and traders alike.    
Before you can use Chainlink to bet on sports online, you'll have to learn how to buy Chainlink cryptocurrency. Fortunately, you can buy Chainlink as easily as any other crypto asset supported by the best betting sites.
The process for purchasing Chainlink works the same ways as buying Bitcoin, Bitcoin Cash, Stellar, Ripple, Litecoin, Ethereum, USD Coin, and other popular altcoins. Simply sign up at any online exchange, go though the steps to set up your account and verify your identity, and transfer your USD to Chainlink. LINK blockchain fees are minimal, and transfers go through in under five minutes on average.
Chainlink transaction fees – which are native to the platform and not charged by online sports betting sites – can range from just a few cents to several dollars, depending on network congestion, transfer amounts, and other factors. In general, however, LINK is one of the cheaper cryptocurrencies in terms of blockchain fees. 
Now that you now how to get Chainlink, you have to know where to get Chainlink. And just as there are many Chainlink partnerships in the crypto space, so too are there a number of reputable, safe online exchanges where you can buy LINK right now.
For the majority of US sports bettors interested in purchasing Chainlink, Coinbase is the most recommended exchange, but it's also the most heavily regulated. The best Chainlink exchanges are the following as of 2021:
Binance US
Bittrex
Coinbase
eToro
Gemini
Kraken
Webull
Once you own LINK coins, you can transfer them to your sports betting site of choice quickly and easily. Simply follow any link on this page to sign up at a reputable, trusted sportsbook, create a free account or log into your existing account, and select Chainlink from the options under your site Cashier's cryptocurrency options.
Then, open your Chainlink wallet (see below), enter in the amount you wish to transfer to your online sportsbook, paste in the site's Chainlink sending address, and submit the ticket. After a few minutes, the funds will be credited to your account, and you'll be able to start betting real money on all your favorite players and teams. You can even create your own bets using your sportsbook's built-in Prop Builder tool!
Chainlink betting payouts work the same way, just in reverse: Visit your site Cashier, request a LINK withdrawal, enter in the amount you wish to pull out, paste in your LINK wallet receiving address, and you'll get your money the same day.
The standard exchange route is the simplest way for most crypto users to buy LINK, but it's not necessarily the best way for first-timers to get ahold of the stuff.
These exchanges have 5-10-day waiting periods before you can send your new Chainlink crypto off-platform to your betting site of choice, which means you're liable to miss out on a ton of action in the interim.
Also, because Zelle deposits and Cash App crypto deposits only work for Bitcoin, you can't speed things up going those routes. Fortunately, there are two other great ways to buy Chainlink fast, with no waiting times to stand between you and your online sports bets:
Atomic Wallet is a free universal crypto wallet app for iPhone and Android devices, and it can be used to safely store more than 300 different crypto coins, including Chainlink. However, Atomic also features a store, which we explain how to use in our Atomic Wallet review.
Essentially, you can use your credit card right through the Atomic Wallet app to purchase LINK and any of the other crypto coins the best online sportsbooks accept, and you can send them to those sportsbooks in mere minutes instead of days.
Atomic is also the best way for US residents to buy the popular Ripple XRP gambling crypto coin.
Coinify is a crypto storefront that's available to residents in 33 different US states. With Coinify, you can buy any of over 20 different popular cryptocurrencies using your credit card, including LINK along with the vast majority of the other coins accepted by the sites we recommend.
With Coinify, verification is instant, and you'll receive your purchased Chainlink (or other crypto) in your private cryptocurrency wallet immediately. Remember, Coinify is not an exchange, so you'll need to set up an independent crypto wallet before using the service.  
Once you've decided to use LINK for your online sports betting needs, you'll need a reliable solution for how to store Chainlink in a safe, secure way. There are several viable Chainlink wallet options out there, but for sports betting, we recommend getting your LINK off the major exchanges and keeping it in a software wallet.
This gives you custody over your crypto, increasing your security profile substantially. For even more security, you can hold Chainlink in a hardware wallet, though this adds a few steps when you wish to transfer funds to any online sportsbook.
However, since some of the most valuable betting lines are only up for a few minutes before disappearing forever, you need to be able to move fast when you see odds you like. That's why we recommend software LINK wallets over web wallets and hardware wallets. We do not recommend using Chainlink paper wallets for anything except long-term "cold storage."
Note: Please only download Chainlink software wallets from their official developer pages and only buy Chainlink hardware wallets from their official manufacturer storefronts. Never download or buy crypto wallets from third parties.
Chainlink Online Wallets – Fastest, Open Gate
Bittrex
Coinbase
Binance US
Kraken
Other Online Exchange Wallets
Chainlink Hardware Wallets – Slow, Padlocked Gate
Ledger Nano S
Ledger Nano X
Trezor One
Trezor Model T
Chainlink Paper Wallets – Slowest, No Gate
Chainlink Sports Betting Pro Tip

As with all cryptocurrencies, when you use Chainlink to legally bet on sports online, you want to make sure you keep an eye on the current Chainlink value and follow the Chainlink market cap.
Ideally, you should buy Chainlink when the price is down, transfer it to your online sportsbook of choice, make your bets once the Chainlink price goes up (giving you more bang for your buck and allowing you to place more wagers than if you deposited using fiat money like USD or CAD), and then withdraw your funds when the LINK price drops again.
This gives you more coins than when you started, and it's akin to crypto day trading and "swing trading." Doing this allows you to make the most of your Chainlink investment and increase your holdings significantly. Frankly, it's one of the best betting edges you can get!
Chainlink Sports Betting FAQs
Chainlink (LINK) is a cryptocurrency that provides smart contract data to other blockchain networks and is built atop the Ethereum platform per the ERC-20 standard. 
Chainlink has a number of uses in the crypto marketplace, primarily serving to facilitate smart contract implementation.
You can also buy, sell, and trade the LINK cryptocurrency to use it for things like online purchases, online sports bet funding, and investment.
If you need Chainlink explained further, there are numerous online resources that offer in-depth analysis of the platform.
No. Chainlink is a secure, reliable top-25 cryptocurrency. There is no Chainlink scam, and it is perfectly safe to use LINK.   
Yes! Chainlink is a solid crypto coin for bettors and investors alike, as it's demonstrated astronomical growth since its 2017 launch.
The LINK ATH is over $52, and most Chainlink predictions assert that the asset will blow past that in the near future.
When you request your sportsbook winnings in LINK, those winnings will be worth even more!
Absolutely. Bettors play to win, and investing those winnings is a big part of the game.
If you've been following the Chainlink news, you'll see that the asset has grown tremendously in recent years, and the sky's the limit.
The Chainlink market cap consistently puts it inside the top 25 of all cryptocurrencies, and that isn't likely to change.
The Chainlink forecast is sunny with a chance of making it rain! 
We think so. In fact, we think you should buy LINK even if you don't intend to bet on sports with it!
Chainlink projections from top industry experts show that LINK is nowhere near its full potential as of 2021, which means it's the perfect time to get invested in a Chainlink future.
The Chainlink coin is one of the most popular cryptocurrencies out there, which is why the best USA online sportsbooks are starting to accept it.
The first step for betting with Chainlink – or if you just want to know how to invest in Chainlink – is knowing where to get the stuff.
All the top US-friendly online crypto exchanges allow you to buy Chainlink, and you can even make credit or debit deposits at any participating online sportsbook and claim your payouts in LINK to bypass exchanges altogether (which we highly recommend over converting your Chainlink to USD when cashing out).
The choice is yours!
If you're watching a live Chainlink chart and see the asset begin to go up in value, there could be a number of factors at play.
On any given day, you can expect a crypto coin to swing by 10% or more in either direction. LINK gains may thus be reflective of standard trading activity.
However, if there's a bull rush on the Chainlink crypto, that's usually because Ethereum is spiking in value along with Bitcoin and various other popular altcoins.
As they say, rising tides raise all ships!   
Just as with the best sports betting touts, any reputable Chainlink price prediction is just that: a prediction. And there's only so much that can be predicted when it comes to crypto prices in general.
However, given LINK's popularity and the fact that it's gone from a low of about a penny to a current valuation of $20 – i.e. LINK is up over 200,000% – it's a safe bet that Chainlink prices will climb much higher.
As a general rule, no crypto all-time high is the final all-time high. You can expect Chainlink to eclipse its previous ATH within the next year or so.   
That's the million-dollar question – literally!
Most crypto insiders believe the LINK price will eclipse $70 by 2030, but that's a very low estimate. We wouldn't be surprised to see Chainlink values north of $100 by 2023 or 2024. In fact, we're banking on it.
And as a sports bettor, you should, too.
Yes, mining Chainlink is possible, and many sports gamblers might be intrigued by the idea.
That said, it's much more difficult to mine cryptocurrencies as they mature, and LINK is no exception. Just as it makes more sense to buy into Ethereum rather than mining it, so it goes with LINK.
If you want free Chainlink tokens, the best thing to do is deposit your funds into your online sports betting account, win some wagers, and pull out more LINK than you put in.
That's the name of the sports betting game, after all!
Chainlink staking is the act of pledging your LINK to stake pools, which then process LINK network verifications and earn Chainlink rewards.
Right now, regular users cannot stake LINK with delegation pools. Only those operating Chainlink nodes (Chainlink node operators are called "Validators") can earn free LINK via the staking model.
However, a forthcoming update to the Chainlink network will allow holders to stake, akin to what's happening with the ETH2 rollout.