New Mexico Sports Betting – How To Bet On Sports Legally Online In NM in 2023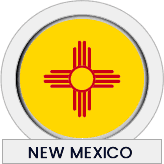 Online Sports Betting Available In NM Via Offshore Sportsbooks
In-Person Domestic Sports Betting In New Mexico At Tribal Casinos
Legislative Movement Toward Mobile/Online Sports Betting: Yes
New Mexico has a total of 21 tribal casinos and 6 racinos (racetracks with casino games) spread throughout the state, but currently, only 3 tribal casinos are offering domestic sports betting. These tribal venues can offer sports wagering through a loophole in their gaming compact with the state.
Until recently, New Mexico has not considered sports betting legalization.  However, lawmakers seem poised to finally breach the subject with new legislative action on the matter.
If the state authorizes domestic sports gambling, numerous existing venues in the state would be able to provide these services. However, the three tribal casinos that have taken the initiative to launch their own books without "permission" from the state remain New Mexico's only viable brick-and-mortar sportsbooks at this time.
In addition to these tribal casinos, NM residents can also legally bet on sports with the use of international online sportsbooks such as the ones we recommend below.
Is Sports Betting Legal In New Mexico in 2023?
At this time, the answer is a bit more complex than yes or no. New Mexico players can legally wager on sports through the state's only active sportsbooks at the Santa Ana Star Casino, the Buffalo Thunder Casino, and the Isleta Resort & Casino. However, no other local venue is currently offering this kind of service.
The state has yet to authorize sports gambling via legislation but permits the above venues to continue conducting sports wagering operations, though only in person. There is no way for domestic operators to offer online betting in the state. New legislation has been introduced that may change this scenario.
Fortunately, New Mexico players can also legally bet on sports through offshore sportsbooks that are legally operating within the industry. No state law prohibits their use by NM residents, nor is there any mention of offshore sportsbooks being prohibited by any Federal gambling law.
New Mexico Sports Betting Bills
New Mexico lawmakers brought two sports betting bills to the table at the start of the 2021 legislative session. HB101 and HB288 were proposed in an effort to expand domestic sports wagering across casinos throughout the state. Because NM land-based sports betting is exclusive to one venue in the state, there were high hopes for the bills' passage.
Even so, the measures died very early on. However, legislators in the state seem determined to bring offshore betting revenue back inside state lines. For information regarding future New Mexico sports betting legislation bills and their sponsors, please refer to our sports wagering bill tracking page.
Best Sports Betting Sites In New Mexico 2023
Our team has scoured the Internet to find the top-rated sportsbooks accepting New Mexico bettors. Each one of these brands has been in the business for years and is highly regarded by industry insiders. You can browse them for yourself by clicking on the links in the table. We have also written detailed reviews for the brands listed below, click the link to learn more.
NM Sports Betting Details
New Mexico hasn't launched any state-licensed sports betting operations, however, three tribal casino venues are acting upon a loophole in their gaming compact to offer domestic sports betting. Below you will find details regarding NM's available sports betting market. If the state were to enact legislation regarding sports wagering, the information below will be updated to reflect those changes.
Legal Sports Betting: Tribal Only; Offshore
Launch Date: October 16, 2018
New Mexico Minimum Sports Betting Age: 21 years old
Land-Based Sportsbooks: Santa Ana Star Casino, Buffalo Thunder Casino, Isleta Resort & Casino, Inn of the Mountain Gods Resort (powered by William Hill)
Online Sportsbook: Local: No; Offshore yes
Mobile Betting App: Local: No; Offshore yes
In-Play/Live Betting: Local: No; Offshore yes
Eligible Operators: Tribal Operators with State-Gaming Compacts
Commission: N/A
Licensing Fee: N/A
Tax Rate: N/A
Tax-Funded: N/A
What You Can Bet On In New Mexico:
In-state: All bet types and professional and college sports are allowed
Offshore: All betting lines, odds, and props for all games, teams, and players across all college and professional sports
What You Can't Bet On In New Mexico: 
In-state: No restrictions
Offshore: No restrictions
Where Can I Bet On Sports In New Mexico?
While the state has not authorized domestic sports gambling at the legislative level, several tribal venues currently offer sports wagering services through the tribal gaming compact loophole. Offshore sportsbooks, such as the ones featured above, also serve as a reliable and legal way to wager on sports in NM.
Local New Mexico Sports Betting Locations
Santa Ana Star Casino
Buffalo Thunder Casino
Isleta Resort & Casino
Inn of the Mountain Gods Resort
The Santa Ana Star Sportsbook
The Santa Ana Star is located just outside of Albuquerque, NM on tribal land, and was one of the first tribal casinos to start offering sports betting in the state. The casino has been operating since 1993. The launch of their sportsbook was considered legal without any state legislation because of a loophole in the Indian Gaming Compacts passed in 1995, and the tribe's boldness set the table for other groups to follow suit (and some have done so in multiple states).
The compact was renewed in 2015, and because the agreement states that a tribal casino can take bets without further state legislation, and there is no mention of sports betting in the compact, casinos have legal leeway for additional class III gaming.
It should be noted that no domestic sports betting legislation has passed in New Mexico and only the Santa Ana Star Casino, the Buffalo Thunder Casino, Isleta Resort & Casino, and the Inn of the Mountain Gods Resort are now offering sports betting at this time. More tribal casinos are expected to follow suit in the future.
Best New Mexico Sports Betting Apps for 2023
The only state-based sports betting in the state of NM is operated by several tribal casinos.  At this time, they are not permitted to provide online or mobile betting options to patrons. The good news is that New Mexico's sports fans can still enjoy sports betting on the go from international sportsbooks that all provide a high-end mobile betting application that is web-based and compatible with most modern mobile devices.
Below you will see our top recommendations for the best mobile sportsbooks that welcome bettors from NM.  These are the leading online sportsbook brands in the world, and offer a secure mobile betting experience that allows even live, in-play betting from a smatrphone or tablet.  Learn more from our mobile sports betting guide or visit one of the legal mobile sportsbooks below.
Biggest Sports Betting City In New Mexico
Albuquerque Sports Betting
While there are no major professional or college sports teams in Albuquerque, New Mexico. The University of New Mexico and New Mexico state have athletic programs, but they both play in lesser conferences. Still, you can bet on these teams through the sportsbooks listed in this guide.
Albuquerque is the state's capital and home of the University of New Mexico where many of the states collegiate games are held. Residents have the option of betting on their favorite college team or professional team legally with the use of offshore sportsbooks or the domestic sportsbook located at the Santa Ana Star Casino.
---
Legal New Mexico Sports Betting FAQs
Will I Get Arrested for Betting on Sports in New Mexico?
No, as long as the sportsbook is licensed or authorized to accept bets on sports. Offshore sportsbooks are not illegal in the eyes of the state and thus players using this method are not in violation of the law by any means.
How To Bet On March Madness In New Mexico
While there are some retail sportsbooks located throughout NM, the best March Madness betting available in New Mexico is at the sites listed in the table above.
Thousands of March Madness prop bets, NCAAB odds, and game lines are available online from the convenience of anywhere in New Mexico that 18 and over gamblers choose when opting for our top legal college basketball betting sites in NM.
Are Mobile Sports Betting Apps Legal in New Mexico?
At this time, there are no mobile sports betting apps authorized and licensed by the state to operate. However, offshore sportsbooks provide NM players with mobile sports wagering capabilities otherwise unavailable to in-state players.
What Teams Can I Bet on in New Mexico?
New Mexico hasn't authorized any sports gambling operations at the legislative level as of yet, so no state regulations on which kinds of sports wagers are prohibited or authorized have been made. There are currently no restrictions placed by the tribal venues regarding in-state teams, either professional or collegiate. But this may change with introduced and enacted state legislation. In addition, offshore sportsbooks do not place any restrictions on the types of teams NM players can bet on.
Are There Any Local Sportsbooks in New Mexico?
Technically yes and no. While the state does not offer any licensed sportsbooks, tribal casinos are permitted by a legal loophole in their state gaming compacts to offer sports betting services.
What is the Legal Minimum Sports Betting Age in New Mexico?
New Mexico has yet to authorize domestic sports gambling at the legislative level, however, the tribal casinos offering the pastime have set their minimum sports gambling age to 21. Offshore online sportsbooks accept players from New Mexico as young as 18.
---
New Mexico Legislative Resources
New Mexico residents interested in expanded gambling forms such as sports betting who want to express their support for legislative legalization can contact their local politicians using the following legislative resources.
New Mexico Gambling Resources
The Responsible Gambling Association of New Mexico provides numerous resources for individuals suffering from signs of problem gambling. These services assist those in need to get treatment and other counseling services.
2023 Football Betting In New Mexico
How To Bet On NFL Football in New Mexico
Don't bother travelling to a tribal casino in NM to lay some action on pro football. Bet on the NFL using one or more of the top online sportsbooks that we feature within this guide and take advantage of the numerous odds, props, lines, and futures that they offer. NFL betting can occur all year long, not just during the season. Also, each February, there are literally thousands of options for betting on the Super Bowl and earning a massive payday when your team wins.
How To Bet On College Football in New Mexico
The New Mexico State Aggies and NM Lobos take up most of the college football bandwidth in the region. If you're interested in college football betting, either on a state-based university or any NCAAF program around the country, be sure to sign up with one of the online sportsbooks listed above. These NCAA Football betting sites offer superior lines and odds when compared to domestic NM venues, and also allow for 18 and older customers to become members.