Illinois Sports Betting – Bet On Sports Legally In IL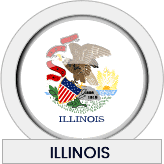 As part of a state funding bill that includes an expansion of gambling, the Illinois House and Senate passed legislation on June 2, the last day of the legislative session, that legalizes sports betting in the state's casinos, racetracks, arenas, and stadiums - such as Wrigley Field.
The legislation also allows online and mobile app-based sportsbooks to operate inside state lines. Governor J.B. Prizker has publicly stated his strong support for the legislation, and he's expected to sign the bill into law before the end of the month.
And if the sports betting bill clears that final hurdle, then Illinois could have sportsbooks up and operating before football season kicks off in the fall. Additionally, Illinois could be poised to become the sports betting capital of the Midwest and would be one of the largest markets - at 12.7 million residents - to legalize in-state sportsbooks in the United States thus far.
Between the new state-regulation sportsbooks and the sports betting sites operating offshore that have offered services for decades, Illinois residents will have no shortage of options when it comes to placing a wager on sports legally.
Is Sports Betting Legal In Illinois?
As long as governor Pritzker signs SB690 into law, which he is expected to do, sports betting will be legal in Illinois in more ways than one. Prior to the bill's passage, Illinois residents have been able to legally bet on sports through online sportsbooks operating offshore. There are no state laws prohibiting online sports betting at websites operating legally within the industry. It is very possible that laws authorizing state-regulated sports betting will expand the range of betting options available to sports fans in IL.
IL Sports Betting Bills
On June 2, 2019, the Illinois House and Senate both passed a sports betting bill (SB690) that would legalize sportsbooks to operate in physical locations, such as casinos, racetracks, and sports venues.  The legislation also approves online and mobile betting apps anywhere in the state and provides approval for six more casinos to launch.
The bill still needs a signature from the governor before it can become law, which is expected to happen any day now. Terry Link, Bob Rita, Omar Aquino, Scott Bennett, Napoleon Harris III, Mike Hastings, Toi Hutchinson,  Tony Munoz, Elgie Sims Jr., Steve Stadelman, and Dave Syverson are the sponsors for the passed legislation. You can check the status of the bill using our bill tracker page.
Sportsbooks For Illinois Residents
Our team of online gambling analysts has put together a list of the best available USA sports betting options offered through offshore sportsbooks. Each one of these sportsbooks accepts Illinois residents and has been doing so for years. They also provide mobile sports betting apps and live betting capabilities. For readers looking for more information about the online sportsbooks listed below, you can also check out our sportsbook reviews written by industry professionals.

Illinois Sports Betting Details
Legal Sports Betting: State-regulated TBD / Offshore
Minimum Sports Betting Age: 21 years old state-regulated / 18 years old offshore
Land-Based: Waiting for gov. signature
Online: State-Regulated - pending gov. signature / Offshore - yes
Mobile: State-Regulated - pending gov. signature / Offshore - yes
In-Play: State-Regulated - pending gov. signature / Offshore - yes
Estimated Revenue: $217 million
Eligible Operators: TBD
Commission: Illinois Gaming Board
Licensing Fee: Between $5 - $25 million
Tax Rate: 12.5%
Tax-Funded: Rebuild Illinois Project as well as Police and Firefighter Pensions
What You Can Bet On in Illinois:
As of this writing, offshore sports betting is available to the state's residents.  These online sportsbooks offer action on professional, collegiate, and amateur leagues based in the US or abroad. In addition, you can place bets on lines for player, team, game, and event props, among others. The new sports betting bill would allow wagering on professional sports teams.
What You Can't Bet On in Illinois:
The offshore sportsbooks recommended on this do not impose restrictions for Illinois resident. However, it is possible that the IL sports betting bill will prohibit state-regulated sportsbooks from accepting bets on college sports, players, teams, games, events, and contests.
Where Can I Bet On Sports In Illinois?
Online sportsbooks operating offshore legally have their doors open to IL residents 24/7. In addition, the state is very close to authorizing state-regulated betting options for brick and mortar, online and mobile sportsbook gambling pending the governor's signature.
Sports Betting In Chicago, IL
Chicago is the largest metropolitan area in the state and home to 5 major professional franchises. With the Chicago Bulls (NBA), Chicago Cubs (MLB), Chicago White Sox (MLB), Chicago Bears (NFL) and Chicago Blackhawks, the city is ripe for betting action. Out of these teams, the Cubs and Blackhawks have been the most successful as of late.
The Cubs just won their first World Series since 1908, winning the 2016 World Series in seven games. Residents can bet on any one of these teams (or all of them) via the sportsbooks recommended on this page.
---
Frequently Asked Questions About Illinois Sports Betting
Will I get arrested for betting on sports in Illinois?
Illinois residents are not at risk of being arrested for betting on sports as long as bets are placed at offshore online sportsbooks that are operating legally or at any of the state-regulated sportsbooks that are soon to be authorized.
Are mobile sports betting apps legal in Illinois?
Pending the governor's signature, recently passed legislation does authorize state-regulated mobile sports betting apps.  In addition, each of the online sportsbooks you see listed on this page offers a sophisticated mobile sports betting app as well.
What teams can I bet on in Illinois?
There are no team restrictions when placing bets through online offshore sportsbooks.  From what we can tell, the state-regulated sportsbooks will not be able to accept bets placed on college teams.
Are there any local sportsbooks in Illinois?
Not quite yet.  However, once the governor signs recently passed legislation into law, the state will see local sportsbooks launch. We do expect this to take place in the very near future.
What is the legal minimum sports betting age in Illinois?
The sports betting bill that is awaiting the governor's signature right now establishes a legal minimum sports betting age of 21.  This does conflict with the policies at most reputable online sportsbooks accepting bettors at age 18.  The sports betting sites listed on this page expect individuals to be aware of and compliant with their state's gambling age regulations.
Who regulates sports betting in Illinois?
The Illinois Gaming Board provides regulatory oversight for gambling in the state.
---
Illinois Legislative Resources
Responsible Gambling
We acknowledge the fact that if not played responsibly, gambling on sports can become addictive and lead to having negative effects on your financial situation. We encourage everyone in Illinois to play in a responsible manner, but if you feel that your gambling habits have gotten out of hand, please contact the Illinois Council on Problem Gambling for immediate assistance.Il