Illinois Sports Betting – How To Bet On Sports Legally In IL in 2023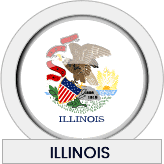 Online Sports Betting Available In IL Via Offshore & Domestic Sportsbooks
Domestic Illinois Sportsbooks Available Via In-Person, Mobile Apps, & Online
Legislative Movement Toward Sports Betting: IL Sports Betting Is Legal
As part of a state funding bill that includes an expansion of gambling, the Illinois House and Senate passed legislation on June 2, 2019, the last day of the legislative session, to legalize sport betting in-person at the state's casinos, racetracks, arenas, and stadiums - such as Wrigley Field.
The legislation also allows online and mobile app-based sportsbooks to operate inside state lines. Governor J.B. Prizker publicly stated his strong support for the legislation and signed the bill into law on June 28, 2019.
Illinois launched state-licensed sports betting Monday, March 9 in 2020 at Rivers Casino in Des Plaines. Additionally, Illinois could be poised to become the sports betting capital of the Midwest and is one of the largest markets - at 12.7 million residents - to legalize in-state sportsbooks in the United States thus far.
Between the new state-regulated online and in-person sports wagering opportunities and the sports betting sites operating offshore that have offered services for decades, Illinois residents have no shortage of options when it comes to placing wagers on sports legally.
Is Sports Betting Legal In Illinois 2023?
Now that governor Pritzker has signed SB690 into law, sports betting is legal in Illinois in more ways than one. Prior to the bill's passage, Illinois residents had only been able to legally bet on sports through online sportsbooks operating offshore.
There were and still are no state laws prohibiting online offshore sports betting. The laws recently authorizing state-regulated sports betting simply expand the range of betting options available to sports fans in IL.
Illinois Sports Betting Bills
The Status of Illinois Sports Betting Legislation for 2023
The 2022 legislative season was an incredibly busy one for lawmakers in Illinois. Over 20 bills with some type of relevance to sports gambling in the state were considered throughout the session. Although the state-authorized sports betting in 2019, various elements concerning revenue, taxation, and oversight arise. 
Among these IL sports betting bills, the measures considered included: re-writing tax laws concerning both physical and digital gambling and lottery operations, implementing stricter age-verification technology in the industry, and regulation of winner payouts.
You can keep up with IL sports betting legislation using our bill tracker page.
Best Sports Betting Sites In Illinois 2023
Below is a list of the best available USA sports betting options offered through trusted offshore sportsbooks. Each one of these sportsbooks accepts Illinois residents and has been doing so for years.
These brands also provide mobile sports betting apps and live betting capabilities. For readers looking for more information about these online sportsbooks, you can also check out our sportsbook reviews written by industry professionals who are also devoted sports gambling enthusiasts.
Illinois Sports Betting Details
Legal Sports Betting: In-state; Offshore
Launch date: March 2020
Minimum Sports Betting Age: 21+
Land-Based: Casinos, Racetracks, Sports Arenas
Online: Domestic; Offshore
Mobile: Domestic; Offshore
In-Play: Domestic; Offshore
State Sportsbook Revenue: $42,300,200
Eligible Operators: Wrigley Field, multiple casinos, and racetracks
Commission: Illinois Gaming Board
Licensing Fee: $10 million
Tax Rate: 15% in IL (17% in Chicago)
Tax-Funded: State Gaming Fund, Sports Wagering Fund, and Capital Projects Fund
What You Can Bet On in Illinois:
In-state: The new sports betting bill allows wagering on professional sports teams, in-game wagering, and betting on game prop bets; Illinois-based collegiate sports wagering is prohibited.
Offshore: As of this writing, offshore sports betting is available to the state's residents. These online sportsbooks offer action on professional, collegiate, and amateur leagues based in the US or abroad. In addition, you can place bets on lines for player, team, game, and event props, among others.
What You Can't Bet On in Illinois:
In-state: The state's passed sports betting bill does prohibit state-regulated sportsbooks from accepting bets on IL-based college sports.
Offshore: The offshore sportsbooks recommended on this page do not impose any restrictions for Illinois residents.
Where Can I Bet On Sports In Illinois?
Online sportsbooks operating offshore legally have their doors open to IL residents 24/7. Illinois has authorized state-regulated betting options for brick-and-mortar, online, and mobile sportsbook gambling.
Sports Betting In Chicago, IL
Chicago is the largest metropolitan area in the state and home to 5 major professional franchises. With the Chicago Bulls (NBA), Chicago Cubs (MLB), Chicago White Sox (MLB), Chicago Bears (NFL) and Chicago Blackhawks, the city is ripe for betting action.
Although Illinois has legalized mobile and domestic sportsbooks, legal sports betting in Chicago is still in dispute and there is a current ban on allowing for venues inside the cities stadiums even though state law allows for them.
An ordinance has been introduced to lift that ban, but for now, stadium and arena-based domestic sports betting in Chicago is on ice. The offshore sports betting sites that we recommend on this page service the Chicago area from Soldier Field and beyond right now!
---
Legal Illinois Sports Betting FAQs
Illinois residents are not at risk of being arrested for betting on sports as long as bets are placed at offshore online sportsbooks that are operating legally or at any of the state-regulated sportsbooks that are soon to be available.
The state of Illinois offers residents and visiting gamblers all possible avenues for betting on the March Madness Tournament via domestic and offshore sportsbooks.
Domestic venues in IL require a minimum age of 21 to enter and bet on college basketball odds, while the offshore NCAAB betting sites that we link to within this page offer their services to those in Illinois that are 18 and over.
These international March Madness betting sites are legal to use in Illinois, offer significantly more NCAAB betting lines than state-regulated options, and allow for deposits and withdrawals in cryptocurrency!
Recently passed legislation does authorize state-regulated mobile sports betting apps.  In addition, each of the online sportsbooks you see listed on this page offers a sophisticated mobile sports betting app as well.
There are no team restrictions when placing bets through online offshore sportsbooks. From passed legislation regarding IL sports betting, the state-regulated sportsbooks will not be able to accept bets placed on IL-based college teams.
The sports betting bill that received the governor's signature establishes a legal minimum sports betting age of 21.  This does conflict with the policies at most reputable offshore online sportsbooks accepting bettors at age 18. The sports betting sites listed on this page expect individuals to be aware of and compliant with their state's gambling age regulations.
The Illinois Gaming Board provides regulatory oversight for gambling in the state.
Illinois Legislative Resources
Responsible Gambling
We acknowledge the fact that if not played responsibly, gambling on sports can become addictive and lead to having negative effects on your financial situation. We encourage everyone in Illinois to play in a responsible manner, but if you feel that your gambling habits have gotten out of hand, please contact the Illinois Council on Problem Gambling for immediate assistance.