Legal Bundesliga Football Betting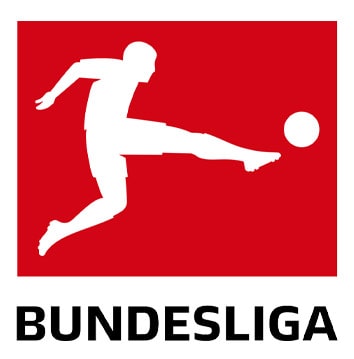 Bundesliga punters are the fastest-growing group of bettors in Europe, and that means that the market for legal Bundesliga football betting is larger than ever.
Even in America, where the game is slandered as "soccer," wagering on this league is catching on in a big way, and the online sportsbooks that serve both Germany and the US (as well as a number of other countries) all go out of their way to offer robust lines, alternate lines, props, and live betting action on Germany's premier football league.
If you've never bet on top-level Deutsch football before and are looking to get started, consider our Bundesliga guide to be a free-kick loaded with all the tips and tricks you need to pick the best sportsbooks and make the best football wagers possible. Bettors looking for other football leagues should check out our legal soccer betting guide for more betting options.
Best Legal Bundesliga Betting Sites
What Is Bundesliga?
The Bundesliga (aka die Fußball-Bundesliga or "Federal League") is the highest echelon of professional football in Germany. Founded in 1963 in Dortmund, the league is comprised of 18 teams, and these teams cycle into and out of the league (to and from the 2. Bundesliga tier) via promotions and relegations earned through seasonal performance standards. This format is typical of European football, though it may be unfamiliar to US punters.
Since it was first played on the pitch, 56 different football clubs have competed in the Bundesliga, with Bayern Munich winning the championship 28 times to date. The Bundesliga is operated by the Deutsche Fußball Liga (DFL), or "German Football League," and wagering interest – as well as league fandom – is surging of late.
Current Bundesliga Teams
There are two main Bundesliga teams: "1. Bundesliga", or the top professional tier, and "2. Bundesliga", the relegation league. Based on club performance metrics, lower-ranking teams can be demoted to 2. Bundesliga, whilst top 2. Bundesliga teams may be promoted to 1. Bundesliga. As a result, the clubs in the two tiers may sometimes change from season to season.
Is It Legal To Wager On Bundesliga Football?
Yes! If you live in Germany (or the US and various other countries), you can legally bet on Bundesliga action provided you use a licensed and regulated offshore betting site or legitimate domestic option. For Deutsch punters, domestic books will certainly offer lots of Bundesliga odds, but the prices may be unfavorable compared to offshore sportsbooks, which don't have the same "home crowd" skew.
For example, if you live in Munich and want to wager on Bayern Munich, all your neighbors probably do, too, driving the associated payouts down. Because offshore betting shops take players from so many more regions nationally and internationally, you will almost always find better lines on favourites and underdogs alike.
Where Can I Bet On Bundesliga Football?
You can wager on the highest level of German professional football at any top offshore sports betting site. For Deutsch punters, local options also exist, but as noted above, the lines available will often be lopsided due to local and nearby favourites all putting their Euro on one side of a given match.
As long as you choose a reputable offshore operator like those listed here, you'll get all the Bundesliga betting lines and odds you can handle, with props and live betting opportunities on every match. Offshore Deutsch sportsbooks are pitch perfect for football betting!
How Popular Is Bundesliga Football Punting?
For fans and punters, the Bundesliga rivals the English Premier League, with higher stadium attendance rates and average betting handles that finish just behind the UK enterprise. What's more, Bundesliga football is enjoying an unrivaled surge in popularity with bettors, and it could challenge the Premier League for top honors in that market within a few years if trends continue apace.
Even in the US – a market not traditionally known for proper football wagering – Bundesliga betting has caught on in a major way, forcing domestic books to carry comprehensive lines on "German soccer."
Bundesliga Betting Types
The types of Bundesliga betting lines available at German offshore sports betting sites are going to be of the typical footballers' variety. If you've ever bet on football before, you'll be familiar with the wagers on offer. A few of the major types include the following:
Full Time Result – Choose the winning club or a draw result.
Half Time Result – Choose the winning club or a draw result at halftime.
Draw No Bet – Choose the winning team. Draws are graded as "no bet" and refunded.
Handicap (Asian Handicap) – Bet the handicap, with points taken from the favourite and given to the underdog. (This is called betting the "point spread" in the US.)
Correct Score – Pick the exact final score of the match.
Totals (Over/under) – Pick whether the combined goal total will be greater or less than the number selected by the sportsbook.
Futures (Outrights) – Pick league champions, statistical league leaders, Footballer of the Year recipients, etc.
Props – Wager on in-game player and team statistical performances.
Bundesliga Betting Tips
When betting on the FIFA World Cup or German football , there are really no secrets or special strategies different from wagering on any other sport. For the most part, casual bettors will typically go with their gut or wager on their favourite clubs. However, more savvy punters or professionals will always consider a number of factors when betting on top-tier German football results. These include – but are not limited to – the following:
Team win-loss records
Team ATS (against the spread) records
Team home/away records
Injury reports and player statuses
Specific club and player matchups
Off-field player/club issues
Weather, match time, and other pitch specifics
In addition to the above strategies that help inform punters' wagers, there are also bankroll management strategies to take into account. The most common of these include the following:
Shop lines between multiple books (domestic and offshore)
Place small wagers whilst starting out
Avoid betting on parlays whilst starting out
For profit, bet with your head, not your heart
Avoid placing too many live bets in any given match
Don't chase losses to recoup bad bets quickly
---
FAQs
What is the most prevalent Bundesliga football club?
The most popular Bundesliga football club is FC Bayern Munich, followed closely by Borussia Dortmund. The other clubs in the league are all generally well-liked, but the aforementioned are the biggest teams going and have the largest fanbases by far.
Which Bundesliga club has the most championships?
FC Bayern Munich has the most Bundesliga championships, with 28 titles (the most recent being in 2018-2019). The club has been particularly dominant over the last 20 years, winning 14 titles since 1999-2000.
Who are the most famous players in Bundesliga?
There are a great many famous Bundesliga players. The all-time leading scorer in league history is Gerd Müller, who netted 365 goals in his career. The player with the most Bundesliga championships is Franck Ribéry, who won nine titles with Bayern Munich since 2007. Goalkeeper Manuel Neuer has the most clean sheets (aka shutouts) in single-season history, with 20 (2014-2015), and the US' Christian Pulisic is the most notable American to ever play in the league.
Right now, the biggest superstars in the Bundesliga are:
Manuel Neuer – Goalkeeper, Bayern Munich
Marco Reus – Forward, Borussia Dortmund
Robert Lewandowski – Striker, Bayern Munich
Thomas Müller – Forward, Bayern Munich
Benjamin Pavard – Defender, Bayern Munich
Andrej Kramaric – Forward, 1899 Hoffenheim
Thiago Alcântara – Central midfielder, Bayern Munich
Alfreð Finnbogason – Striker, FC Augsburg
Does Bundesliga have the same rules as other major football leagues?
As for the rules of football on the pitch itself (including the typical pitch size of 108 metres x 68 metres), Bundesliga football has the same general standards and codes of conduct as the other major European leagues (Premier League, La Liga, etc.). When it comes to league business, of course, the Bundesliga has its own unique structure compared against other major football associations.
Is Bundesliga the most popular European football league to bet on?
Whilst it could become the most popular sport for punters in the near future due to its status as the fastest-growing football league in Europe, Bundesliga betting still trails English Premier League betting in most markets outside of Germany itself. Nevertheless, the league currently turns a handle of tens of billions of Euro each year.
Do all sportsbooks offer Bundesliga betting?
No, but most of them are starting to take notice. Even small sportsbooks in the middle of the US are beginning to offer Bundesliga betting lines, and all of the top offshore German sportsbooks have been offering action on the league for years. Soon, Bundesliga odds will be as prevalent as Premier League odds in the international market, and they'll also be right up there with NFL betting odds in the US.