New Hampshire Sports Betting – How To Bet On Sports Legally In NH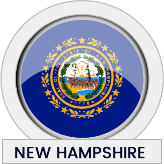 Online Sports Betting Available In NH Via Offshore Sportsbooks
In-Person Domestic Sports Betting In New Hampshire Is Legal
Mobile Sports Betting In NH Available Via Sportsbook Apps
New Hampshire enacted a sports betting bill in July of 2019 and didn't expect to see any action until July 2020. However, New Hampshire residents over the age of 18 received access to state-regulated online sportsbooks and mobile sports betting apps as of December 30, 2019, when the Draftkings online and mobile sportsbook launched in the state.
New Hampshire players can also use legitimate international sportsbooks to wager on sports since the state does not have specific laws in place making it a crime to place bets at betting sites operating outside of state lines.
Is Sports Betting Legal In New Hampshire?
Yes, New Hampshire Governor Chris Sununu signed sports betting into law in July of 2019. The NH Lottery Commission was mandated to form a Division of Sports Wagering to license and regulate the sports betting industry in the state.
The state-regulated sportsbooks started accepting wagers online and via a mobile app on December 30, 2019, ensuring they'd be ready for Super Bowl 54 betting action.
NH residents can also legally access offshore sportsbooks located outside of US jurisdiction and legally permitted to offer betting services to New Hampshire players based on free trade laws. Unless the state of New Hampshire directly prohibits their use, online offshore sportsbooks are permissible to use.
New Hampshire Sports Betting Bills
While New Hampshire passed a bill in favor of sports betting back in 2019, new measures implemented during the 2021 legislative session will allow for the state's parishes to vote on whether they want sports betting within their locality. This bill mirrors previous legislation enacted by Louisiana in 2020.
Residents will see this NH sports betting measure on their ballots within the year. To keep up with further progress on sports betting legislation in New Hampshire, be sure to visit our US Sports Betting Bill Tracker page here: Track Sportsbook Legislation By State
Best Sports Betting Sites In New Hampshire
Below is a table made up of the best available online sportsbooks accepting New Hampshire bettors. Our verification checklist looks for things like legal licensing, regulation, wagering type and betting line selection, mobile/live betting capabilities, a strong security presence, reliable customer service, and generous bonus incentives.
Want more information? Check out our reviews page where our industry professionals have written detailed reviews about the brands listed below.
NH Sports Betting Details
Below, NH players can find current details on the state's available sports wagering market. The following information details what we currently know about domestic sports betting in New Hampshire. This section will be updated when new information is available.
Effective: July 12, 2019
Launch: December 30, 2019
Minimum sports betting age: 18 years old
Allowed:  Land-based, online, and mobile apps statewide
Prohibited: Betting on games involving NH colleges
In-play betting: Online and mobile-only
Governing body: NH Lottery Commission – Division of Sports Wagering
Number of licenses allowed: 10 locations
Licensing fee: N/A
Tax rate: 50% B&M / 51% Online
State Sportsbook Revenue: $2,290,364
Tax distribution: NH public education
How To Bet On The NBA Playoffs In New Hampshire
NH has a wealth of domestic and offshore options for betting on the NBA Playoffs. The international New Hampshire betting sites we list above provide the best options for online NBA betting for several reasons.
The first is that offshore sportsbooks offer more NBA prop bets than their domestic counterparts in NH, and they also accept cryptocurrencies like Bitcoin, Tether, Ethereum, Cardano, and more.
What You Can Bet On In New Hampshire:
All betting lines, odds, and props for all games, teams, and players in New Hampshire across all college and professional sports (via Offshore)
What You Can't Bet On In New Hampshire: 
NH College teams (domestic), No restrictions (via Offshore)
Where Can I Bet On Sports In New Hampshire?
State-regulated sportsbooks became available at the very end of 2019. In addition, offshore online sportsbooks are perfectly legal and available for NH players to utilize as well.
Biggest Sports Betting City in New Hampshire
Manchester Sports Betting

The lack of any major professional or college teams may seem off-putting regarding betting, but New Hampshire is bordered by Massachusetts, one of the best sports states in the country. The New England Patriots (NFL) are the closest thing to a home team to Manchester residents. Our suggested offshore sportsbooks offer betting lines on the Patriots, Boston Bruins, Boston Celtics, Boston Red Sox, and every other major professional and college team in the country.
You can even bet on teams from international leagues.
---
Legal New Hampshire Sports Betting FAQs
Will I Get Arrested for Betting on Sports in New Hampshire?
New Hampshire players can only be charged for illegal gambling by wagering on sports through unlicensed and unregulated NH-based bookies and sportsbooks. NH players will not be in violation of any state or federal laws if they bet through offshore sportsbooks.
How To Bet On March Madness In NH
All options are on the table for betting on March Madness in New Hampshire, including domestic (in-person/online), and offshore sportsbook sites, all featuring a minimum age of 18.
We recommend the college basketball betting sites listed on this page because of their cryptocurrency banking options, 24/7 operating hours, and hundreds of March Madness prop bets that are not available domestically.
Are Mobile Sports Betting Apps Legal in New Hampshire?
State-regulated sports betting launched in late December of 2019, and offerings include mobile betting options. Additionally, offshore sportsbooks offer mobile sports wagering capabilities and are considered legal to use according to state and federal law.
What Teams Can I Bet on in New Hampshire?
There are no restrictions on the types of teams NH players can bet on through offshore sportsbooks. New Hampshire will prohibit sports wagering on local collegiate teams when the domestic sportsbooks launch.
Are There Any Local Sportsbooks in New Hampshire?
Currently, you can only wager at the domestic DraftKings sportsbook in NH. While retail brick-and-mortar venues are approved by law, none has opened to date.
What is the Legal Minimum Sports Betting Age in New Hampshire?
Domestic New Hampshire sportsbooks will allow anyone aged 18 and up to place a sports bet. Offshore sportsbooks also accept NH players as young as 18 years old.
---
New Hampshire Legislative Resources
New Hampshire residents seeking to contact their local representatives in either support for domestic sports wagering legalization or against it, can use the following resources to search for local politicians, bill sponsors, and get their contact information.
New Hampshire Gambling Resources
Individuals who believe they are experiences signs of problem gambling or know someone developing a problem gambling habit are encouraged to seek local resources provided by the New Hampshire Council on Problem Gambling.