Massachusetts Sports Betting – How To Bet On Sports Legally In MA 2023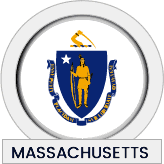 Online Sports Betting Available In MA Via Offshore Sportsbooks
Domestic Online & Mobile Sportsbooks To Debut Q1 2023
Brick-And-Mortar MA Sportsbooks Expected Soon
The legal Massachusetts sports betting market is ripe with potential opportunities, as the state's legislature has finally passed a bill for domestic sports betting in MA. Online, mobile, and retail sportsbooks are expected to open in early 2023, with gambling vendors submitting applications right now.
Now that the governor has provided his signature, Massachusetts has joined several other US states that support sports betting. While area gamblers wait for domestic options to debut, they are able to legally bet on sports in MA through reputable online sportsbooks operating legitimately outside of the United States right now.
These offshore gambling sites have been providing safe and reliable sports betting services to Massachusetts sports fans for many years, and the onset of domestic venues will not disrupt their operation in any way.
Massachusetts Sports Betting Bills
The Status of Massachusetts Sports Betting Legislation for 2023
Massachusetts lawmakers finally made some progress during the 2022 legislative session when H5164 was passed by a vote of 36-4. The bill was signed into law, making online, mobile, and retail sportsbooks legal in Massachusetts. Sportsbook vendors have until November 21, 2022, to submit their applications. Brick-and-mortar sports betting locations are expected to open prior to summer of 2023, with online and mobile sportsbook apps entering the picture earlier than that.  
Information on MA sports betting bills can be found on our US state bill tracker page.
Best Sports Betting Sites In Massachusetts For 2023
We have compiled a list of the safest online sports gambling options and featured them below. All of these websites have been screened by our team and have been deemed legitimate and secure, and are rated as high-quality sports betting providers.
For more information, check out our sportsbook reviews page written by industry professionals who have years of online sportsbook experience.
Is Sports Betting Legal In Massachusetts in 2023?
The state of Massachusetts now regulates online and in-person gambling and will be issuing licenses to sportsbook vendors within the Bay State very soon. Lawmakers have set a minimum age of 21 for placing a bet on sports at a domestic book in MA.
Alternatively, sports gambling options are legally available through international online sportsbooks for 18 and older bettors in Massachusetts. No US federal gambling law nor Massachusetts state gambling laws prohibit individuals from accessing and betting on sportsbooks located outside of the USA, such as the ones you see on this page.
MA Sports Betting Details
Below you can find information on what currently is and isn't allowed in Massachusetts in relation to sports betting. These details are subject to change if either bill presented becomes a gambling law which we will update the information below to reflect those changes.
Legal Sports Betting: Domestic, Offshore
Massachusetts Minimum Sports Betting Age: 21 (Domestic), 18 (Offshore)
Land-Based: Yes
Online: Domestic, Offshore
Mobile: Domestic, Offshore
In-Play: Domestic, Offshore
Estimated Revenue: $60 Million Annually
Eligible Operators: TBD
Licensing Fee: TBD
Tax Rate: 20% Online, 15% In-Person
Tax-Funded: No
What You Can Bet On in Massachusetts:
Domestic - Most major professional and collegiate sports, except for colleges and universities that reside within MA
Offshore - All betting lines for all teams, players, games, and matches across all college, amateur, and professional sports for both domestic and international leagues
What You Can't Bet On in Massachusetts: 
MA-based college teams (except for tournament play), political election odds
No restrictions via offshore sports betting sites
Where Can I Bet On Sports In Massachusetts?
State-regulated MA sportsbooks have been authorized and will begin to accept wagers during the early part of 2023. Right now, there are no available local sports gambling destinations. However, offshore sportsbooks are legal avenues for MA players to wager through since no state or federal laws directly prohibit their use.
Our recommended sports betting sites above have been vetted for security, reliability, and legitimacy.
Biggest Sports Cities In Massachusetts
Boston
Boston is the heart of Massachusetts sports. The city hosts three major professional franchises - the Celtics (NBA), Red Sox (MLB), and Bruins (NHL). There is also Boston College, which plays in the ACC.
Not only is Boston a great sports town for its variety, but also for its winning ways. Each of the city's teams has won several championships over the years.
Celtics: 17 NBA Championships
Red Sox: 8 World Series Titles
Bruins: 6 Stanley Cups
MA-based gamblers can place bets on any of these teams through the offshore sportsbooks in this guide throughout each season.
New England
Even though they do not bear the Boston name, the New England Patriots are a Massachusetts team. Playing out of Foxborough, MA, the Patriots are one of the most dominant teams in NFL history, with a total of 6 Super Bowl wins.
The Patriots are led by head coach Bill Belichick who is considered among the greatest in NFL history. New England is always a strong team to bet on, but payouts are often low due to them being the favorite nearly every time. The Patriots matched up against other strong football teams is a big reason why US sports betting is popular among many football fans.
Legal Massachusetts Sports Betting FAQs
Will I Get Arrested for Betting on Sports in Massachusetts?
No. Betting on sports using a local sportsbook in MA requires a minimum age of 21, while many offshore sports betting sites allow for wagers to be placed at 18 years of age. As long as the minimum gambling age requirements are met for both offshore and domestic sportsbooks in Massachusetts, no laws are being violated.
How To Bet on March Madness In Massachusetts
While there are state-regulated sportsbooks in MA, offshore March Madness betting sites like the ones listed in the table above accept NCAAB wagers over the web from 18 and over customers.
These legal Massachusetts betting sites that offer college basketball odds represent the best route for Massachusetts gamblers to take this NCAA Basketball postseason.
Are Mobile Sports Betting Apps Legal in Massachusetts?
Massachusetts has now authorized domestic sports betting apps that can be downloaded to smartphones and tablets, and they should begin accepting wagers at some point in 2023. We recommend that MA-based gamblers take advantage of the mobile sports betting apps provided by the offshore sportsbooks recommended on this page.
What Teams Can I Bet on in Massachusetts?
Offshore sportsbooks have no restrictions on the teams, leagues, or events MA players can wager on. Domestic Massachusetts sportsbooks will not allow wagers to be placed on college teams that are based or located within MA unless they are involved in a tournament.
Are There Any Local Sportsbooks in Massachusetts?
At this time, there are no sportsbook venues or service providers authorized by any enacted MA gambling laws. However, numerous operators will be submitting license applications to operate within MA, with online, mobile, and brick-and-mortar expected to open up for business in 2023.
What is the Legal Minimum Sports Betting Age in Massachusetts?
The state has yet to set a minimum gambling age of 21 years old. Offshore sportsbooks accept MA-based bettors if they are at least 18 years old or older, but some of our top overseas sports betting sites require their members to be 21+.
Betting On Football In Massachusetts In 2023
How To Bet On NFL Football in Massachusetts
The New England Patriots command a lot of attention from sports bettors in Massachusetts, and rightfully so. They've won more championships than any other franchise in the league. If you are interested in betting on the NFL in the MA region, we suggest doing so with one of the offshore sportsbook sites that we recommend here at SBL. They offer many advantages over domestic sports betting venues including the ability to accept cryptocurrency, mobile capabilities, and more prop bets than local options can provide.
How To Bet On College Football in Massachusetts
Each fall, the college football season begins in MA with teams like the Boston College Eagles and Harvard Crimson popping pads on the gridiron. Legally betting on college football is also a major pastime in the region, and the online sportsbook sites that are mentioned here in this guide are where you should place your wagers. Teams from all across the country can be bet on each weekend, as well as CFP Championship futures, and NCAAF prop bets for each major game.
Massachusetts Legislative Resources
If you live in Massachusetts and want your voice heard by your local lawmakers regarding the progress of domestic sports wagering, we suggest the following local resources for contacting MA lawmakers, legislators, Representatives, and the Governor.
MA Gambling Resources
We encourage Massachusetts players over the age of eighteen to wager responsibly. Those players who fear they or a loved one may be developing a gambling problem can contact the Massachusetts Council on Compulsive Gambling for assistance and treatment.