Massachusetts Sports Betting – Bet On Sports Legally In MA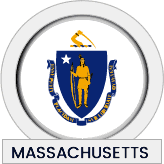 The Massachusetts sports betting market is ripe with potential opportunities just beyond the horizon. Currently, the state's legislature is considering multiple sports gambling legalization bills in addition to several associated bills related to legal domestic betting.
Many expect at least one of these bills to be signed into law which would add Massachusetts to the list of US states which allow sports betting. If a legal sports betting bill is passed in the state, MA players could begin betting on sports at state-licensed sportsbooks by 2020. This would mean MA players could enjoy domestic sports wagering options in addition to legal betting options at offshore sportsbooks.
Is Sports Betting Legal In Massachusetts?
Massachusetts has yet to enact any specific laws for or against state-regulated sports gambling meaning that at this time, there are no legal domestic sports wagering opportunities available for MA residents and state visitors. However, sports gambling options are legally available through offshore online sportsbooks.
No US federal gambling law nor Massachusetts state laws prohibit individuals from accessing and betting on sportsbooks located outside of the USA. The state of Massachusetts does not currently regulate online gambling or license any sportsbooks within the Bay State.
Massachusetts Sports Betting Bills
With the introduction of multiple sports gambling legalization bills, there is an optimistic outlook for sports wagering to be available to MA players by 2020. The legislature is working on several sports gambling bills which intend to regulate and authorize domestic sports betting. Information on these bills can be found on our US state bill tracker page.
Best Online Sportsbooks For Massachusetts Residents
We compiled a list of the safest online sports wagering options and put them into the table below. All these websites have been screened by our team and determined to offer a legitimate, secure and high-quality betting experience.
If you still feel like you need more information check out our sportsbook reviews page written by industry professionals who have years of online sportsbook experience.
MA Sports Betting Details
Below you can find information on what currently is and isn't allowed in Massachusetts in relation to sports betting. These details are subject to change if either bill presented becomes a gambling law which we will update the information below to reflect those changes.
Legal Sports Betting: Offshore Only
Massachusetts Minimum Sports Betting Age: 18 years old (via Offshore)
Land-Based: TBD
Online: Offshore Only
Mobile: Offshore Only
In-Play: Offshore Only
Estimated Revenue: TBD
Eligible Operators: TBD
Licensing Fee: TBD
Tax Rate: TBD
Tax-Funded: TBD
What You Can Bet On in Massachusetts:
All betting lines for all teams, players, games, and matches across all college, amateur, and professional sports for both domestic and international leagues (via Offshore)
What You Can't Bet On in Massachusetts: 
No restrictions (via Offshore)
Where Can I Bet On Sports In Massachusetts?
State-regulated MA sportsbooks have not been authorized at the legislative level as of yet. This means there are no available local sports gambling destinations, however, offshore sportsbooks are legal avenues for MA players to wager through since no state or federal laws directly prohibit their use. Our recommended sports betting sites above have been vetted for security, reliability, and legitimacy.
Biggest Sports Cities In Massachusetts
Boston
Boston is the heart of Massachusetts sports. The city hosts 3 major professional franchises in the Celtics (NBA), Red Sox (MLB) and Bruins (NHL). There is also Boston College (which plays in the ACC).
Not only is Boston a great sports town for their variety, but also for their winning ways. Each of the city's teams has won their fair share of championships.
Celtics: 17 NBA Championships
Red Sox: 8 World Series Titles
Bruins: 6 Stanley Cups
Each Boston team has been somewhat out of form the past few years. The Red Sox are the most recent championship team with a win in 2013. The Bruins' last Stanley Cup was in 2011 and the Celtics have not won a championship since 2008.
Now, the Red Sox look the closest to recapturing that championship spirit, as they sit atop the American League East as the season winds down. Meanwhile, the Celtics went through a drastic rebuild involving star players Gordon Hayward and Kyrie Irving. They are expected to be a threat in the Eastern Conference.
While the Bruins made the Playoffs last year, they were eliminated in the first round.
Betting on these teams is a sure thing, if not for their success, for the loyalty residents have for them. You can place bets on any of these teams through the offshore sportsbooks in this guide throughout each season. Keep an eye on the Celtics for the upcoming NBA season.
New England
Even though they do not bear the Boston name, the New England Patriots are a Massachusetts team. Playing out of Foxborough, MA, the Patriots are one of the most dominant teams in NFL history. They have a total of 5 Super Bowl wins under their belt and have been in the strongest team in the AFC for a while now.
The Patriots are led by head coach Bill Belichick and quarterback Tom Brady, both considered among the greatest in NFL history. New England is always a strong team to bet on, but payouts are often low due to them being the favorite nearly every time. The Patriots matched up against other strong football teams is a big reason why US sports betting is popular among many football fans.
---
Frequently Asked Questions About Massachusetts Sports Betting
Will I Get Arrested for Betting on Sports in Massachusetts?
There are no authorized sportsbooks in MA at this moment until legislation is passed to regulate the expanded gambling form. Therefore, we do not recommend wagering on sports through any local sportsbooks or bookies located in MA. However, offshore sportsbooks welcome MA players to wager on their platform. These sportsbooks do not violate any state or federal laws and can be used to wager on immediately.
Are Mobile Sports Betting Apps Legal in Massachusetts?
Massachusetts has yet to authorize domestic sports gambling options which would include mobile sports wagering. The state is considering legislation which includes language to authorize mobile sports wagering options but until such a bill is made into law we recommend MA players use the mobile betting apps provided by the online sportsbooks recommended on this page.
What Teams Can I Bet on in Massachusetts?
Offshore sportsbooks have no restrictions on the teams, leagues, or events MA players can wager on. While Massachusetts currently does not have any available domestic sports betting options, once a sports betting bill is enacted the state may have prohibitions against betting on certain sports games, teams, and events particularly those based or located within Massachusetts.
Are There Any Local Sportsbooks in Massachusetts?
At this time, there are no sportsbook venues or service providers authorized by any enacted MA gambling laws. However, we expect there to be numerous operators available in MA once these bills are passed. There is also a possibility of neighboring states to launch their own sportsbooks providing additional brick and mortar sports gambling options.
What is the Legal Minimum Sports Betting Age in Massachusetts?
Without any sports gambling laws active in Massachusetts, the state has yet to set a minimum gambling age. Offshore sportsbooks accept MA players if they are at least 18 years old or older. If MA were to pass a betting law the minimum age set by the state may conflict with the age restriction set by offshore bookmakers.
---
Massachusetts Legislative Resources
If you live in Massachusetts and want your voice heard by your local lawmakers regarding the progress of domestic sports wagering, we suggest the following local resources for contacting MA lawmakers, legislators, Representatives, and the Governor.
MA Gambling Resources
We encourage Massachusetts players over the age of eighteen to wager responsibly. Those players who fear they or a loved one may be developing a gambling problem can contact the Massachusetts Council on Compulsive Gambling for assistance and treatment.