Legal Rugby Betting Guide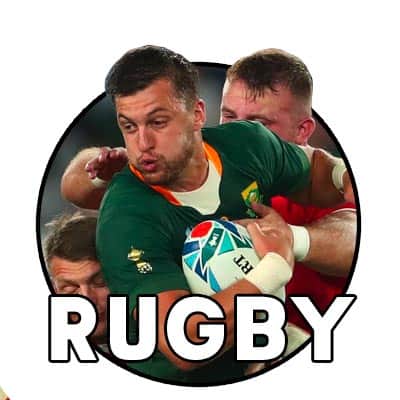 Rugby has dominated the world of international sports for over a hundred years and is quickly rising in popularity in the United States, joining the ranks of football and soccer.
This means that wagering on rugby has exploded to become a featured sport for bettors both inside and outside of the US. Top-rated legal sports betting sites offer a score of robust lines, props, and live betting action for rugby fanatics.
If you are new to the game of Rugby, or to legal online betting, look no further. Our guide offers a comprehensive breakdown of the sport along with all the information you need to get wagering on Rugby!
Is Betting On Rugby Legal In The United States?
Betting on Rugby is legal in the United States. Bettors have two options to gamble legally on rugby: Domestic and International.
Domestic – If you live in a US state that features regulated sports betting, you can visit one and place a bet on Rugby.
Offshore – There are no federal or state laws, outside of WA, that prevent international sportsbook sites from accepting bets on Rugby over the web.
Best Betting Sites For Rugby Betting In 2023
Major Rugby Leagues To Bet On
Rugby's two main organizations, The RFL and RFU, separated over conflict between the "amateur" players (affluent English high society), now RFU, and the RFL "professional" players (lower class players who needed compensation for playing).
Today, the only differences are in the rules and tournaments offered, which we discuss below.
Rugby Football Union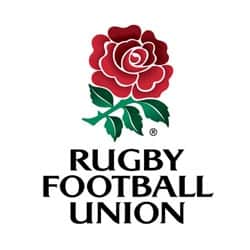 The Rugby Football Union experiences more international popularity, sportsbooks host a larger variety of betting lines on RFU games and tournaments.
RFU matches consist of 15 players on each team, split between 8 forwards and 7 backs.
Forwards: Hooker, Props, Second Rows, Flanker, and Number Eight
Backs: Scrum Half, Fly Half, Inside Centre, Outside Centre, Wingers, and a Full Back
Rugby Football League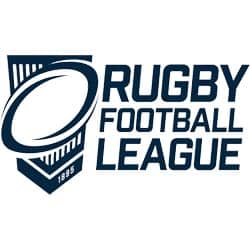 Rugby Football league games consist of 13 players on each team, also split between forwards and backs.
Forwards: Prop, Hooker, Front Row Forward, Second Row Forwards (2), Lock Forward
Backs: Full Back, Right and Left Wingers. Right and Left Centres, Stand-off Half and a Scrum Half.
Current Rugby Betting Odds
There are many exciting tournaments and championships that provide a score of different betting odds throughout the organizations' 14-week seasons and tournaments.
Both Rugby Union betting odds and Rugby Football League betting lines can be found at the trusted online sportsbooks featured on this page. These sports betting sites offer competitive RFU odds and RFL odds, with pay lines comparable to the Vegas bookmakers.
How To Bet On Rugby Leagues Online
Before you start placing bets on your favorite rugby teams and players, you'll need to select a sportsbook and create an account.
Here is a step-by-step on how to sign up at any of these sites.
Follow any link on this page to the legal sports betting site you wish to join, find and click on the "Sign Up" or "Join" button.
Enter your credentials, including your first and last name, your email address, and your phone number. It is important that you use your real information as you will have to prove your identity in order to claim your winnings and make withdrawals. All the top sportsbooks guard your private data securely, and they never share it with or sell it to third parties.
Choose a username and password for the site.
You can choose to make a deposit at this point or review the relevant rugby betting lines first. Be sure to familiarize yourself with the bonus offers and promotions, as well as the method for claiming them as this is often done during account funding.
Great! You are enrolled with the sportsbook and on your way to making some serious cash!
Now it is time to familiarize yourself with the different rugby betting lines, odds and wagering options you might come across.
Rugby Straight Bets
Rugby straight bets involve picking an outright winner. The team with a negative moneyline indicates the favorite, and a team with a positive moneyline represents the underdog.
Rugby Spread Bets
In a Rugby spread bet the favorite must win by a certain number of points (spread) as indicated by the sportsbook, while the losing team can lose by up to that number of points or win outright to win the bet.
Rugby Totals Bets
In a Rugby total bet, the sportsbook will predict the combined number of points scored between both teams. The bettor picks whether that number will be higher or lower than the sportsbook's prediction.
Rugby totals are also called Rugby over/under bets.
Rugby Prop Bets
Rugby props can come in the form of player props or team props. These ask the bettor to wager on the individual or team-based outcomes unrelated to the final score but related to statistical performance.
Rugby Futures Bets
Rugby futures offer preseason and in-season odds on things like "which player will win MVP."
Rugby Parlay Bets
Rugby parlay bets include a series of outcomes in order to win the bet. The structure of parlay bets has expanded in recent years, and parlays are no longer limited to simply picking two or more matches to beat the spread. Some sportsbooks are now providing a parlay building tool to allow bettors to mix and match bet types within a single parlay.
The Rugby World Cup is an international RFU championship tournament held every four years. You can bet on the Rugby World Cup at any of our recommended sportsbooks.
The Rugby World Cup is traditionally held in the summer on odd-numbered years.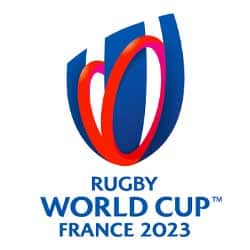 Rugby Six Nations Betting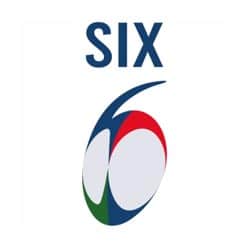 The Six Nations Championship is another popular RFU competition held annually between the teams of England, France, Italy, Ireland, Scotland, and Wales.
The current champions are the Wales team, who won in 2019. The tournament begins the first weekend of February and ends with Super Saturday on the third weekend of March.
Six Nations betting lines are available at multiple reputable international sportsbooks.
Mobile Rugby Betting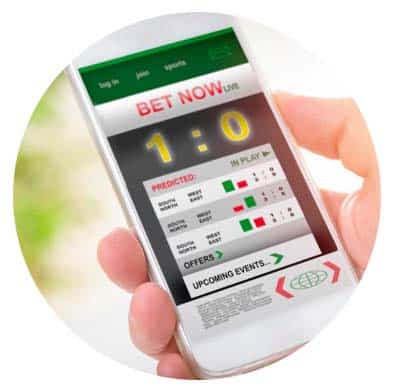 Let's be honest, laptops and desktops are old-fashioned. Mobile betting offers the best and most efficient ways to wager at your own convenience.
Our US-friendly sportsbooks offer mobile betting options through web-based, mobile-optimized applications that are compatible with most mobile devices and that do not require a download. The rugby betting sites we recommend all offer mobile versions of their sportsbook that provide the same functionality and features as their desktop versions.
These apps are also cross-brand compatible and will render perfectly across the most popular mobile operating systems (Android, iOS, Windows) as well as the most widely used mobile networks. Responsive design technology allows these sports betting applications to accommodate most device displays with precision.
Whether you're chugging a pint of Guinness at the pub or cheering on your favorite team at the Rugby World Cup, you have the ability to bet on rugby on your mobile device anywhere!
Use a mobile browser (Chrome, Safari, etc.) to access one of our recommended mobile sportsbooks.
Rugby Live Betting
Traditional sports betting requires you to finalize your bets before the game starts, however, our recommended sportsbooks offer live betting, sometimes also referred to as in-play betting.
Live betting offers real-time live rugby wagers while the game is taking place. Not all matches are included in live betting, so you'll need to check the live betting options at the sportsbook ahead of time to ensure they match you intend to wager on is eligible for in-play wagering.
Don't go to the pub too early! Keep an eye out for how the odds shift live!
Bonus Offers
Sportsbooks are eager for new business and offer bonuses and promotions to enhance their customer's bankroll as a means of attracting new bettors. There are a few different types of promotions commonly offered:
Sign-up bonus:  This is an offer specifically for brand new customers. A common bonus structure for a sign-up offer is a deposit match bonus. For example, you may see a bonus that offers a match of 50% of the initial deposit up to $250. This means the sportsbook would match 50% of your initial deposit up to a maximum of $250. There are typically larger sign-up bonuses offered for bettors who use Bitcoin to fund their account.
Reload Bonus: some sportsbooks offer deposit bonuses for returning players to keep them coming back. Just as with the sign-up bonus, these offers will increase when cryptocurrency is used to fund an account.
Referral Bonus: This type of promotion provides a bonus to bettors who refer their friends and family. Sometimes it is a flat dollar amount and others it is a deposit match bonus that is depending on the amount of the deposit.
It is a good idea to read over the terms and conditions before accepting promotional offers. Accepting a bonus or promotion is not required in order to place bets.
Banking Options
There are many ways to fund your account. Common methods to deposit money into your account are:
Credit/Debit Cards
Wire Transfer
Cashier's Check
PayPal via Betting Voucher
You can withdraw your winnings through Wire Transfer, Cashier's Check by Courier, Cryptocurrency, or Voucher.
The fastest and easiest deposit/withdraw method is using cryptocurrency, which allows for same-day payouts. Other banking methods can take 5-7 days to receive while crypto payouts can be received within 24 hours with no hassle.
It is important to note that the withdrawal options available to you are dependent on how you fund your account.  If you want to withdraw your winnings using a form of cryptocurrency, then you'll also have to make the deposit into your account using cryptocurrency.
You can visit our sportsbook deposit method page for more information.
About Betting on Rugby – The Basics
For those of you new to rugby betting action, here are some basics you need to know:
Legally betting on rugby games can be done at any online sportsbook that is operating legitimately within the industry and offers betting lines and odds on rugby games. While state-regulated sports betting is expanding throughout the US, it is not common for local online sportsbooks to offer betting options for international sports such as rugby. In most cases, bettors will fare better by visiting one of the reputable online rugby betting sites listed on this page.
We have not come across rugby-specific bonus offers, however, sign-up bonuses and reload bonuses offered at our featured online sportsbooks can certainly be applied to rugby betting lines.
If the state I live in hasn't yet legalized online sports betting, will I get arrested for betting on rugby online?
As long as you are placing your bets at an online sportsbook that is operating legally within the industry, then no, you will not be violating any US gambling laws in 49 out of 50 states. 
A Rugby game is 80 minutes long, consisting of two 40-minute halves and a 5-minute half-time break.
Rugby was invented in 1823.
According to lore, William Webb Ellis invented rugby as a pupil at the Rugby School in England.
Rugby players on average make anywhere from $30,000-$70,000 annually.
Rugby originated at the Rugby School in England.
The 2019 Rugby World Cup was played between England and South Africa, and South Africa won the title 32-12.
There are four ways to earn points in Rugby: a try, a conversion, a penalty kick and a drop goal.
Rugby is played at the Summer Olympics.