Sports Betting In New York City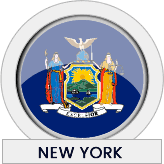 Online Sports Betting Available In NYC Via Offshore Sportsbooks
Domestic Sports Betting In New York City Available At In-Person Venues
Mobile Sports Betting In NYC Has Received Approval
New York City is easily the most populated metropolitan area in the United States, and as a result, the area also contains more sports bettors than anywhere else in the country. Not only does NYC feature at least one team from every major professional sports league, legal sports betting in New York state allows for wagers to be placed on each variety of competition via all three major means of doing so.
Thanks to the passage of recent laws in New York, mobile sports betting applications will be debuting soon, and no longer confines their domestic sports betting options to a handful of upstate casinos near Buffalo. Online (domestic and offshore) combined with New York's in-person options place all legal options on the table for NYC sports bettors, and the following sections will detail how and where.
Is Sports Betting Legal In New York City, NY?
Yes. Sports bettors in New York City have two options for wagering on sports and will have a third on the way within the next few months.
Offshore - Online sportsbooks that operate overseas are able to serve the NYC area over the web without violating any state or federal gambling laws. In the following section, we've listed the top international sports betting sites that accept members from New York City.
Domestic - Legal sports betting in New York can also be done at the state's in-person casinos that are located near Buffalo, NY and the Canada-US border. Recently, mobile sports betting applications in New York were made legal, but the official rollout date has yet to be determined.
Licensed Online Sportsbooks For Legal Sports Betting In New York City, NY
Below is a list of the best online sportsbooks that accept New York City, NY residents. These sites have been servicing the US sports betting industry for a very long time and are considered to be the most trusted and reliable options for US players.
We've thoroughly vetted each of these sites and have found them all to have the necessary legal licensing, strong security features, enticing bonuses, and other characteristics necessary to provide a high-quality betting experience similar to ones you'd find in a Las Vegas sportsbook. As a matter of fact, you will get a lot more bang for your buck by using a trusted online bookmaker compared to Vegas sportsbooks or your local bookie.

Offshore Gambling in NYC
NYC bettors who are serious about getting into sports betting should consider legal offshore gambling sites. Offshore gambling sites provide online casinos, poker, and sportsbooks. All that is required to participate in offshore gambling is legal licensing.
These licenses are provided to offshore gambling sites by governments that regulate them. American gambling laws in place surrounding sports gambling do not affect these online sportsbooks because of their offshore status.
Some international sportsbook sites have opted to not accept members from New York, so be sure to check the terms of membership prior to joining up with an offshore sports betting site in NYC.
NFL Betting Options In New York City
Legally Betting On New York Giants' Odds
The Giants play in the NFC East and have won four Super Bowl titles (1987, 1991, 2008, 2012) during their tenure in the NYC area, and are one of the oldest existing NFL teams. They share East Rutherford, New Jersey's MetLife Stadium with the New York Jets to host their home games.
Betting On New York Jets' Odds
The Jets were the first AFC/AFL team to win the Super Bowl (III), thus legitimizing the burgeoning league and causing for the eventual merger of both the NFL and the American Football Leagues. The Jets play in the AFC East Division and NFL betting sites routinely post lines and props for each of their games.
Mobile Betting In New York City
New York Governor Andrew Cuomo successfully passed mobile sports betting legislation in 2021 and looks to start accepting applications from vendors in July. The mobile sports betting applications that are available from the offshore sportsbooks that we recommend on this page can accept mobile bets right now.
These overseas sports gambling sites can offer their services via iPhones, iPads, and other popular tablets and smartphones, and because they are web-based, no download is required. Just click on one of the links above using a current mobile device and see what the fuss is all about.
New York City Bitcoin Sports Betting
Domestic sportsbooks in NYC do not accept Bitcoin or other forms of cryptocurrency, but offshore sports betting sites prefer these methods because of the secure transactions and their unregulated status. Offshore sportsbooks servicing the NYC area provide higher bonus offers for depositing with BTC than when using USD, and it is the only method of withdrawal that can be collected within 24 hours.
NYC Sportsbook Banking Options
As mentioned above, sports betting with Bitcoin and cryptocurrency is highly recommended by our staff, but offshore sportsbooks cater to all NYC bettors by accepting USD methods.
The US Dollar takes much longer to transact, however, so we urge that bettors strongly consider using crypto and BTC so that wagers can be made immediately. The following sportsbook banking options are accepted at offshore sportsbooks available in NYC.
Deposit: Credit Card, Debit Card, Wire Transfer, Cashier's Check, Zelle, Third-Party Money Transfer Services, Cryptocurrency
Withdrawal: Wire Transfer, Cashier's Check By Courier, Cryptocurrency* (the only method that allows a same-day withdrawal)
NYC Sports Betting Bonus Offers
One of the most significant differences between domestic and overseas sportsbooks are the bonuses that offshore sports betting sites offer. When your international sportsbook account is funded, members will have the option to accept a bonus that will match the deposit amount.
Percentages range from 25%-100% depending on the sportsbook and the time of year, and the bonus cash can really extend each bettors' time at the betting window. Most of the time, terms and conditions must be met in order to collect winnings based on bonus cash so read through them prior to accepting.
New York City, New York Sports Betting FAQs
Are There Any Licensed Sportsbooks in NYC, New York?
Yes. New York state features in-person sportsbooks at their northern casinos where 21+ gamblers can place a bet on professional or college athletics, and wager on the Super Bowl. Mobile sports betting apps will be debuting soon in NYC and will allow for bets to be made on sports from anywhere inside city limits.
How Do International Sportsbooks Work?
Offshore sportsbooks function like the ones you'd find in Vegas, only online. You'll have to make an account in order to bet, but you can browse the available betting lines before making an account. Once you are ready to bet, you can deposit money into your sportsbook account using several transaction methods.
Some overseas sportsbooks will limit your transaction methods based on the location you are betting from, but the most popular forms are cryptocurrency and Bitcoin (BTC). All bets can be tracked through your Bet Slip, where you can see which bets you've placed and how much you stand to win depending on your wager.
Payouts are issued with a variety of methods, but wire transfers and Bitcoin are the most common for US bettors. Betting lines are updated daily and there are bonuses offered to bettors throughout the year. Offshore sportsbooks are easy to use, but there is also customer service available for any questions or issues.
Which Laws Apply to Sports Betting in the US?
PASPA was the federal ban on sports betting in 46 states. This law was passed in 1992 and was repealed in 2018. Now many states now pushing for legalized sports betting and even the major professional sports leagues are leaning towards federal regulation.
Since PASPA is repealed, you can expect the regulated sports betting market to follow. The Federal Wire Act is a federal law that blocks US-based online sportsbooks from operating across state lines. The Unlawful Internet Gambling Enforcement Act (UIGEA) deals with banks and other financial institutions, specifically how they handle online gambling transactions.
The law doesn't target individual bettors or prevent them from betting with licensed offshore sportsbooks, but it can affect how deposit and payouts work for US bettors.
Popular MLB Baseball Teams To Bet On in NYC
New York Yankees (MLB)
The New York Yankees are arguably the most famous, popular, and valuable sports franchise on the planet. They've been in NYC since 1913 and have won 27 World Series titles over that time. They have played their home games in Yankee Stadium since 2009, and MLB betting sites almost always feature them at the top of the championship odds.  The New York Yankees play in the American League in the East Division.
New York Mets (MLB)
The New York Mets play in Shea Stadium and have won two World Series (1969, 1986) since beginning play in 1962. The Mets play in the National League East Division.
Popular NBA Basketball Teams to Bet On In NYC
New York Knicks (NBA)
The New York Knicks have hung two NBA championship banners in Madison Square Garden (1970, 1973), and currently compete in the Atlantic Division inside the Eastern Conference. They have called NYC home since 1946.
Brooklyn Nets (NBA)
The Nets have bounced around the NYC region since 1967, and have been located in Brooklyn since 2012. Online NBA sportsbooks often feature the nets favorable in the odds but they have yet to win an NBA Finals. The Nets host their home games at the Barclays Center.
Popular NHL Hockey Teams in NYC
New York Rangers (NHL)
Four Stanley Cups have been hoisted by the New York Rangers (1928, 1933, 1940, 1994), and NHL betting sites predict that it is only a matter of time before they win another title. Their home ice is housed inside the historic Madison Square Garden, and they've been the local pro hockey team in NYC since 1926.
New York Islanders (NHL)
The Islanders have also won four Stanley Cups (1980, 1981, 1982, 1983), and were founded in 1972. Nassau Coliseum in Uniondale, New York is where they play their home games and hope to win another championship soon.
Popular Soccer Teams in NYC
New York Red Bulls (MLS)
Major League Soccer has NYC representation from the Red Bulls who play at Red Bull Arena in neighboring Harrison, New Jersey.
New York City FC (MLS)
The New York City Football Club plays its home games at Yankee Stadium in the Bronx and was founded in 2013. Online MLS sportsbooks feature lines on Red Bulls and NYC FC games often.
New York City, New York Resources:
NFL Teams in NYC
New York Giants
New York Jets
MLB Teams in NYC
New York Yankees
New York Mets
NBA Teams in NYC
New York Knicks
Brooklyn Nets
NHL Teams in NYC
New York Rangers
New York Islanders
MLS Teams in NYC
New York Red Bulls
New York City FC