Legal CFL Betting Sites
2023 CFL Futures Are Posted Now
CFL Playoffs Begin In November
CFL Championship Betting Can Be Done All Year
The Canadian Football League is a professional football league that is played entirely in the country of Canada and has been in existence since 1958 when two prior leagues merged in 1958. Legal Canada betting sites provide ample opportunity for fans to lay some action on each CFL game, or on Grey Cup odds for the eventual champion, and our guide will show you how to do so.
Read on to discover more about how CFL betting odds work, which online sportsbooks are the most reliable and offer the best lines on Canadian Football League games, and which gambling laws are applicable in your area.
Is It Legal To Bet On CFL Football Games?
Yes. There are no federal laws on the books that prevent CFL bets from being made over the web with a sportsbook that is based in a regulated, overseas location. The legal online sportsbook sites we recommend in this guide are able to accept bets on CFL odds from patrons in the USA, and some serve customers in Canada as well.
There are also several regions in the USA and Canada that feature domestic sportsbooks that accept bets on CFL games, but minimum age requirements vary.
Best 2023 Online Sportsbooks For CFL Betting
What Is The CFL?
In 1958, the Interprovincial Rugby Football Union (1907) and the Western Interprovincial Football Union (1936), merged to create the Canadian Football League, and carried with it their lengthy tradition of awarding the Grey Cup Trophy to the top team from each year.
There are numerous differences between Canadian and American football, and those are detailed in the following categories.
The number of points a team is expected to win or lose by. The team listed in the negative is predicted to win. For teams to cover, victors must win by more than the spread, and losers must lose by less.
Canadian Football League Teams
Hamilton Tiger Cats – Hamilton, Ontario
Montreal Alouettes – Montreal, Quebec
Ottawa Redblacks – Ottawa, Ontario
Toronto Argonauts – Toronto, Ontario
BC Lions – Vancouver, British Columbia
Calgary Stampeders – Calgary, Alberta
Edmonton Football Team – Edmonton Alberta
Saskatchewan Roughriders – Regina, Saskatchewan
Winnipeg Blue Bombers – Winnipeg, Manitoba
Canadian Football League Rules
CFL rules vary greatly from their American counterpart to the south, and we've gone through the most major differences between them below.
Because there is added emphasis placed on the passing game in Canadian Football, there is one fewer snap allowed for offenses to try and earn a first down.
The length of the field in the CFL is 110 yards, which situates the midfield stripe on the 55-yard line. The endzones are 20 yards deep to allow for more passing options, even when the ball is placed near the goal line.
The field is also wider than in the USA by 12 yards, which adheres to the passing focus of Canadian Football.
CFL officials must have figured that a larger field size warranted a bigger starting roster for each offense and defense as 12 players are allowed to be on the field for each team. The extra position on offense is granted to running back/slot back.
The CFL allows for offensive players to be in motion before the snap, and they can move in any direction they like. The only requirement is that they do not cross the line of scrimmage before the ball is snapped, and that there must be at least 7 motionless players on the line at any given time.
If a player fumbles the ball and it travels out of bounds, the last player who touched the ball prior to it leaving the field of play will be granted possession.
There are no fair catches allowed on punt returns. The returner is granted a 5-yard halo that opposing players cannot enter until the player has had a chance to catch the ball.
If a player receives a kickoff in their own endzone and are unable to advance the ball into the field of play, the kickoff team is awarded 1 point. However, the team that failed to exit the endzone is rewarded possession.
The field goal uprights are posted on the goal line as opposed to the back of the endzone, and provides an on-field obstacle that CFL players must avoid.
Canadian Football League salaries are largely governed by salary caps of $4 million that are imposed on each CFL team. The average CFL salary is unknown, but the minimum is currently set at $65,000 per year. The highest paid CFL player in 2019 earned $700,000.
2023 Canadian Football League Schedule
The 2023 CFL Season is scheduled to begin on June 9th. Each CFL season lasts for 21 weeks with each team playing 18 games with three bye weeks. The CFL Playoffs will begin on November 6th with the 109th Grey Cup being played on November 20th.
CFL Grey Cup Odds
Examples of odds to win the Grey Cup are posted below, and are typically available during the entire CFL offseason. These CFL Championship futures can be wagered on at any time, and often feature more advantageous money line odds the further out that bets are made - but payouts cannot be collected until after the Grey Cup has concluded.
Odds on CFL Playoffs are also available through the postseason, with lines and prop bets posted for each game.
🏈 Odds provided by Bovada
2023 Grey Cup Winner
Winnipeg Blue Bombers +225
British Columbia Lions +450
Calgary Stampeders +500
Saskatchewan Roughriders +600
Toronto Argonauts +750
Montreal Alouettes +1000
Ottawa Redblacks +1000
Hamilton Tiger-Cats +1200
Edmonton Elks +4000
Is The CFL Merging With The XFL?
In March of 2021, rumors began to swirl of a potential merger between the struggling Canadian Football League and the second upstart effort of the XFL led by Dwayne "the Rock" Johnson. These rumors were sparked by news reports that the two leagues planned to meet, and legal XFL betting sites hopped in with both feet providing prop bets on whether a merger would happen.
As of this writing, all plans for a merger between the XFL and the CFL have been scrapped. Betting on the USFL football league began in 2022.
Live Betting On Canadian Football Games
In-play betting on CFL games allows for wagers to be placed while the clock is running, with updated odds that change based on the direction the game goes. There's no need to make haste on a pre-game bet. Lay some action on the CFL at the time of your choosing with the live betting options at our top-rated sportsbook sites.
Mobile CFL Betting Apps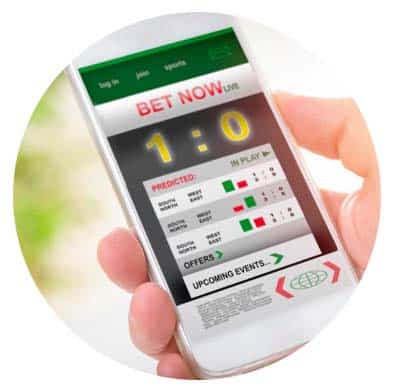 Mobile betting is available from the top offshore sportsbook sites we recommend, and there is no need to venture to the Google Play or App Store – these apps don't require a download.
These top-rated mobile betting applications offering legal CFL odds are web-based for easy and rapid access from any modern mobile browser, and transform iPhones, iPads, and Android smartphones and tablets into portable Canadian Football League betting devices.
Sportsbook Deposit & Payout Options
Most people in the USA prefer the US Dollar for all transactions, online or off. As you can see by the list below, we've ensured that the legal sports betting options that we suggest for CFL odds offer a large assortment of options for making a deposit or withdrawal using USD, but we must implore all bettors to investigate the benefits of betting with Bitcoin (BTC) and cryptocurrency.
Depositing with cryptocurrency is the fastest method available, and will allow for CFL bets to be made within minutes. The real benefit of banking with BTC and other cryptocurrencies is that they can be withdrawn within 24 hours, and no other option can even come close to that guarantee. Check out all of our top sportsbook funding options here.
CFL Sportsbook Bonus Offers
Having a little extra bankroll is a nice perk when first starting out at an offshore sports betting site, and that's exactly what the top online sportsbooks we recommend are offering.
Match your deposit anywhere from 25% to 100% up to $1,000 or more depending on the time of year and extend your betting dollar by accepting one of these sportsbook promo offers, but be sure to investigate the terms and conditions first.