Legal Betting On The US Open Golf Tournament
2023 US Open Odds Are Live Now
The 2023 US Open Golf Tournament Begins In June
In-Play Betting Is Available For The US Open
PGA Golf is the top level of pro golf on the planet, and each year there are four major tournaments that dominate the schedule. The US Open is one of those four main events, and many gamblers are seeking an avenue for legal betting on the US Open Golf Tournament.
Read on to find out how those inside of the USA can place a legal bet on US Open golf, and which international sportsbook sites are the safest and most reputable destinations. We'll also detail the types of bets that can be made on the US Open, and the best strategies for becoming a member at legal golf betting sites.
Is It Legal To Bet On The US Open Golf Tournament?
Yes. Gamblers inside the USA have two options to wager on US Open betting odds, Masters betting odds, or any other golf event such as LIV golf tournaments or PGA tournaments - domestic and international.
Domestic – Many US states have enacted laws that allow for domestic sports betting via apps and in-person locations.
International – Offshore betting sites like the ones we recommend below are safe to use within the USA because gaming laws at the state and federal level do not attempt to regulate overseas sportsbooks that offer their services to American bettors over the internet.
Best US Open Golf Betting Sites
Examples Of US Open Golf Odds
Throughout the year, sportsbooks will feature US Open futures odds similar to the line below that attempts to predict the eventual winner of the tournament. Once round one begins, a similar betting line will remain, offering live betting on US Open. Current 2023 US Open odds are as follows:
2023 US Open Golf Prop Bets
Proposition bets on the US Open tourney can be found at betting sites that allow for gamblers to wager on occurrences that may or may not affect the outcome. Common lines we've seen combine small groups of golfers and ask bettors to lay action on a variety of scenarios, including which of the group will finish with the lowest score, which will hit the fairway the most, and who will land in the most sand traps.
What Types Of Bets Can I Make On US Open Golf?
Outside of live and winner odds, below are some examples of other types of PGA Golf bets that are featured at international sportsbook sites. The US Open schedule only lasts for four days so oddsmakers are always trying to come up with new betting options.
Top 5 Finish
These lines will look just like overall winner odds but bettors are given a larger "spread" and are only required to select a golfer that will finish in the top five, a significantly easier task that picking the top finisher.
Top Hole Score
Below is an example of a betting line that asks which golfer from a group will finish with the best score on a given hole. These US Open odds cash in quickly and can be a lot of fun for casual bettors to participate in.
Hole 6 Winner
Hideki Matsuyama +160
Jordan Spieth +185
Patrick Reed +165
Individual Matchups
There are also several betting lines that ask which of two golfers will finish the tournament or round with the highest score. Again, this style of line is much less intimidating than having to pick from 50+ golfers in an all or nothing bet. These matchups are based on golfers with similar skillsets and often feature competitive odds.
1st Round Match Up - B. Watson v P. Mickelson
Bubba Watson EVEN
Phil Mickelson -130
How To Bet On The 2023 US Open Golf Tournament
The first two requirements for betting on US Open golf are an intention to wager and money to risk. Once those two are taken care of, a membership with a reliable, trustworthy online sportsbook is the next step.
We have offered a table of our best US Open golf betting sites and we invite you to browse each one to see how they are laid out. Once you've picked the sportsbook you want to become a member with, click the "join" button on the top right of the page.
The first page will ask for the input of personal information and login credentials, and then you'll be taken to the deposit page where new members can choose from a bevy of banking options, from credit cards to cryptocurrency and Bitcoin.
Once bankrolls have been setup, bettors can make their way to the sportsbook area of the website and locate the tab titled "Golf." Inside, you'll find PGA Tour lines, as well as professional golf betting odds from around the globe.
Mobile US Open Golf Betting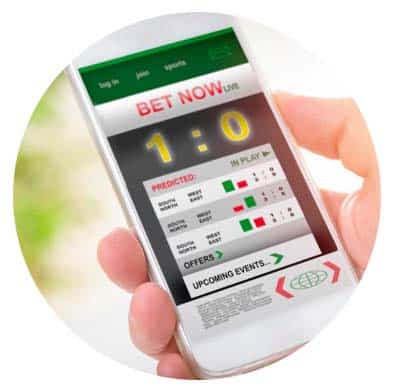 If you're a fan of watching and betting on professional golf, then there's a good chance that you like to swing the clubs yourself. If you're on the back 9 on a warm fall afternoon and want to place a bet on the US Open winner, a laptop is not going to be your best option.
That's where our top-rated sportsbooks and their mobile betting apps come in to play. Current tablets and smartphones can access US Open Golf betting lines by clicking on any of the betting site links provided in the table above.
There's no download required either. These are web-applications that quickly access all the PGA betting lines and other odds that are available on their full website, from betting on the Masters to laying some action on the British Open, all while getting 18 holes in yourself.
Live US Open Betting
As soon as round one of the tournament kicks off, live US Open golf betting odds will be offered by top-rated online sportsbooks that update as the day progresses. These live, in-game betting lines will update as each hole is completed, allowing for bets to be made for each round. Odds to win golf's US Open will also update as play commences, giving bettors a minimum of two options for live PGA betting throughout the tourney.
FAQs For Betting On US Open Golf